The much awaited iPhone 7 from Apple Inc. (NASDAQ:AAPL) is up for grab. iPhone 7 and iPhone 7 Plus sales kicked off on Friday, i.e. 16th September in 30 countries. Pictures and videos of people queuing outside Apple stores created the much-needed buzz for the latest iPhone variant. However, all the available inventory of all variants of iPhone 7 Plus and the Jet Black variant of iPhone 7 were already sold out before Friday, leaving many disappointed. Apple's share value went up by 3 percent on Thursday even before the launch of iPhone 7 in the stores on the following day.
The response of iPhone 7 and iPhone 7 Plus has been overwhelming, especially for Tim Cook and team. We can almost hear the celebrations starting off at Apple's HQ in Cupertino. But is all well for Apple? Despite such overwhelming response, the facts seem to paint a different picture – Something that might not go down well with Tim Cook and his team!
The queue for iPhone 7 sales is shorter!
There is no denying that iPhone 7 has garnered enough attention in the last two-quarters. But the company apparently failed to meet the expectations people had from iPhone 7. iPhone 7 and iPhone 7 Plus failed to attract as many people as iPhone 6s did during its launch. The queue for the latest phone was pretty short. Blame the shorter supply or unavailability of iPhone 7 Plus or probably the absence of some path-breaking features in iPhone 7- looks like people did not find the latest variant fascinating enough to stand in a queue a day in advance to get hold of iPhone 7.
The online interest in iPhone 7 in China market went mute almost with no excitement as such among people. Wu Ting, a youth from Nanjing was surprised to find himself first in a line at a downtown Apple store in Shanghai on Friday.
"I found last year that there were crowds of people, but this year almost no-one. I came an hour early thinking I'd have to wait a long time before getting seen," Wu told to Reuters.
China market kind of showed the real picture. This country accounts for the largest share of iPhone sales as well as the company's revenue outside the United States. Hence, the first quarter of fiscal 2017 (or call it the fourth calendar quarter of 2016, ending on December 31, 2016) for Apple is going to play a very crucial role in determining Apple's success or failure with its new iPhone 7. One should note that during the same quarter last year (Q4, 2015), China accounted for 24 percent of the company's quarterly revenue. The majority chunk of this revenue belonged to iPhone sales alone.
What's keeping Crowd Away from iPhone 7?
iPhone fanatics will never agree to the most obvious truth, but the fact is Apple has been slower in adopting latest technologies and innovations. Many consumers and analysts believe that Android devices by Google and many of its manufacturers are way ahead of Apple in introducing new technologies. For instance, the dual-lens technology that Apple introduced now was already available way back in 2011 in LG Optimus 3D and HTC Evo 3D devices. Similarly, the smartphone world has long gone past the 12-megapixel camera. Even the most entry-level smartphones in sub-$160 categories offer 13-MP or 16-MP rear camera.
Despite Apple's relentless efforts to showcase iPhone 7 as a device loaded with a bunch of innovative features, there is just one element that triggered excitement among its users – The Jet Black Colour! Sadly, that too is available at an exorbitant price.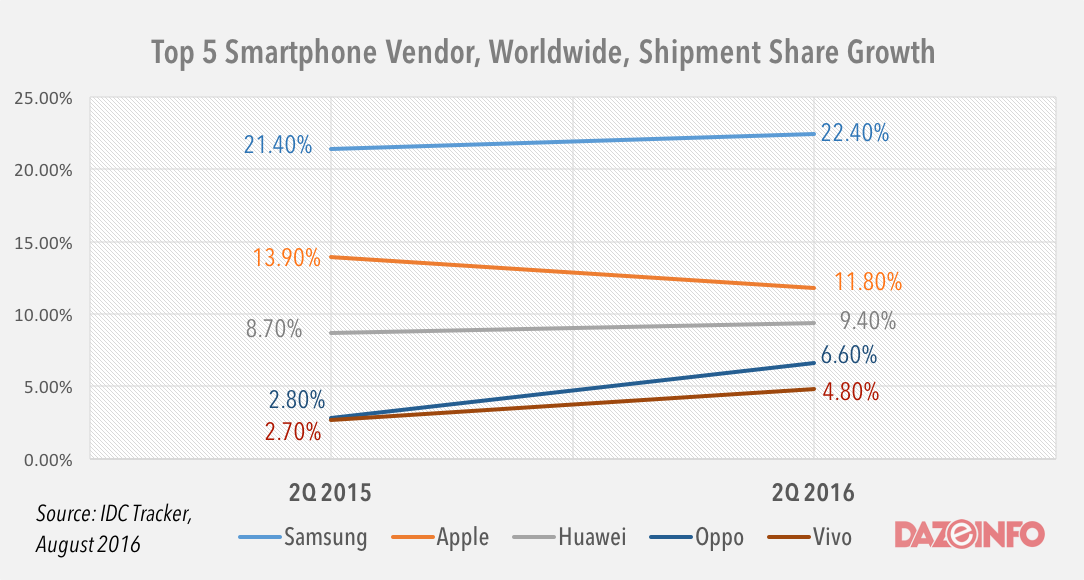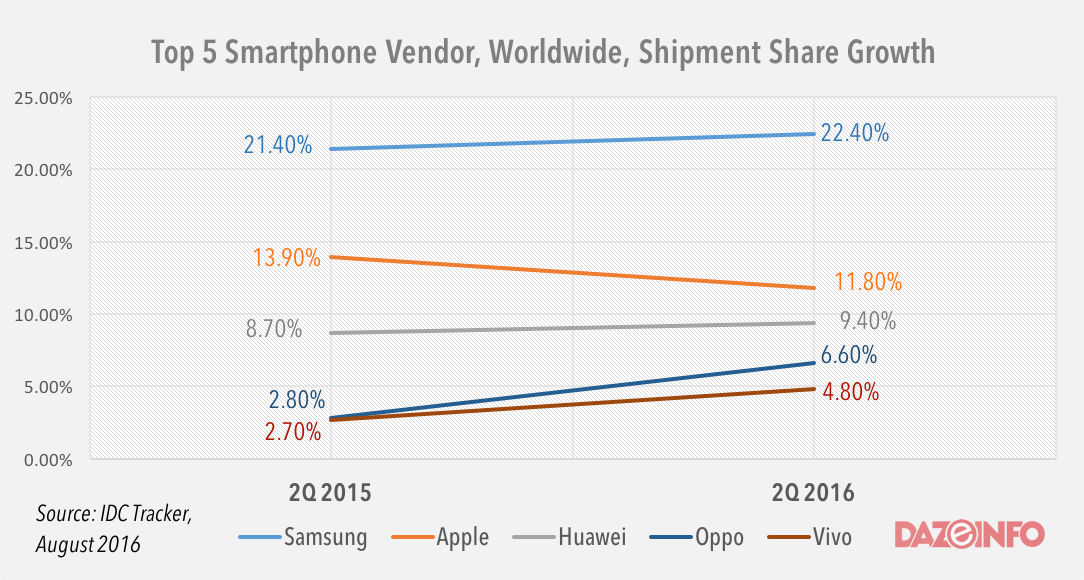 Korean, Chines and many homegrown players in India have started looking for scopes that go beyond the tags of 'lower price' or 'cheap.'  Huawei, Lenovo, Oppo, Vivo, Xiaomi have emerged as the early adopters of new technologies. By incorporating recent technologies in their devices, these players have successfully manufactured smartphones that are much lower in price than Apple's iPhones. The unprecedented growth in their market share in the last one year clearly articulates that people are willing to give a try to comparatively low-priced smartphones that claim to offer better value for money. Interestingly, the growth of new entrants in the market, i.e. Xiaomi, Vivo, Oppo, Huawei, have come at the cost of Apple's iPhone, whose market share has squeezed in all the major markets, including US and China.
On the other hand, Samsung has channelized its focus and strength on premium segment devices, which pose a direct competition to Apple's iPhones. Samsung Galaxy S7 and Galaxy S7 Edge emerged as the top selling smartphones in the first half of 2016, beating Apple's iPhones. The competition for Apple has become stiffer with the success of Samsung's premium devices.
Apple iPhone 7: More Enhancement, Less Innovation
Even before the launch of iPhone 7, the new phone (not the 's' version) created much hype. But with all the new introductions to iPhone 7, it seems like an enhanced experience of the functionalities already present in iPhone 6s or 6s Plus.
So is Apple sitting back quietly? Well no!
Apple has apparently reserved few groundbreaking expected upgrades like curved display, 16-megapixel camera, flexible dual-SIM slot, gameplay recording and longer battery life for the next iPhone – the 10th anniversary iPhone.
The 10th Anniversary iPhone in the Making!
Recently, Apple also secured few new patents that hint of a Wraparound Display and Augment Reality capable iPhone in the future. Rumours also state that Tim Cook wants to pull off a Steve Jobs by introducing a completely revamped and redesigned iPhone to make the 10th anniversary of iPhone more memorable. In a bid to so, Tim Cook and Team has already started working with vendors and manufacturers a year back and has reserved the best of the major upgrades for the next year.
Final Words
Despite all hue and cry, Apple has surprised the market pundits for long. During the third quarter of fiscal 2016 (ending on June 30th), Apple sold more iPhones than expected to beat Wall Street projection. The sales, however, were down by 15% compared to the year-ago quarter.
The sales performance of iPhone in the ongoing fourth fiscal quarter of Apple may be a bit better considering iPhone 7 is available in 30 countries since mid of September. But to gauge the real sales performance of iPhone 7 and iPhone 7 Plus, we will need to wait until January 2017, when the results of Apple's first fiscal quarter of 2017 are out.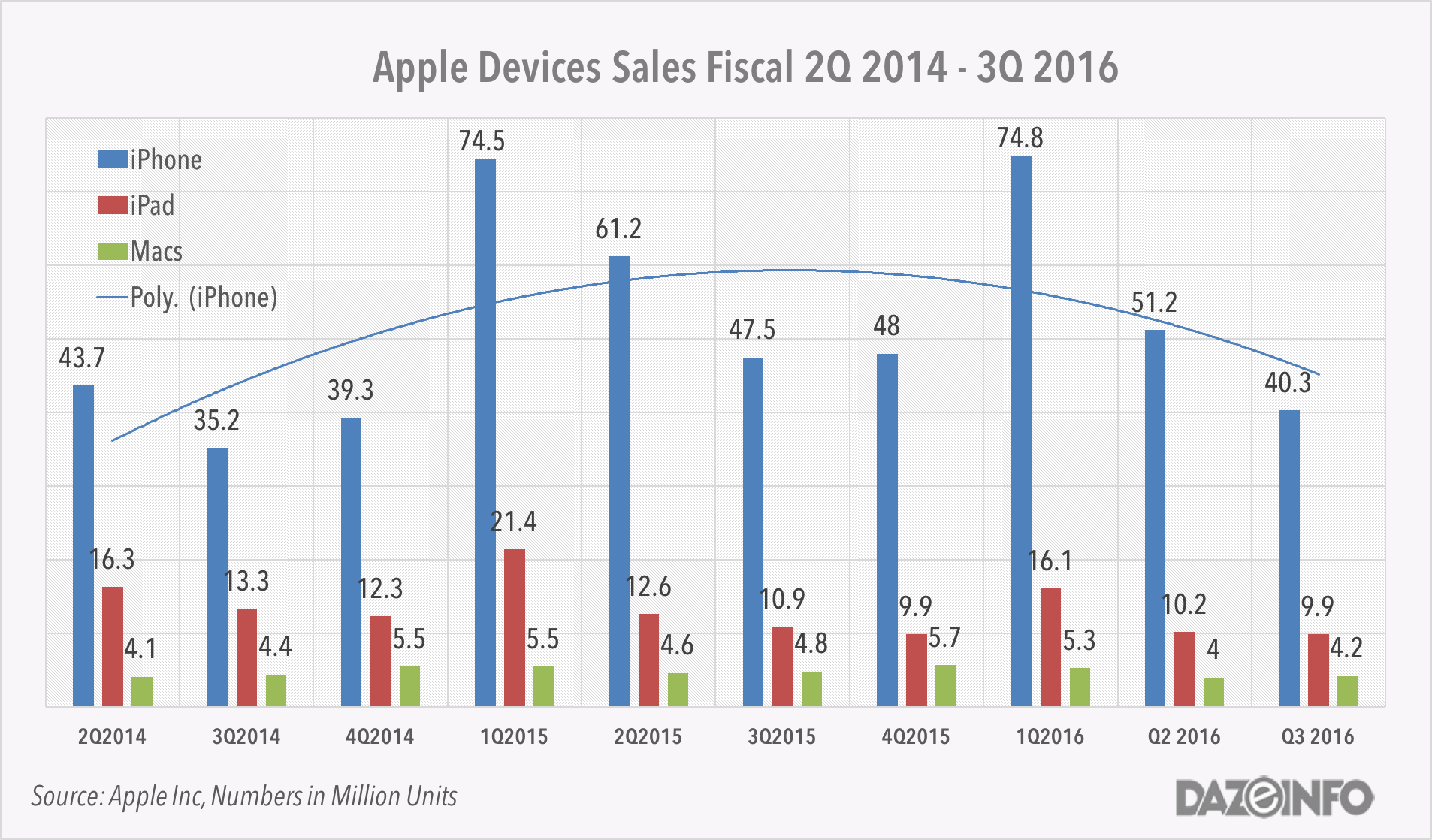 So, will people still find the 'enhanced' iPhone 7 and iPhone 7 Plus worth the price? Since Samsung Galaxy Note 7 will soon be available again, it will be an interesting turn of events! Soon the reviews and in-class comparisons, especially with Samsung Galaxy S7 and Samsung Note 7 will shed new light on this matter.
All said and done, the first move made by Apple has gone down well; the limited availability and Jet Black variant of iPhone 7 has already created the required initial excitement among people. But, will it survive long? Most importantly, will it convert into sales?
It would be interesting to evaluate all these and more after a quarter!
[poll id="61″]