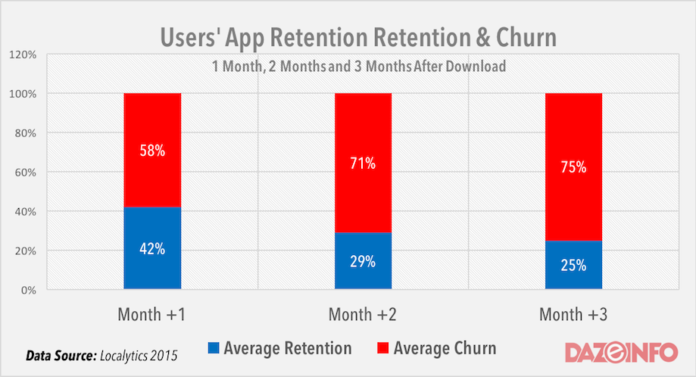 The global smartphone market has shown signs of slowing down the rapid growth rate that it had exhibited worldwide in the past decade, albeit the adoption of mobile apps is increasing. This ushers in a new era of smartphones where brands are no longer worried about who gets more of the market share. Instead, everyone is concentrating on retaining their portion of the consumer market. We have seen this trend percolate from hardware manufacturers and OEMs to the software ecosystems and app developers as well. A new report from Localytics harps on this very subject by giving us a preliminary benchmark for what should be a good retention rate of mobile apps that companies should be aiming towards.
As the virtual land grab for downloads draws to a close, we find that app developers have turned their attention and efforts towards retaining their install base. In a highly competitive industry where information is free, Ads and IAPs (In-App Purchases) are what keep the modern mobile developer clothed and fed. And while companies have shelled out obscene amounts of money in order to drive up download numbers, they're now realizing their folly as those giant numbers are not translating into revenues as most of the install base stays dormant. In fact 1 out of every 4 people who download an app use it only once and lets it gather dust in their phone's internal storage until the time comes for it to be uninstalled and replaced with another app. Developers need to break this cycle nad get their users to spend more time with their apps. Today we show the developers and app publishers just how the can drive up user engagement inside their apps!
Retention Rates: Is Your Install Base Engaging With Your App?
Before we look at the numbers and go deeper into them, it is vital that we establish what the Industry standard for retention rates are. An App is said to have a retained an installed user if the user at least checks the app once within the a 30 day time period. Plotting retention rates for a quarter, the analysts at Localytics have come to the conclusion that 25% on average is a good retention rate after 90 days to strive towards. However, it's not as simple as that because as is with most things related to apps, the category and the type of service they offer to the end user differ drastically from one app to the next prompting a change in user engagement and behavior.
Looking at the data collected for Q4 2015, we see that media and entertainment apps have on average the best retention rates pegged at 24%. This is somewhat expected as with the advent of larger screen phones; people are spending a significant chunk of their time-consuming media on their smartphones. Interestingly, games have the lowest retention rates, something of a trend that we highlighted even in one of our older reports on app retentions. This bodes worrying news for the average game developer as in the freemium model, IAPs and Ads are the only modes of revenue, and they are based solely on the user engagement.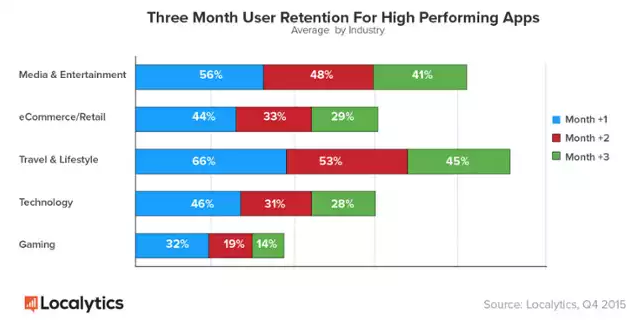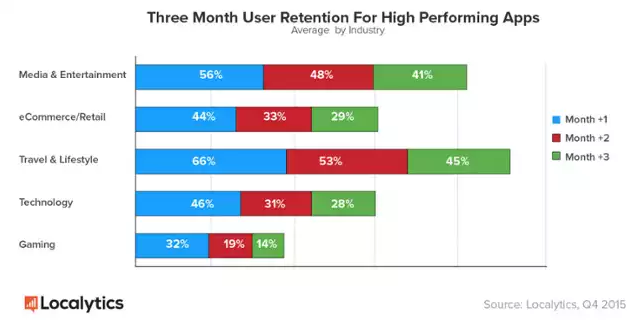 Now that we have had a look at the industry average let us now shift our focus towards the top dogs in each category. With an MAU of over a million, these apps are the top players in each of their respective niches, and here we have highlighted their retention rates to give an idea of how far optimization and understanding your user can take you. Right out of the gate 3 out of the 4 industries post significant upward trends in retention rates. While the top two contenders are media & entertainment and travel & lifestyle, each retaining 41% and 45% of the installed user base even after a quarter has passed since their installation. What are the secrets of these apps and how can you replicate them for your own benefit? We discuss just that in our ending segment.
Final Thoughts: How to Push Your App Retention Rates
As the graph above shows, there was a decline in the global app retention rates from 39% in 2014 to 34% in 2015. One of the more immediate causes of worry was the fact that there was a huge spike in the increase of app abandonment from the users, a 5 percent point increase yoY to 25% in 2015. In the midst of this app engagement crisis where apps are loosing users faster than they're gaining them, the app retention rates for the industry languishes at a meager 20%. To retain users north of 25% after a quarter of the installation period, app developers have to employ some new techniques in order to pinpoint who are the valuable customers.
Mentioned below are a few points which will help app developers in their endeavors towards a better retention rate on their apps:
Targeted Ad Campaigning at Retaining High-Value Customers: As we have highlighted in earlier articles, many app developers, in their quest to increase their app base, has used spurious ad networks that have burdened them with low-value consumers who have been somehow coaxed into downloading an app that they will never use. Targeting a broad marketing campaign aimed at getting everyone to engage more with the app will prove to be a waste of advertisement dollars as these users aren't interested in engaging with the app. Instead, developers should target key in-app events that lead to conversions and then based on those metrics design campaigns that entice the high-value customer to guarantee a loyal user base and steady revenue stream.
Notifying Users through In App Messaging and Push Messages: Among the dozens of apps that a user has installed on their smartphone, it is easy to forget about a certain app. If applied correctly, enticing push messages can increase app launches by as much as 27%. And with value added in-app messaging such as a live assistant or even an embedded social network in an app can help user retention jump as high as 3x.
Adding a Personal Touch: Even in this digital age humans crave the interactions of their fellow beings. Being able to customize a user's experience based on their past interactions with the apps not only boosts app engagement times, but also make the customer feel more valued which leads to higher conversion rates. With apps like WhatsApp and Facebook Messenger opening their doors to business, apps can use these messaging services as a platform to interact and help their user base.
Predictive Insights: One of the most important factors of preventing lower retention rates is knowing what causes them to leave in the first place. Having an in-depth customer profiling system set up and consulting a data analytics firm to make sense of that data can go a long way towards preventing users from not leaving the app in the first place. As they say, 'Prevention is better than cure.'
Reeling in Those who Get Away: With widespread concerns about privacy and some app developers exploiting the push messaging system to the point where it becomes annoying, almost 50% of the people opt out of the service. Now with your primary way of communication being cut off between your installed user and the app, the risk of losing this customer looms large. Remarketing then comes in as the last ditch savior as often a beautifully crafted email brochure or a text message with a relevant product discount can reel the customer in again! Also targeting his search ads with relevant products from his past history of interaction with the app can sometimes yield effective results as well.
Creating a Cohesive Brand Experience: One cardinal sin that many brands have been guilty of committing is not integrating the app into brand campaigns across various media sources. As a result, people often fail to make the connection between the brand and the app and thus results in a disconnected experience where the user doesn't get to experience the synergy of a seamless brand experience.
You never know till you try
And that is something that rings very true especially for marketing strategies. Instead of debating the pros and cons in a board room, the best bet is to try an A/B Testing methodology and then going with the campaign that has elicited the best response from the consumers. The mobile app market is developing at a rapid pace. While the hardware race seems to have slowed down, companies will now turn their focus to streamlining their software experience, intensifying the already heated competition. With data-driven analysis at the helm of the marketing research, app developers are poised to take the mobile industry by storm.