Apple Inc. (NASDAQ:AAPL) is known to make enough of buzz before launching its devices to create the much-needed hype in the market about the product. For years, tech enthusiasts and Apple fans have been talking about the most awaited Apple Smartwatch. Since the launch of crowdfunded Pebble Smartwatch, the rumors about Apple Smartwatch has been flowing through many different internet sources.
The much-awaited Apple Watch was finally unveiled on September 9, 2014 at a special keynote event last year. Although, it was launched in September last year, the Smartwatch was made available for the UK consumers on 24th April 2015 starting at a minimum of £299 (€320). With the launch of much-awaited Smartwatch, Apple has started competing with Samsung, Google, and Crowdfunded Pebble Smartwatch altogether, as these brands are already in the market since 2013. In order to understand the market hype and excitement around Apple Watch, GFK, a trusted source of relevant market and consumer information, surveyed 1,000 UK consumers between 2nd and 10th April 2015.
Out of 1,000 UK consumers who participated in the survey, around 5% people already owned a Smartwatch while mere 12% showed interest in buying a Smartwatch in the next six months. Interestingly, those who showed interest in Apple Watch launch, the number rose to 28% who claimed that they are planning to get a Smartwatch in the next 6 months. Although, Market Research Analyst Firm Canalys has predicted that Apple Watch will dominate the Smartwatch industry in 2015, the road to its ultimate glory won't be too easy for the latest device in the Apple's inventory.
Here are few of the major highlights of the survey result:
On User Accessibility Scale:
Around 41% of the respondents feel that making and receiving calls using a Smartwatch will be silly while 46% of respondents interested in the launch felt that making/receiving calls on Smartwatch is up-to-date.
36% among Apple fans while 58% Apple haters also feel making/receiving calls through Smartwatch will be silly.
On Security Measures:
33% respondents felt that using a Smartwatch to lock and unlock their front door would make them vulnerable while 37% shied away from making an in-store purchase.
42% of respondents interested in the launch felt to be in control while being able to control their door using a smartwatch
37% Apple fans and 42% of those interested in the launch felt confident to make in-store purchase using a Smartwatch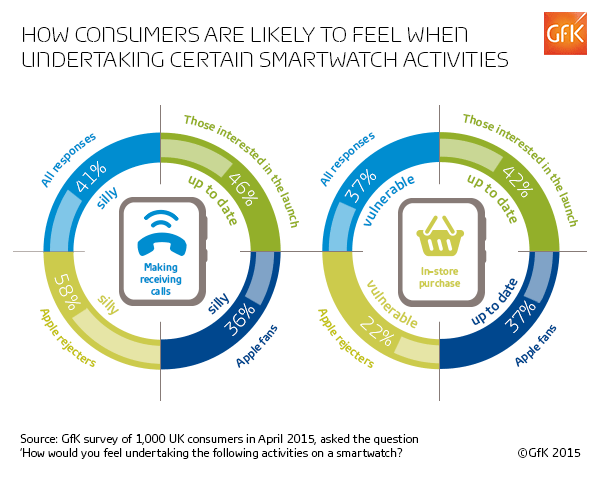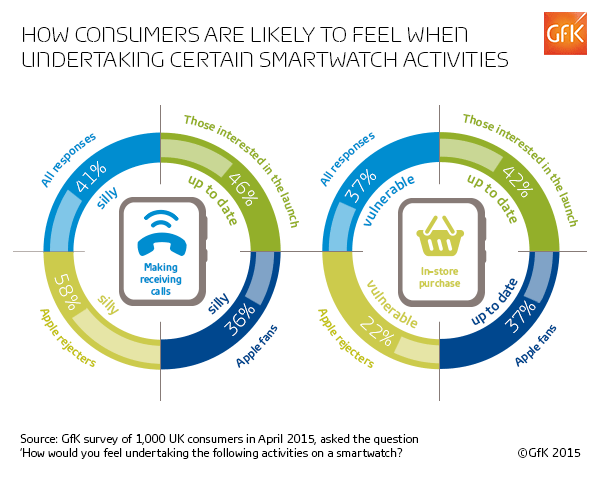 Although, there is no mention of the consumer feedback on the cost of Apple Watch in the GFK survey, the price of the device will play a crucial role in determining the success of this wearable gadget around the globe. According to the Piper Jaffray Watch & Wearables survey, which was conducted in early 2014, 41% buyers were more interested in a SmartWatch from Apple priced tagged below $200. However, considering starting price of $349 for an Apple Watch Sports, it is evident from a general point of view that Apple Watch's success hugely relies on its user accessibility scale, security measures and price factor.
Challenges for Apple Watch
Raising curiosity for its new devices, with such a huge brand loyalty at its command, was never a concern for Apple but living up to the expectations has always been a worry for the world's most valuable brand of 2015. Wearable gadgets are often concerned with its user accessibility to make/receive calls and using other salient features. While the brands manufacturing these wearable gadgets have been claiming that the devices work the best as supporting gadgets for a smartphone or a tablet, the consumers often treat it as another gadget and review it accordingly.
Competitors for Apple Watch to Watch Out For!
Rumors about Apple Watch were doing rounds since the early 2013. Many of the rumors came from reliable sources which proved that Apple was cooking this device since the launch of Pebble Smartwatch. Eyeing the success of Pebble Smartwatch against the likes of Samsung and Sony, Apple stayed behind and watched the market for wearable gadgets especially Smartwatch grow while building a device that's compatible with the user expectations. During this tenure, it also generated the much-needed hype and curiosity around Apple Watch among loyal fans and other tech enthusiasts all over the globe.
According to an estimate by market research firm Gartner, SmartWatches will comprise 40% of wristworn devices by 2016. Hence, Apple will be eyeing to establish its Apple Watch in the market while facing tough competitions from devices manufactured by other popular brands as below:
Pebble Smartwatch
Google's Android Wear
Moto 360
Samsung Galaxy Gear
Sony Smartwatch
The above are just a few mentions of some popular brands while there are many regional and local players, likes of Xiaomi, Yureka, currently in the wearable tech industry. However, competitors were never a concern for Apple as they rely hugely on their brand loyalty. Even with Samsung raking in huge global share in the Smartphone industry, Apple is still loved by a huge group who don't see beyond the iPhone series.
In the midst of limited interest in owning a Smartwatch, 57% of those who are looking forward to owning a Smartwatch were patiently waiting for Apple Watch launch. The curiosity that Apple generates with every new device has done its trick with almost half (46%) of all respondents were aware of the Apple Watch launch through news while the numbers peaked up to 53% for Apple Fans and 58% for current Smartwatch owners. However, only 39% of overall respondents were interested in the Apple Watch launch, whereas the numbers again peaked up to 54% for Apple fans.
Will the pressure be too high for Apple Watch?
According to the survey, 68% of those interested in the launch believe that the Apple Watch "will change the way we use wearable technology." Such a belief generates lots of motivation for Apple but in addition it also builds huge pressure for the tech giant to perform. The success of any device depends upon its features and user accessibility.
In the study, a list of prominent features were selected by the respondents which they believe could decide the future of any Smartwatches in terms of performance, acceptance and sales.
The top five features include:
Getting directions using maps: 68%
Text/Email notifications: 61%
Controlling home appliances: 55%
Track/monitor health information while workouts: 52%
Design factors with watch faces and straps: 51%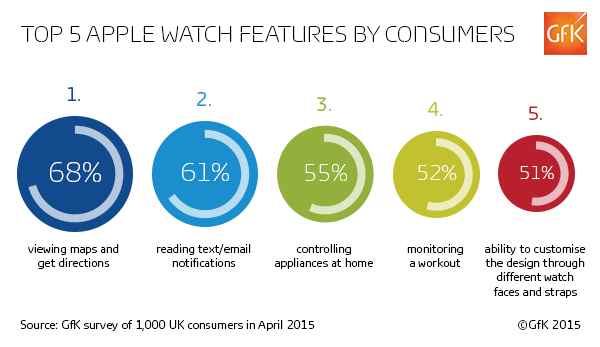 The key to success for Apple Watch is quite simple actually as it has observed the changing market for wearable tech. It can assess the positive and negative impacts of other brands and their devices in order to offer a better, reliable and user-friendly device to its users while emphasizing on the features listed above. Whether the brand loyalty will do wonders for Apple in the wearable tech industry or not, only time will tell.