Worldwide smartphone shipments reached 345 million units in Q1 2015, but what is more surprising is the fact that Samsung Group (KRX:005930) has reclaimed the top spot beating Apple Inc. (NASDAQ:AAPL) and Lenovo Group Limited (HKG:0992). Samsung shipped 88.3 million smartphone units in the first quarter of the year, despite the 39% slump in its profits and 6.2% year-over-year decline in the smartphone shipments. However, in the last four quarters, this has been the best performaning quarter for the korean smartphone manufacturer.
According to the latest report from counterpoint research, worldwide smartphone shipments in Q1 2015 grew 15.5% Y-O-Y. Apple recorded the highest 40% growth during the quarter, thanks to the sturdy sales performance of iPhone 6 and iPhone 6 Plus. With 61.2 million iPhone shipments in the Q1 2015, Apple secured the second position in the list of top smartphone manufacturers, followed by Lenovo and Huawei. Both Samsung and Apple have a healthy margin over the third biggest smartphone manufacturer Lenovo+Motorola, which reportedly shipped 22.2 million units of smartphones, and at fourth place Huawei, which sold 17.3 million smartphone units.
Samsung and Apple, together, accounted for 42.1% of total smartphone shipments in Q1 2015. And, if we add Lenovo's shipment share to it, these top three smartphone manufacturers controlled nearly 50% of total smartphone shipments in the said quarter.
Xiaomi, emerged as the second fastest growing smartphone manufacturers in the first quarter of the year. The company, also known as Apple of China, shipped 15.3 million units of smartphones, resulting in a record 39.1% Y-O-Y growth during the quarter. However, the company slipped out of top five smartphone manufacturers' list as LG regained some lost ground. With 4.5% share of total smartphone shipments in Q1 2015, Xiaomi paid the price of a huge demand-supply gap. The company is selling its smartphones in seven countries other than China while India remains the focused market. The recent global launch of scaled down model of Mi4, Mi4i is the classic example of the company's strategy.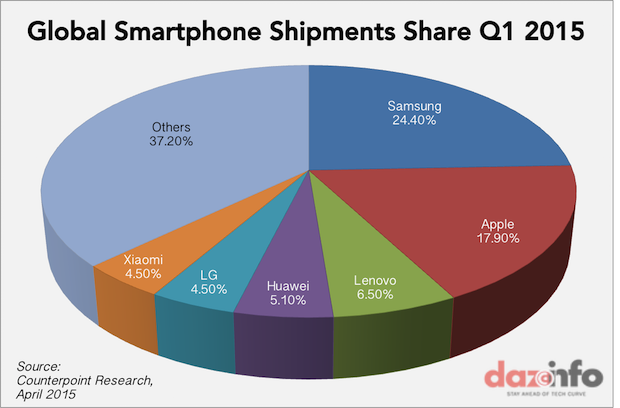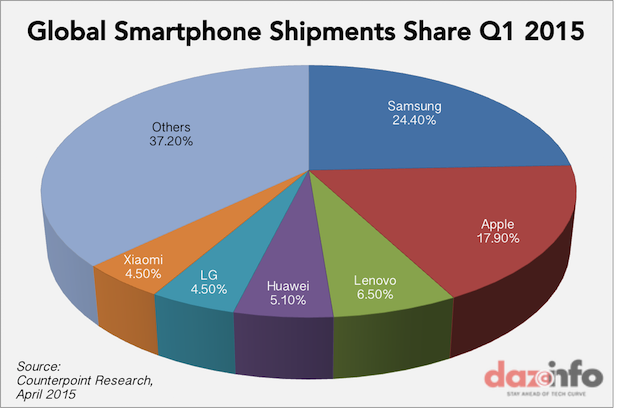 Samsung Betting Big On iPhone 6 Killer
After the holiday season sales, the demand of Apple iPhone 6 and iPhone 6 Plus has started slowing down. Apple accounted for 18% of total smartphone shipments in Q1 2015 and is on track to close the fiscal 2015 with record sales of iPhone. However, the archrival is also betting big on Galaxy S6 and Galaxy S6 Edge, which are up for grab now, globally. The initial market response was encouraging enough for Samsung, however, there could be problems with declining ASP (Average Selling Price) and demand for curved display that could challenge the company's production capability.
The Korean smartphone manufacturer is quite optimistic about the response from India, MEA and South East Asia, where the demand of Samsung smartphones has remained steady. But in China, the company is taking beating from both the sides due to rising influence of Apple and Xiaomi.
Counterpoint Research report highlights that mid-to-high range smartphones, i.e. Galaxy A/E/J series, drove the Samsung's smartphone sales significantly in the first quarter. At the same time, the company faced a huge blow from its premium range smartphones i.e. Galaxy S5 and Note 4 as the sales of these devices slipped to a new low.
4G LTE and 2G To 3G Transition Is Driving Smartphone Growth
Smartphones represented 78% of total mobile handsets shipments in Q1 2015, up from 68% in the same quarter a year ago. The constant declining cost of smartphones, the introduction of 4G enabled smartphones under $200 price category and transition from 2G to 3G are the main reasons behind the increasing market share of smartphone quarter-over-quarter.
Xiaomi is focused on sub-$200 category and penetrating the market with multiple smartphone variants to satisfy needs – be it 3G, 4G, 5-inch display or 13MP camera – of every smartphone user. In India, the second largest smartphone market, nearly 71% of smartphones that are shipped every quarter fall under sub-$200 category. Due to the very reason Lenovo and Xiaomi both has placed multiple handsets, with slight changes between each other, in this category. Xiaomi's Redmi 2, Redmi Note 4G, Mi4i and Lenovo's A6000, A7000 and A6000 Plus have created quite a buzz in the market due to 4G capability and lucrative pricing. In the last few weeks, Lenovo alone sold nearly 200,000 smartphone units in India. On the other hand, over 300,000 people have pre-booked recently launched Xiaomi Mi4i.