In the ear of Internet and communication, each industry is trying to make its way online. The latest trend comes from the grocery industry where the players are looking forward to entering into the untapped digital market.
According to a recent study from Nielsen, the online grocery industry is growing like never before; A quarter of the global respondents of the survey were already ordering grocery products online for home delivery. This certainly indicates the gradual shift of users to the online market from the traditional medium of grocery purchasing.
What's more interesting in the report is that more than half (55%) of the respondents who haven't ordered grocery online yet are willing to use it in the future. This a solid hint of how big the online grocery industry could turn out to be in future.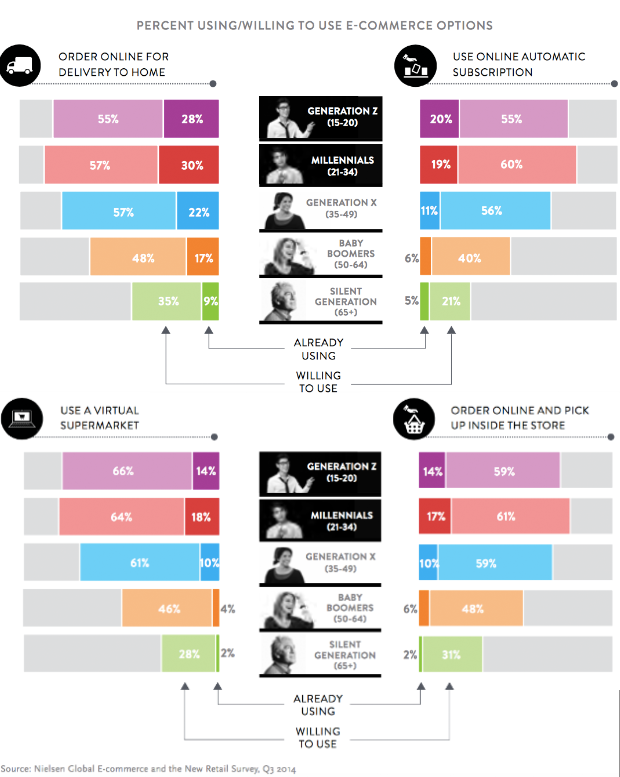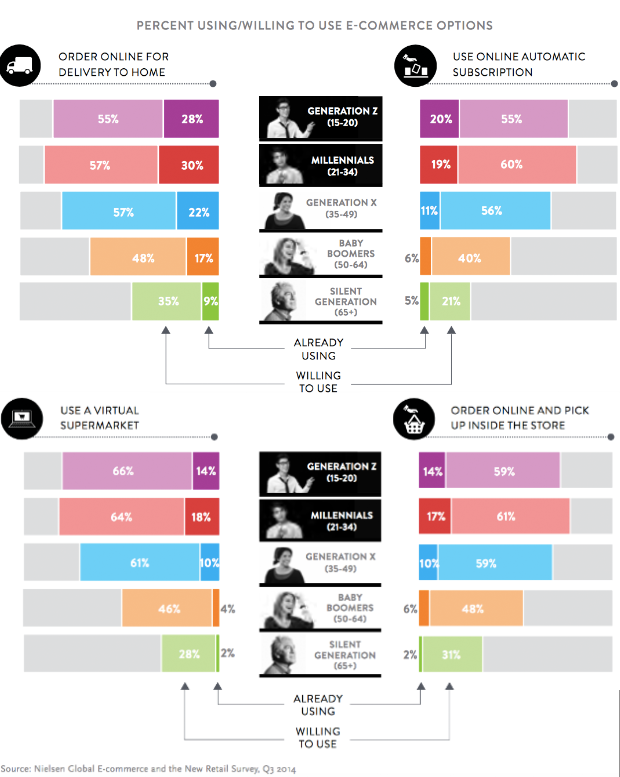 Retailers are also introducing an automatic online subscription service, in which orders get routinely replenished at a specified frequency. The report says that 14% of its respondents have already subscribed to such service. While, more than half (54%) of the respondents were willing to try their hands on such subscription services in the future.
The idea of Virtual stores for grocery is also gaining popularity day by day. 13% of the global respondents of the survey said that they were already using a virtual store. On the other hand, almost every six in ten (58%) were willing to check out the virtual stores in the upcoming time.
A small number of consumers are also using "Click and Collect" services in which they order groceries online for pickup at a store or any other desired location. Almost 10% of the respondents were using the Click and Collect service. 12% of them picked the grocery up in the store or using a drive-thru while 10% ordered online for curbside pick-up. However a majority of the respondents (over 57%) were willing to use these online options in the near future.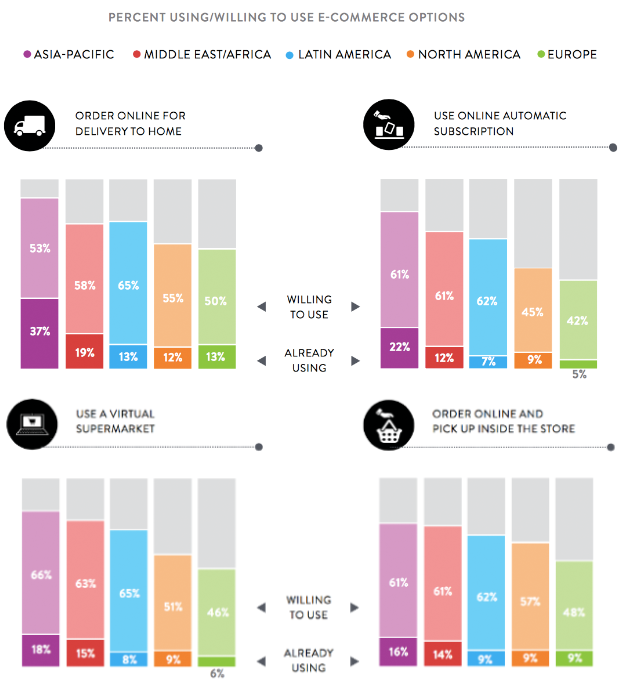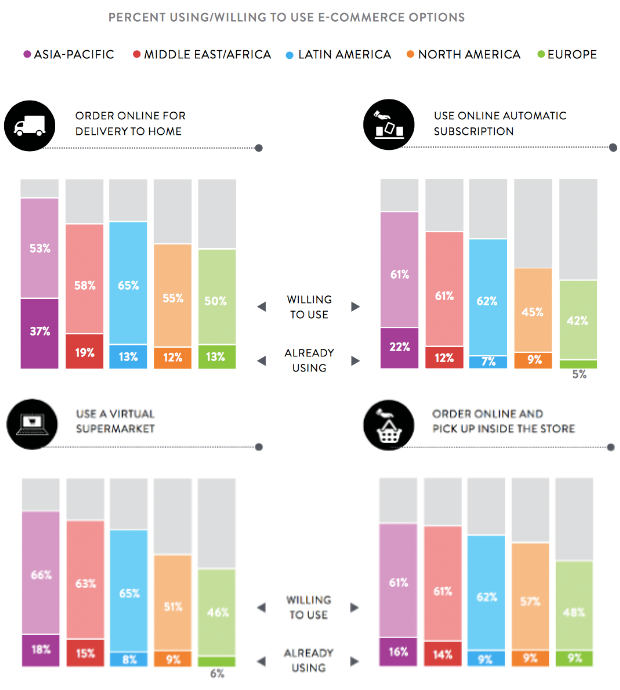 Regionally, Asia-Pacific has proved to be the most active market for online grocery industries and has constantly exceeded the global adoption average of the online retailing options. In the region, ordering online for home delivery is the most commonly preferred option, especially in China. More than one-third (37%) of respondents of the survey from Asia-Pacific said that they use an online ordering and delivery service. The adoption level for online automatic subscriptions is also very high in the region (22%), which is 8% more than the global average of 14%. However, the automatic subscription is quite popular in China with a 30% turnout.
Offline grocery business, however, will still dominate the market – at least for the next few years. Like online stores, brick-and-mortar shops have it own benefits to offer; besides consumers saving shipping and convenience charges, they can also make their own choice when it comes to selecting fresh grocery. The whole offline grocery shopping is dominated by female shoppers and they find going out is a fun activity that generates positive feelings. 61% of survey respondents said going out and shopping grocery is enjoyable and engaging activity where you get to meet many other people from the neighborhood. 57% think it is a family day out when you got to retail shop and buy things of your own choice. It is clearly evident that a majority of people still prefer buying grocery from retail stores, but shoppers are also turning to online stores for ease of shopping and convenience.
Highlights of the Report:
One-quarter of online respondents said they order grocery products online, and more
than half (55%) are willing to do so in the future.
14% of the respondents were already using automatic online subscription service.
13% of the global respondents admitted that they were already using Virtual stores.
Asia-Pacific has constantly exceeded the global adoption average all of the online retailing options.
Strategies For E-Stores Success:
Online grocery stores will have to make the whole buying experience much more seamless and intuitive. The mantra lies in bringing more offline shoppers online by establishing creditability, specialized offerings, setting the store in order as per various seasons and tracking changed in the retail market. Online stored must narrow the gap between online and offline shopping experience by maintaining quality, better price offerings, and prominent delivery.
The report's findings are based on the surveys conducted online in more than 60 countries. However, an online survey provides a perspective only on the habits of existing Internet users, not total populations. So, it is possible that many new trend appears when more users get Internet access and participate in the study.
Online Grocery Industry: What's Ahead
The rise in number of smartphones and Internet users has opened a new dimension for the online service providers. Grocery industry can be regarded as a prime example of this.
Online grocery sales will grow from $23 billion in 2014 to nearly $100 billion by 2019, according to a report by Packaged Facts. On the other hand, the total grocery market in the US is a $500 billion industry, out of which 3.3 percent is online. Further, it is expected to swell to 11 percent by 2023, with a growth rate of nearly 13 percent year over year. This clearly implies that the online market for groceries is getting bigger and bigger.
The users are now preferring to order via the website or app instead of the traditional calling system. This can be seen as a great opportunity for all the groceries providers to take their business online and get to reach a big chunk of over 3 billion internet users.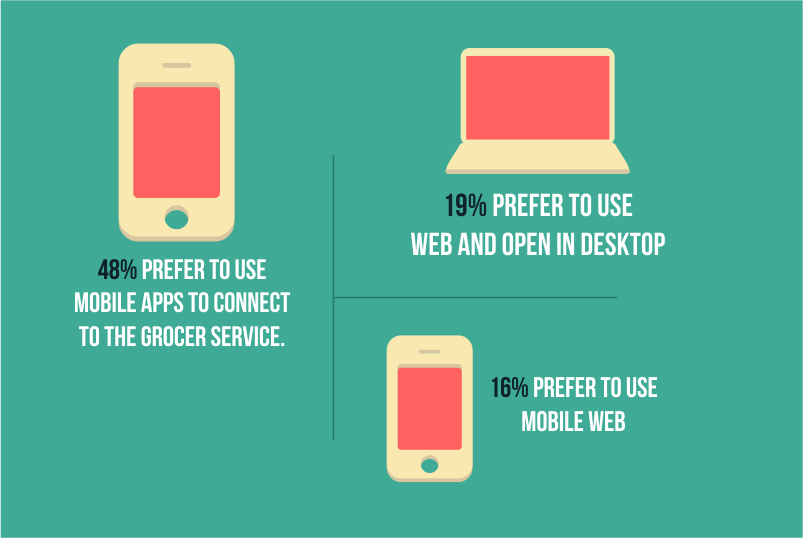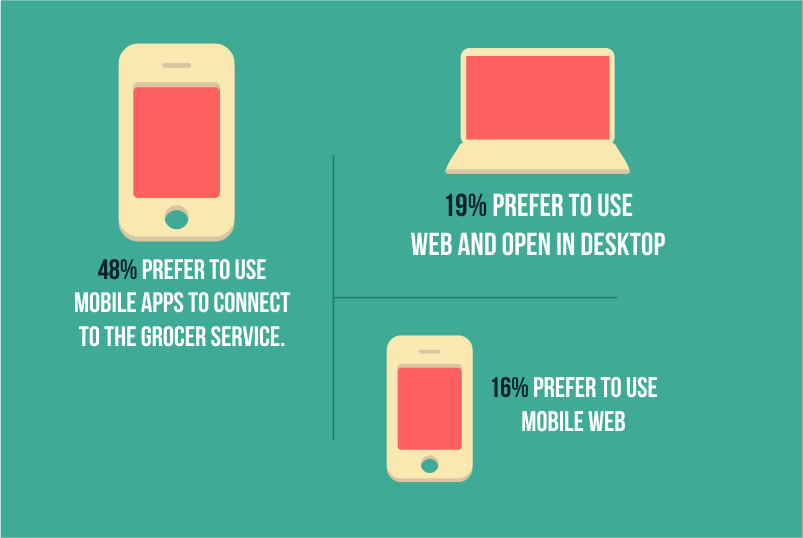 According to an another survey by JAKPAT, the attraction of users towards grocery apps is much more as compared to desktop and web pages. 48% of the users prefer to connect to the grocery service via their mobile apps while only 16% choose to do so from the websites. Thus, a fully functional app for the business has become a necessity these days. It's no longer a choice especially for the industries which have huge demand online.