Fitbit has hogged the wearable market with nearly half the share of global wearable shipments in Q1 2014. A recent report published by Canalys says that nearly 2.7 million wearable bands were shipped in the first quarter of 2014. This signs a stung growth in wearable band market that recorded 1.8 million units of shipment during the whole year of 2013.  Out of the two categories – basic and smart band – Fitbit ships the majority of band in basic segment. Giving neck-to-neck competition to Fitbit is Jawbone, another dealer in the basic band segment. With the launch of UP24, the latter expanded its international circulation of basic wearable band.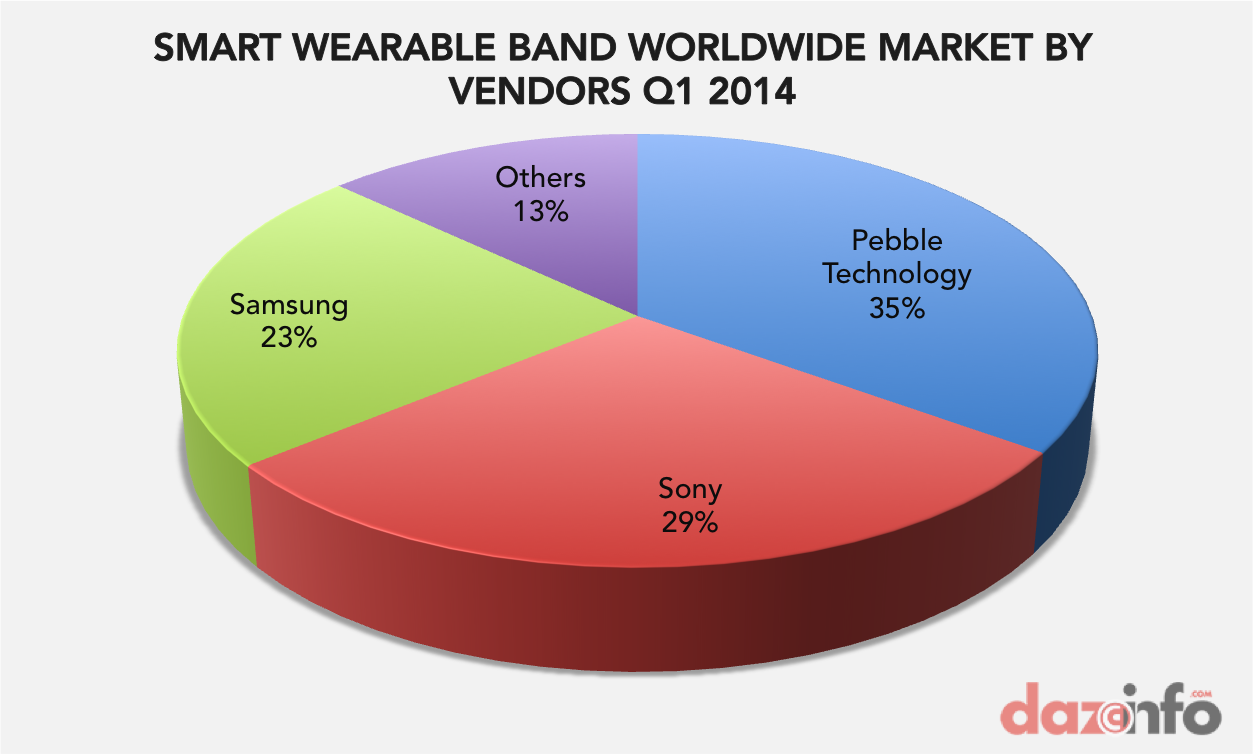 The tousle surrounding allergic reactions to the Fitbit's Force band had only a little impact on its initial sales. The company's proper handling of the matter and recall of the product accelerated the sales. On the other hand, Nike's FuelBand didn't quite catch up and reportedly, they might shelve the product. This resulted drop of company's market share to 10%.
"The FuelBand has frankly been outmatched on sales," Canalys analyst Daniel Matte said in a statement. "Its competitors' speed, international reach, broader channel distribution, integration with other fitness communities, superior web sites and multi-platform support have proven to be major advantages."
In the smart wearable band market, Pebble emerged as the clear winner with 35% of the market share in Q1, 2014. Sony Corp (ADR) (NYSE:SNE) and Samsung Electronics Co. Ltd. (KRX:005935) managed to grab 29% and 23% market share respectively. Samsung's less market share can be attributed to the quarter-over-quarter downfall from Q4, 2013. The Korean electronics giant had a strong sales in Q4, 2013 attributing to the holiday season but the sales dived in the next quarter. In order to review its sales of wearable bands, Samsung cleared existing inventory for the recently launched Gear Fit in early Q2. Although the wearable band market is going strong, the smart band shipments are falling behind, failing to meet even half-a-million mark.
To some industry observers, the future of wearable gadgets might seem bleak but Canalys believes that the current situation reflects the fast changing nature of wearable gadgets. LG and Motorola are expected to re-enter the market with new android powered devices.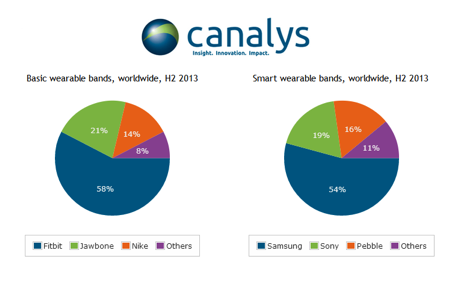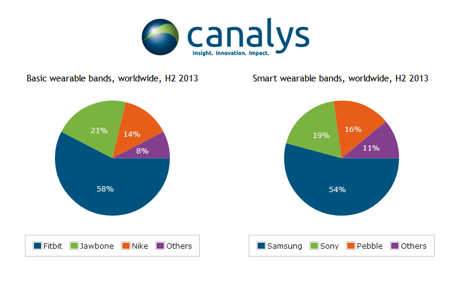 The early launch strategy of wearable gadgets did well for Samsung as the company dominated the market in first half of 2013. It was all due to the company's aggressive marketing for wearable gadgets that resulted in the sales of 800,000 units of Galaxy Gear within two months of launch. The sales of basic and smart wearable grew noticeably in 2nd half of 2013 with Fitbit becoming the leader owing to its affordable Flex and Force bands. After such a dramatic increment in sales and shipments, the market of wearable gadgets is expected to see some new trends. Motorola is developing the first android based smarwatch. It has already released its prototype, Moto 360, which will be on sale in June, 2014 and is expected to be price tagged with $250. Another watch to look-out for is LG's G Watch and much hyped Apple iWatch – reportedly scheduled for later this year or early next year.
Currently, smartbands focus on fitness fans. But they will soon be spreading their wings in the medical and wellness segments too. Canalys estimates the number will go up to 23 million units by 2015 and 47 million by 2017.