The global app market and mobile web were virtually non-existent before the invention of the first Apple Inc. (NASDAQ:AAPL) iPhone in 2007. The sleek design and user-friendly features of the device transformed the mobile handset market forever. Six years later in 2013, the global smartphone population stood at 1.43 billion, yet content publishers are still confused when it comes to implementing a strategy for mobiles. The role of apps and mobile web in for content publishing has always been a subject of debate.
To offer a clear understanding of the mobile market for publishers, marketing firm Quantcast published a report explaining the role of mobile apps and mobile web in content discovery. The data was compiled using a variety of sources between January 2013 and January 2014 to understand how smartphones and tablets have influenced mobile behavior.
 The Highlights Of The Report Are :
89% of time spent on smartphones is on apps. Apps also contribute to mobile web traffic, as a quarter of all mobile web page views are from in-app browsing.
8 Out of the top 10 global apps belong to social media industry. 83% of users say they use 10 or fewer apps on a regular basis.
On desktop, 49% of referrals to the largest 250 publishers come from search and 13% come from social media.
On mobile, 47% of referrals are from search and 27% are from social media.
Facebook owns 70% of news and entertainment referrals, while Twitter has 48%.
13% of websites get half of their traffic from mobile, while a quarter of websites received 50% of their referrals from social media.
The Asian continent has the highest share of global mobile web traffic at 17%.
Social Media Apps Are The Only Relevant Apps
In developed countries such as the U.S., users tend to spend more time on apps. It is estimated that users spend at least 2 hours 19 minutes a day on apps in the U.S.. Such figures can, however, be misleading as apps and mobile usage often tends to get mixed. For example, when articles are read from a link on Twitter Inc. (NYSE:TWTR) or Facebook Inc. (NASDAQ:FB) post, the browsing activity is counted as time spent in apps, and not on mobile web. Such forms of in-app browsing account for a quarter of mobile web page views. Social media is the key factor driving all these page views as eight out of the top apps worldwide are social apps.
The Apple App Store and Google Inc. (NASDAQ:GOOG) owned Android Play store have a grand total of almost 1 million apps each. It's, therefore, surprising to learn that only 1000 apps or 0.1% of apps in both app stores have more than 50,000 users. Even more surprisingly, half of all smartphone users who download an app say they use it just once. 83% of users say they use 10 apps or fewer on a regular basis. These statistics show that the app market is basically a small cluster of social and shopping apps and all the other apps have little or no relevance.
Mobile Web Usage Is Exploding Outside Of North America
The explosive adoption of apps, however, has not stopped the growth of mobile web in almost all countries. For example, North America's share of online mobile traffic has increased from 1% in 2009 to 18% in 2013. During the same period, Europe's mobile share of online traffic jumped from 1% to 15%. The rapid adoption of mobile broadband in emerging countries has allowed mobile web traffic to account for 17% of total traffic globally. With 17% mobile web share of traffic Asia is far ahead than all other continents. The growth if primarily driven by Saudi Arabia that had enjoyed 38% share of mobile web traffic in 2013, outpacing Japan and South Korea. In countries such as India, mobile websites are far more prevalent due to lack of knowledge about business apps and low penetration of 3G network.    
Rapid Tablet Adoption Will Not Increase Mobile Web Usage
The tablet explosion began four years ago with the launch of the Apple iPad. Tablets are being adopted at a faster rate than those of smartphones by achieving 6% global penetration in just two years. Interestingly, it took four years for smartphones to achieve the same amount of penetration. The global smartphone penetration now stands at 22.5%, and exceeded those of PC's for the first time in 2012. New devices such as Surface 3 Pro from Microsoft Corporation (NASDAQ:MSFT) will allow tablet shipments to surpass PC shipments by 2015.  By the end of 2014, almost 240 million tablets are expected to be shipped globally. In the U.S. alone, there will be an estimated 150 million tablet users in 2014.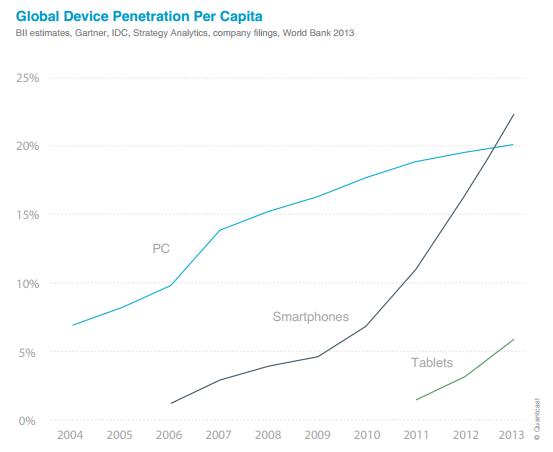 In the U.S., smartphones account for two-thirds of web browsing activities of mobile browsing devices. Smartphones also generate more than double the number of page views from tablets. Despite of sporting large screen tablets haven't created more mobile web traffic, at least in the U.S.
Despite the large market share of Android OS among all operating systems in the U.S,  the mobile web traffic is dominated by the iPhone and the iPad. The market share of Android tablets is 40%, compared to the iPad which has 51%. Still, Android tablets contribute only 14% of mobile web page views. This clearly portraits that increased Android tablet sales are not going to drive up mobile web traffic growth.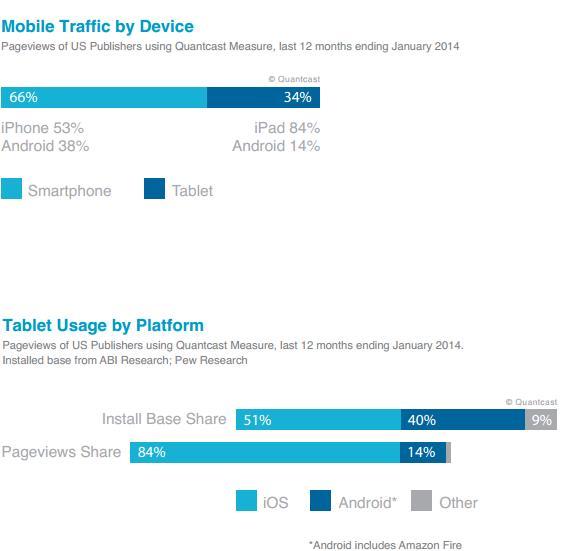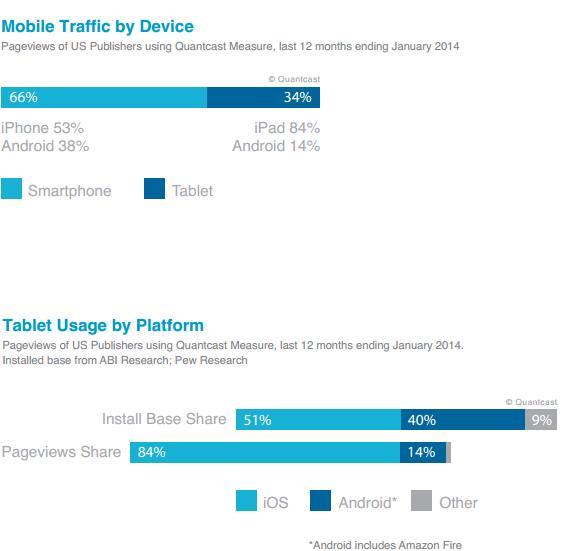 Mobile Browsing and Social Media Referrals Are Crucial For Site Traffic
Publishers are now recording a sizeable chunk of their total page views from mobile devices. Out of the 250 publishers using the Quantcast measure 13% saw half of their traffic coming from the mobile web. A further 67% of these websites saw more than a quarter of their traffic coming from mobile devices.
Social apps have a higher usage rate than maps and games apps among U.S consumers. 63% of FB users, 57% of Instagram users and 46% of Twitter users use these services daily. More than three-fourth of Facebook and Twitter users are accessing these networks from their smartphones and tablets. Mobile-only based apps such as Instagram and Snapchat are becoming popular too. Mobile users are far more likely to use social apps as a referral source for news and entertainment websites.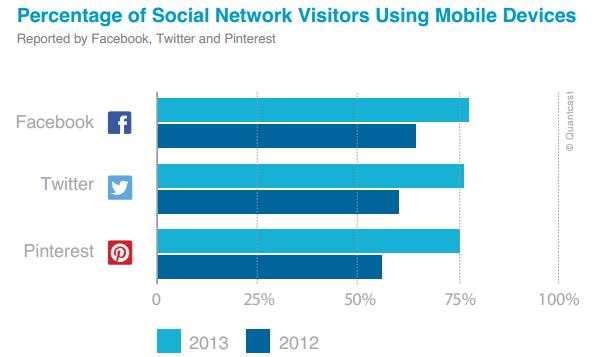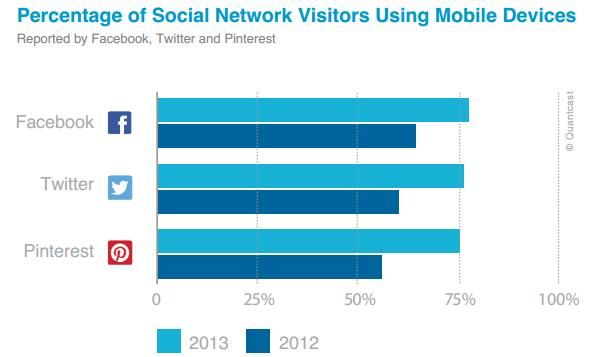 Content publishers need to mobile-optimize their websites to increase more mobile social traffic. This is a crucial factor as 61% of users are more likely to leave a site that isn't mobile friendly. Out of 250 Quantcast publishers, 79% of news and entertainment publishers have mobile optimized websites as page views on mobile devices increase when a website is optimized for mobile. Adding simple changes to the website, such as large social sharing buttons, can have a big positive impact on referrals from social media.