The rumors and speculations prior to an Apple Inc. (NASDAQ:AAPL) product never cease. The upcoming iPhone 6, launch dates of iWatch and the screen-size of iPhone 6 Phablet device are all a hot topic in the tech industry. While the launch dates and specifications of iWatch are still are the rumour stage, Piper Jaffray, an investment firm, did another survey on the likeliness of buying an iWatch. According to the findings of the survey only 14% respondents were interested in buying an iWatch priced in a range of $300-$350. The Piper Jaffray Watch & Wearables survey was conducted on 100 North Americans, average aged 32 years with a household income of $130,000. Surprisingly, nearly 61% of the respondents were female, who seems to be more interested in smartwatch due to health and fitness consciousness.
Highlights of the Survey
35.26% individuals are not likely to buy iWatch irrespective of the price.
14% adults were interested in buying a $350 iWatch, a 2% point increment from the October 2013 survey.
Almost one-fifth of the respondents already owned a fitness band.
32% of respondents are likely to wear both a fitness band and an iWatch.

Users More Interested in iWatch below $200
86% of respondents are uninterested in buying a $350 iWatch. However, on further prodding, almost half of them could be coaxed into buying if the price was lowered. 48% of uninterested buyers or 41% of all respondents are likely to buy the iWatch if priced less than $200. It's worth noting here that all the pricing is speculation based; the official price from the Cupertino-company is still undecided.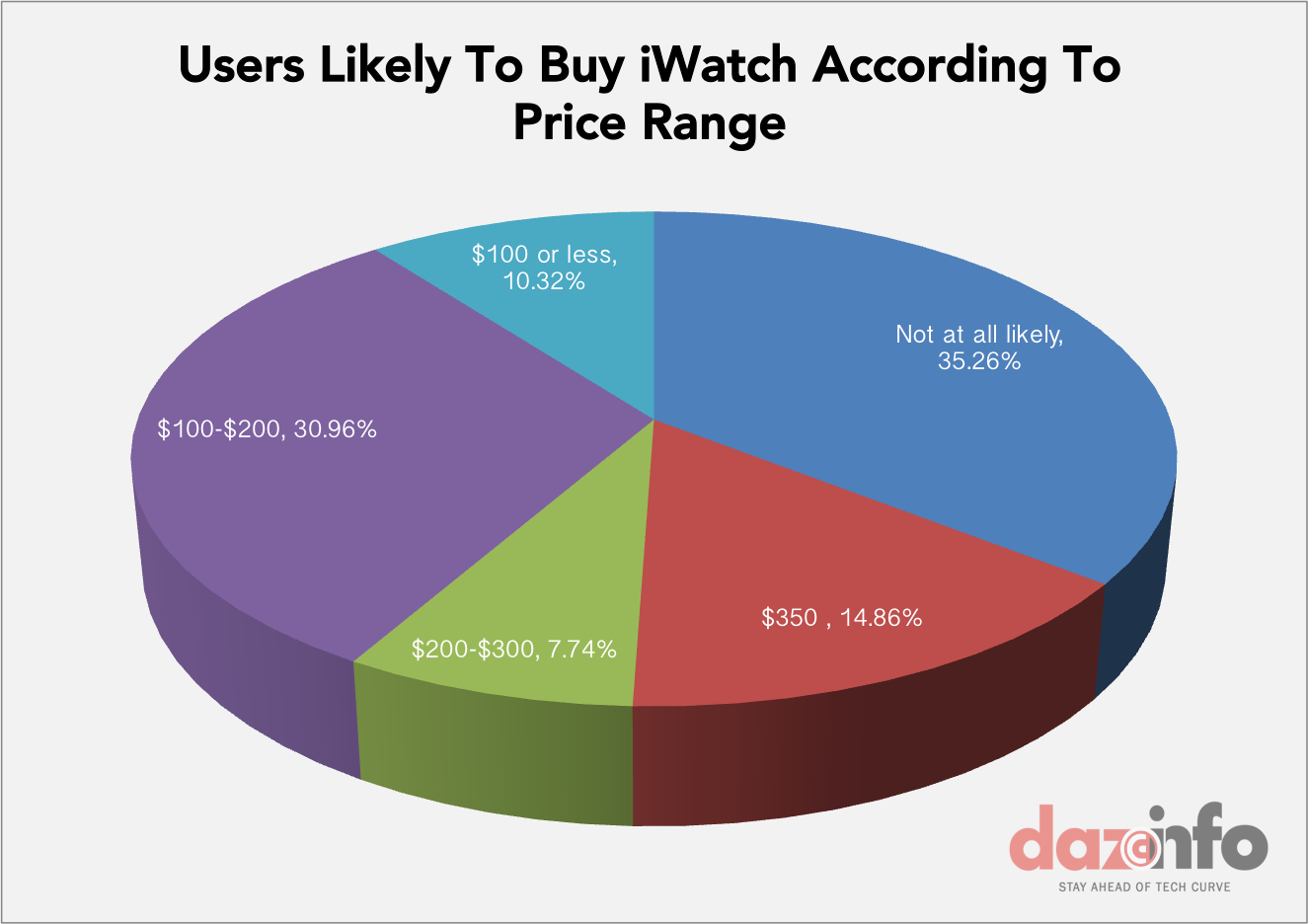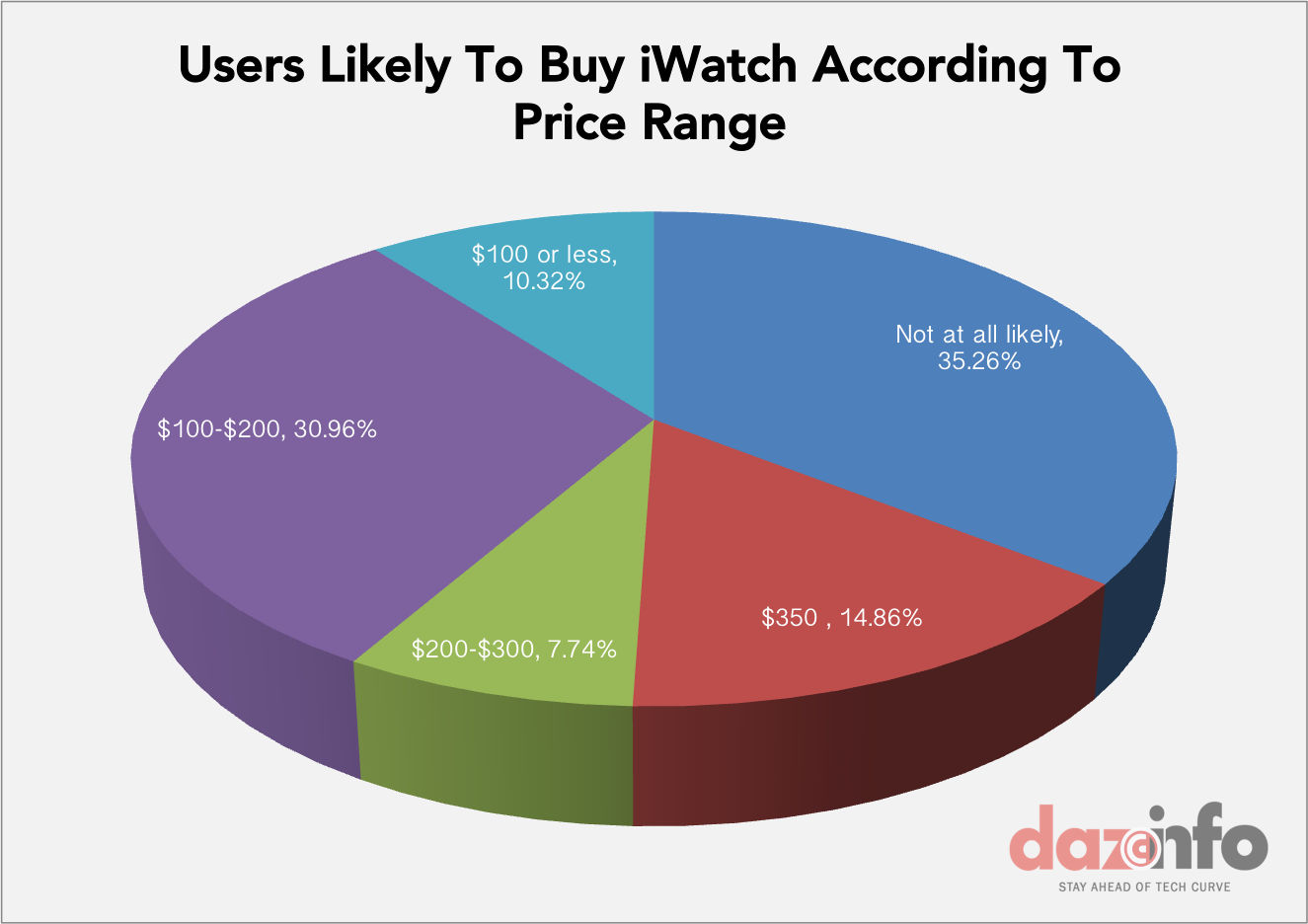 In its earlier survey, done by Piper Jaffray & Co. over 7,500 teens in the month of April this year, 17% were found interested in purchasing a smartwatch priced below $350. The upcoming large-screen iPhone 6 is likely to attract more teenagers as the smartphone serves more purpose than a smartwatch. An iWatch or any smartwatch is likely to attract more fitness fanatics than the average user. Despite, the initial sales of iWatch are expected to reach 5 million only.
The Fitbit Connection
Of all the respondents who polled for the survey, 18% already owned a wearable band while 13% are likely to buy one next year. Of all the bands, Fitbit emerged as the favourite among the users. This is unsurprising since Fitbit hogged the wearable band market in Q1 2014. Interestingly, almost one-third of respondents are likely to wear both the fitness band and smartwatch at the same time, thereby proving that the trend of fitness bands is not likely to die soon. This trend will help the smartwatch industry to achieve the estimated shipment to 373 million units by 2020.
Attendees At Google I/O Conference Gifted Two Smartwatches!
The growing market trend towards smartwatch industry was clearly visible in recently held Google Inc. (NASDAQ:GOOG) I/O Conference 2014. The developers, who attended the conference, were in for a treat as they were given two Android Wear smartwatches – an option between Samsung Gear Live or LG G Watch and Moto 360 that would follow in coming days. The features of Android Wear, modified Android OS for wearable gadgets, were displayed in the conference. Apart from the standard weather notifications, time, maps, the Android Wear is able to perform navigation for bicyclists and walkers. In addition to that, a few third party apps were also displayed at the conference. However, smartwatch is still far from acting as a standalone device and the majority of controls are driven through smartphones; the smartwatch is just a tiny projection of the smartphones.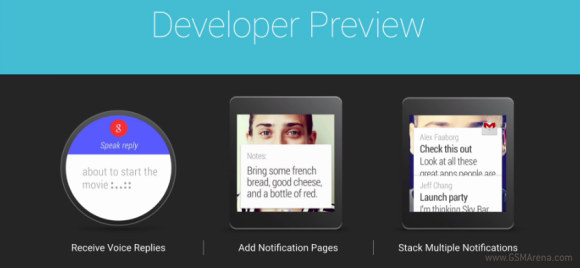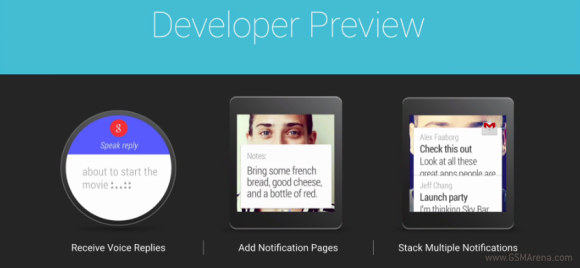 The event has officially kicked-off the competition in smartwatch market, especially against iWatch. While Apple will follow its traditional process of controlling the complete ecosystem of a device, including OS and apps, Google will present stiff competition by empowering other vendors smartwatches with Android Wear. Google's strategy to target the industry as a while, irrespective of vendor and manufacturer, has performed exponentially with smartphones. Nearly 80% smartphones are powered with Google Android OS. Though Samsung and Microsoft are trying to control the growing influence of Android by introducing Tizen and Windows Phone 8 OS but fail to posses any immediate threat to Android that has taken distinctive lead.
The smartwatch adoption is likely to increase in the developed countries more. However, the cost of wearable gadgets will play an important role. With a plethora of options available, the users are willing to make more informed choices and go for products that fit in their budget. Even the teenagers making their first purchase are likely to spend their money on a well priced smartwatch.