Apple Inc. (NASDAQ:AAPL) continues to maintain its strong lead among smartphone OEM vendors in the US. According to the latest data from comScore for the three months ending August 2014, Apple successfully fended of competition from Samsung Electronics Co Ltd (KRX:005935), LG Electronics Inc. (KRX:066570) and HTC Corp (TPE:2498) and is ranked as the top smartphone OEM manufacturer with a market share of 42%. Over the next few months, data from the new iPhone 6 models will be included and will present a clear picture of their impact on the U.S smartphone landscape.
Samsung's market share has also risen steadily during the three months ending August 2014, largely due to its new flagship model, the Galaxy S5. Interestingly, Apple is still in a commanding position, gaining in the US, a year after the release of the iPhone 5S and 5C models. The top smartphone operating system, meanwhile, continued to be Google Inc. (NASDAQ:GOOGL) owned Android OS, with a market share of 52%, compared with iOS market share of 42%.
Apple and Samsung Making Big Gains While Others Falter
The number of smartphone users in the U.S stood at 174 million, with mobile penetration growing by 3% since May 2014. Apple is in a commanding position with a market share of 42% during August 2014. Already the iPhone 6 has broken several records including the highest opening weekend sales of 10 million units, and largest number of online preorders. Apple has been incredibly successful in driving back fierce competition from Samsung and Motorola's low-budget models. The figures are a clear measure of the iPhone's popularity among consumers and mobile operators alike in the US.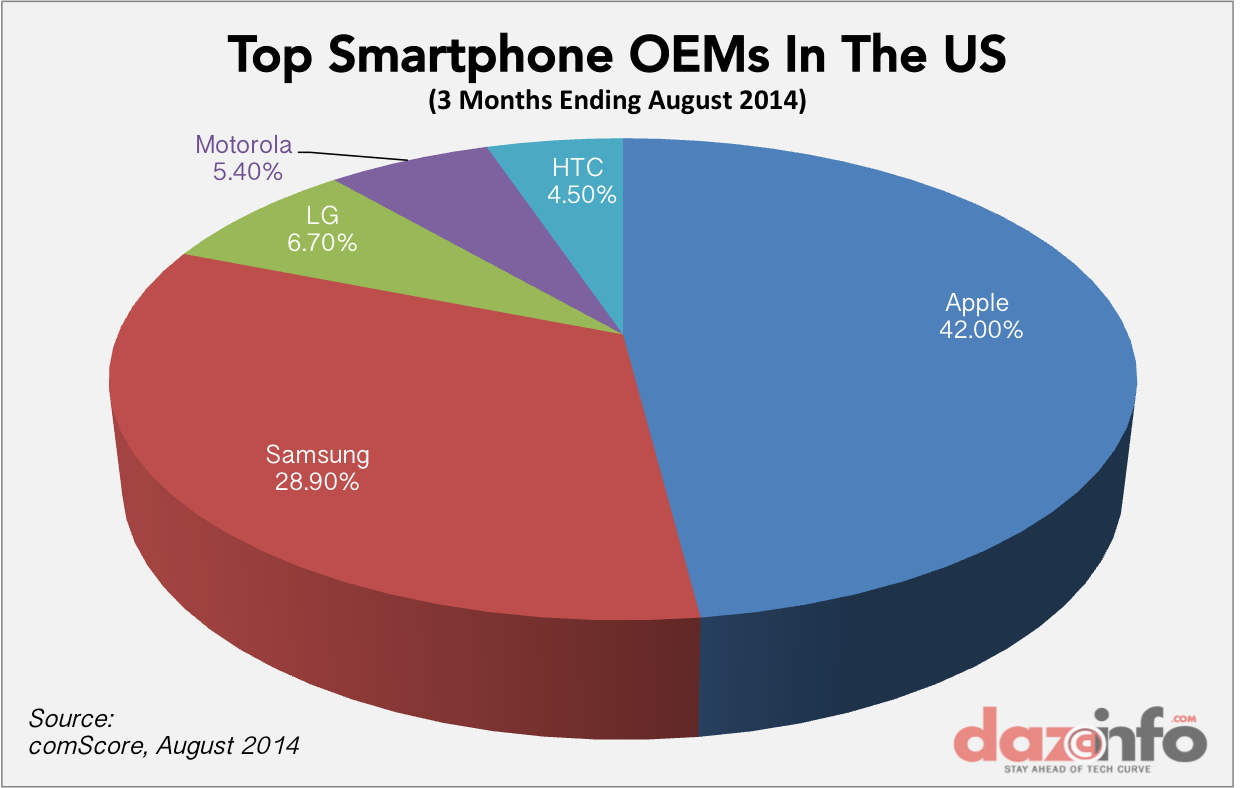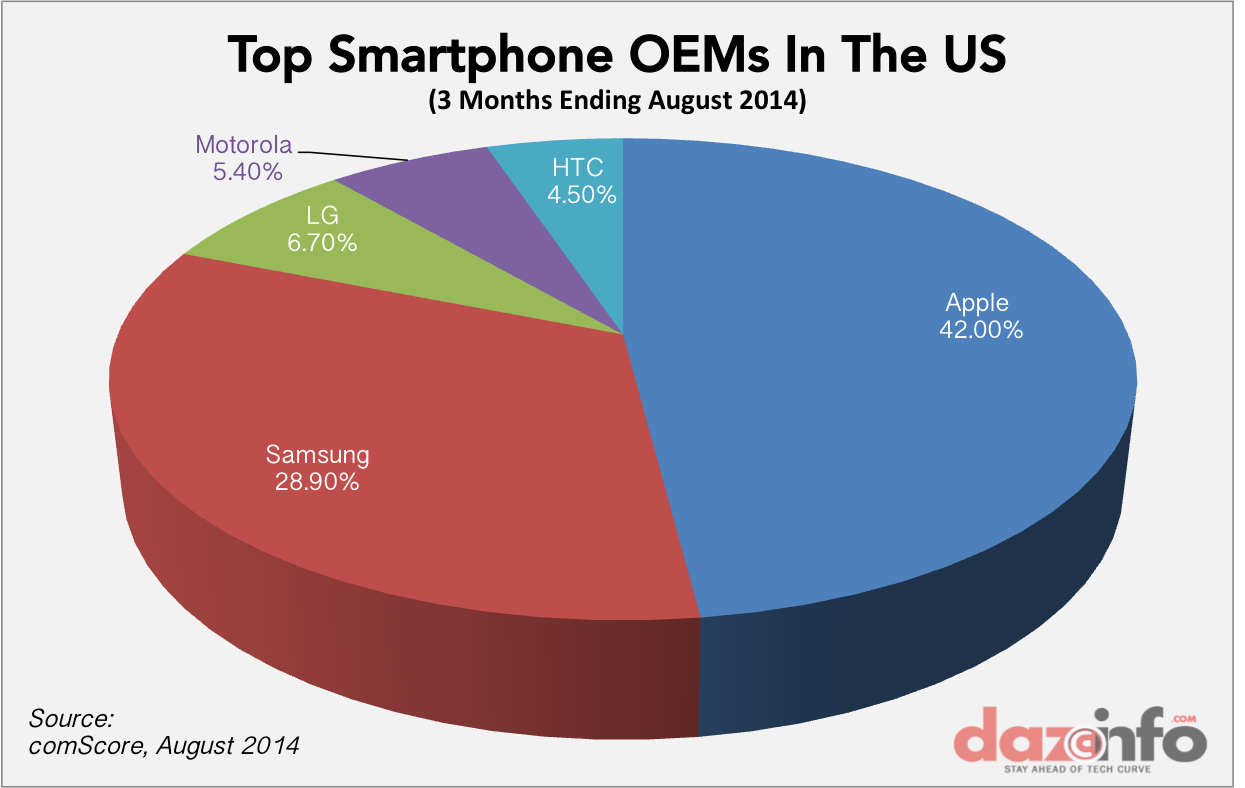 Samsung's and LG  both received incremental gains in market share at 1.1% and 0.2%, repsectively. The results will come as a huge relief to Samsung which is facing a tough year as mobile division profits have been on a consistent decline over the past few quarters. In the US, Chinese smartphone vendors such as Xiaomi have had little or no impact, allowing Samsung to stay afloat. The biggest losers over the past few months have been Motorola and HTC whose market shares have declined by 0.9% and 0.6% respectively.
Android

vs

iOS Battle Set To Heat Up
The market share of the various smartphone operating systems has remained flat over the past three months ending August 2014. The market share of Android OS has dropped by 0.1% point to 52%, while that of Apple iOS has risen by 0.1% point to 42%. The next few months will see an interesting battle between the newly released iOS 8 operating system and Android L OS which is due to be released in October 2014. It will be interesting to see if  the new version of iOS can have a significant impact on Android's market share.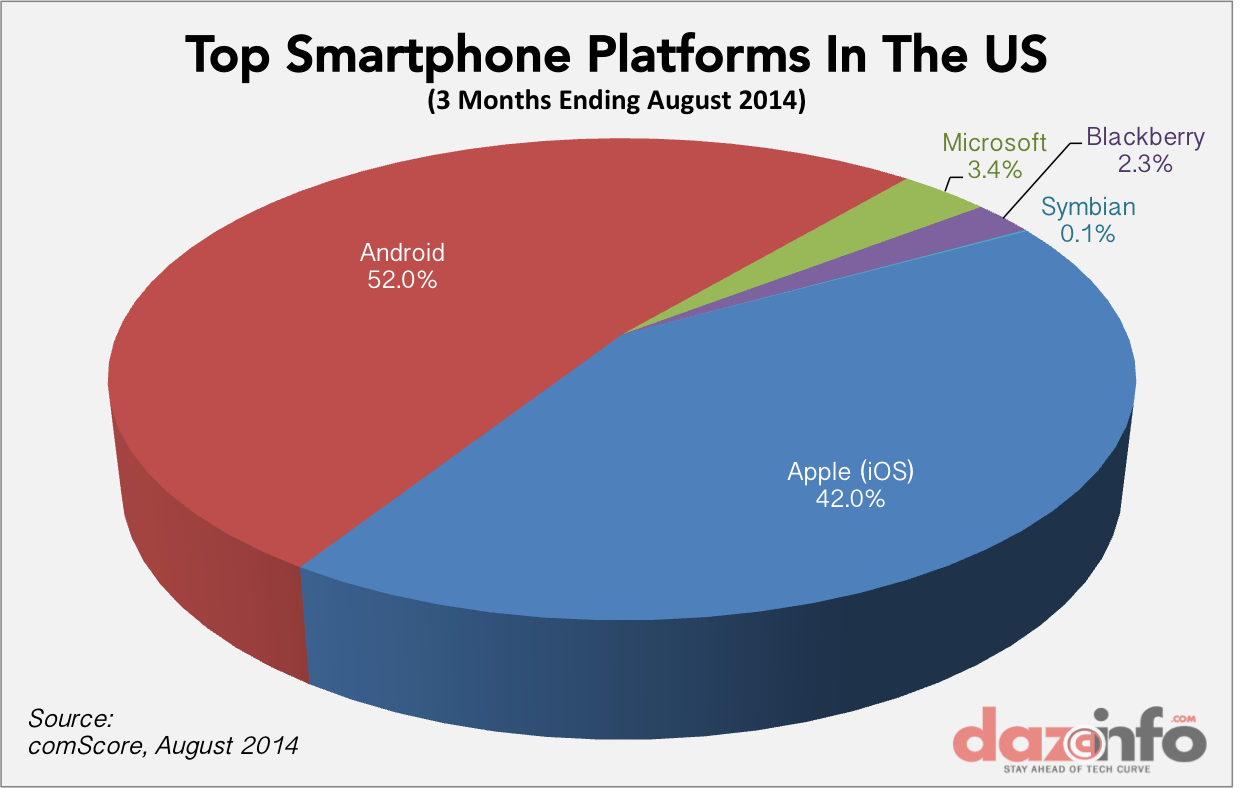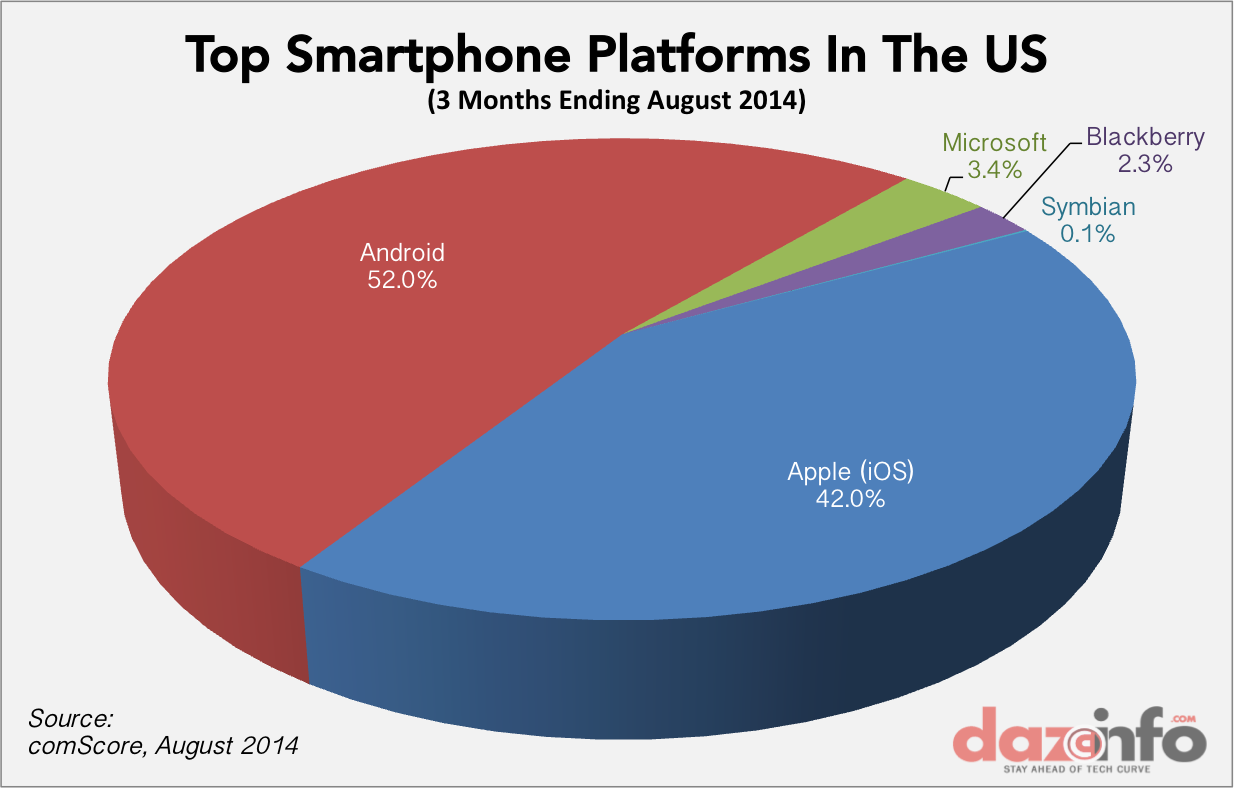 Microsoft Corporation (NASDAQ:MSFT) owned Windows Phone OS also grew by 0.1% to 3.5% during the three months ending August 2014. BlackBerry Ltd (NASDAQ:BBRY) OS market share also remained flat 2.3% and is likely to have hit rock bottom.  Both operating systems will continue to face several challenges as the iOS vs Android battle intensify over the next few months.
Facebook Is The Top Smartphone App
Facebook was the most popular smartphone app with a market reach of 72.4%, followed by YouTube with 54.9%. The other top five apps were Google Play (51.25, Google search (42.7%) and Google Maps (46.2%). Facebook messenger became the 6th most popular apps jumping from the number 10 position, after Facebook disabled the messaging feature on its main app to transition users towards Facebook messenger.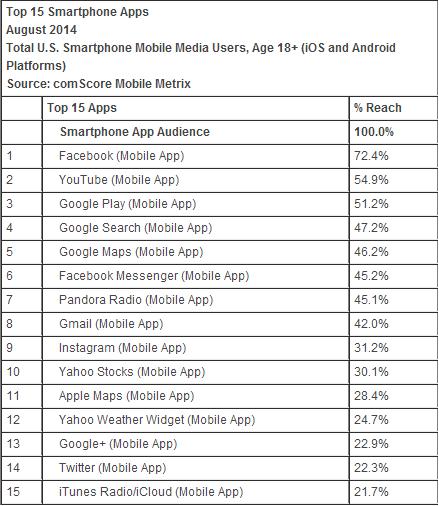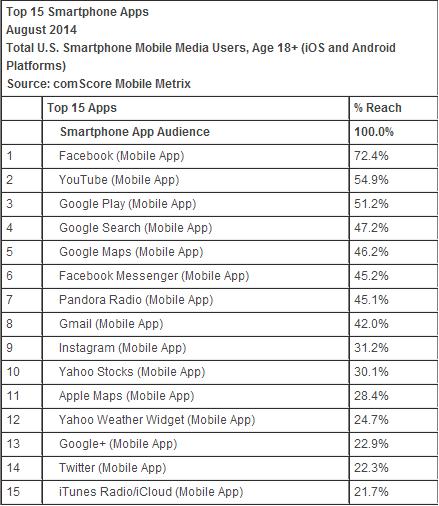 The iPhone 6 is Likely To Transform The Market
Except Samsung, all other Android OEMs have struggled to match Apple between May and August 2014, despite introducing their new and best smartphones. The smashing success of the iPhone 6 and the iPhone 6 plus could make things even harder for other brands over the next few months. Apple's 5.5 phablet device is likely to attract more users who previously prefered other brands such as Samsung  and HTC for their larger screen sizes. Al this means that Apple is likely to be in an even stronger place during the all-important holiday season in the U.S where smartphone sales are usually at an all time high. Since the iPhone 5S is still the best-selling device in the world, there is no reason to doubt Apple's iPhone 6 will take the company to even greater heights.