Both Apple Inc. (NASDAQ:AAPL) and Google Inc. (NASDAQ:GOOGL) have unveiled (partly) the newest version of their smartphone and tablet operating systems in the past couple of months. Apple is expected to release iOS 8 with iPhone 6, while Android L will most probably be shipped on the Motorola Nexus 6 (codenamed 'Shamu'). These devices are expected to be out in the market just in time with the upcoming holiday season. Both these operating systems have become very competitive to each other in terms of their feature set though, they need to differentiate between themselves to the users. But how would they do that? Let's have a look at some of their features which might help us in finding the right answer to the question.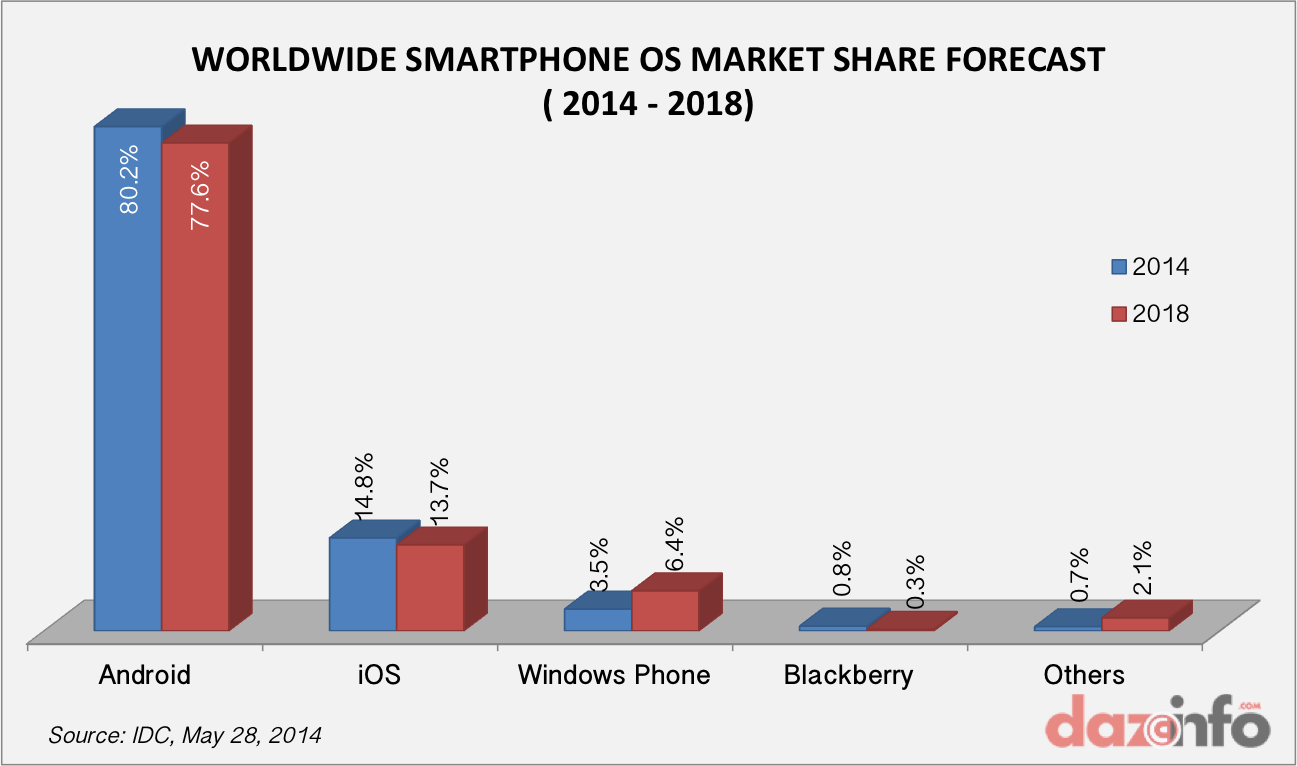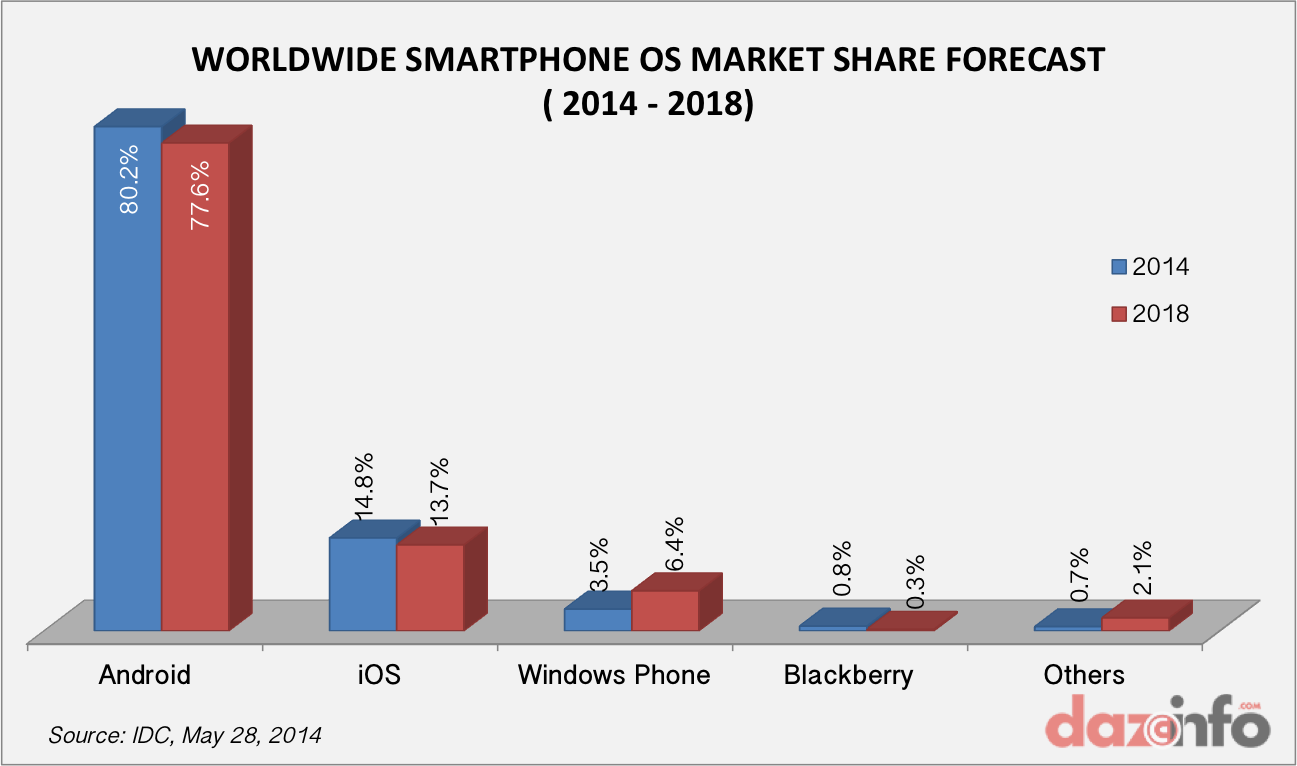 Software design & proprietary features
After a lot of criticism from experts about Apple's unexplained love towards skeuomorphic UI design, Jonathan Ive, the new head of software design managed to redesign both iOS with cleaner, minimalistic and flatter look. Even though the design of iOS 8 is similar to that of iOS 7, there have been a lot of feature additions. With iOS, Apple has focused more on opening up its platform to developers by giving them additional APIs to build even more powerful and versatile apps. With features like Handoff, Apple wants to retain existing users, provide even more ease of use to people who already own multiple Apple devices. Apple still hasn't showcased any plans to move to newer device categories, yet.
On the other hand, during Google I/O 2014, the flat UI, which was introduced with Android v4.0 Ice Cream Sandwich, has now modified to a completely new 'Material UI' which comprises of bright, colourful, floating UI elements with focus actions. Android L automatically generates touches of colour based on the content which is being displayed on the screen. We have already explained all the important features of Android L in detail. Also, there was a lot of stress in expanding Android onto various other device categories such as wearables, TVs and automobiles. While the major shift in iOS's UI design came in last year with iOS 7, the same thing is happening with Android L this year.
Real differentiators between iOS and Android are their users
Even though both Apple and Google are trying to have each and every feature, both keep a different set of target user base in focus while designing the next version of their platform. When compared to Android user base, iOS users are more loyal and have more spending power. It is widely known that Android users like the openness of the platform and they like to play around and customise their device as much as possible with custom launchers, live wallpapers, etc. On the other hand, iOS users like to keep their devices straight forward and spend more time on trying out different apps.
IDC has reported that Android currently owns nearly 80.2 percent smartphone market share worldwide, leaving only a minuscule 20 per cent share for other smartphone platforms. iOS owns just 14.8 percent of smartphone market share. But this doesn't explain the whole story. As per a report from Developer Economics, Android had a significant lead over iOS in parts of Asia, South America and Africa during Q2 2014 while iOS leads in European and North American markets.
According to the data from Net Applications, for the first time ever, Internet usage from Android devices (44.62%) has surpassed iOS devices (44.19%), though, the difference was quite tiny. Considering that Android's market share is over 7 times to that of iOS, an average iOS user still spends a lot of time on the Internet when compared to Android. A study by SurveyMonkey and Raymond James Research also showcased that nearly half of iPhone users have an intention to upgrade to iPhone 6 when it launches this September. On the other hand, only 44.4 percent of Android users intent to upgrade to an Android smartphone. This reveals that iPhone users are comparatively more loyal than Android users, hence, more revenue generating opportunities for brands targeting iOS users.


Recently, a study by MapBox had revealed that a large part of iPhone users have higher income than that of Android users. This also explains why nearly 60 percent of Android devices that were sold in Q2 2014 fall under the low price tier ($0-$200) while over 80 percent of iOS devices fall under the high-end price tier ($400+). As the spending power of Android users is 4x – 5x lower than that of iOS users, mobile app and game developers also focus more on iOS.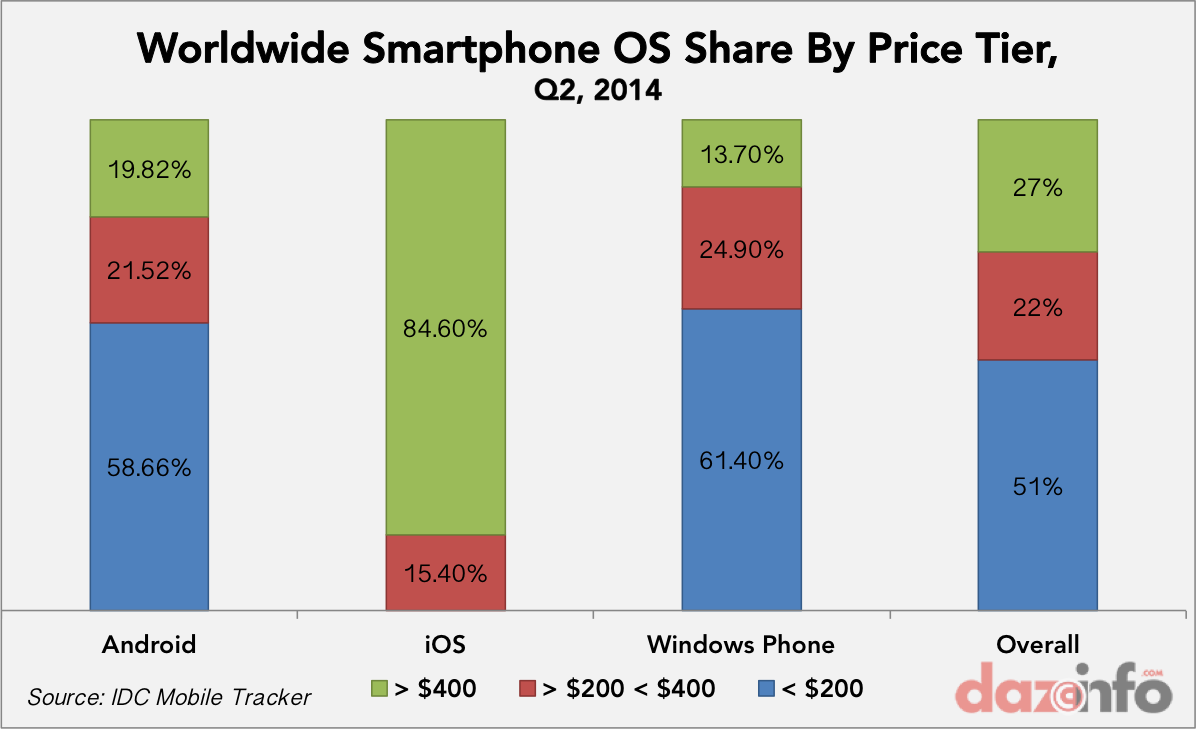 Spending power per Android user is lower, so Google wants to play the quantity game by adding 'the next billion' consumers through programs like Android One. On the other hand, Apple is focusing more on quality consumers by making its walled garden even more attractive and making it even harder for existing users to leave iOS for competing platforms. This doesn't mean that Apple isn't trying to gain back its lost market. Apple is working on large-screen iPhones 6 which will attract a lot of consumers who were using Android smartphones just because Apple didn't offer them large-screen iPhone. Even though both the platforms are marching towards becoming the ultimate operating systems for smartphones, tablets, TV, wearables and automobiles, only time will tell how their strategies will pan out.