With pre order sales of iPhone 6 and iPhone 6 Plus reaching 4 million within first 24 hours, analysts at Wall Street have shown optimism about the newly launched, next generation handsets of Apple Inc. (NASDAQ:AAPL).Moreover, Fiksu iPhone 6 launch comparison and iOS 8 launch comparison show that number of active devices since its launch is in the favour of predictions by market enthusiasts. It is already being compared with the sales of Apple's iPhone 5s and iPhone 5c units which were reportedly around 9 million in their launch weekend. Previously in 2012, Apple sold 5 million record units of iPhone 5 in its launch weekend setting a new record at that time. With price as high as $999, almost comparable to 128 GB MacBook Air, the pricing strategy of Apple has been always surprising.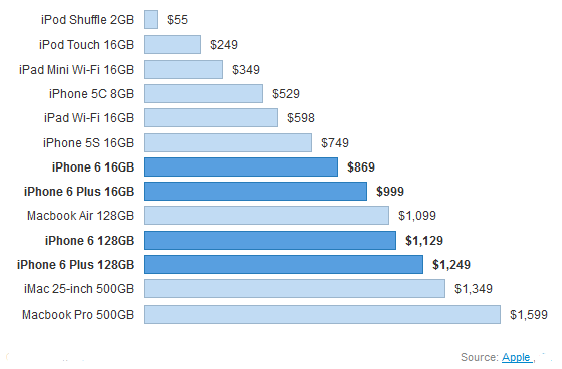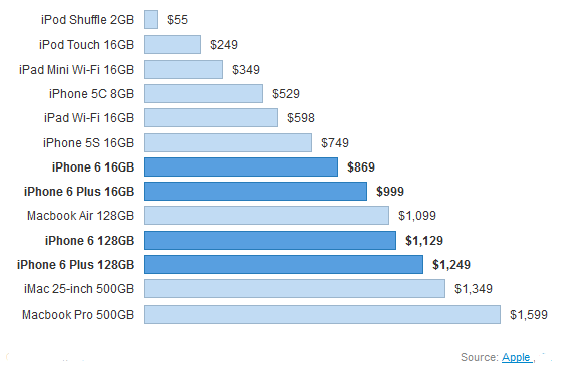 Still the enthusiasm among Apple consumers with the launch of every new product is not only sustained, but is found on the higher side. Despite of its high price, the Apple consumers have been increasing ever since, leaving market researchers stunned.
The demand of Apple products will continue to rise
Analysts believe that if the adequate supply is maintained, it wouldn't be surprising if the Apple's new product demand reaches 10 million this time. As per a projection by analyst Rob Cihra of Evercore Partners, shipment of iPhones will reach a total of 37 million in the September quarter, a year over year increase of 10 percent. BMO Capital Markets' Keith Bachman sees this around 35 million, but expects that his estimation may see a higher figure as time passes. These estimated figures are quite close to the our projection that says Apple will close the quarter with record 60 – 70 million iPhone sales.
Gauging the iPhone 6 and iPhone 6 Plus Adoption
It has been just 72 hours since the launch but the % of active users of iPhone 6 has reached 1.24% (see graph). It has outpaced the iPhone 5s in second place at 0.5% from last year at the same point in time post launch. At third position is iPhone 5 with 0.3% followed by iPhone 6 Plus at 0.24%. iPhone 6 and iPhone 6 Plus has a total of 1.48 % of all iPhones in comparison to the 5c and 5s at 0.66% at the same point last year. It shows adopton relative to prior iPhone launches.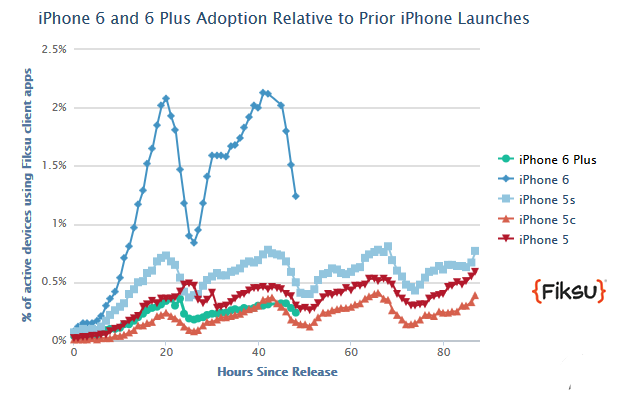 After 100 hours since the launch of iOS 8, the adoption rate of the iOS version is comparatively slower than the earlier version of os iOS, shows Fiksu stats. While iOS 8 usage reached to 24.76% after the said period, its predecessor iOS 7 and iOS 6 were running on 42.7% and 38% of iPhone. However, this difference is supposed to become slim as more and more people will start using iPhone 6 and iPhone 6 Plus.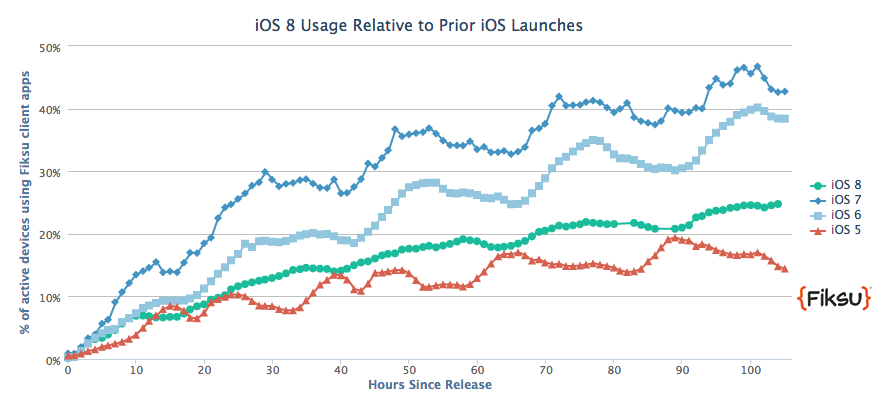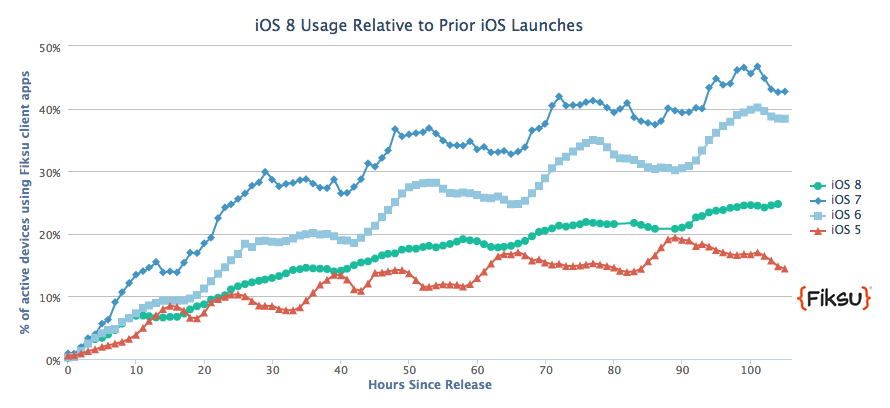 What makes Apple's strategy different?
Despite its soaring prices, Apple is seen to have a very loyal fan base. In the US it is growing at the cost of Android in Smartphone segment.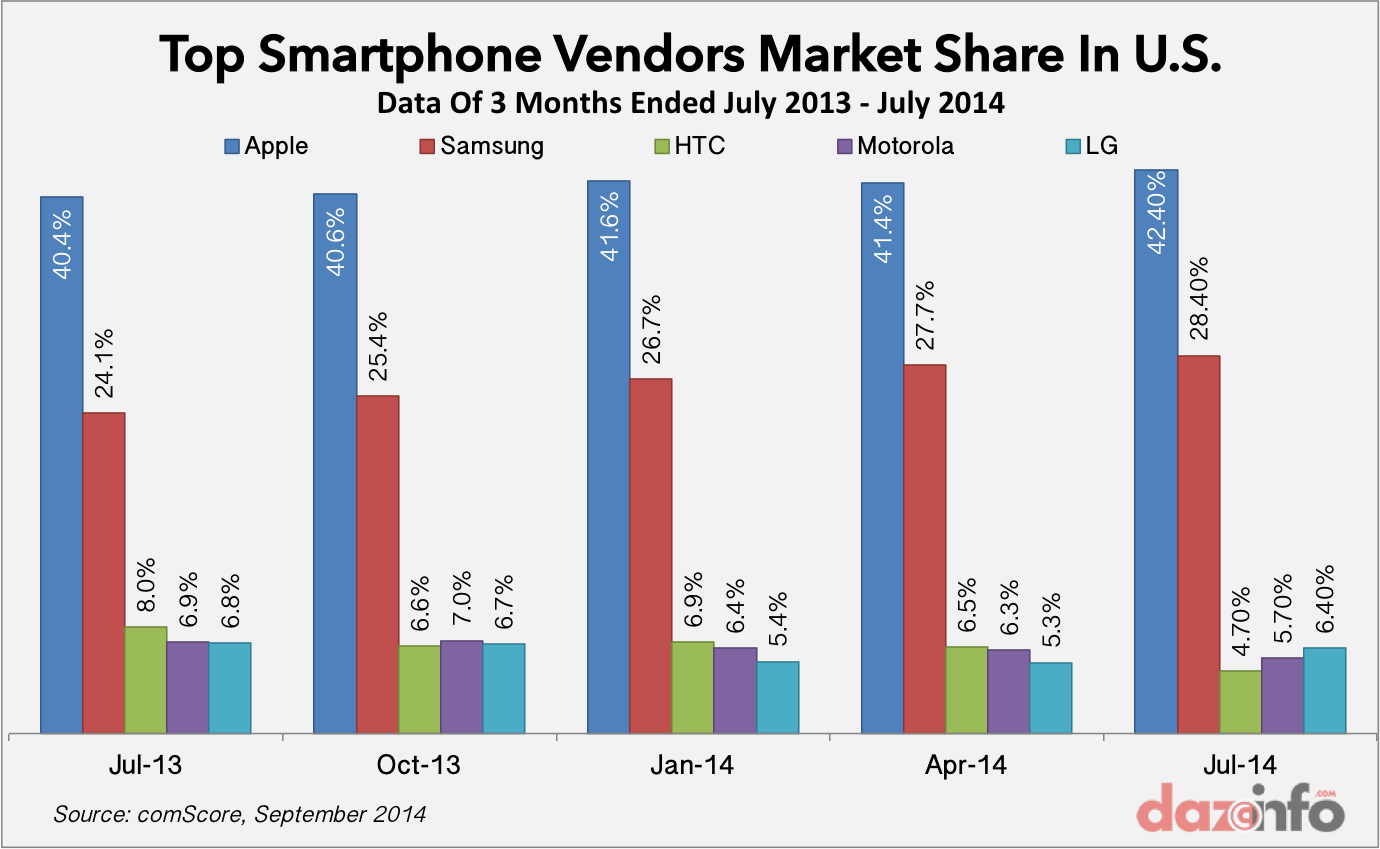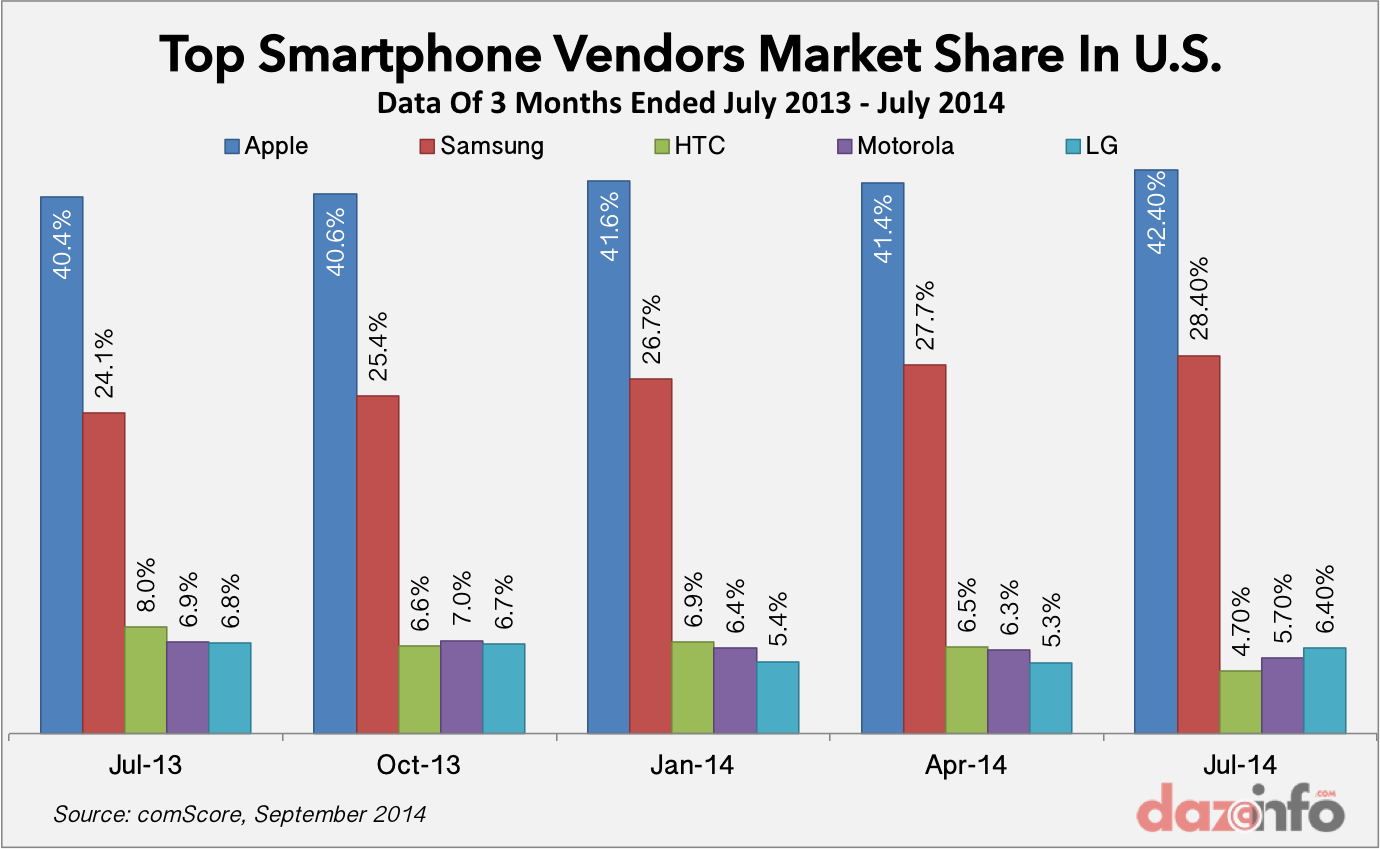 It has been more because of it is catering to high end users than the developing economies. Apple Inc. (AAPL) iPhone contribute more than 50% in company's Q3 2014 revenue, as reported by its fiscal Q2 2014 earnings. When late back in the year, iPhone 5c needed to be sold in both subsidized and unsubsidized market, it made the pricing tricky. It was then receiving a subsidy of $450 on the iPhone. Since the carriers have no reason to lower the service bills of iPhone 6, it seemed ridiculous for Apple to lower the subsidy – proposed $0 with contract. The pricing strategy can be analyzed here itself; Though, this will not make much of a difference in the overall cost of iPhone but from the viewpoint of both marketing and profit, $0 contract will affect the brand of Apple. With the heavy advertising that goes around, $0 will mean an incredible number of iPhone units out in the market. This will eventually be linked to the expectation of consumers around $0 and Apple will be associated as "cheap". Apple will never take any step that affects its brand. It is widely accepted that it is the brand of Apple that sells. Particularly, in Asia, the brand prestige of iPhone is the biggest selling point. The user experience and apps have turned out to be secondary. Apple, rather any other company, would have willingly stuck to this pricing strategy if it is worth the profit.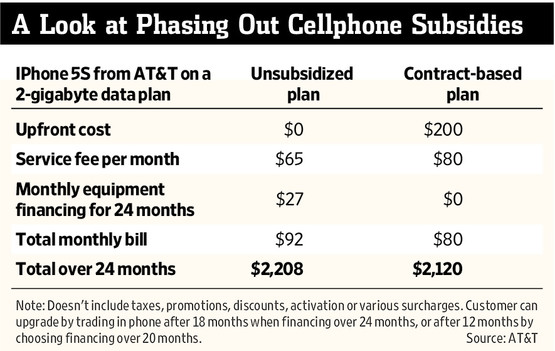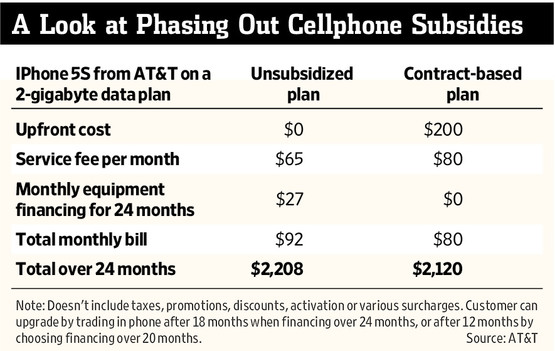 Enterprises have become Apple's hot target
Besides the unsubsidized market and price sensitive customers in the subsidized market, Apple has made it a point to target the enterprises. With Android fragmentation and the RIM implosion around, Apple has been continuously trying to become a viable default option for the enterprises. Infact, Apple iOS beats Android with 2X margin in enterprise device activation in Q2 2014, iPhone reportedly accounts for 51 percent of activated devices, while iPad accounted for 90 percent of tablets.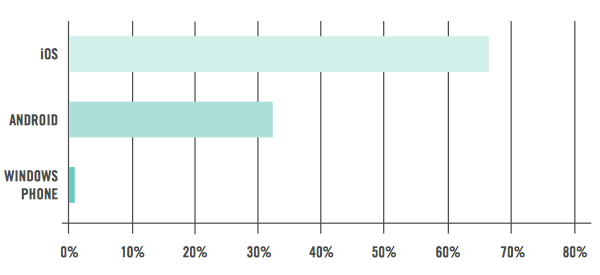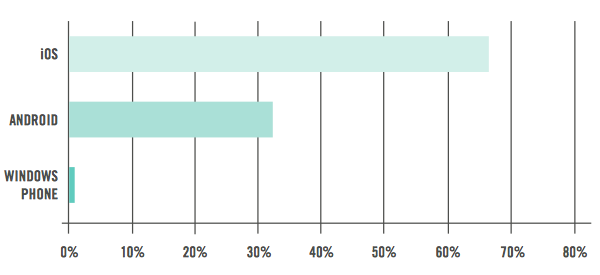 Apple products are not only about features
Apple products from iPhones to iPads and Macbooks are well-known for their features and quality. With the new iOS 8 and data encryption, its dominance in the field of Smartphone is unquestionable. It is, however, to be reminded time and again that it is not only the features, but the well thought strategy designed by the company that makes it the most profitable despite the high prices.