Google Inc. (NASDAQ:GOOGL) owned Android OS is steadily gaining popularity in the enterprise space, but it still has a long way to go if it ever hopes to catch up to Apple Inc. (NASDAQ:AAPL) iOS. According to data from Good technologies for Q2 2014, iOS device activations in enterprise segment were at 67%, while those of Android reached 32%. The quarter was a very impressive period for Android, with activations jumping by 5%, while on the other hand, device activations on Apple's iOS  dropped by 5%.
Some interesting findings of the report are:
Android apps claimed 12% of all total enterprise activations, taking 4% points from iOS.
 The period saw significant growth in secure instant messaging apps, while document editing apps maintained the top spot for the most widely used enterprise

app

.
Custom app activations grew by 25% quarter over quarter.
Enterprise application activation saw double-digit growth, rising by 20% quarter over quarter.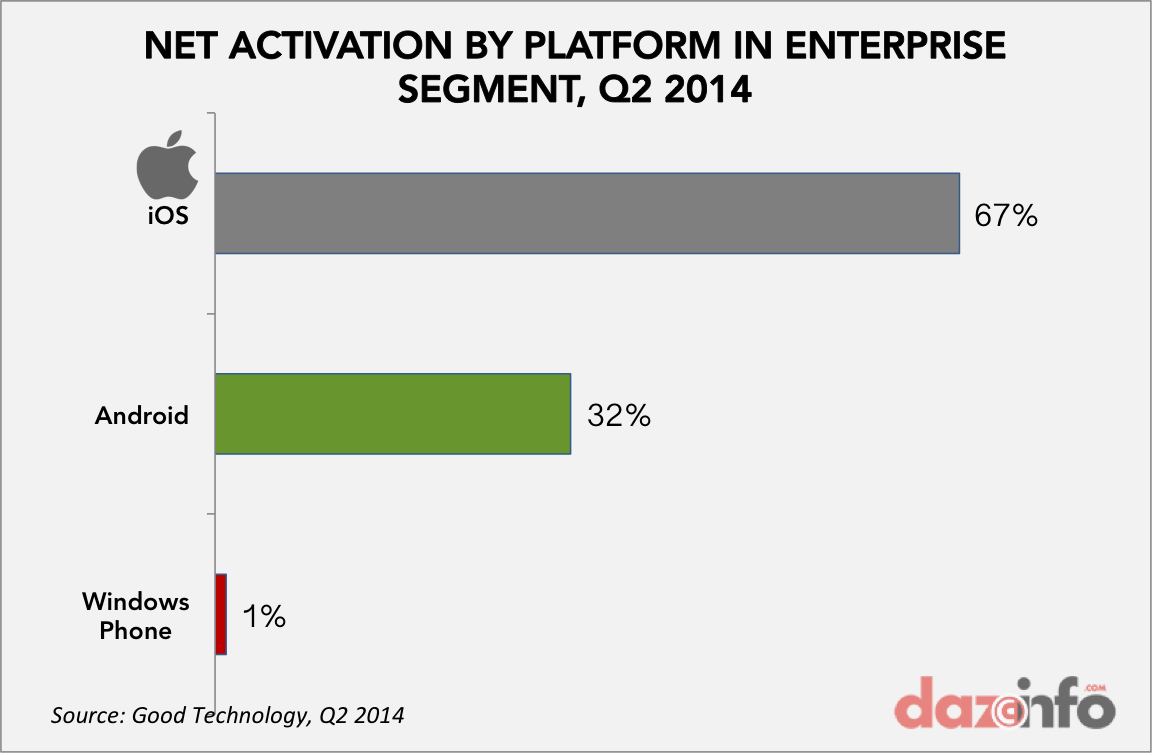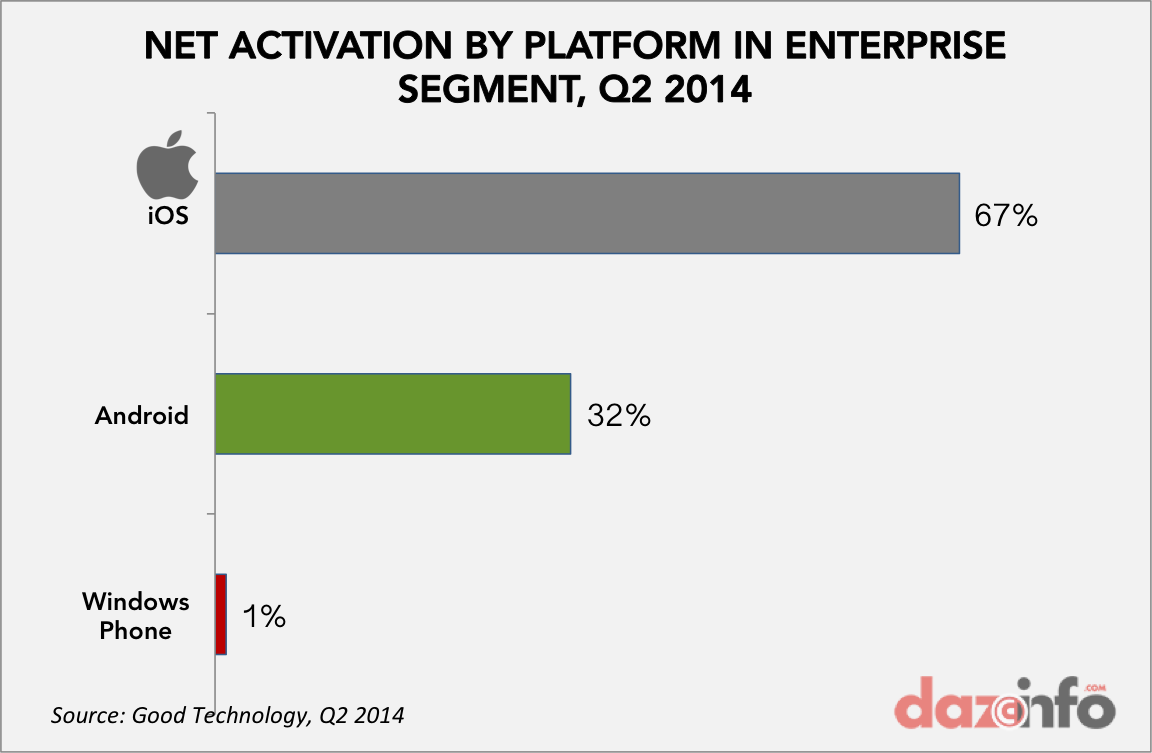 Android Device Activations Are On the Rise
Android device activations increased by 5% in Q2 2014, to make up 32% of all enterprise device activations. Interestingly, Android smartphone activations saw the largest increase of 4% quarter over quarter. Android smartphones were responsible for 30% of device activations in the quarter, while Android tablet activations remained steady. The rapid increase of Android could perhaps be attributed to the rapidly growing enterprise device segment. As more business organizations  in various countries continue switching towards BYOD, Android will be the preferred choice among some enterprises for its low-cost devices.
Despite the steady gains Android has made in the quarter, it is still far behind Apple iOS in app segment. Android app activations are still at just 12% compared with iOS app activations, which are at a whopping 88%. The obvious security problems in Android are still a major issue for several enterprises.
Apple iOS Is Still The Leader In Enterprise
Total iOS device activations in Q2 2014, dropped by 5% to constitute 67% of all enterprise device activations. This means that Apple still controls two-thirds of the enterprise device market. The Apple iPhone is the most popular device among enterprises with an activation rate of 51%, remaining consistent quarter over quarter. It will be interesting to see if the new iPhone 6, scheduled for a September 9th launch, proves to be a major draw for businesses as well. 
iOS tablet (Apple iPad) activations declined in Q2 2014 to 16%, mainly due to the declining sales of the iPad. Despite the decline, the iPad activation rate for Q2 2014 was at a massive 90%, while Android constituted just 10% of tablet device activations. To remain a leader in this segment, Apple has forged a partnership with International Business Machines Corp. (NYSE:IBM) to sell more iPads to various enterprises.
Windows Phone Fails To Attract Enterprise
Microsoft Corporation (NASDAQ:MSFT) Windows Phone device activations were at just 1% in Q2 2014, and has remained flat quarter over quarter. Although Microsoft remains a leader in legacy desktop environments, it is still struggling to mark its presence in the new world of enterprise mobility. The company's cloud services and other platforms consistently attract double-digit growth Q-O-Q, its overall device role is limited and has failed to attract attention from enterprises.
Microsoft clearly has much to do if it aims to regain its lost role in the enterprise segment. Devices such as the Surface Pro 3 and other devices powered by Windows 8.1 OS are the company's best chances of finding takers in a competitive enterprise segment.
The battle for the domination of enterprise is far from over. Only now companies are steadily shifting away from legacy desktop apps to secure mobile enterprise applications. This is in turn allows organizations to  securely deliver critical, but sensitive, data to their employees, customers and partners. With BYOD set to evolve from a trend to a requirement by 2017, this is a segment that has continued to have plenty of excellent prospects.