Today Apps are dictating our lifestyle, they take care of most of the needs, be it communication, banking, entertainment or health. You name a need and there are hundreds of app eyeing for your attention. The current app industry is estimated to be worth around $70 billion in 2013 and is expected to double in size in the next three years.
Recent success of apps like WhatsApp, Flappy birds and Candy crush saga have brought the massive revenue opportunity offered by the App market to the forefront. Mobiles which were earlier being considered as mode of communication and entertainment only, have now started making a foray into the corporate world and are being considered as productivity tools also.
Organizations have now started allowing users to use apps in their workplaces also, some of the organizations have even started to provide their official application as app utilities. In a recent report released by VisionMobile it has been estimated that around $28 billion were spent on business and professional apps in 2013 and this figure would reach around $58 billion by end of 2016.
Business And Productivity App Market: Key Trends In IT
As per the report on Business And Productivity Apps by VisionMobile, the growth of the business & productivity app market is driven by the following key IT trends:
Consumerisation of IT:  Decisions made by users, not CIOs. Increased use of Bring Your Own Device (BYOD) concept in teams and departments have encouraged use of Apps which are more specific to their individual needs, then which are used at enterprise level.
Diversification of IT: Use of mobility devices like smartphone and mobiles for official work apart from checking e-mail has seen a surge in terms of business and productivity apps.
Bring-your-own-devices- Although use of BYOD culture is giving headaches to IT security and infrastructure teams across the organization, it is becoming quite a trend across its user base. Use of their own devices plus flexibility of working anywhere anytime is making it a favourite with decision makers also.
App Market to double in size in 2 years!
With increase in smartphone market the app market has been growing at a very fast rate. Currently app economy is being fed by the increase in smartphone user base, but in coming times it will be fed by the increasing number of business users using their devices for official purposes. The app market is expected to grow by around 27% up to 2016, with business and productivity categories contributing around $58 billion.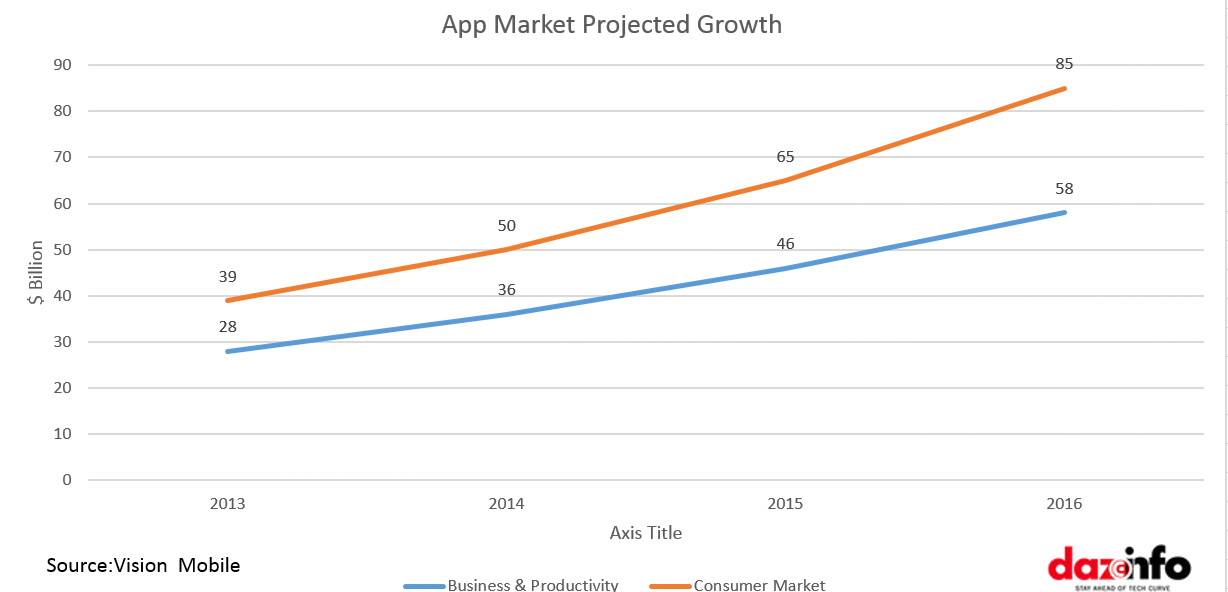 Current research shows that app store revenues were only 18% of the total app economy in 2013. This is expected to increase in future as more and more people start spending on apps and digital content. It is expected that direct sales via app stores will rise to $40 billion in 2016, accounting for more than a quarter of the whole app economy.
The bulk of the revenue in app market is coming from contract jobs i.e. creating custom apps for the client. In future, as more and more similar apps are available in the market, this section may see a fall in its share but as of now it will be the major revenue earner. Other revenue sources and models such as direct sales, licensing fees, and subscriptions today account for $11 billion, and will reach $29 billion by 2016.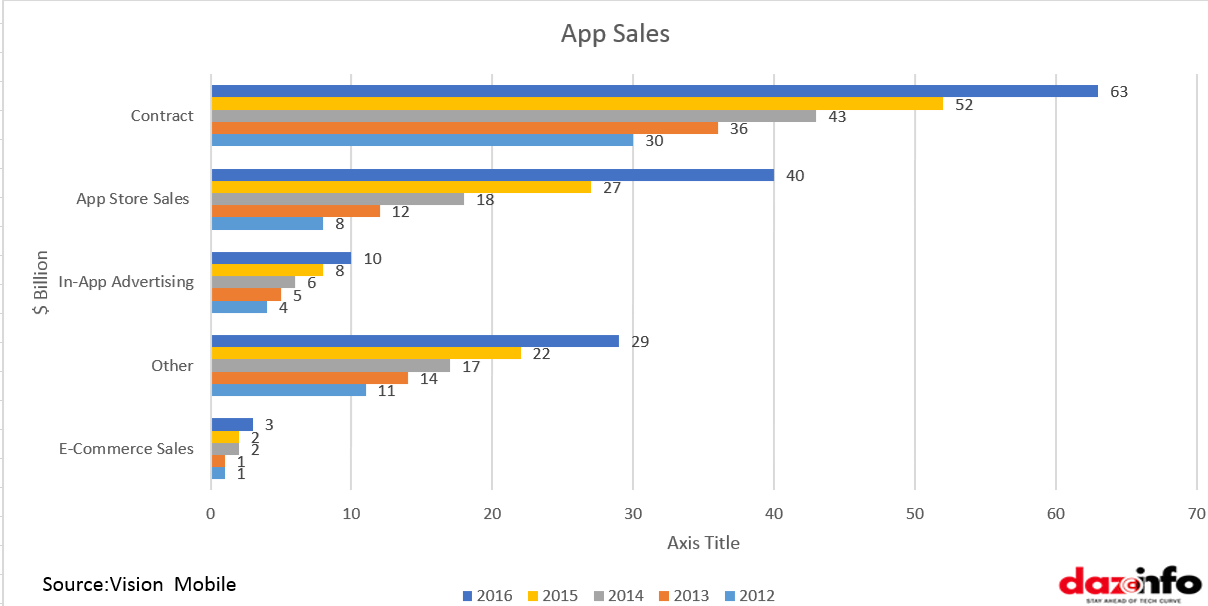 Business and Productivity Apps to drive growth
Currently, the market for business and productivity apps is concentrated outside of app stores as a lot of corporate houses are still relying on the traditional way of getting software products being build. Currently the sale of business and productivity apps via the different app stores accounts only for 10% of the total sales i.e. around $1 Billion. This represents just 4% of the business and productivity app market today. It is expected that by 2016 the revenue from business and productivity apps would grow by 6 times to $6 billion.
The growth of post-PC devices in the workplace, either via the BYOD route or the corporate-issued route, is bound to make app stores a more appealing proposition for businesses. Professionals and small businesses are expected to increase purchase via the traditional app markets. We may see some enterprise specific app stores coming up. This will help in tackling the security risks and also ensuring a quality control on what users are purchasing.
Apple's "Volume Purchase Program for Business" is a service that aims to enable and facilitate purchasing and deployment of apps across organizations. HP recently launched the H-P Access Catalogue. AppDirect and Apperian provide enterprise focused app management solutions including app stores and application management. Gartner estimates that by 2017, 25% of enterprises will have adopted a private app store.
With more and more organizations shifting towards BYOD, the revenue of apps from the business and productivity category will see a surge in more number of downloads and revenue generation.
Source: Vision Mobile