Apple Inc. (NASDAQ:AAPL) will not be too happy with the latest leaked information of iPhone 6; French Apple website IGen.fr has shared a variety of information about the dimensions, weight and camera of 4.7-inch iPhone 6 and 5.5-inch iPhone 6. At the first look the information seems to be legitimate as it resembles internal information coming directly as in a form of screen shots from any Foxconn factory. Both the devices carry a code name of N56 and N61 for 5.5-inch iPhone 6 and 4.7-inch iPhone 6, respectively.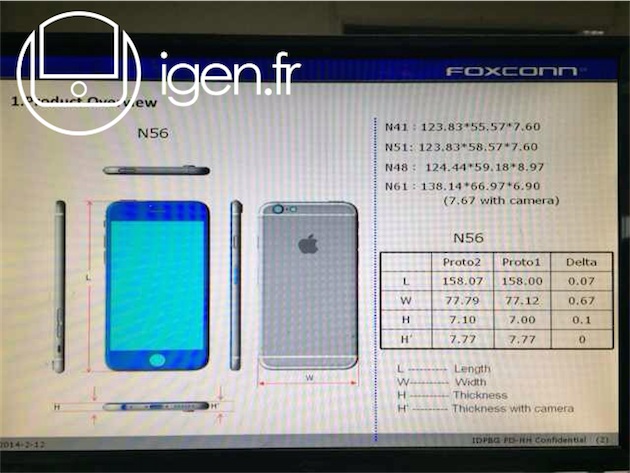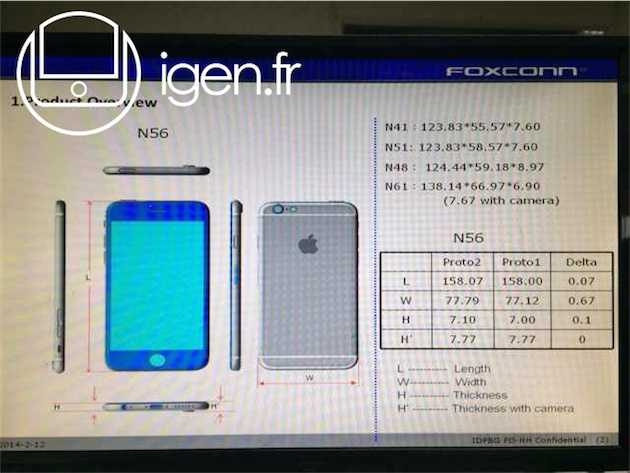 According to the latest leak, the final version of 4.7-inch iPhone 6 will measure 138.1 mm long, 66.97 mm wide and 6.9 mm thick. Apparently, Apple tested two prototypes of larger 5.5-inch screen iPhone 6. This could be attributed to the fact that the company was reportedly struggling with battery performance and thickness with the iPhone that may cause delay in launch now. The leaked images of iPhone 6 hold the dimensions of both the prototype of 5.5-inch iPhone 6. Eventually, Apple settled with the comparatively heavier and a bit bigger 5.5-inch iPhone 6. The 5.5-inch iPhone 6 will measure 158 mm long, 78 mm wide and 7.1 mm thick, weighing 184.8 grams.
According to the source close to the production of 5.5-inch iPhone 6 confirms that Apple has decided to fit a large capacity battery into 5.5-inch iPhone 6, probably 2915 mAh. The claim is in line with the earlier leaked information about the iPhone 6 battery capacity.
Though the source didn't spill beans about the display type, but Apple reportedly shipped 28 containers of displays to the Foxconn factory from the United States. Therefore, rumors have started making the round that the containers have come from GT Advanced Technologies, which Apple partnered with to manufacture sapphire displays at factory in Arizona. However, there are no supporting claims that could authenticate this case.
Apple iPhone 6 is scheduled for launch on Spetember 9. However, there are claims that the company may introduce 5.5-inch iPhone 6 later this year. The exact reasons are unknown though, most of the rumors are stating that the delay is due to challenges in production kick-off and possible upgrades as compared to 4.7-inch iPhone 6.