Apple Inc. (NASDAQ:AAPL) announced its fiscal Q3 2014 results on July 22nd, 2014, and the results have remained in line with both Apple's and our own earlier estimates. The Cupertino giant registered US$37.4 billion in revenue for the quarter, and US$7.7 billion in net profit. This directly corresponds to a growth of 5.9% in revenue and 19.6% increase in earnings per share compared to the last year. Apple's total value in cash and marketable securities is now a whopping US$164.5 billion. In the press release statement, Apple CEO Tim Cook was upbeat of the release of Apple's upcoming new products and services.
"Our record June quarter revenue was fueled by strong sales of iPhone and Mac and the continued growth of revenue from the Apple ecosystem, driving our highest EPS growth rate in seven quarters. We are incredibly excited about the upcoming releases of iOS 8 and OS X Yosemite, as well as other new products and services that we can't wait to introduce."
Highlights Of Apple's Q3 2014 Earnings Report:
A total of 35.2 million iPhones were sold, up from 31.2 million in the year-ago quarter.  The iPhone continues to contribute more than 50% of Apple's revenue.
Sales of iPads declined to 13.3 million units compared to 14.6 million during the same period last year.
Sales of Macs grew to 4.4 million units from 3.8 million during the year ago quarter.
Revenue from Greater China region  rose by 28% Y-O-Y to US$ 5.9 billion.
Shipments of iPhones grew by 55% in the Brazil, India, Russia and China regions.
Sales of The iPhone Defying Global Trends
Apple's iPhone sales continue to run along smoothly despite global trends indicating the saturation of the high-end smartphone market. The iPhone 5S continues to be the best-selling smartphone in the world, almost a year after its release. Sales of the iPhone 5C have picked up as well, and is a positive sign for a well differentiated mix of Apple's handsets. Apple's second rung devices such as the iPhone 4S and iPhone 5C will continue to be just as popular as Apple's higher end offerings among customers. It was also observed that only a quarter of the Phones sold during the third fiscal quarter ended on June 30, 2014, were tied to a subsidy plan signalling that customers are more likely to pay the high price up front. This is  another positive development for Apple in emerging countries where subsidies are not common.
Sales of the iPhone are surging in the BRIC countries with shipments growing 55% Y-O-Y. Sales in China are reportedly growing twice as fast as the average smartphone market. The improved 4G network and Apple's deal with China mobile – the world's largest telecom carrier – could allow Apple to sell millions of  iPhones throughout 2014 and the following year. It is also widely expected that Apple's upcoming iPhone 6 model with a 4.7 inch screen could see explosive demand from Asia, where Phabets are common among users. The device could single-handedly steal Korean rival Samsung Electronics Co Ltd (KRX:005935) big screen smartphone market, and soar iPhone sales to new heights.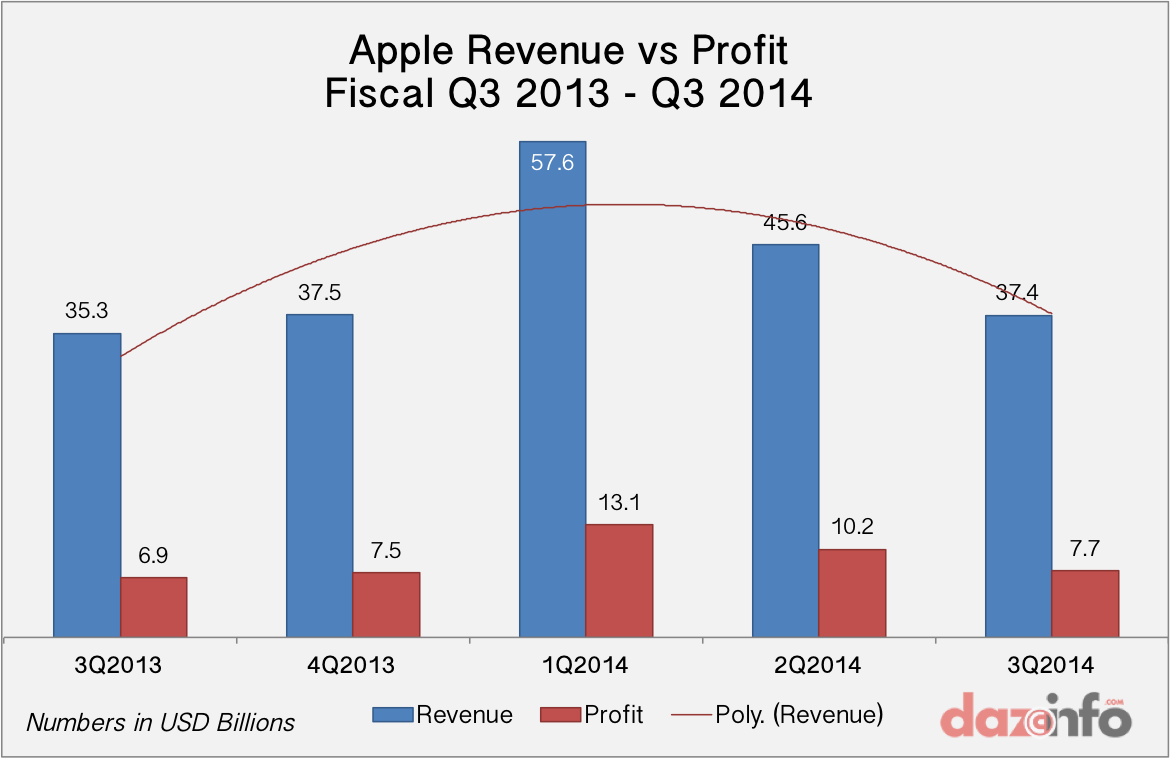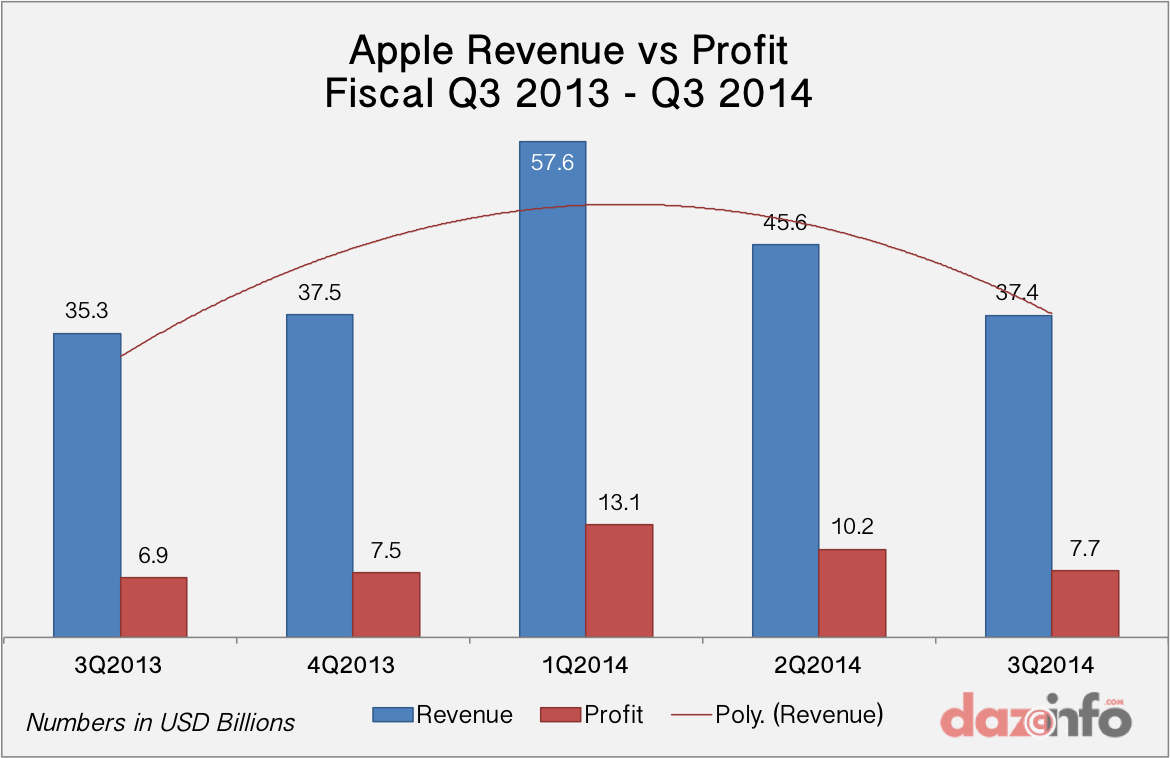 The iPads Future Lies in Enterprise Segment
Sales of the iPad declined for a second consecutive Quarter Y-O-Y. While last quarter's lack of sales was blamed for change in channel inventory,  the decline is for real this quarter. Sales have slowed in mature market such as the US as replacement cycles are less frequent and tablet penetration is high. Despite double digit growth in emerging countries such as India, tablets with lower price points are preferred over expensive iPads. With growth in the tablet market set to decline steadily in 2014, Apple is affected the most due to its high price points.
To increase the market for the iPad, Apple has entered a partnership with International Business Machines Corp. (NYSE:IBM) to supply more tablets to the enterprise segment. The iPad has a market share of 76% in the US commercial market, but less than 20% in the business segment. The deal allows IBM to sell Apple devices to enterprise and develop industry specific apps and solutions for iOS. The lineup of iPads is due for a refresh later this year 2014, and Apple is rumored to be launching an iPad Pro device to be on par with Microsoft Corporation (NASDAQ:MSFT) Surface 3 Tablet device.
Apple's Q4 Results Will Be Observed Carefully
The last quarter of Apple's financial year 2014 is the time when the company unveils its newest range of hardware products. The iPhone 6 is due to be released in September 2014, in at least two sizes.  The new device could also prove to be the most impactful financial event in Apple's history, as it could trigger a massive replacement cycle. There is also plenty of excitement for whatever new products Apple will release later this year, such as the rumored iWatch and perhaps a brand new device.