The ringing of the morning bell of NYSE on 19th September by Aibaba Group Holding Ltd. (NYSE:BABA), the Chinese e-commerce giant marked the launch of biggest Initial Public Offering (IPO) in US history. The company raised $21.8 billion on the first day of its trade increasing its market capital value to $231 billion and putting it among the top 20 biggest companies by market cap in the US. Alibaba far beat out its tech peers like Facebook Inc. (NASDAQ:FB) whose first day earning was $16 billion and Google Inc. (NASDAQ:GOOGL) whose 2004 IPO launch just raised $1.67 billion.
In a nut shell Alibaba is an eBay, Amazon.com, Amazon Web Services, PayPal, and many more rolled into one.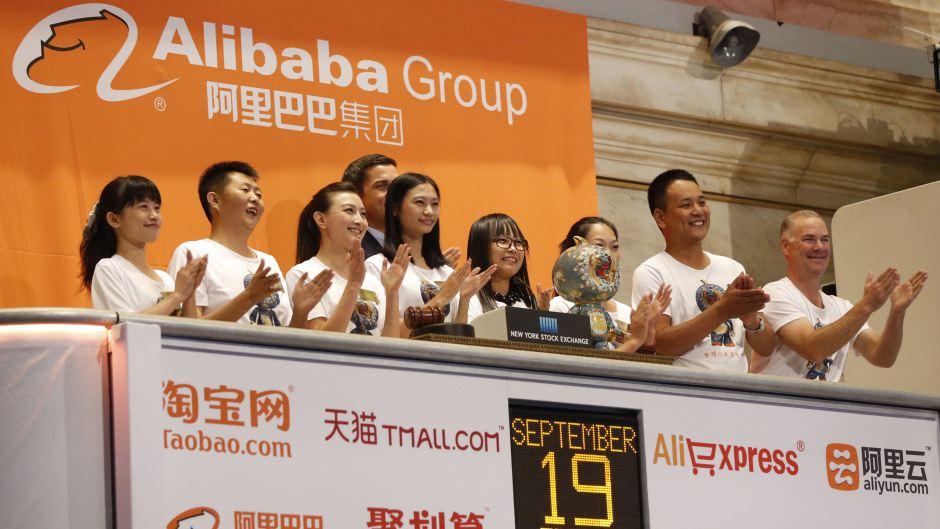 The Alibaba Group
Alibaba Holding Group Limited is a Hangzhou based group of e-commerce which is comprised of various business entities. Its consumer-to-consumer portal Taobao featuring nearly a billion products and is one of the most visited website all over the world. Alibaba.com Limited is the principle company of this Group which is the largest business-to-business trading platform for small enterprises globally. Alibaba.com, initiated in eastern china has three main tasks, the main English subsidiary deals in the imports and exports between more than 240 countries of the world and various parts. The second platform of this consortium 1688.com deals in domestic  B2B trade in china. Conjointly,  Alibaba.com harbors a transaction based retail website named Aliexpress.com which promotes  smaller enterprises to buy limited quantities of goods in at the manufacturer's rate. Also, Alipay.com is a third party online money transaction platform of this group without any transaction fees. In the present scenario Alipay has become the largest market player in China with 300 million users, processed $623 billion of digital payment in fiscal 2014 and controls little less than 50% of china's online monetary payments. It's some other affiliations include Alibaba cloud computing Aliyun, China Yahoo and the recently launched US shopping site 11 Main.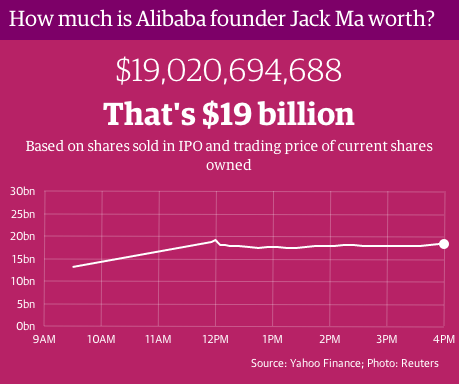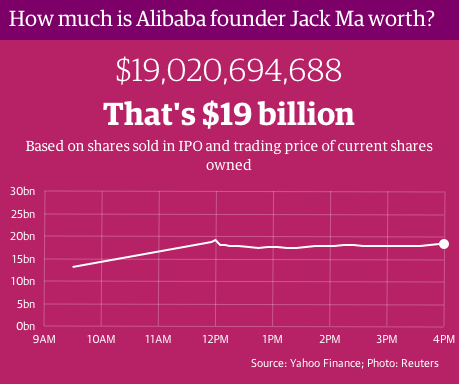 The group was launched in 1999 by Jack Ma and in just a span of 15 years has surpassed the e-commerce market leaders Amazon and eBay whose present net worth are $153.08 billion and $60 billion respectively. Alibaba presently controls nearly 80% of Chinese e-commerce market, but Ma seeks to expand its realms crossing the borders of this dragon land. Last week in Hong Kong during his global tour he commented-
"Speaking for Alibaba, we hope to become a global company, so after we go public in the US, we will expand strongly in Europe and America.At the same time we won't abandon Asia, because after all we're not a company from China, we are an Internet company that happens to be in China."
Although Alibaba is being compared with other e-commerce sites like Amazon and eBay in terms of its selling services and advertisements, but in terms of their business model they are not exactly direct competitors. Alibaba basically works on the lines to make it easy for the customers to buy almost anything from manufactures in China online and that too directly. On Alibaba one can buy anything he or she has dreamt of- right from a used 747 airplane, ethnic jewelry to a pack of 1000 pins.
Ringing of Morning Bell by Alibaba Sounds Like A Warning Bell for Amazon, eBay, Facebook
The excitement of Alibaba's IPO among the US traders can be illustrated by the fact that many investors were not able to buy this stock on the first day of trading. About half of the shares were pawned to 25 investment firms, The Wall Street Journal noted.
The growing popularity of Alibaba in such quick succession has posed a serious threat to Amazon. The US e-commerce giant was founded in 1994 and in 2014 ranks 9th in the index of most visited websites whereas Alibaba came into the picture five years later in 1999 but has been able to capture the 10th position in the same list. Although Amazon in the year 2013 earned ten times more revenue than Alibaba with $74.95 billion to $7.95 billion, but the fourth quarter growth of 2013 for Amazon ended with a margin of 0.94% while Alibaba accumulated close to 50% margin in this tenure of three months.
The investors at the moment are bullish for this mega IPO launch, but the passing of time would test its real grabbing power. However, the marketers are having various opinions for the launch of this Chinese e-commerce giant but the stumbling of stocks of both the tech market leaders Facebook and Twitter on the launch day of this historic IPO that a new czar has dawned in the technology market of the world.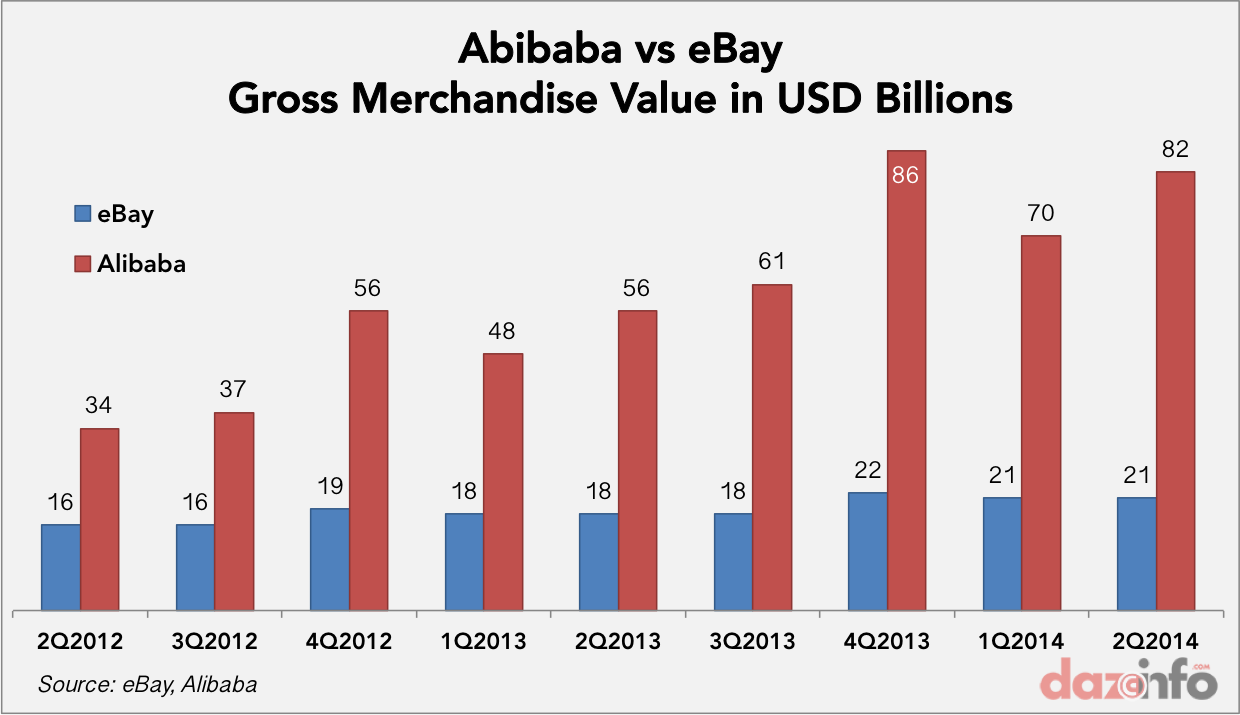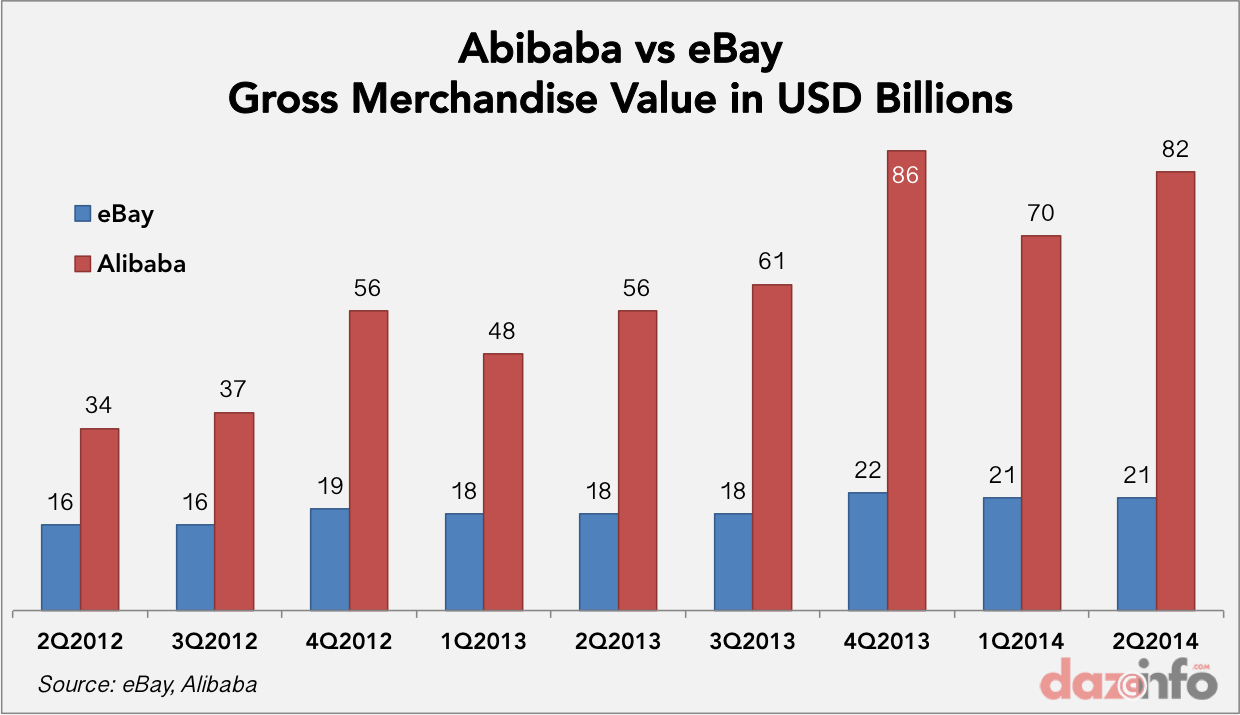 Amazon is also a far more bigger threat for eBay. The farther one is growing much faster as it sells 4Xas much stuffs in dollars. Both of online retail giants are in the business of marketplace but Alibaba is growing 50% annually in volume terms and 30% of its sales are being driven by the mobile commerce, allowing it to take the distinctive lead on eBay.
Alibaba is desperate to expand outside China due to the fact that homegrown vendors have started posing a possible future threat. Though, these startups are controlling almost negligible market share in the country as compared to Alibaba, but the numbers of such startups are growing and each startups are scoring as well. Social Media and online gaiming firm Tancent, mobile messaging app WeChat and second biggest e-commerce company JD.com is closing the gap with Alibaba. Therefore, Alibaba has written several big checks to make strategic investments outside China to play at global ground where opportunities are endless.
To get a glimpse of the journey of Alibaba from a small business model to the key player of e-commerce, check out this video.