Microsoft Corporation (NASDAQ:MSFT) is leaving no stone unturned in it effort to rapidly promote its Windows Phone OS. Although the global market share of Windows Phone still languishes at just 2.5%, the Windows Phone 8.1 OS is showing promising signs of growth. Several large and small OEM vendors, including HTC Corp (TPE:2498), Micromax and Prestigo, have recently launched few smartphone powered by Windows Phone 8.1 OS. According to Adduplex Windows phone statistics for August 2014, the Windows Phone 8.1 OS is now present on 24.4% of Windows Phone devices, which is an 12.5% increase from July 2014.  AdDuplex based the report on data collected from 4,496 Windows Phone apps running AdDuplex SDK v.2.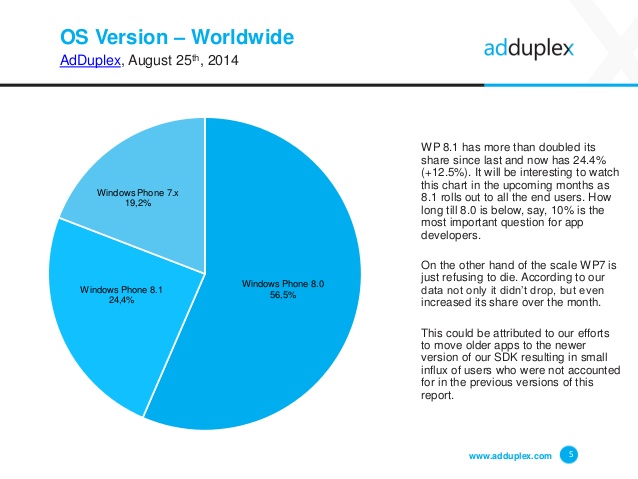 Microsoft Hopes To Make Strong Inroads With WP 8.1
The global roll-out of Windows Phone 8.1 OS began during August 2014, at the same time several devices such as the HTC One M8 for Windows Phone and several Lumia models such as Lumia 530 and Lumia 630 were available in several markets worldwide. While Windows Phone 8.1 OS now powers almost a quarter of all Windows Phone devices, it was running on 3.1% of all WP devices by April 17th 2014 – just three days after the developer version was released. This is surprisingly quick, if we consider that the adoption rate of the latest Android 4.4 Kitikat was just 5.3% even six months after its release.
Nokia Corporation (ADR) (NYSE:NOK) which was acquired by Microsoft in 2013, is still the largest Windows Phone OEM, and now constitutes 95% of the Windows Phone market. The entry-level Nokia Lumia 520 is the best-selling Windows Phone globally with a 30.2% market share. Other OEM vendors however, have failed to gain much traction with the Windows 8.1 Phone OS. Chinese smartphone vendor Huawei Technology Co Ltd (SHE:002502) has even abandoned  further development of Windows phones, citing low demand as the cause.
US And European Market Dominated By Low-End Devices
In the US the most popular devices are the Nokia Lumia 520 and the Lumia 521. The surprise entrant in the list is the Lumia 630 device powered By Windows Phone 8.1 OS, which jumped from the tenth place to fourth place in just a month. The Windows Phone OS market share is still just 3.4% as of July 2014, filling the void left by Symbian and Blackberry OS. Microsoft is likely to face extremely stiff competition from Apple and other Android OEM's during the second half of 2014, especially after the launch of iOS 8 and Android One smartphones.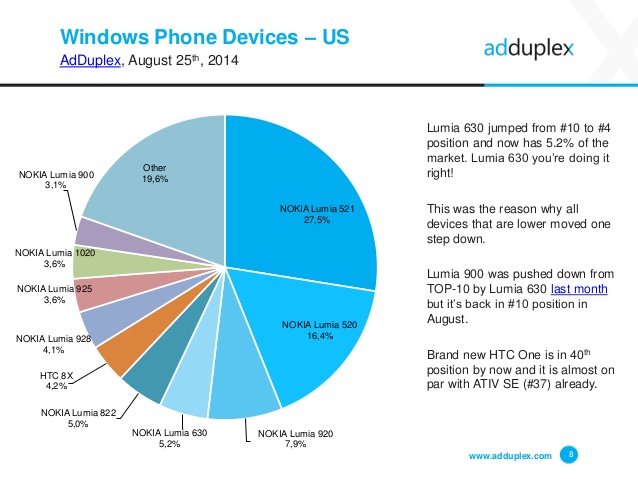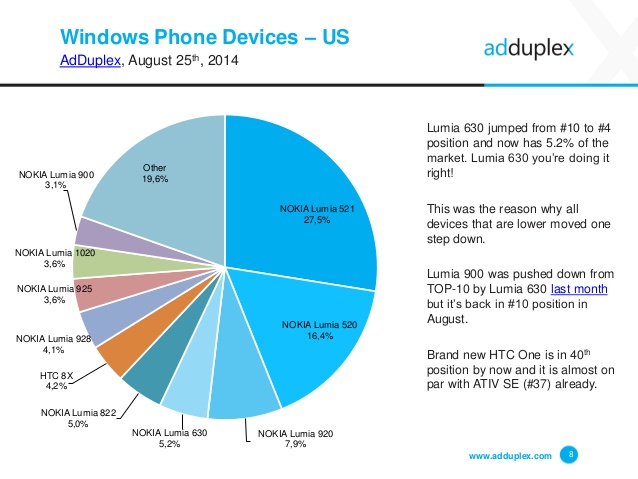 Windows Phone devices are extremely popular in some European markets such as the UK and Italy, the market share of Windows Phone OS in the U.K for July 2014 stood at 9.9%.  Here again the Lumia 520 has a market share of 34.8%, while the Lumia 625 occupies second place with 9.8%.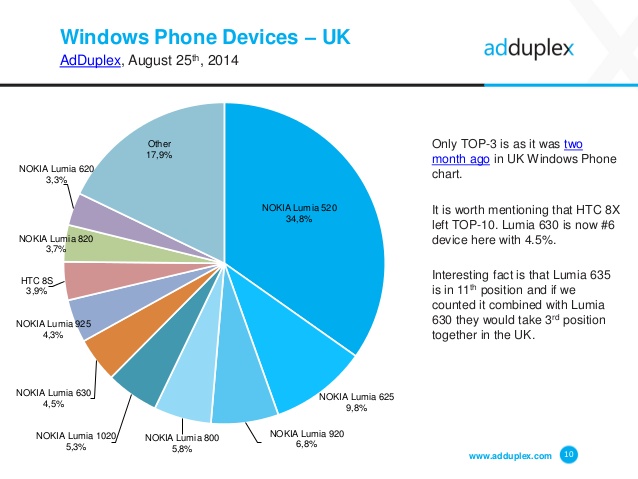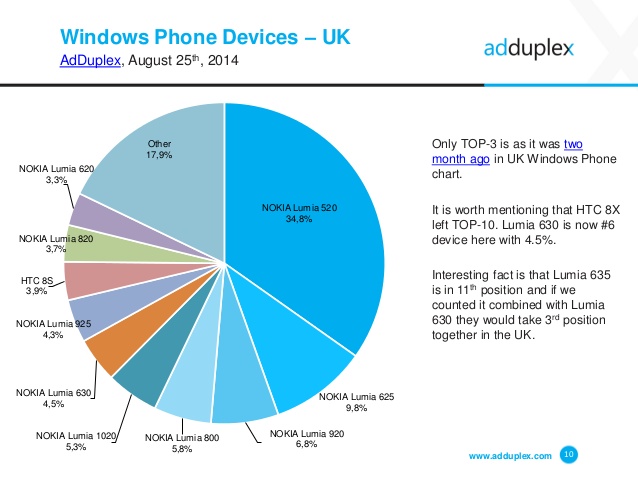 Phablet Phones Are More Popular Internationally
The statistics also show some interesting trends internationally. In Egypt it is surprising to note that the Nokia Lumia phablet 1320 device occupies 5th place with a market share of 5.8%, while the Lumia 1520 occupies 9th place with a 2.1% market share. The scenario is no different in China as well, where the Lumia 1520, which is the largest Lumia phablet till date, has a market share of 5.3%, while the Lumia 1020 enjoys a market share of 4.3%. A budget phablet device, powered by windows Phone 8.1 OS would do well to boost the bottom line of Windows Phone in these emerging markets.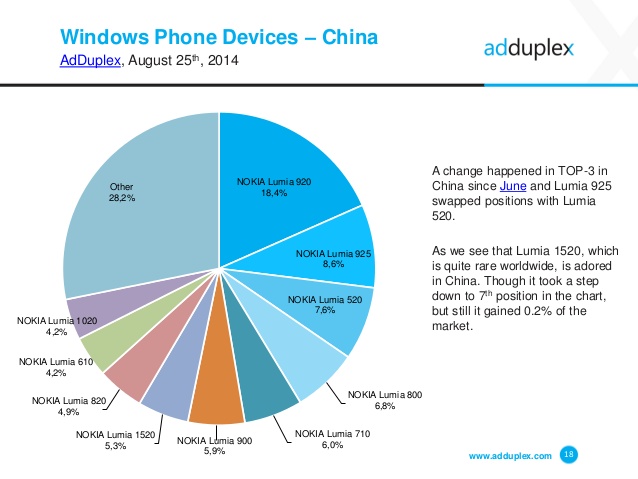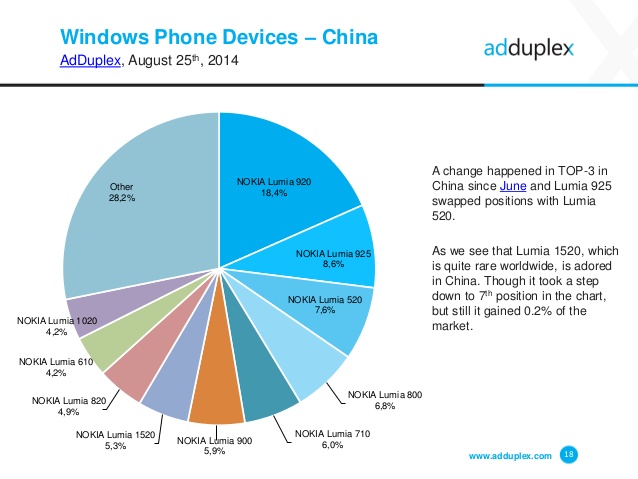 Can Windows Phone OS Beat Competition From Android?
The statistics show clearly that the Nokia Lumia 520 is undoubtedly the most popular Windows Phone smartphone in the world. The device sales performance convinced Microsoft to introduce Windows Phone to a global audience, and the Redmond giant hopes to meet similar success with its successor, the low-cost Lumia 530 powered by Windows Phone 8.1 OS. However the low-end smartphone market has become increasingly far more competitive due to the launch of Android One, which is likely to be a game-changer in emerging countries.
Microsoft's other option to attract more users is to offer the promise of a better ecosystem than Android. It is widely expected that Microsoft will unveil a new version of Windows named Windows 9 on September 30th 2014. Speculation is rife that the new OS will combine the smartphone, tablet and laptop experience to  merge into one single 'Windows' ecosystem. This will undoubtedly in turn, attract more users towards Windows phone.