It is being speculated all along that Windows Phone has already lost the smartphone market to iOS and Android, but I think that we should show slightly more confidence in Microsoft Corporation (NASDAQ:MSFT) smartphone platform. As per IDC with just 3.5% market share right now, Windows Phone is a distant third player compared to its major rivals Android and iOS. It could be a point of debate that Windows Phone OS has achieved this position in the absence of more number of smartphone OSs. Though, Samsung and Mozilla is working on creating a ground for Tizen and Firefox OS, respectively, it's far from the reality that these OSs could grow at the cost of Windows OS in the smartphone space.
The Opportunity And The Market Space Is Present
Even though the penetration of smartphones in markets like American, European and some East Asian countries is above 75%, global smartphone shipments are still expected to reach above 1.8 billion units by 2018 from 1.2 billion in 2014. This makes up for a Compound Annual Growth Rate (CAGR) of 12.3% as per reports from International Data Corporation (IDC).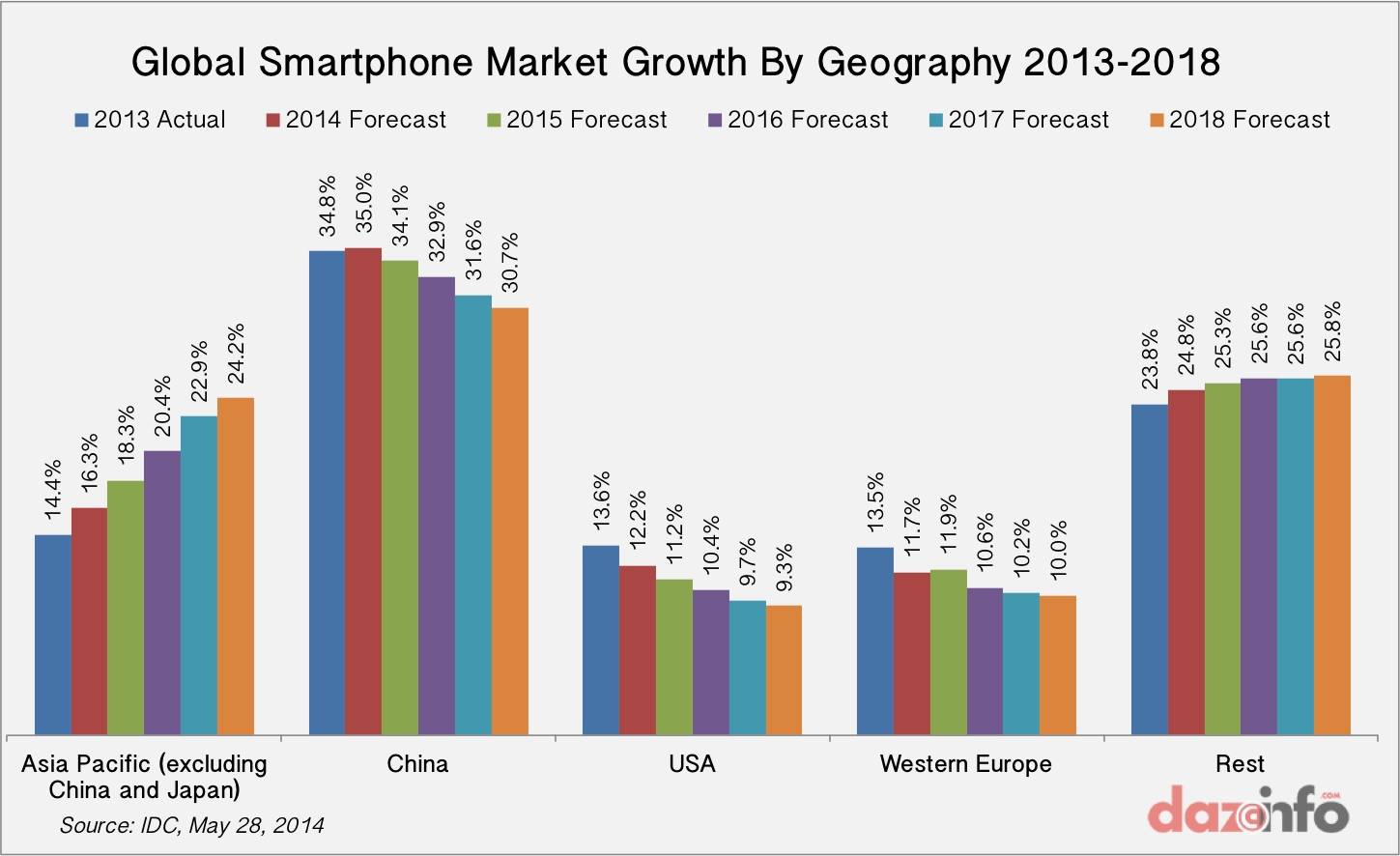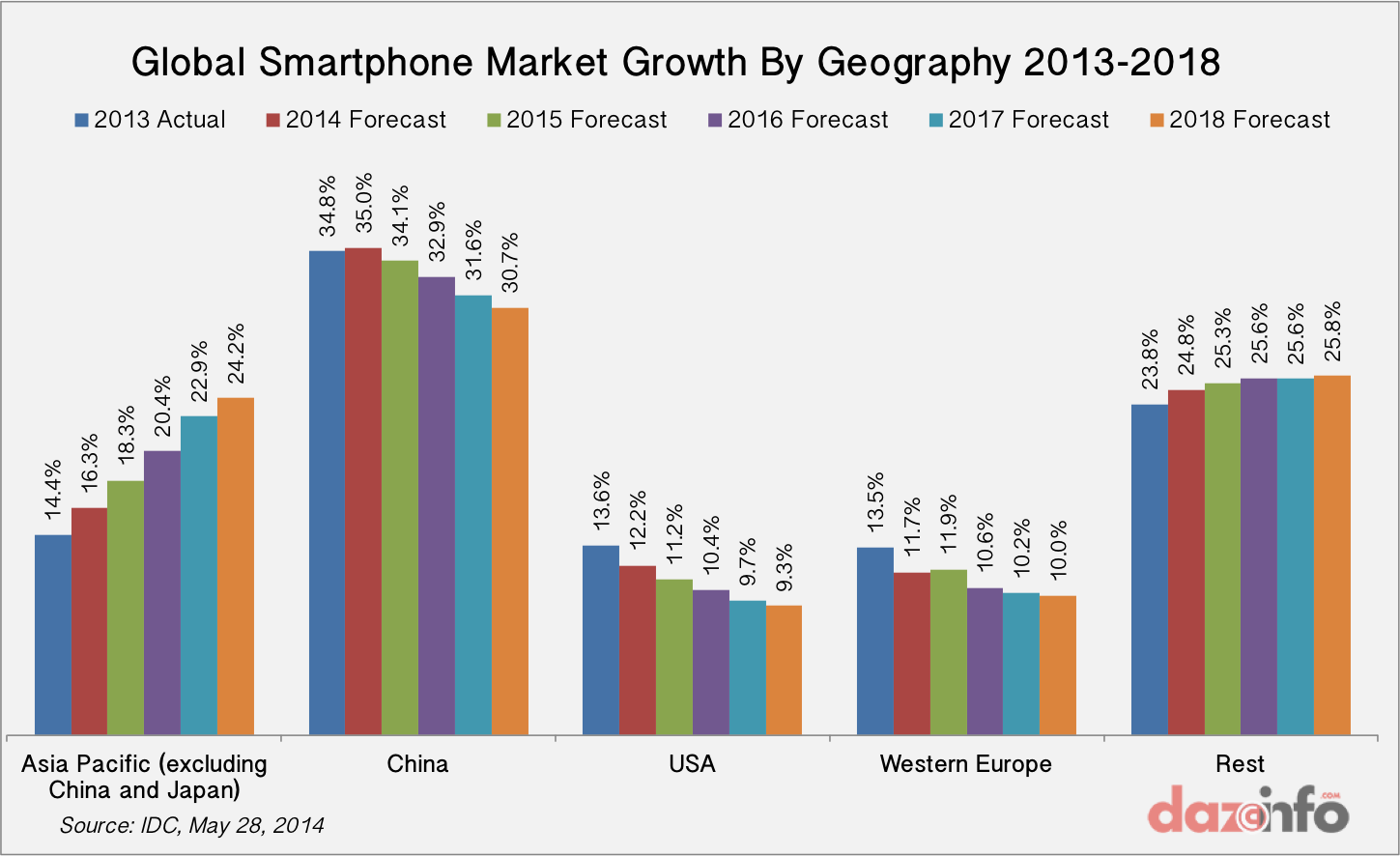 Most of this growth will come from developing countries in Asia Pacific controlling nearly 55% of global smartphone market by 2018. Two lead forces behind the smartphone growth in the APAC region, China and India, have for enormous opportunity for smartphone vendors to grow and upscale their business presence. In China smartphone penetration has reached little over than 50%, while in India its just 8%, the opportunity-window for smartphone vendors as well as smartphone OS is much bigger than in any other region now.
But viewing a big-size opportunity windows is not enough for Microsoft to stay satisfied and be overconfident of having a large chunk of the pie. In APAC low-cost smartphones are holding the key to success while the Average Selling Price (ASP) of a smartphone, globally, is expected to drop to $267 in 2018 from $335 in 2013, which would be a decline of 20.9% in next five years. This means that Microsoft should focus on low-cost devices more than high-end ones. This was also eminent from the fact that Microsoft's low-priced Lumia 520 remains the highest selling Windows Phone device in the last few months.
Only Microsoft Has All The Required Apps and Services To Support An Operating System
The main reason why I think that Microsoft still has a chance of being succeeded is the presence of its services. Of all the platforms competing in the smartphone race, only Windows Phone has all the necessary background services and applications which are required to sustain a smartphone platform. As shown below, the number of Windows Phone services surpasses even Apple's services.
The next closest competitors, BB10 from Blackberry Ltd. (NASDAQ:BBRY) and Tizen OS from Samsung Electronics Co. Ltd. (KRX:005930) don't have even half of those required services. After Satya Nadella being chosen as the CEO of Microsoft, there has been an immense focus on their services such as One Drive, Skype and Outlook. Moreover, Microsoft also enjoys its presence in TV and entertainment section, thanks to Xbox One. Combine it with their music streaming service, the Xbox Music, there would be better integration of its smartphones with devices in the living room, much more than current competitors for the third place. Microsoft is also expected to foray into wearable devices with upcoming Smartband that reportedly has cross-platform compatibility.
Service
Android

iOS

Windows Phone

Tizen

Mail/Calendar
Gmail/Google Calendar

iCloud

Outlook/Hotmail/Live Mail
–
Maps
Google Maps
Apple Maps
Bing Maps/HERE Maps
–
Notes
Keep
Notes
Microsoft OneNote
–
Documents
Google Docs (Docs/Sheets/Slides)

iWork

(Pages/Keynote/Numbers)
Microsoft Office (Word/PowerPoint/Excel)
–
Cloud Storage
Google Drive

iCloud

Drive

OneDrive

Samsung S Cloud
Tasks/Reminders
Google Tasks/Keep
Reminders
Microsoft OneNote
–
Music
Google Music All Access

iTunes

/iTunes Radio

XBox

Music
Samsung Milk
IM
Hangouts

iMessage

Skype
Samsung ChatON
Search
Google
–
Bing
–
Social Network
Google Plus
–
–
–
Personal Digital Assistant
Google Now
Siri

Cortana

Samsung S Voice
TV & Entertainment
Android TV
Apple TV
Xbox One
Planned
Car
Android Auto
Apple

CarPlay

–

Tizen

In-Vehicle Infotainment
Wearable
Android Wear

Rumoured

Rumoured

Tizen

For Wearables
What More Windows Phone Needs

?
1. Developer community
In spite of being known as developer centric, Microsoft somehow failed to attract the developer community to create apps and games for the Windows Phone platform. This might be due to lower ad revenue when compared to other platforms. However, this could easily be solved by increasing the number of handsets that are powered by Windows Phone. The below video address the problem, as well as solution, in length.
2. More OEMs Selling Windows Phone Hardware
Although Microsoft has partnered with HTC, Samsung and some other leading brands, Nokia was the only player that released a number of windows powered devices in the market in recent time. During the announcement of Windows Phone 8.1, Microsoft had announced a tie up with almost 20 vendors from developing countries such as India and China. ZTE Corporation (SHE:000063), LG Electronics Inc. (KRX:066570), Huawei Technology Co Ltd (SHE:002502), Karbonn, Xolo, Gionee, Foxconn Technology Co Ltd (TPE:2354), JSR (TYO:4185) and LongCheer (OTCMKTS:LGCHF) are all part of a new partner list, who would launch more value-for-money devices in the market, thus helping in increasing sales of Windows Phone devices.
"We'll reach price points that are very industry competitive for 7, 8, 10-inch devices. They will really surprise you. Last year, we were in the 3s, 4s, 500 dollars. This year, we'll be 1s, 2s, 3s, " said Nick Parker, vice president of OEM partners, Microsoft.
3. New ideas to make

OS

more popular
Microsoft has added a lot of necessary features with Windows Phone 8.1 update. Some of the most important features are Action Centre, File Manager, Cortana, WordFlow Keyboard, better enterprise solutions, etc. Microsoft is trying to portray Cortana as the next big thing, at least in the US. During the FIFA World Cup 2014, Microsoft used Cortana to predict match winners and it succeeded in predicting winners of almost every match. These kinds of ideas will help in increasing the brand trust in Windows Phone.
4. OS level integration with more services
With Window Phone 8, only Facebook and Twitter had good OS level integration in Windows Phone but starting with Windows Phone 8.1, Microsoft is looking forward to make it easier for developers to integrated more and more services into the platform. Windows Phone 8.1 is more open in nature and we might see Android like features in near future. This became eminent after Microsoft released a dedicated file manager for all Windows Phone 8.1 devices.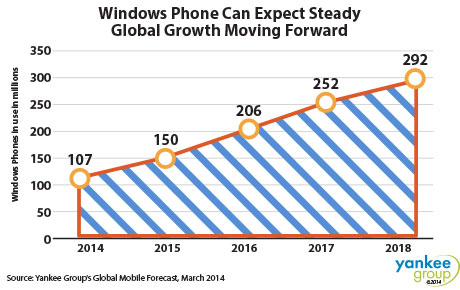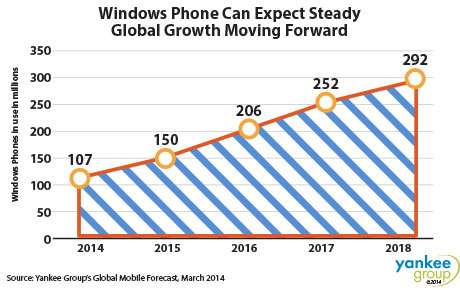 As per Yankee Group's mobile forecast,
Microsoft is expected to ship around 292 million Windows Phone devices by 2018
. All the recent Microsoft strategies point towards a long-term game. Things like
Nokia X2
, free OS for devices up to 9 inch screen size, and 'Mobile First, Cloud First' strategy, Microsoft might just succeed but it will take time.