Few days back we revealed how Apple Inc. (NASDAQ:AAPL) has made iPhone 6 more repairable than its predecessors, and also disclosed inbuilt 1 GB RAM with iPhone 6, something that Tim Cook didn't disclose during the event. Today, in a new teardown report, we have brought the comparative battery performance of iPhone 6 and iPhone 6 Plus which is a serious matter of concern especially with the large screen smartphones. Unfortunately, the results are not so encouraging.
Apple iPhone 6 is ranked at 9th position in the list of best battery performer smartphones. The iPhone 6 sports a 1,810 mAh battery, which is capable of giving 5 hours and 22 minutes of talk time. When compared to iPhone 5S, this is 300 mAh higher, but once you put this figure parallel to some of the best Android smartphones within same price range, its lags much behind. Sony Xperia Z3 and Huawei ASCEND MATE7 and arch-rival Samsung galaxy S5 scores over both iPhone 5 and iPhone 5S in battery segment. Both Sony Xperia Z3 and ASCEND MATE7 are capable of providing more than 9 hours of talk-time – nearly 80% longer battery life than iPhone 6.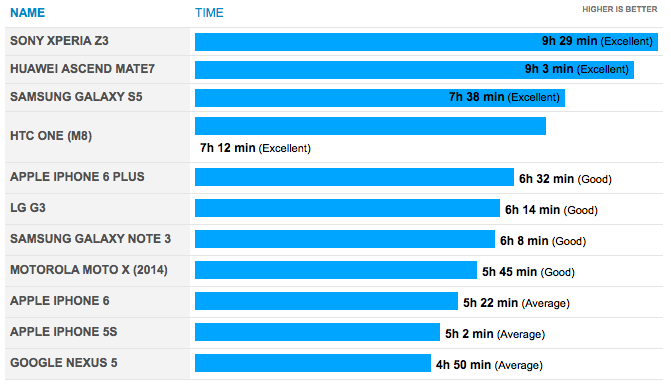 However, the battery performance must not be judged from the sole point of view of mAh numbers. With the new enhanced iOS 8 OS and latest A8 Processor size of the battery may not matter the most. But, this could only be judged after a detail user review of iPhone 6.
When it comes to iPhone 6 Plus, the findings are somewhat satisfactory as there is a significant difference in the battery power of both the iPhones. In 5.5-inch iPhone 6 Plus, Apple has provided a 2,915 mAh battery which easily leapfrogs LG G3 and Samsung Galaxy Note 3, but still fails to match HTC One M8, Galaxy S5 and top performers Xperia Z3 and Mate 7. However, it's also notable that all the top five devices, except iPhone 6 Plus, sports a relatively smaller 5-inch or 5.2-inch display.
For some of prospective iPhone 6 buyers these figures look discouraging, but it is important to mention that each one of us uses smartphone differently. A person relying heavily on text message may find the same battery performance better than other iPhone 6 owners who uses the device for frequent long duration calls or heavy consumer of video or games.
Apple has just started shipping the iPhone 6 and iPhone 6 Plus. Therefore, it's advisable that we should adopt the strategy of wait and watch and let the best of reviewers should come with their say about the performance of battery, screen, RAM and processor. Eventually, it's not about numbers written on the components and parts, it's all about performance.