Apple Inc. (NASDAQ:AAPL) looks all set to stun the world again when it unveils the iPhone 6 on September 9. The Cupertino-based giant has not released any major product in almost a year and the results are now clearly visible as the market share of Apple iOS is shrinking in the face of an overwhelming assault from both Google Inc. (NASDAQ:GOOGL) Android OS and Microsoft Corporation (NASDAQ:MSFT) Windows Phone OS. According to data from the Kantar World Panel Report for the three months ending July 2014, the smartphone market share of Apple iOS declined across almost all  major smartphone markets worldwide. When compared with the three months ending July 2013, only three countries had a slight gain in iOS market share, at just 0.4%.
The next few months will be crucial for all three smartphone ecosystems since the fourth and last quarter of 2014 is the period during which smartphone sales are usually the highest; thanks to holiday seasons across the globe. A host of new products will be unveiled in the coming months from all major smartphone OEM's.
Android Takes A Huge Chunk Out Of  iOS in The U.S
Android's market share in the US grew by an astonishing 11.4% compared to last year to reach 62.9%, for the three months ending July period. Android's success has largely been attributed to the rapid rise of low-cost Android models such as the Moto G. Globally as well, Android has gained steady momentum in almost all major smartphone markets. In China, the rise of smartphone vendor Xiaomi, Huawei Technology Co Ltd. (SHE:002502) and Coolpad Group Ltd. (HKG:2369) has allowed Android to increase market share by 8.4% over the past year. Xiaomi, which uses a forked version of Android named MIUI  has a market share  of 31.6% in China, and is the largest OEM followed by Samsung Electronics Co Ltd. (KRX:005935) and Huawei.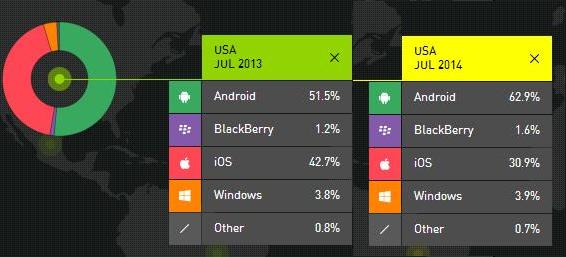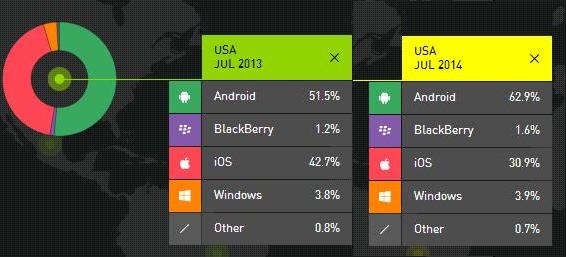 Mexico saw the largest gain in Android Market share, surging by 17.6% to reach 80.6%. In Europe, with the exception of Spain, the market share of Android grew in the top five European countries which are Great Britain, Germany, France, Italy and Spain. Brands such As French-based Wiko Mobile have allowed Android's market share to surge to 75.1%. The rapid increase of low and medium priced Android models from local smartphone vendors will continue to attract a majority of the consumers in all countries worldwide.
Apple iOS Market Share Shrinks In Almost All Major Markets
The US, which is Apple's largest market by far, saw its share shrink by 11.8% to 30.9%. This situation is similar in almost all major markets. China, which was among Apple's key focus points at the start of 2014, is now facing slow and steady decline. The market share of iOS dropped by 5.6% over the past one year to reach 13.2% and Apple is also not in the list of top five vendors in China. Another surprising decline was from Japan, long thought to be an Apple stronghold. Here, the market share fell from 49.1% in July 2013 to 28.8% in July 2014. In the European market as well, iOS declined by 1.6% to 14.5%.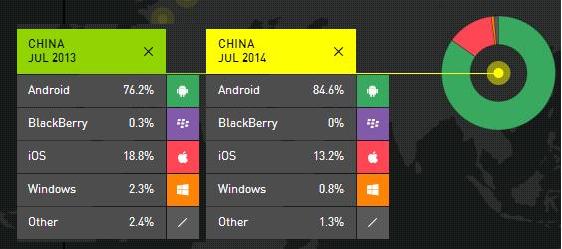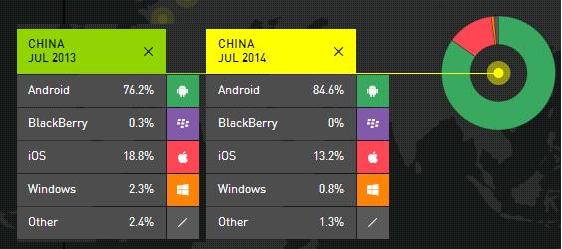 The data clearly indicate that the market share of iOS typically tends to spike upwards during the release of the iPhone models. Although the iPhone 5S is the best-selling smartphone in the world for a record eight months since its release, it still does not compensate for the iPhone's falling market share. Meanwhile, Apple's rival Samsung has performed well in the U.K market, largely due to the Galaxy S5. Samsung's share of the market in GB now stands at 36% and during the July period, the S5 model was the best-selling model in the U.K with 11.5% of sales. Dominic Sunnebo explained how Samsung was adopting Apple's strategy:
It's becoming increasingly clear just how important Samsung's existing customers are to driving new sales. Some 52% of customers who bought a Samsung Galaxy S5 in Great Britain had previously owned a Samsung model, while 20% were earlier Apple owners, and 18% moved from HTC. Apple is very good at giving existing customers a reason to stay loyal to the brand and to upgrade to new models when released. Samsung is becoming increasingly adept at employing the same tactic.
Mixed Bag Results For Windows Phone
The market share of Windows Phone increased significantly in some countries such as Italy, Spain and GB but declined in France and Germany. The worst results came from world's largest smartphone market China, where the market share fell measurably from 2.3% in July 2013 to 0.8% in July 2014. There were some positive results as well with the top five European markets going up for Windows Phone from 7.65% to 8.5%. In three countries name Italy, Argentina and Mexico, the market share of Windows Phone is greater than that of Apple iOS.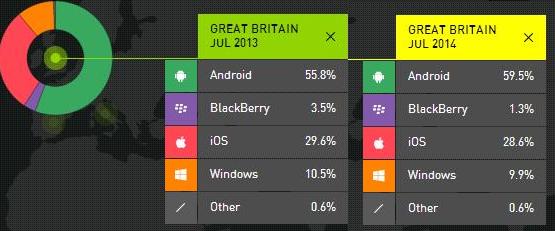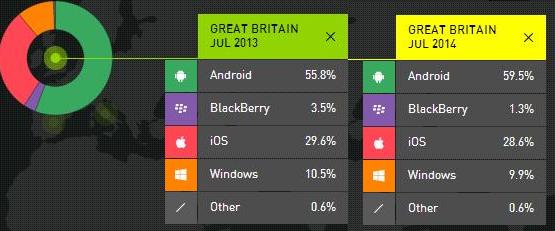 Microsoft and several other OEM's have already launched several new products such as the HTC One M8 for Windows Phone, and the Lumia 630 and Lumia 530 models.  It will be interesting to see if the market share of Windows phone increases over the next few months.
The iPhone 6 Could Alter The Market Forever
The most eagerly awaited launch of 2014 is that of the iPhone 6. Several rumours are suggesting a large screen device available in two sizes, and this device could upset several markets worldwide. With the phablet market set to grow enormously, the device if power packed with new features, could instantly attract customers worldwide and become a major bestseller. This will in turn trigger an upgrade cycle, and ensure that Apple continues to make inroads in several emerging markets in the years to come.