As Apple Inc. (NASDAQ:AAPL) didn't launch any new product or service in the second quarter of the 2014, Google Inc. (NASDAQ:GOOGL) owned Android OS continues to be  adopted at a blistering pace globally, and its combined share of the smartphone and tablet installed user base hit 70% in the same quarter. The rise of smartphones and tablet devices is pushing  new frontiers in the mobile gaming segment, with record revenues being spent on purchasing best selling gaming apps such as Candy Crush Saga and Clash  of Clans.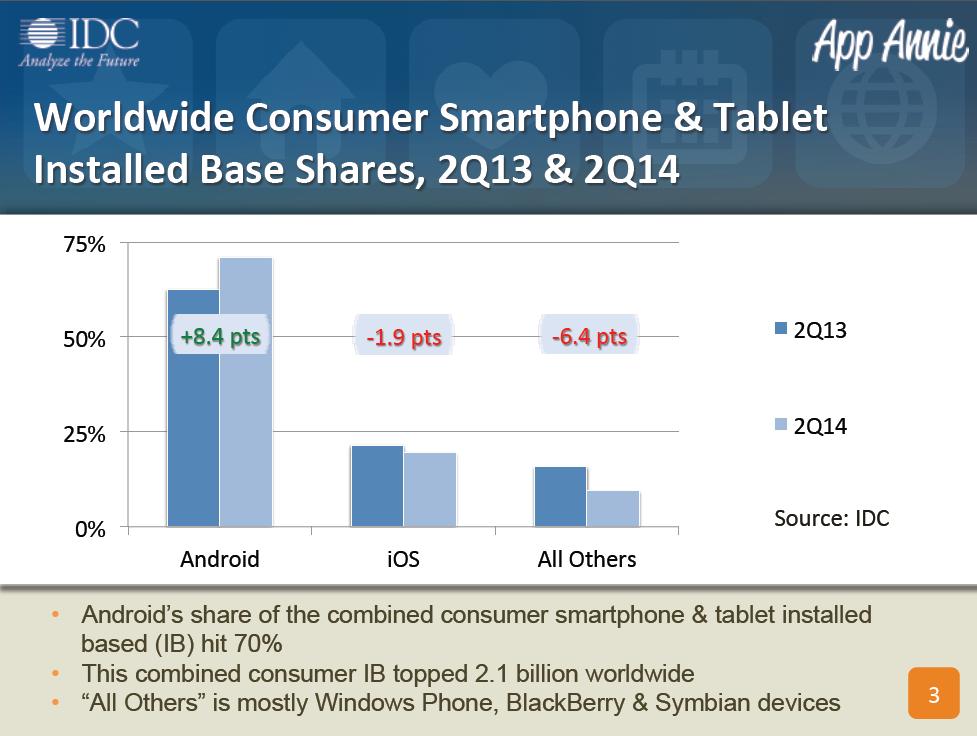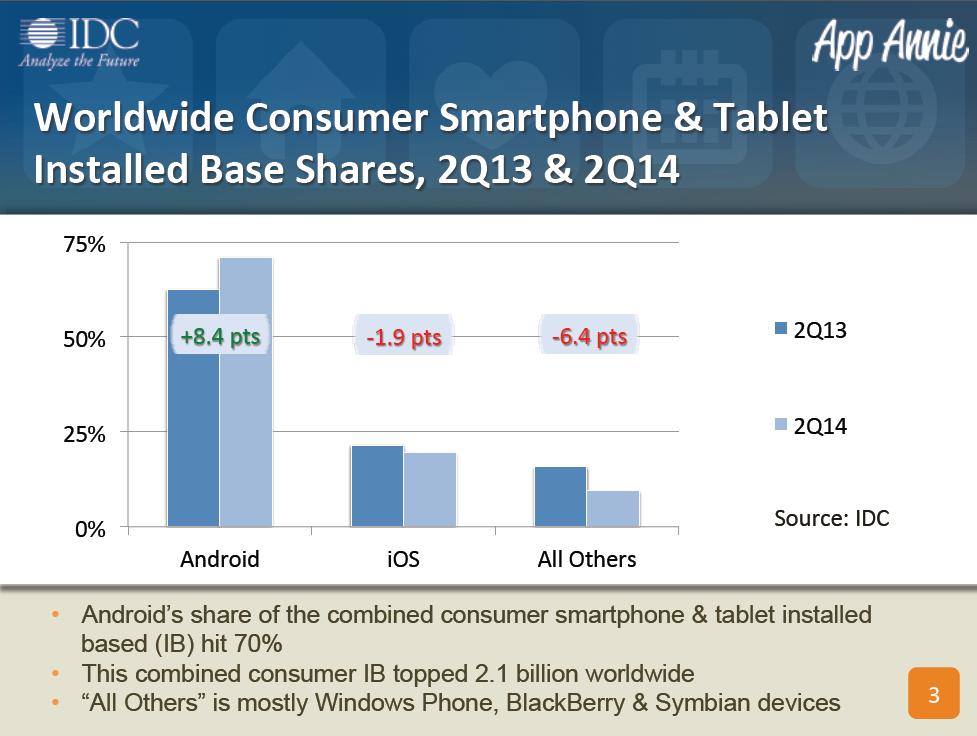 The rise of handheld mobile gaming has caused optimized gaming handset shipment sales of Nintendo Co. Ltd (ADR) (OTCMKTS:NTDOY) and Sony Corp (ADR) (NYSE:SNE) to decline precariously, according to App Annie's portable gaming spotlight report for Q2 2014. With more high end mobile devices set to be released during the last two quarters of 2014, gaming will continue to remain a huge money-spinner for both Apple App store and the Google play.
Android Now Present on 2.1 Billion Devices Worldwide
Android's smartphone market share now stands at 85%, while its tablet market share is almost 70%. Android's rise comes at the expense of Apple iOS which saw its user base fall by 1.9% between Q2 2013 and Q2 2014. Other platforms such as Blackberry, Symbian and Windows also saw a rapid decline by 6.4% in the past year. With games accessible to an ever-expanding pool of users, it's no surprise how important games are to the Google Play store, constituting 40% of all downloads and generating almost 85% of app store consumer spending. During the past one year alone, Google Play revenue from games more than doubled.
The trends suggest that the increase in mobile gaming spending is being driven by new users and not the existing ones. This is particularly true in emerging markets such as India and Brazil. With the launch of Android One for emerging markets, Google has found another opportunity to tap into a growing user base. The rapid increase of new users through local smartphone vendors will continue to push Google's Play store revenue from games to new heights  in the coming years.
Apple iOS App Store Game Revenue Grew Over 70% Y-O-Y
The consumer spending on games in the Apple App store remained flat Y-O-Y. However, games continue to generate a tremendous amount of revenue for Apple and between Q2 2013 and Q2 2014, the iOS app store gaming revenue grew by 70%. The three main countries driving Apple's mobile gaming revenue are the US, China and Japan. During Q2 2014, iOS game revenue generated 2.4 times as much as Google Play store in the US.
Apple's dominance in the gaming revenue segment is natural as Apple users spend 45% more on average than Android users, and are also more likely to be mass consumers of entertainment. The launch of the large screen iPhone 6 device will undoubtedly attract customers who prefer large screen phablets for gaming. This will in turn will attract more developers seeking maximum monetization opportunities.
Gaming Optimized Handheld Device Sales Continue To Slide
The installed user base of handheld devices optimized for gaming declined to under 200 million during Q2 2014. Devices sales of the Nintendo 3DS, 2DS, DS, DSi, Sony PlayStation Vita and PSP all decreased drastically over the past one year. Total software and digital full game software shipment volume in Q2 2014 were 27% – lower than in Q2 2013. Revenue from gaming optimized handheld software also declined by 28% in the same period.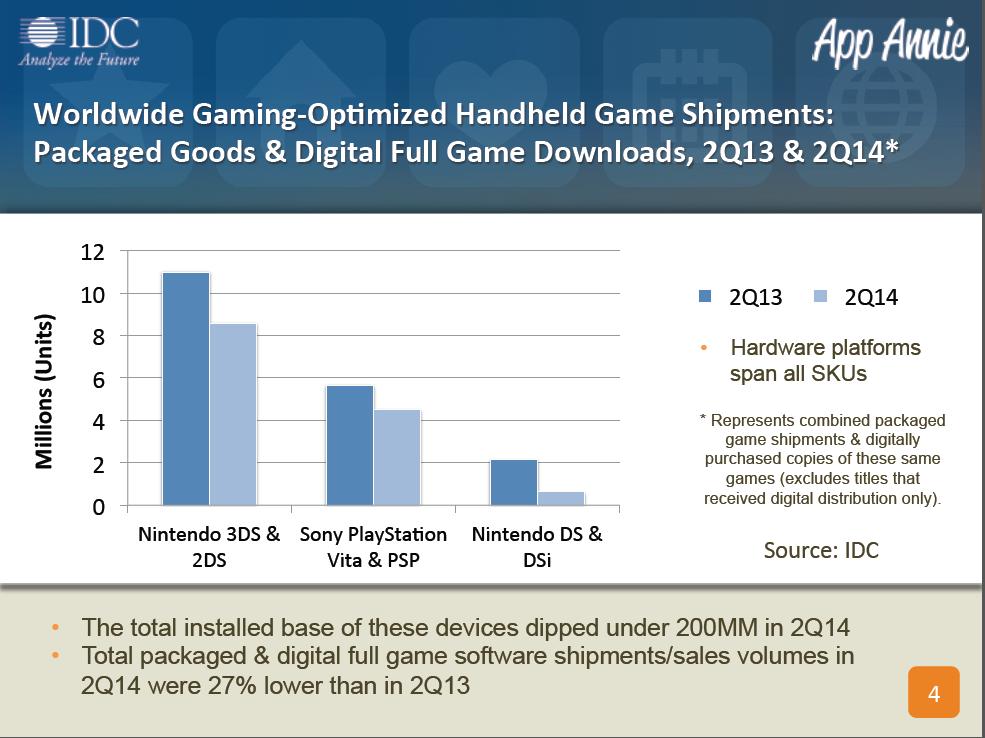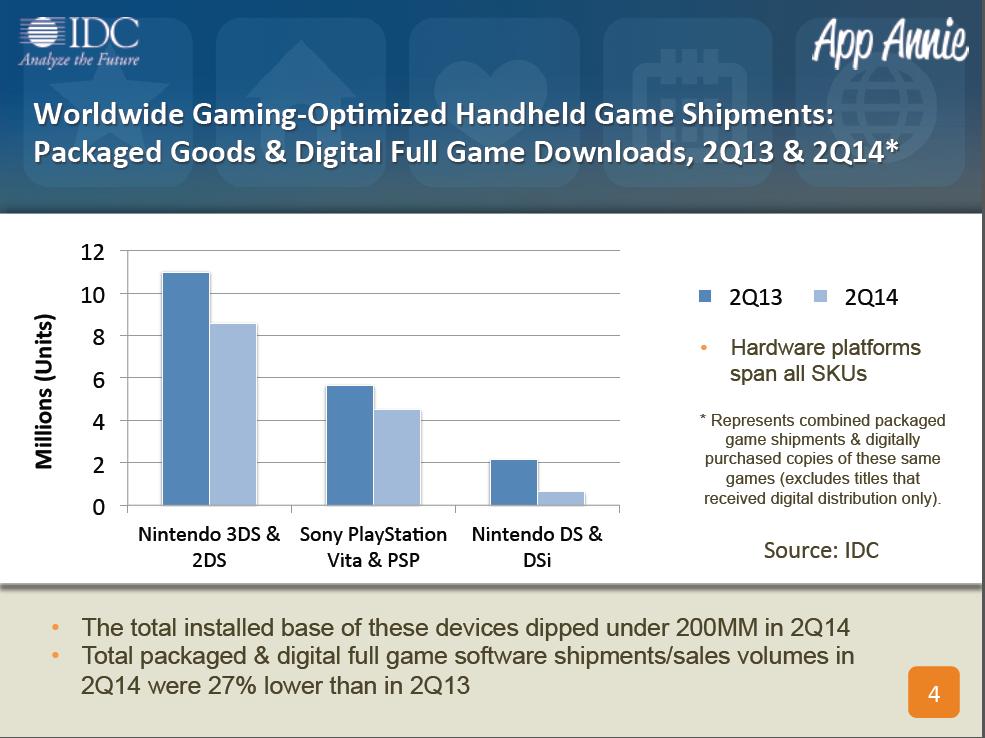 Although it was widely expected that the mobile gaming device market would eradicate the optimized handheld gaming device segment, the industry is expected to re-gain some seasonal growth once some of the bigger titles for those platforms come later this year. The Sony PlayStation Vita is one such device which is showing signs of life in a fast depleting gaming segment.
New Opportunities Await In Mobile Gaming
Developers are increasingly finding new ways to monetize from the burgeoning mobile gaming market. One such strategy is to use mobile games to promote upcoming movies. This extends the success of the brand even after the theatre release of the movie, and helps to create higher quality games and generate strong mobile engagement. As smartphone and tablet usage continues to soar worldwide, local developers will be benefited the most from the freemium model by publishing more mobile apps and games in their home countries.