Since their inception, the tablets and smartphones have ventured into our lives like no other device has ever done. A recent Flurry report attempts to track down the usage of tablets in general and iPad in particular with regard to different age groups and the productivity they offer. The tablets were touted to be devices that would take over lives, with the potential to replace magazine racks and television and at some point of time, computers too. But, its interesting to know that after 4 years of introduction of iPad by Apple Inc. (NASDAQ:AAPL), the tablets are somewhere losing their edge. Now a smartphone with a large screen or a phablet is more preferable for all our work.
In Q1 2014, Apple shipped just 16.4 million units of iPads. The declining sales are a cause of worry for Apple but these low sales figures are in contrast with the aggressive sales of iPhone. However, in the past four years, the tablets especially iPads, have become an essential part of an average U.S. household. To study the roles of tablets, Flurry has attempted to break down the usage of tablet in two major categories – media consumption and productivity. The audience has also been segmented in two categories – age group of 13 to 24 which includes teenagers and college students and the working adults that comprise the 25 to 54 age group.
Adults and Teenagers Both Follow the Similar Pattern
The media consumption of the adults and teenagers is conspicuously similar. Both the age groups prefer to use tablets in the prime time, i.e 7pm to 11pm. The media consumption includes Gaming, Media and Entertainment app usage. This clearly portrays the fact that by 2019, almost 50% of data consumption will come from videos, considering all the three industries are more focused on video contents. Though the excessive usage of tablets is not new, it sure is a disturbing trend. The over-usage of  apps has led almost 12.5% of mobile users to become mobile addicts.
The findings highlight one important factor: the consumption of entertainment, media and gaining content, via app, among tablet users in general and iPad users in particular is high due to all-day usage by both age group people. The consumption reaches to the peak between 7 pm and 8 pm and declines shapely after 9 pm.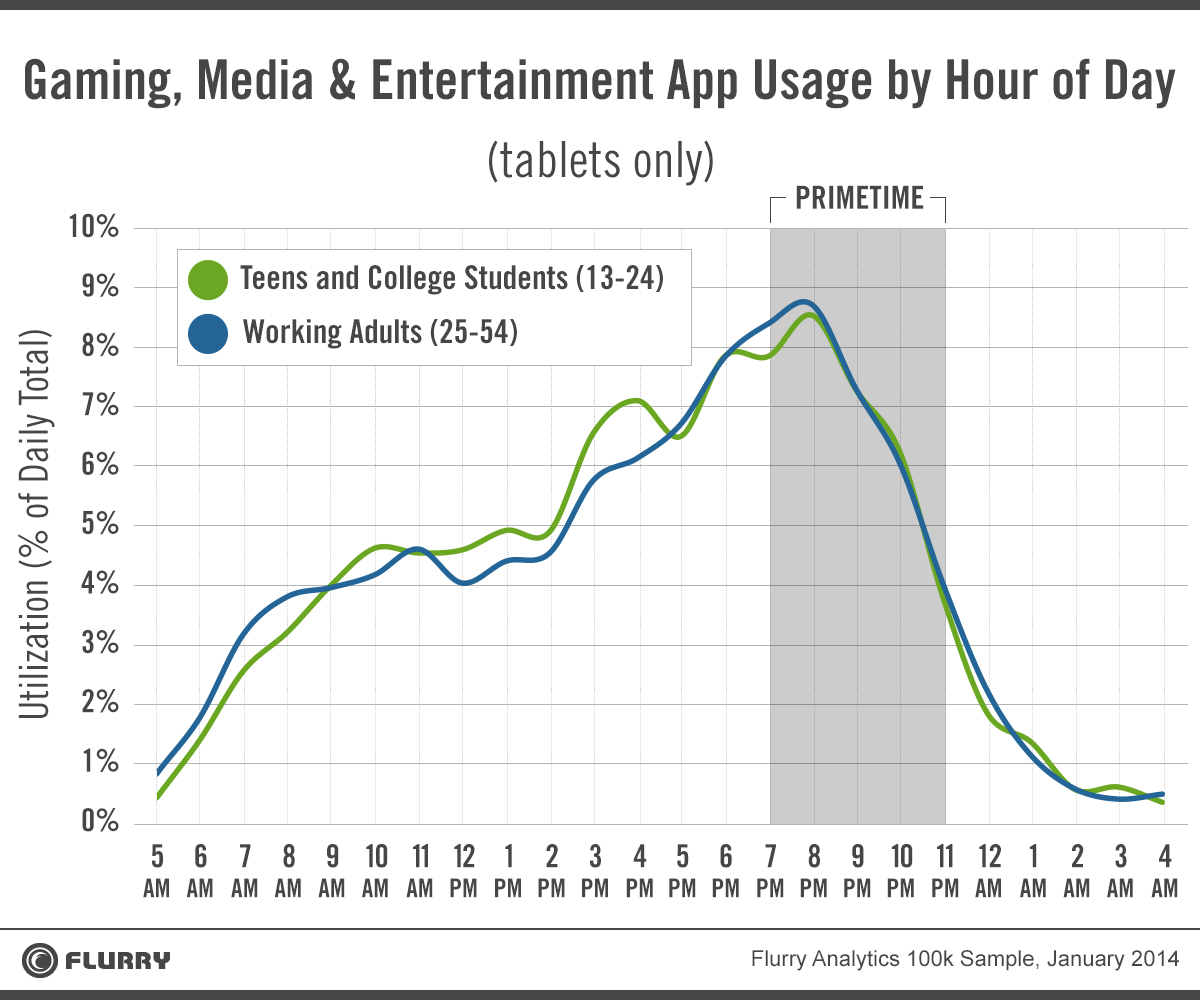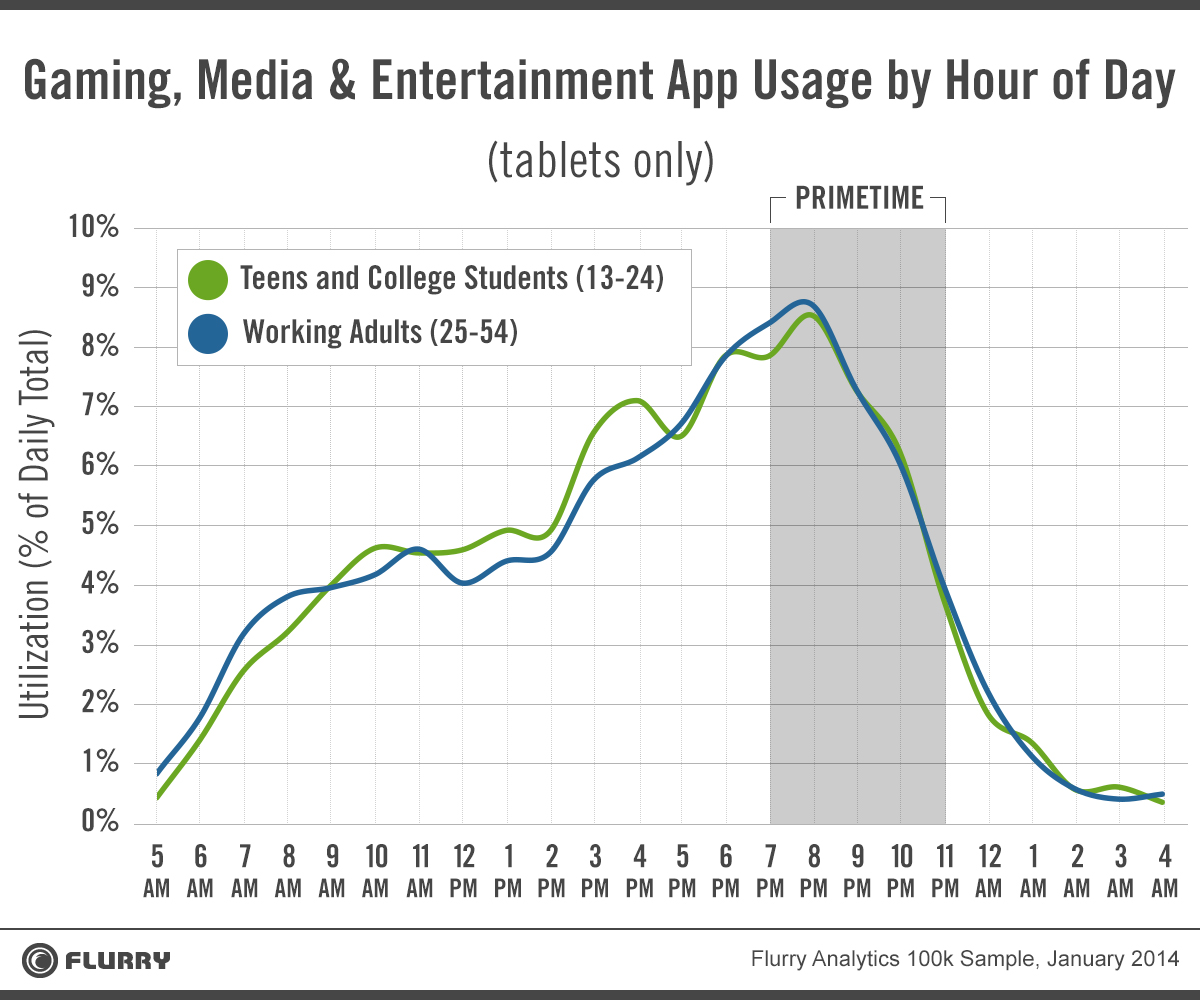 Working Class Rarely Uses Tablets as a Replacement to Computer
The teenage and college group is slowly migrating from traditional PCs to tablets. Therefore  major usage hours are mornings as they wake-up, mid-afternoon, mid-evening and late night. However, the adults preferred to keep their tablets low during the office-hours while the usage drastically went up the prime-time. But this might change in favour, since the introduction of MS Office on iPad and the giant-screen tablets, like Microsoft Surface-Pro 3, are now available along with a detachable keyboard. Another point in favour is the introduction of various business and productivity apps combined with the growing BYOD culture. A report suggests that Business and productivity app market would be worth $58 billion by 2016 and the availability of big screen tablets and commonly used business apps like Microsoft Office will fuel this growth.
The usage pattern of tablets suggests two major scenarios – either the tablets are losing their identity or they present an outstanding opportunity for vendors as well as users for their capability to replace PCs. There's no doubt that a modern day smartphone can perform all the major functions but the tablets present the advantage of a dedicated device. Moreover, the average life-span of a smartphone is 2 years while that of a tablet is 4-5 years.