Apple Inc. (NASDAQ:AAPL) has finally revealed not one, but two new iPhones in an event last week, both with larger screens compared to the iPhone 5S. The iPhone 6 and the iPhone 6 Plus feature 4.7-inch and 5.5-inch screens respectively, along with a faster dual-core A8 SoC (System on a Chip) and a 128GB storage variant. It also features an 8MP camera with OIS (Optical Image Stabilisation), phase-detection autofocus and NFC payments.
Apple Is Behind The Curve In Hardware Specifications
Although Apple was the first smartphone vendor to utilize new generation hardware such as multi-touch capacitive screen and accelerometer in its devices, they have kind of slowed down since the release of the iPhone 4. Just after the announcement, an image comparing the iPhone 6 with the 2 year older Nexus 4 from LG Electronics Inc. (KRX:066570) went viral on the Internet. The image mocked the iPhone fanatics by explaining how Apple was at least 2 years late in bringing a smartphone with a 4.7-inch HD screen, NFC payments and 3rd-party keyboards. All these features were already present in the LG Nexus 4 which was released 2 years ago.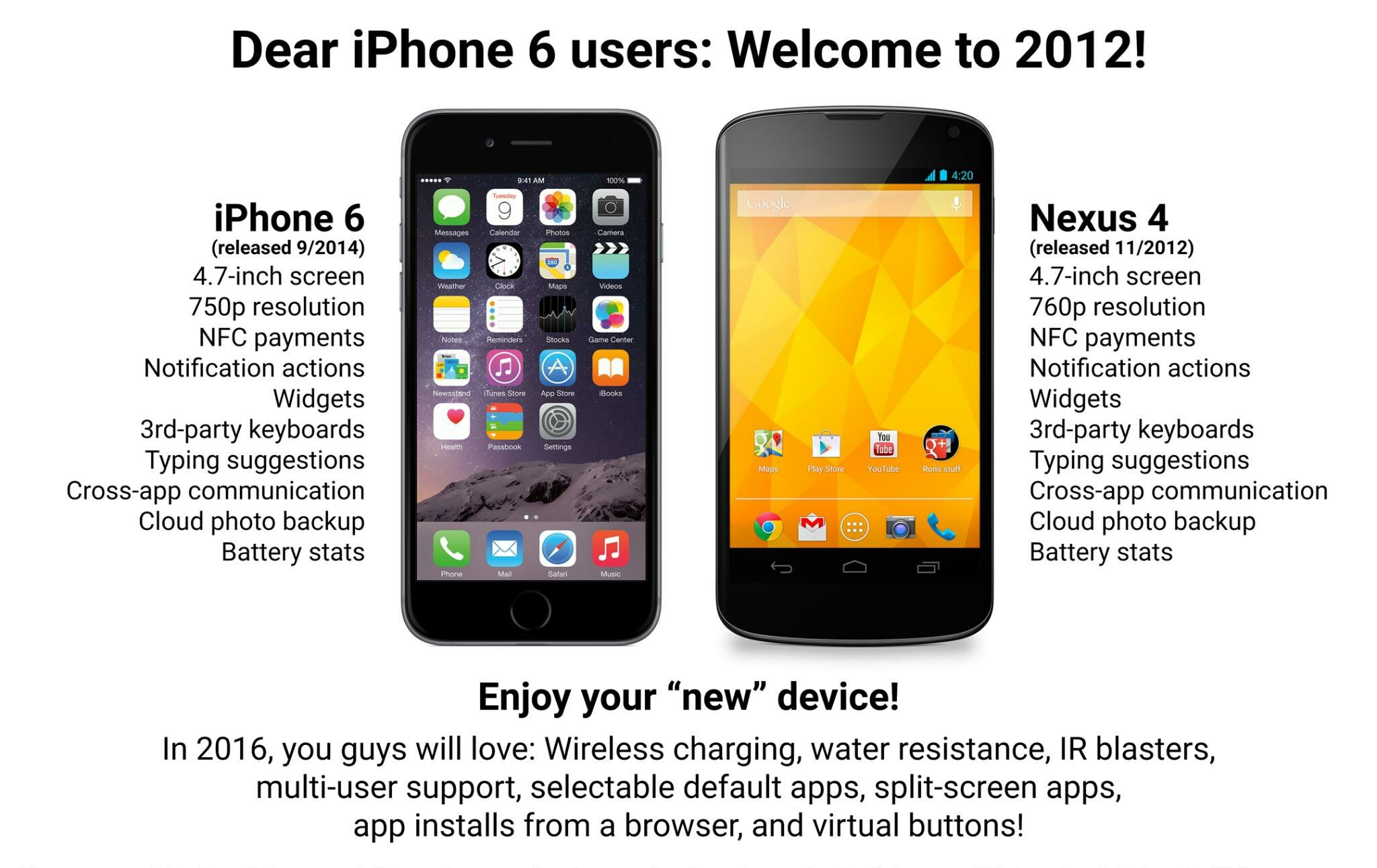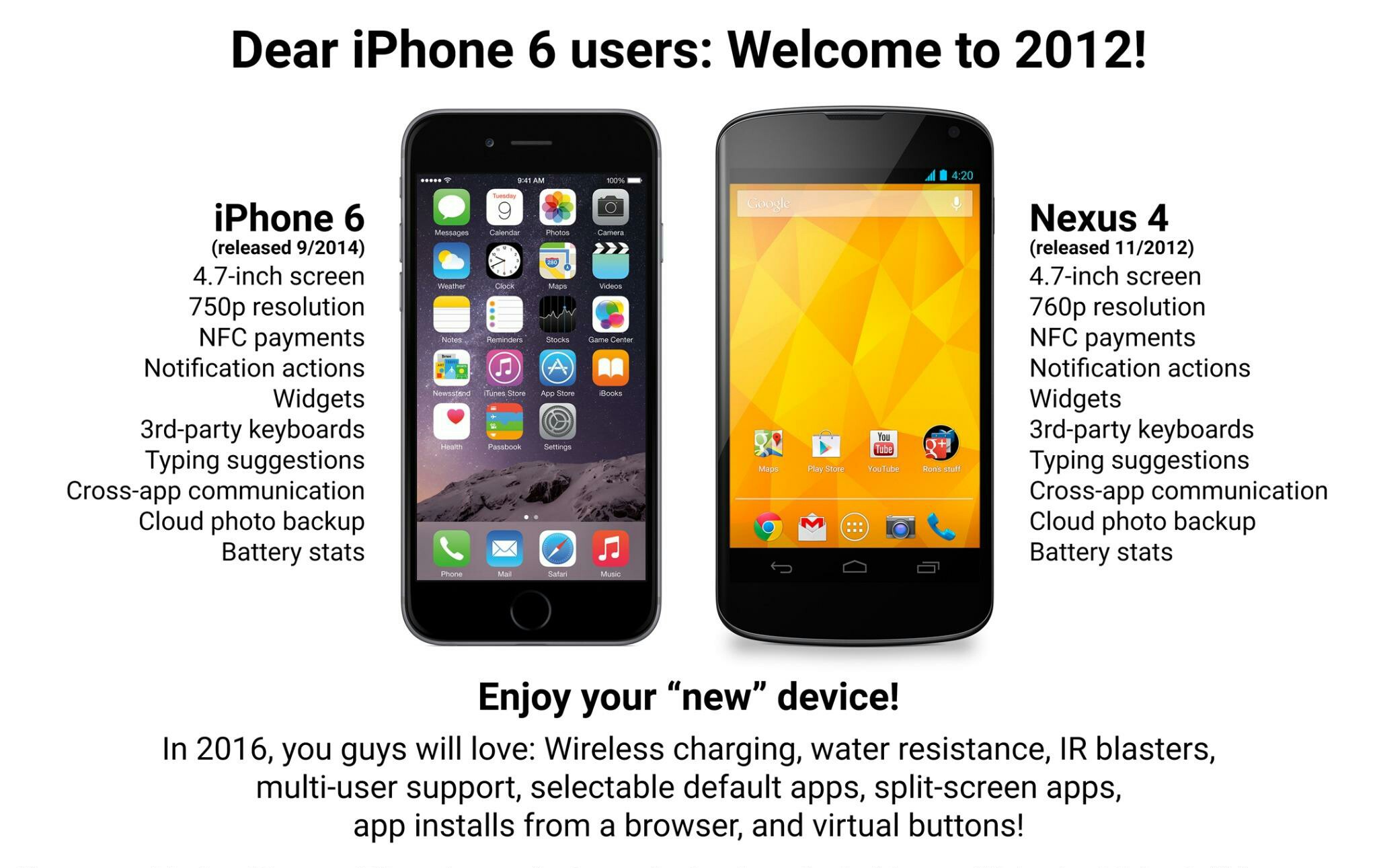 Now, all these allegations about the iPhone may be true, especially about hardware specifications. For instance, 1080p screens have existed in the Android world since December 2012. Same goes with the OIS and phase detection autofocus in the camera. The Nokia Corp (NASDAQ:MSFT) Lumia 920 was the first smartphone to feature an optical image stabilisation while the Samsung Electronics Co. Ltd. (KRX:005930) Galaxy S5 was the first Android smartphone to feature the phase detection autofocus. The NFC was first introduced in Android smartphones starting with the Samsung Nexus S with Android 2.3 Gingerbread on-board.
Almost all the Android smartphone brands including Samsung, HTC Corp (TPE:2498), Sony Corporation (NYSE:SNE), OnePlus, Asus (TPE:2357), Meizu, and Oppo took a dig at Apple. Samsung claimed that it took Apple three years to imitate them with a big screen like the Galaxy Note line-up. HTC wittingly mocked Apple for bringing a bigger screen and an elegant design while Oppo said that it wasn't impressed by the iPhone 6 Plus, as it isn't as compact as the Find 7 in spite of both featuring a 5.5-inch screen. Here are some of the hardware features that were introduced in the iPhone, though they were present earlier in devices based on other platforms.
Features

iOS

Other Platforms
1080p Display Resolution
September 2014 (Apple iPhone 6)
December 2012 (HTC Butterfly)
Dual-Core Processor
October 2011 (Apple iPhone 4S)
January 2011 (LG Optimus 2X)
LP-DDR3 RAM
September 2013 (Apple iPhone 5S)
October 2012 (Samsung Nexus 10)
Phase Detection Autofocus
September 2014 (Apple iPhone 6)
February 2014 (Samsung Galaxy S5)
OIS
September 2014 (Apple iPhone 6)
September 2012 (Nokia Lumia 920)
Zero Shutter Lag
October 2011 (Apple iPhone 4S)
October 2011 (Samsung Galaxy Nexus)
Simultaneous Video/Image Capture
September 2012 (Apple iPhone 5)
October 2011 (Samsung Galaxy Nexus)
1080p Videos @ 60 FPS
September 2014 (Apple iPhone 6)
August 2013 (LG G2)
4K Videos
Not Present Yet
September 2013 (Samsung Galaxy Note 3)
LTE-A
September 2014 (Apple iPhone 6)
June 2013 (Samsung Galaxy S4)

Wi

-Fi 802.11

ac

September 2014 (Apple iPhone 6)
February 2013 (LG G Pro & HTC One M7)
P2P File Transfer
September 2013 (Apple iPhone 5S)
Since Forever
Fingerprint Sensor
September 2013 (Apple iPhone 5S)
January 2011 (Motorola Atrix)
NFC
September 2014 (Apple iPhone 6)
February 2006 (Nokia 6131)
Contact-Less NFC Mobile Payment
September 2014 (Apple iPhone 6)
October 2011
Shatter Proof Display
September 2014 (Apple iPhone 6)
January 2013 (Sony Xperia Z)
Barometer
September 2014 (Apple iPhone 6)
October 2011 (Samsung Galaxy Nexus)
As you can see above in the comparison table, Apple was at least 6 months late in bringing new hardware technologies into their smartphones. But, a big question looms that is bringing new hardware the only biggest achievement?
Apple iPhone 6 Success: Thoughtful Execution, Not Specifications
There is no doubt that Apple has slowed down a bit in terms of introducing new hardware in its devices, but their forte has been execution since the start of the company. Meaningful and perfect execution of features have been in Apple's DNA since their inception. During the introduction of the first iPhone, not only they used a multitouch capacitive screen for better touchscreen sensitivity and accuracy, they also designed the UI in such a way that the hardware was fully being utilized with features such as pinch-to-zoom and kinetic scrolling. These two features turned out to be so impressive that it changed the whole landscape of how touchscreen smartphones went on to evolve. Every smartphone platform which came into existence after the first iPhone used pinch-to-zoom and kinetic scrolling as the basic way to navigate around the UI. Similar was the case with the introduction of iTunes. The iTunes music management and music purchase service was introduced with the first iPod. It was with iTunes that consumers, for the first time, had an ability to purchase individual music tracks.
Barometer was first used in the Samsung Galaxy Nexus which was released around 2 years ago, but neither Google Inc. (NASDAQ:GOOGL) nor Samsung made any practical use of it. Apple has introduced it in the iPhone 6 and is planning to measure elevation data during jogs, running and cycling. All of this data, coupled with vital information from Apple Watch will be integrated and measured in HealthKit. All the major fitness measurement product manufacturers are expected to integrate all the captured data into HealthKit APIs. This can make the HealthKit a holy grail of fitness related information of a user.
Apple had already introduced the Passbook last year, which allowed users to store coupons, event tickets, boarding passes, loyalty cards and other generic cards. Now with the introduction of NFC and Touch ID fingerprint recognition in the iPhone 6 and the iPhone 6 Plus, Apple Pay might be a success. Apple has already tied up with VISA (NYSE:V), MasterCard (NYSE:MA) and American Express (NYSE:AXP) for Apple Pay. They have also tied up with major banks in the US and managed to attract a lot of big retail and food store chains to work with them. Even though Google introduced NFC based mobile payment solution with Google Wallet 2 years ago with the Samsung Nexus S, they failed. According to reports from Financial Times, Apple will receive 0.15 percent cut from all the purchases made through Apple Pay. If this turns out to be even half the success of what is being expected, it would be a huge earning source for Apple in the coming years.
Just like these few examples, even though Apple is slightly late in introducing new hardware and features, almost all the business steps taken by Apple are usually very thoughtful and turn out to be successful in the long run. Not only Apple works on the implementation of those features, Apple also make sure that users actually use those features in their daily lives right from the day their devices are available for purchase. Combine these things with a possible massive upgrade cycle for the iPhone 6 and record prebooking for 4 million units of iPhone 6, it looks like 2014 will be a very successful year for Apple.