More than 1.2 million apps on Apple Inc. (NASDAQ:AAPL) App Store and the number has significant impact on its revenue. Interesting, gaming apps have constituted a lion's share of total number of app downloads as well as consumer spendings in Q1 2014 – irrespective of the company app store belongs to.
The Hollywood movie industry has finally realised the potential of the phenomenal success of gaming apps on smartphones and tablets. Box-office promoters and producers are increasingly referring to apps as a means of promotion and revenue generation. To mark the rapid transition, App Annie and IDC released a report on transmedia development to commemorate the E3 gaming exhibition in Las Vegas on June 10 2014. The shift began in the late 90's with the rapid advancement of gaming technology and personal computing. Now, smartphones and tablets are allowing producers to take advantage of applications and other forms of media for promotional movie activities. Bertrand Schmitt the CEO of App Annie, summarised the findings of the report:
"The takeaway of this report is that box office success and ratings are no longer the only indicator of a successful movie or TV show. As we are seeing in other industries, mobile strategy clearly needs to be a serious consideration for any entertainment marketer interested in maximizing their brand's reach and overall lifespan. And it's not just about slapping a film's brand on top of a puzzle game — as movie and game creation technology advances, so do consumer expectations."
Revenue From Google Play Store Growing Faster Than Apple's App Store
It is already a well established fact that a majority of downloads and revenue source for both Apple App Store and Google Play Store comes from games. During Q1 2013 and Q1 2014, games constituted 40% of all app store downloads and the trend is set to increase with growing number of smartphone users worldwide. Consumer spending on gaming apps is at an all time high in both the app stores with the worldwide share of Apple App Store spending reaching almost 75% and 85% on the Google Play store.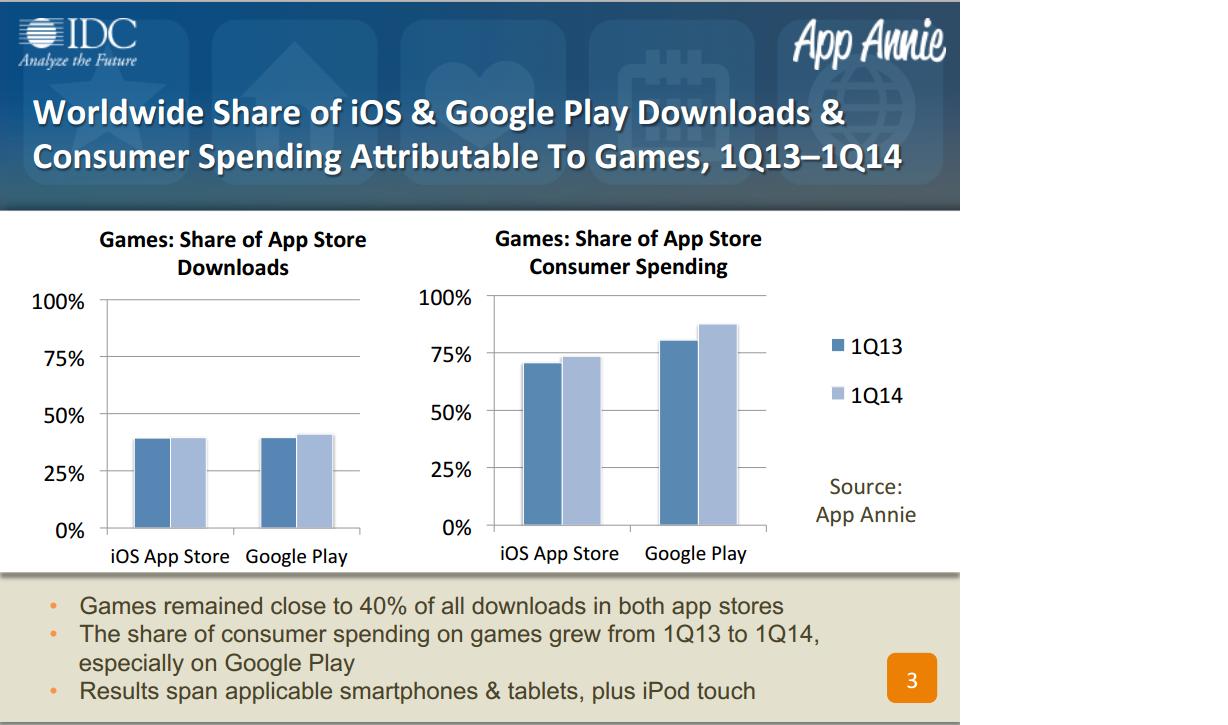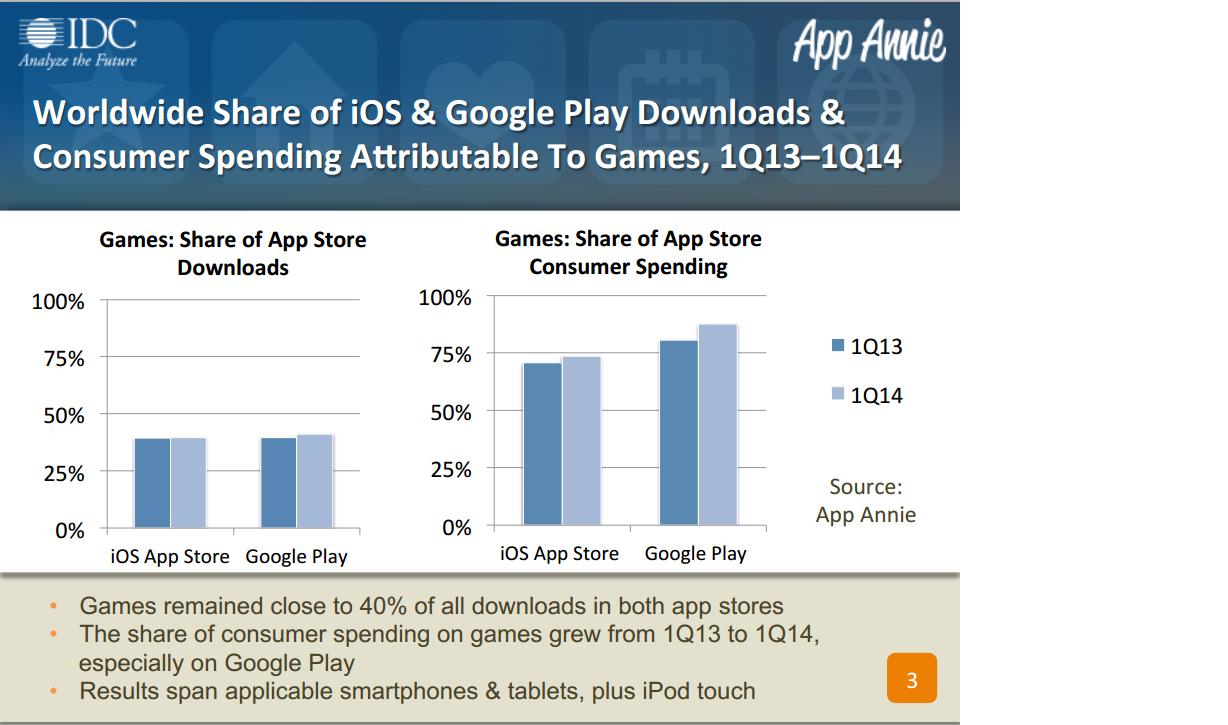 When it comes to spending on games, however, the Apple App Store exceeds the Google Play store by a sizeable margin. This is not surprising as Apple users spend 45% more than Android users on an average and are also more likely to be mass consumers of entertainment. Interestingly, Google Play store revenue grew by a margin of 2.5 times in one year, while the Apple App store grew by 1.7 times. It was predicted that the smartphone and tablet would eventually kill the handheld console gaming market, but the massive success of  title based games, such as GTA V on handheld consoles, has proven that the handheld gaming industry is thriving, despite a slight decrease in revenue over the past year.
Movie Tie-In Games Are Extending The Success Of the Brand Even After theatrical Release
Some companies have performed very well with movie or Tv show tie-in on smartphone and tablets in the past one year. Some of these include Disney (Frozen Free Fall, Monsters University), Gameloft (Despicable Me , Iron Man 3) Kabam (Fast and Furious 6, The Hobbit Kingdom)  and Rovio (Angry Birds Star Wars, Angry birds Rio). It was also observed that city building, puzzles and endless runner games were the most common genres of movie to in-games. Eight of the top 15 cross-over titles by downloads were based on animated films or shows. Five of the top 15 revenue earning cross media games were based on TV shows, which indicates that game tie-ins are becoming an increasingly important aspect of animated and general TV show marketing.  Titles that made the Top 15 cross-over list, such as Turbo Racing League, Robocop, and Real Steel World Robot Boxing, show that even moderately successful films can have hit mobile games. Real Steel World Robot Boxing performed well in downloads in 2013 and early 2014, even though the film came out much earlier in 2011.
Video Game Spending Is Growing Faster than Movies in The U.S .
The statistics show that U.S. retail spending on movies has declined by 0.5% Y-O-Y to US$30 billion since 2005 but those of video games has doubled to US$20 billion since 2005. Spending on video games has risen by 7% Y-O-Y and is soon expected to overtake those of movies.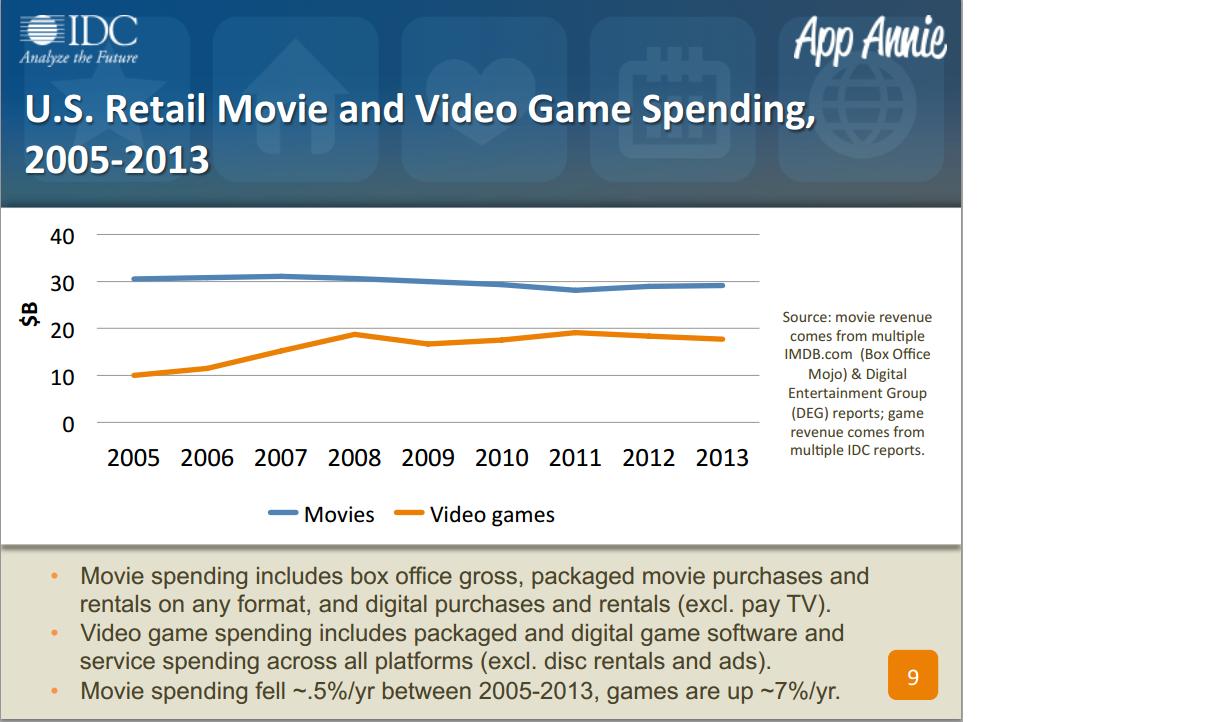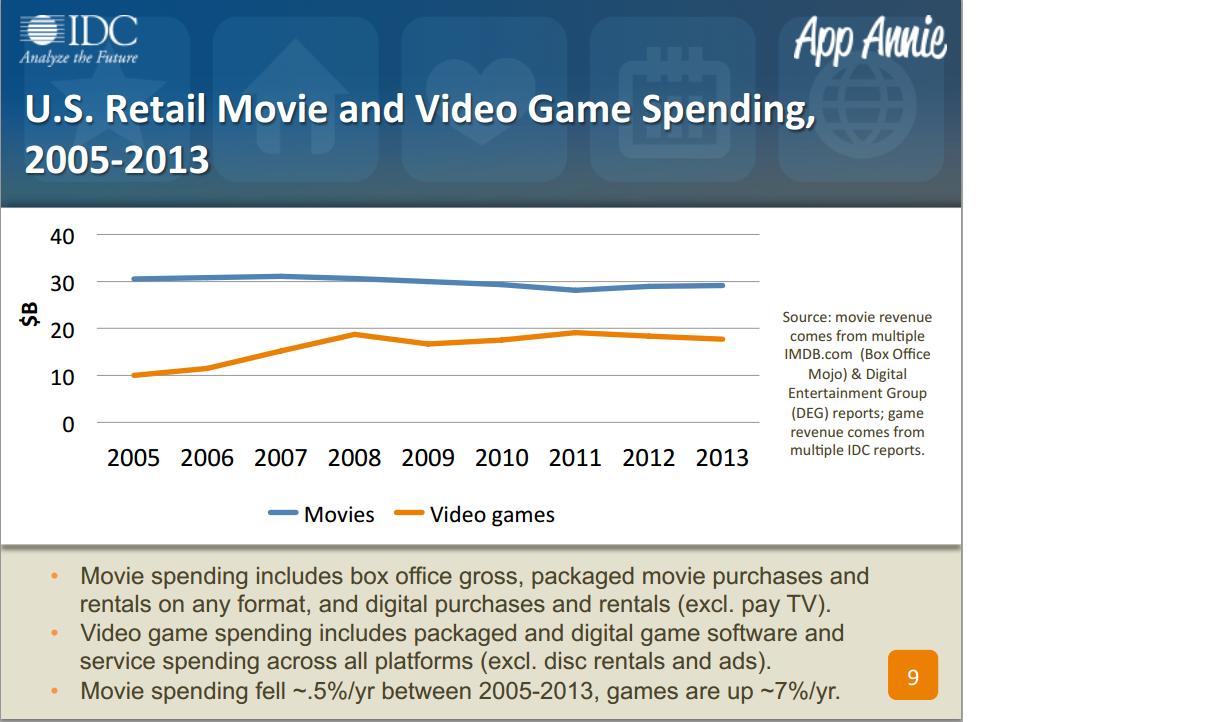 Lewis Ward, research director of gaming at IDC commented on the increased spending on games over the past decade.
"The revenue dynamic between Hollywood and video games has shifted in the direction of games in the past decade and this trend is likely to continue. In fact, total video game software and service spending is on track to surpass total movie-related spending in the United States by the end of this decade. This revenue shift has already given rise to some interesting transmedia companies and we're likely to see cross-channel franchises proliferate in the next several years."
All these findings highlight the potential of a strong publisher and studio partnership business model. This has already created higher quality games and is generating strong mobile engagement. In coming years, both industries will become increasingly dependent on each other, despite their respective structures and processes remaining fundamentally distinct.