Apple Inc. (NASDAQ:AAPL) iOS App Store and Google Inc. (NASDAQ:GOOG) Play Store are competing fiercely for domination of the global app market, according to a new report. During Q1 2014, worldwide downloads from Google Play store exceeded those from the App store by 45%. This increase in the number of downloads per quarter is significant, given that in Q2 2013, Google Play store led the App store in downloads by 10%, which expanded to 25% in Q3 2013. The iOS App store still generated 85% more revenue globally during Q1 2014, but the revenue gap is narrowing fast as earnings from the Play Store are increasing  in both the United Kingdom and United States. Apple seems to have found a new home in China, where the earnings obtained from the iOS App store grew by 70% between Q3 2013 and Q1 2014.
App Annie's Market Index report for Q1 2014, gathered data from 150 countries around the world and examined the apps on both Google Play and iOS App store. The highlights of the report were:
Driven by growth in emerging markets, Google Play Store downloads now exceed iOS App store downloads by around 45%.
During Q1 2014, emerging countries like Mexico and Turkey had a strong influence on Google Play downloads.
iOS App store currently generates about 85%more revenue then Google Play store, and China is playing a key role in sustaining the App store.
Games are responsible for most of the revenue in both app stores. Social networking apps generate more revenue from App store, while communication apps dominate the Play store. Increased purchase of tool applications are helping Google Play store to narrow the revenue gap with App store.
None of the emerging economies are in the list of top countries contributing to Play store revenue.
China Contributing To Increased App Store Revenue
The Apple App store now has more than 700,000 apps, and 63% of market revenue share. Apple gained a major foothold in the Chinese smartphone market last year, by signing an agreement with China Mobile Ltd. (ADR)(NYSE:CHL). According to App Annie, iOS App store revenue from China grew by 70% between Q3 2013 and Q1 2014. The country was already placed second in number of downloads and third place in revenue for App store, before the iPhone came to China Mobile. After the deal, Apple gained another one million iPhone users in China. The mobile carrier giant has 767.21 million mobile subscribers, and is the world's largest telecom carrier. The deal will ensure that China remains a high-profile country for Apple to focus on, in the next few years. The main app categories which saw growth in this country were from games, travel and social networking.
The report goes on to mention other smaller countries such as Vietnam and South Africa, also contributing to App store revenue. All five countries on both the lists have remained steady since the second quarter of 2013. If Apple is keen on increasing the number of downloads on the App store to compete with Google Play, it will need to focus on more emerging economies besides China. In many of these countries, several smartphone users have expressed aspirations of owning an iPhone, despite the high cost of Apple products. For now however, the tech giant looks  content with the returns it generates from China, Japan and the United States.
Google Play Store Is Gaining More Revenue From The U.K and U.S
It's expected that in the year 2015, one out of every two devices shipped worldwide will be an Android product. More consumers are switching to Android and an increase in revenue and downloads on the Play store. In Mexico, smartphone adoption grew by 75% last year, while in Turkey IT spending is expected to grow by 9% this year, driven by adoption of tablets and smartphones. The United States holds the top spot in number of downloads, while Brazil and Russia have also emerged as superpowers in the app market. It's also interesting to note that the countries generating most of the revenue for Play store are the traditional smartphone markets and they are narrowing the earnings gap between both of these app stores. 
The United States contributed an increase in revenue of 55% towards the Play Store, from the previous quarter, racing past South Korea, which is the home of Android giants, LG Electronics Inc. (KRX:066570) and Samsung Electronics Co., Ltd. (KRX:005930). The UK also recorded a 35% increase in earnings growth during Q1 2014, despite a decline from a gain of almost 55% between Q3 2013 and Q4 2013. Google Play store is earning more proceeds through developed countries, but Android users in most emerging countries are still not making payments through the Android platform. As usage of Android OS continues to grow, it could be some time till the Play store finally catches up to the App store in revenue .
Tool Apps Allowing Play Store To Narrow The Revenue Gap
The Tools category is fast emerging as a means for Play store to narrow the revenue gap with the App store. Worldwide, four out of the top five apps in the Tools category, which contributed to Play store revenues, were focused on anti-virus and security functions. Increased awareness of security risks, may have  triggered the increase in revenue from these apps. Games are the most prominent source of revenue on both stores, accounting for 75% on App store and 90% of revenue on Play store.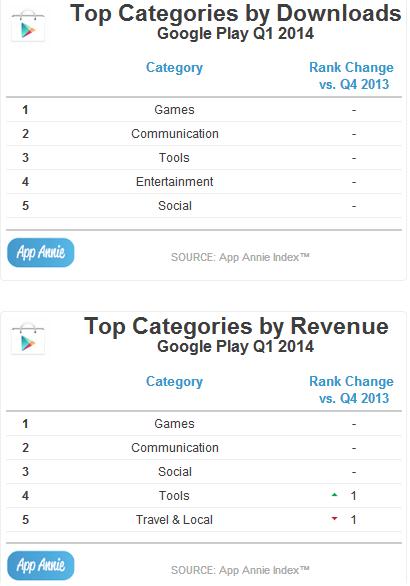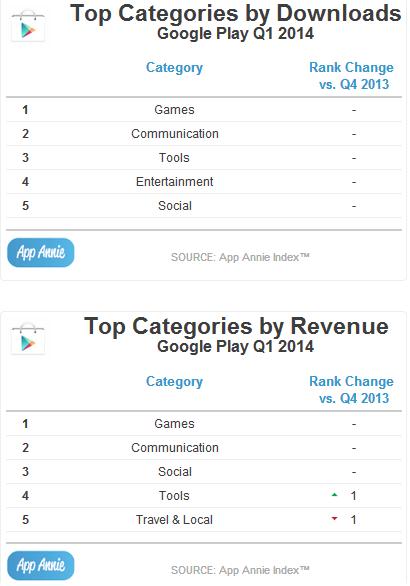 Both the app stores will continue to grow through the Freemium business model. During 2013, Freemium apps recorded a 215% increase in revenue, and surpassed all other monetization models. On Google Play store, apps using these business models were responsible for 98% of the earnings generated compared to 92% on the App store. It's also expected that by 2017, India will experience the highest app revenue growth, which will be driven primarily by Freemium apps.