In Q1 2014, Android users were surprised to learn about 2 million malicious apps available on Google Inc. (NASDAQ:GOOG) Play Store. It's been sometime now the information broke out and most of us expected that Google will up-the-ante to fight growing influence of such apps. But what if the Google Play Store is a malware in disguise? That's right! G Data, a German security firm, has discovered the Trojan that comes pre-installed on Android devices and can't be removed. The Trojan is invisible except for the Google Play Store icon. The malware was discovered on the 5-inches Star N9500 smartphone, a copy of Galaxy S4, which is being sold rampantly on eBay and Amazon for $170 to $200. The device is manufactured by a Chinese vendor and is available in many countries outside China.
The Trojan, Android.Trojan.Uupay.D, runs in the background and sends the sensitive information to an anonymous server in China, which can't be traced back. However, user-level efforts to remove the malware are failing as it is integrated in the firmware. The malware makes retrieval of personal data, intercepting call, emails, text messages, online banking data, control over microphone and camera feasible.
"The options with this spy program are nearly unlimited. Online criminals have full access to the smartphone," said Christian Geschkat, Product Manager Mobile Solutions.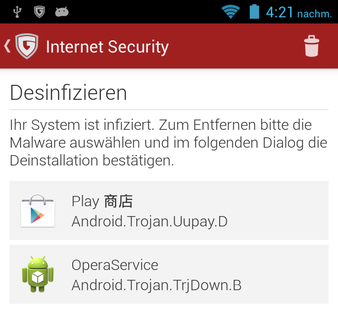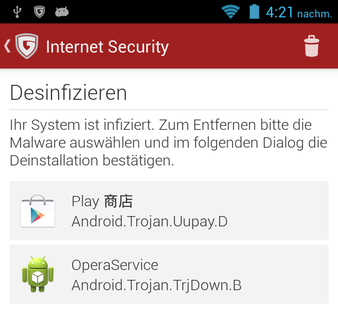 Android – Soft Target for Malwares !
The cheap cost and high specifications of the smartphone has attracted many buyers thus putting their privacy at stake. Android, being an open-source software, is open to all developers and users and there are more than 1.26 million apps available on Google Play Store. Furthermore, The increasing penetration of Android smartphones has allowed it to capture more than three-fourth of the smartphone OS market in 2013. Such an astounding number of apps and expanded reach among the audience leaves it vulnerable to several malicious attacks. Interestingly, a large portion of Android's growth is driven by low-cost smartphones and home-grown vendors, like Huawei, Xiaomi, ZTE, Gionee and many others, which are doing extremely well in the global market.
iOS is not 100% secure though, but compared to Android, it is less prone to malicious attacks. The closed software envoirnment keeps iOS secure. Almost 97% of mobile malware is targeted on Android powered devices. The strict policy followed by Apple Inc. (NASDAQ:AAPL) of verifying apps before making them available to customers has made it more secure. Besides, like Android, Apple does not allow iPhone and iPad users to install apps from unknown third-party apps stores.
Protect Your Device From Malware
Keeping your device safe from malicious software is as important as keeping your home safe. The sensitive data stored in your phone can be accessed by remote servers and vital information from it can be extracted. A few simple steps can go a long way in making the phone secure.
Safeguard the access to phone by PIN or passwords
Disable network connectivity features like Bluetooth and Wi-Fi when not in use.
Do not download the apps or sources that you do not trust completely.
Try to avoid app installation from third-party app store as much as possible.
Keep legitimate mobile antivirus app installed on your phone and update it regularly.
The increasing smartphone infiltration is making the online criminals restless. The number of malicious apps or trojans are not expected to phase out anytime soon. Offers of smartphone with high specifications but at very low cost should make the buyers apprehensive about the smartphones.