The social platforms are turning out to be the most preferred avenue for promulgation by the marketers in today's time. For Facebook Inc. (NASDAQ:FB) second quarter of 2014 proved to be the clear illustration to this upsurging trend as the company's total ad revenue shot up to $2.9 billion which was 61% more than the previous quarter. Adding to these growth figures, its mobile advertisement profit expanded by 151% in this quarter representing 62% of overall advertising revenue in company's total earnings of this three-month tenure. Facebook even overshadowed its prime competitor Google Inc. (NASDAQ:GOOGL) in this Q2 and emerged as the king of digital advertising.
Along with the growth in revenues, Zuckerberg's inception is also clinging on very strongly to its network in 2014; it is estimated by eMarketer that US adults spend an average of 21 minutes each day on Facebook.  This has been the first ever analysis made by this social media research and analysis firm of daily time spent on the social network. This span of 21 minutes caters for one-third of the time US adults spend every day on various social networks, 6% of time they spend with digital devices and 2.8% of their time is consumed on all media. Furthermore, the study deduced that the average time spent per day with all leading media among the US adults will escalate by 21 minutes from 2013, summing up to 12 hours 28 minutes in 2014.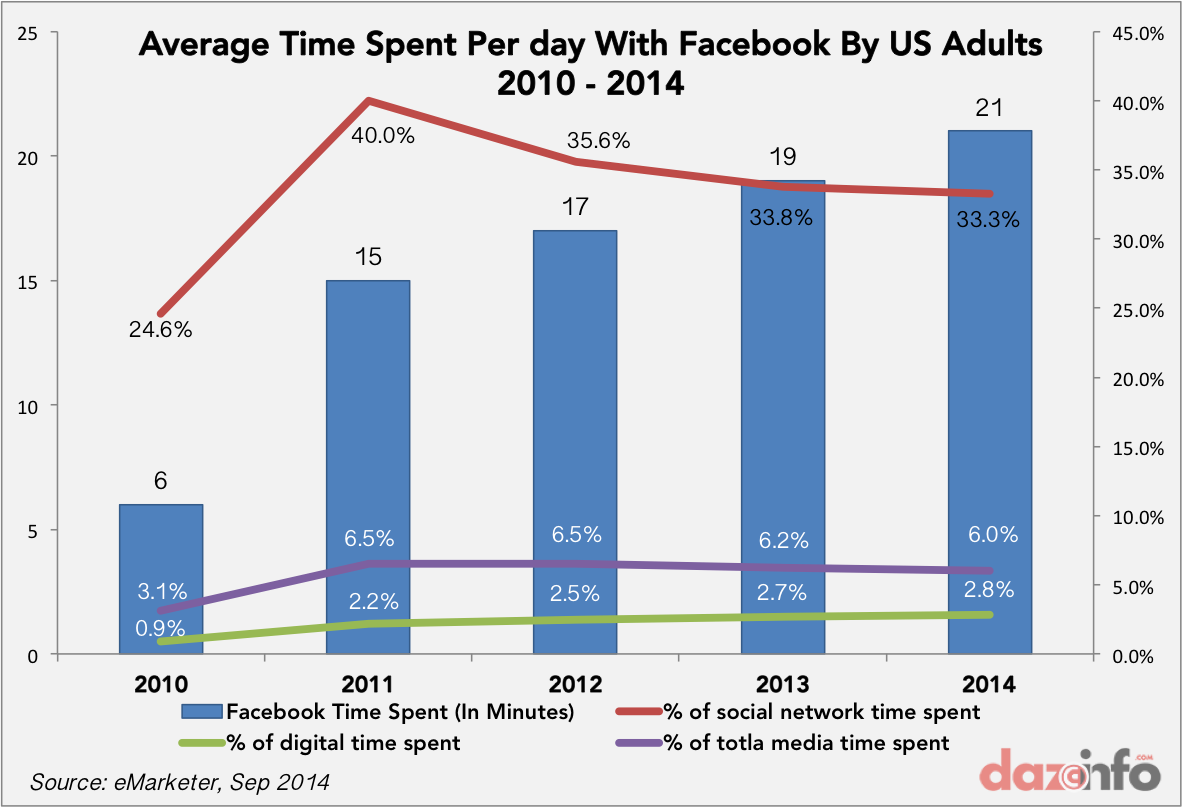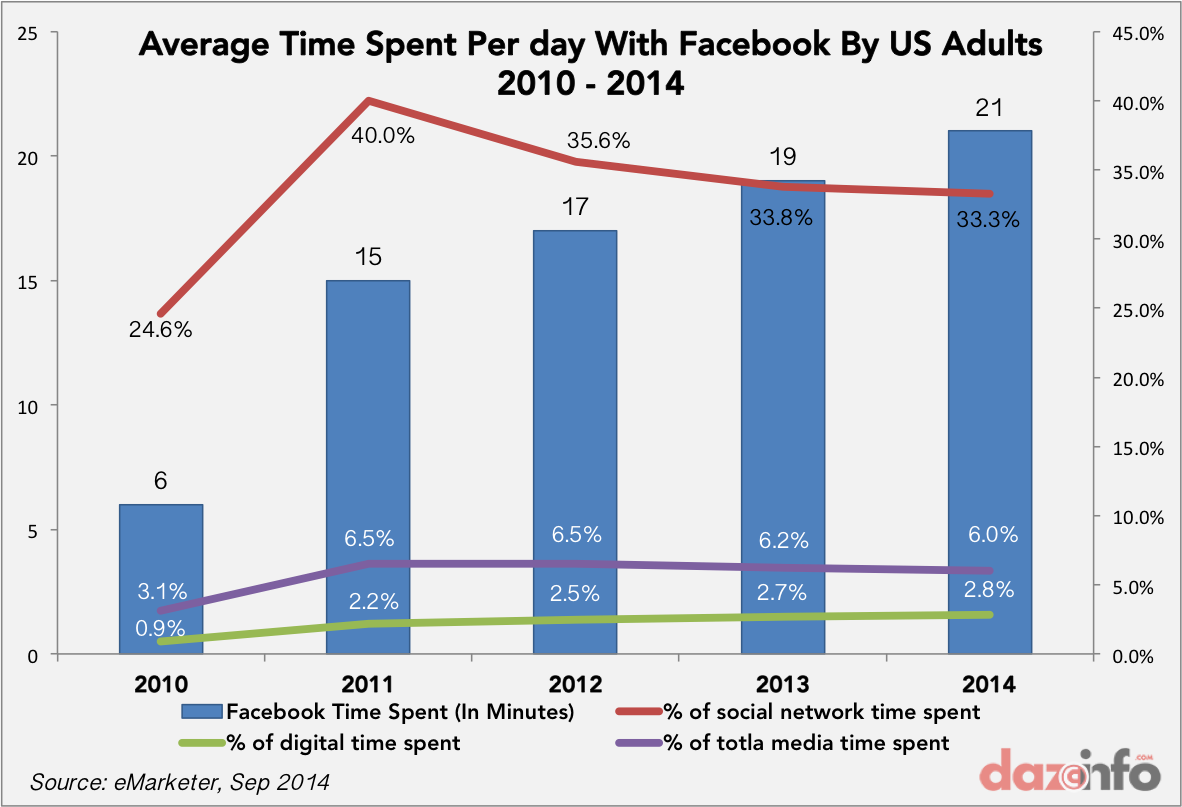 The contrast of ad revenues generated to

average daily time

spent on Facebook
The stats pointed out that nearly 6% of digital media time of US adults is spent on Facebook but on an average 10% of US digital ad spendings are attracted to this platform which presents a sharp distinction to all other social networks presently active on the web.
The year 2014 is expected to be involving almost half of the major media time on digital devices which is approximated to be 5 hours 46 minutes, but in contrast to the time spent on these devices only 30.5% of digital media spendings will go in the pocket of these digital channels.
The panoramas of the various activities of digital segment are cogitated for more time spending on them in comparison to their ad spendings in 2014. The video sector is approximated to utilize 15.9% of the adults' digital time in comparison to 11.7% of advertisers' spending on them. Similarly, the online radio programming is expected to snag 11.2% of the total time of US individuals spend on digital devices whilst capturing 4% share of digital advertising. These comparative figures for Facebook are totally contradictory with other social networks as they are anticipated to consume 11.9% of US adults' digital time but only perk 3.9% of digital revenues.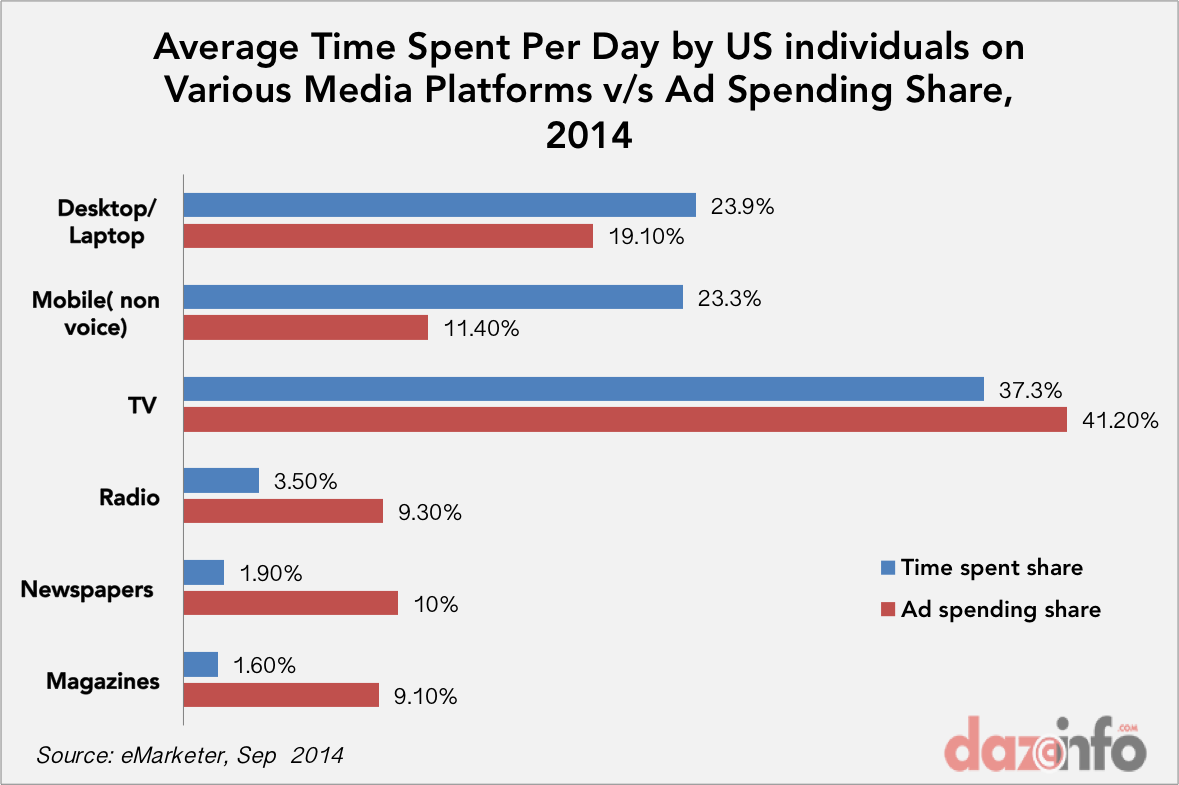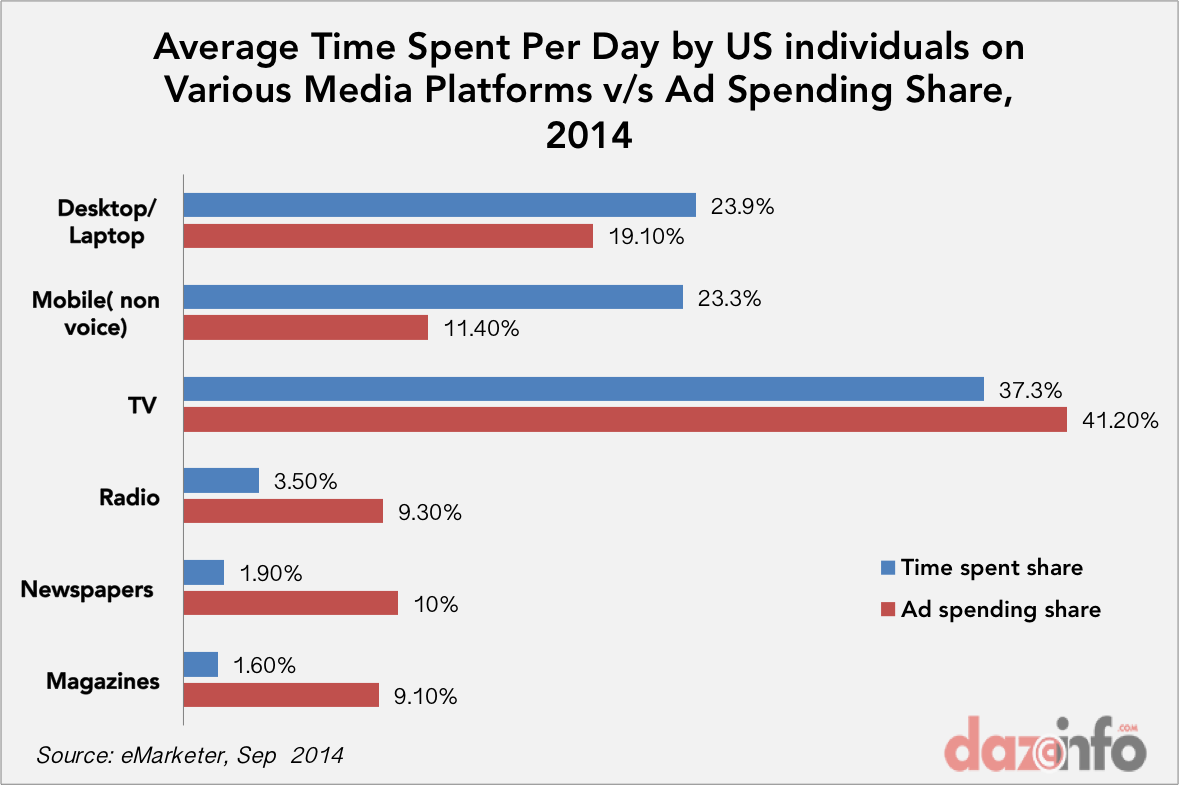 The report also highlighted an interesting fact about time spent by the US adult citizens on Pandora, a personalized radio that plays the music preferred by the individuals. It aggregated that in the present year the US adult population will engage 7.1% of their daily time listening to this modern radio and it is highly astonishing that this span of time is greater than the average time spent by these folks on Facebook. But in spite of such large listener base, only a fraction of digital ad spendings that is about 1.4% is predicted to be earmarked for this music store.
 The factors contributing to

strong position

of Facebook in the advertising sector
While the users on various modes can employ several modes to ignore and skip the ads like skipping the ad sections on digital videos or omit the ad campaigns on Pandora, but on Facebook it seems a difficult task to overlook the ad content because they are interspersed. Also for Facebook, the ads that appear on its photo-sharing platform Instagram have also proved to be a promising mode of generating revenue which the company had initiated last November. Adding to this, the introduction of third party mobile apps, premium video advertising and focusing on the demands and capabilities of the audience to buy from their advertisement space has really paced Facebook too ahead of its competitors in the advertising segment, which can be embellished by the trend that 84% of young shoppers are influenced by Facebook for choosing a brand!