With the advent of eCommerce and online shopping, the entire strategy of the sales funnel has changed. Today, checkout optimization means a lot more than simply making sure you have enough lines open and cashiers working. Every step along the sales funnel can be optimized, and this starts with a robust social media strategy. In this infographic, we'll examine some of the best ways you can use social media to grow your sales, increase conversions, and nurture a robust community around your brand.
Unlike the old days, where the interaction with the customer started and ended inside a brick-and-mortar store, a business with a robust social media strategy is in constant dialogue with the consumer. The consumer looks to the brand for updates, news, and even relevant entertainment from time to time.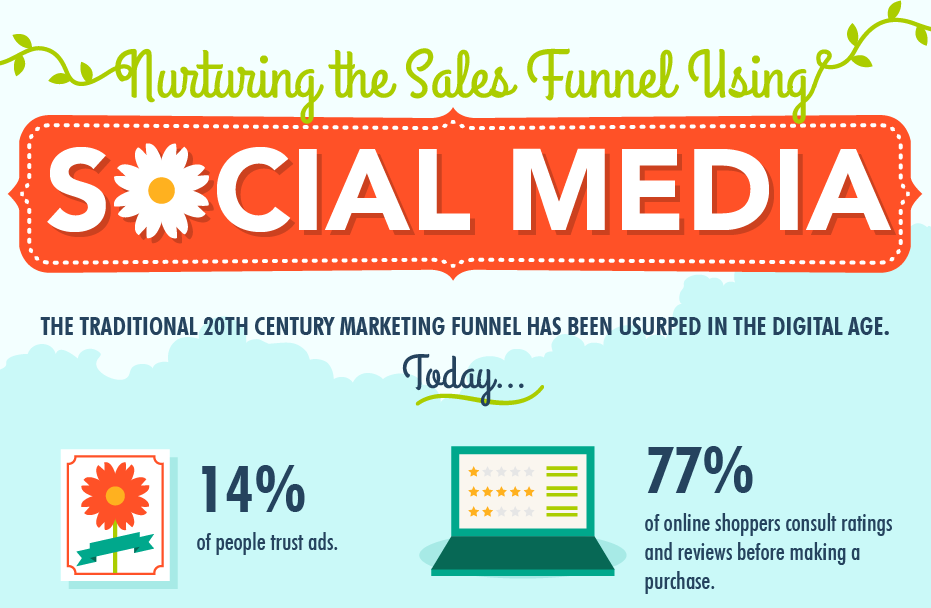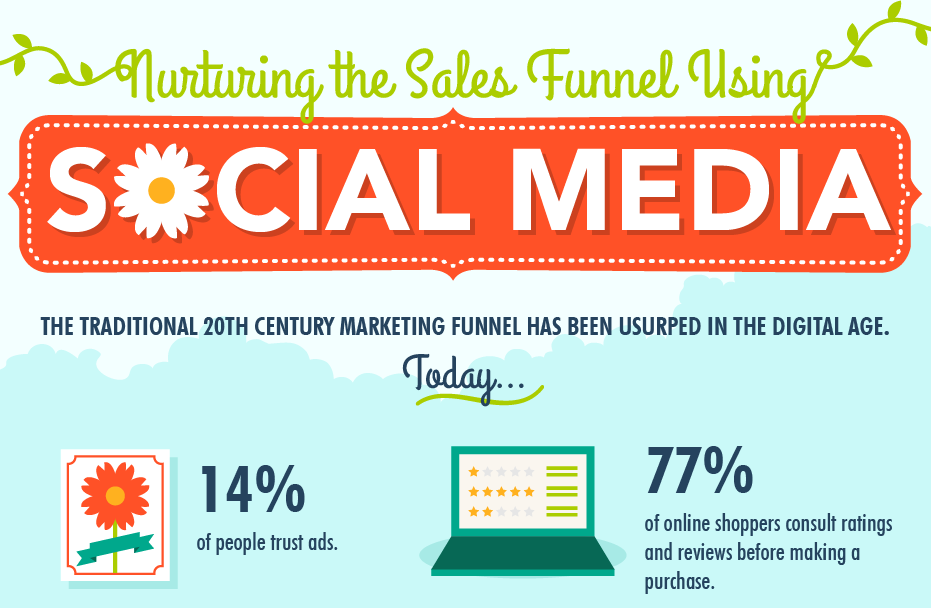 You can use social media to grow your relationship with the customer into a mutually beneficial and rewarding one. Social media gives you the opportunity to continue to be visible, and therefore relevant, to customers long after their initial purchase was made. Where a brick-and-mortar store would need to rely on the customer's own memory to bring them back to the store, social media allows you to constantly refresh their image of you in their mind, reinforcing your relationship with them.
Luckily, there are numerous tools available to the resourceful social media marketer. While they each have their individual uses, the most important tools can be organized into a few key categories, such as community builders and remarketing pixels.
Community building tools are generally cross-platform social media organization tools that allow social media marketers to easily spread their efforts across the various social media outlets available to them. Many of these services also include scheduling tools, allowing you to write posts in advance.
Remarketing pixels allow you to harness casual visitors to your site for additional marketing opportunities. Once a potential customer has visited your site, the remarketing pixel allows you to virtually "follow" them through the internet, providing multiple chances for conversion. Even if they don't convert at first and don't intend to visit your site again, they will continue to see your product advertised across the internet.
In the age of social media, growing conversion has become a complicated and strategic process, vital to the health and success of a modern business. Our infographic sums up the most effective ways to take advantage of the exclusive access to the consumer afforded by social media. Read on to find the best ways to nurture your sales funnel, increase conversions, and develop a robust community around your brand.
A few of the major highlights and takeaways of the infographic are:
Online reviews and ratings are the main drivers of eCommerce sales. 77% of online shoppers consult ratings and reviews before they make the actual purchase.
With 2 billion+ users, Social Media has grown exponentially in the last few years. This has convinced customers to look no further than social media networks when it comes to pre-sales and post-sales support

. 

Therefore, 80% of customers expect businesses to be active on various social media channels.
Digital content creation has become an integral part of a 

company's marketing strategy

. Brands

on

social media must create compelling contents and visuals that have the potential for a call to action. This helps businesses to engage prospective customers in a far better way.
Show respect and say thank you to all visitors landing on your site – but in a style. Convince them to surrender their contact details by offering various giveaways, free training, and consultancy or contest. Installing a Remarketing pixel on your webpage is the best strategy to meet this without any hiccups.
The above article is written by Russel Cooke – a journalist and Customer Relationship Management specialist based in Louisville, KY. and Canyon Country, CA. His work often discusses social media, customer relationship management, and software development. You can follow him on Twitter @RusselCooke2.