The launch date of Apple Inc. (NASDAQ:AAPL) iPhone6 is yet to be finalized but its share of surveys, reports and speculations are unstoppable. The smartphone market is abuzz with the discussions whether the new iPhone 6 could capture a sizeable chunk from the Android-powered, large-screen smartphones. A survey conducted by RBC Capital Markets on 4,000 people found out that 23% of the respondents are likely to purchase an iPhone if it came with a larger screen size. Moreover, 35% of future or current Android users are also willing to make a switch in favour of large-screen iPhone 6.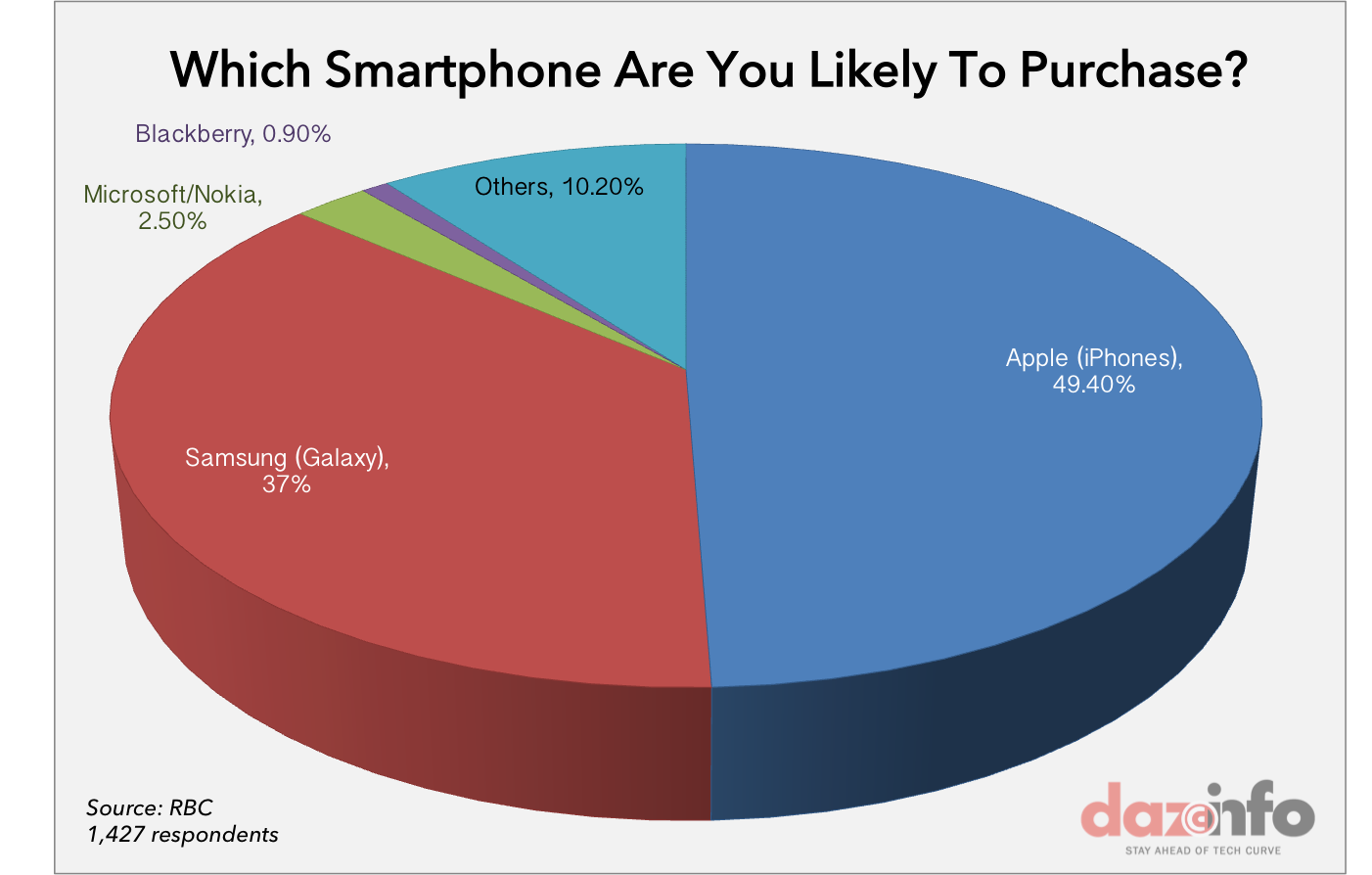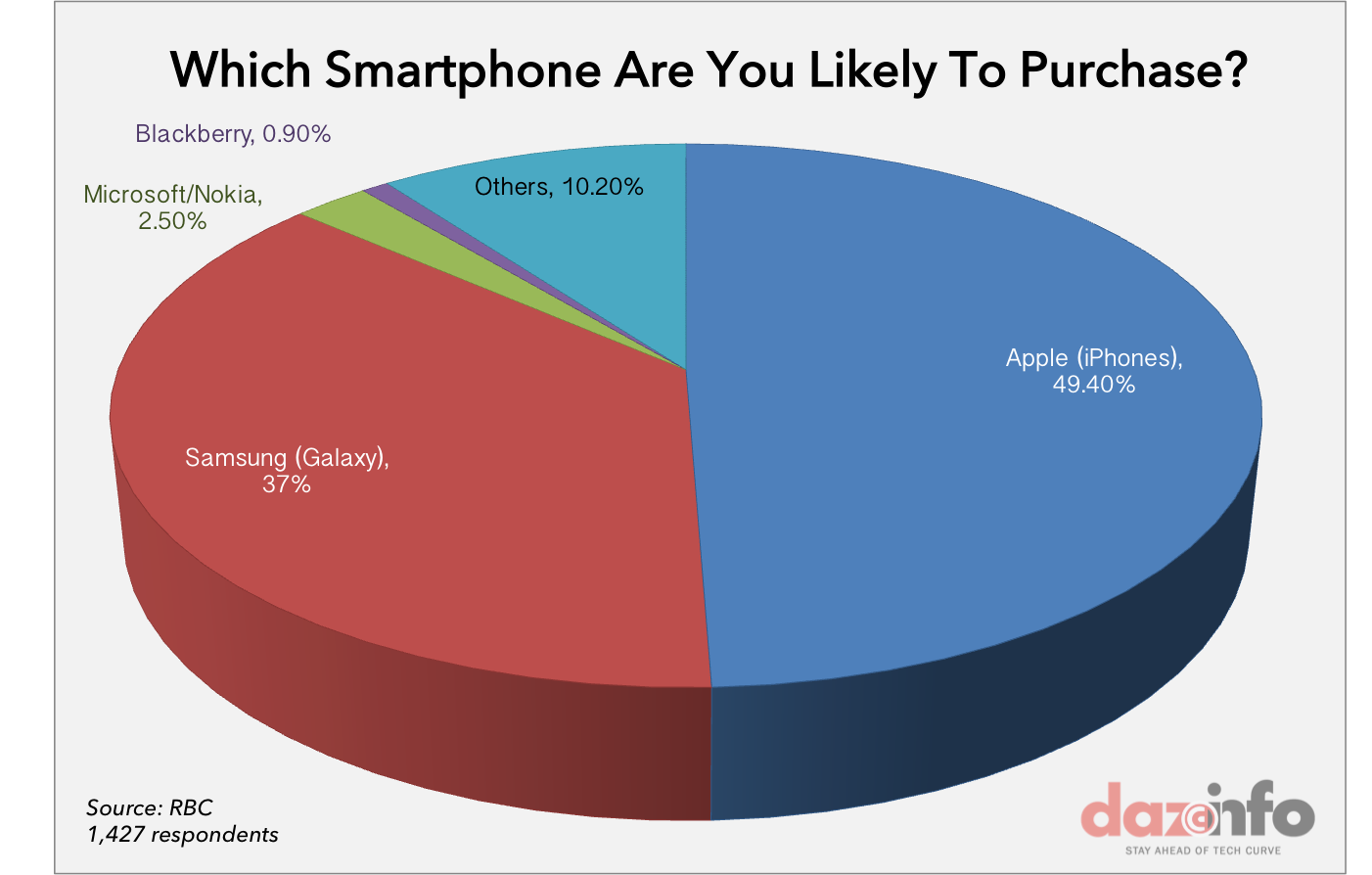 Users Willing to Pay $100 Extra For Larger-Screen iPhones!
The brand value of Apple is so strong in the smartphone market that users are willing to shell $100 extra for a 5.5 inch iPhone6. Out of the 706 participants who answered the question, more than one-fourth users are willing to pay $299 as down payment (with contract) for 5.5 inch iPhone 6.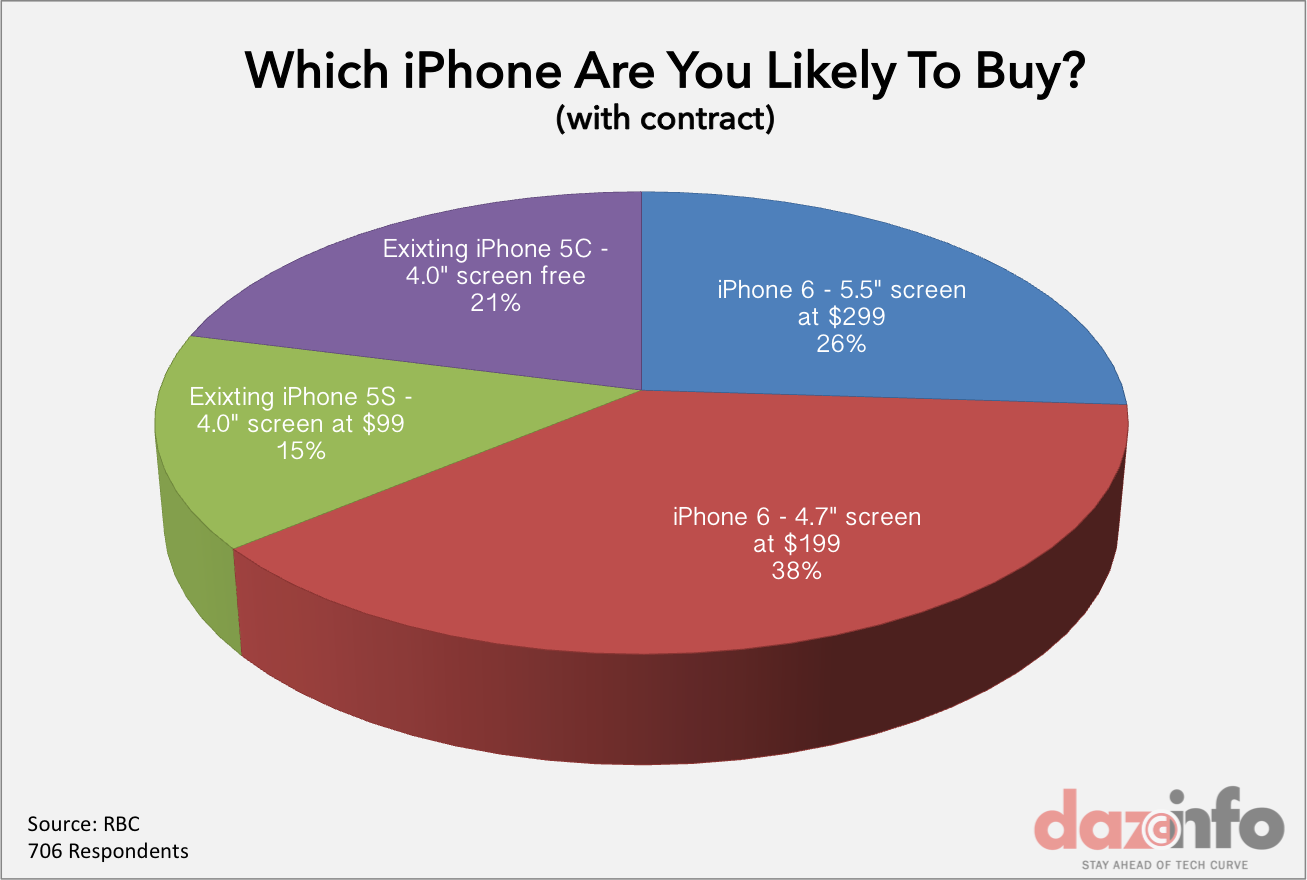 The desire for larger screen phone reverberates with the user as 64% opted for larger iPhone 6. Interestingly, one-fifth of the respondents who took this question still opted for a free iPhone 5C with contract. This is unsurprising since huge price tag is preventing users to go for Apple iPhone. The declining market share of Apple in global smartphone market can be attributed to this. On the other hand, the Android-powered smartphones have flooded the market by satisfying all price range and screen sizes, thus giving users a myriad of options to choose from.
Interestingly, more than one-third of users chose a 4.7 inch iPhone 6 instead of 5.5 inch. Bringing a smartphone in the screen size between 4.5 and 5 is likely to be more beneficial for Apple as it carries a handling comfort, thus preferred by majority of respondents. However, most of the leading smartphone OEMs have placed their flagship models in the screen-bucket of 5-inch or bigger, be it Samsung Electronics Co., Ltd. (KRX:005930) or HTC Corp (TPE:2498) or LG Electronics Inc. (KRX:066570). The Samsung Galaxy S5, LG G2, HTC One M8 feature 5.1 inch, 5.2 inch, 5.0 inch, respectively. Despite, It is unlikely that iPhone 6 will face a strong competition from the above mentioned flagship smartphones.
35% Respondents Resist iPhones Due To High Price Tag
Most of the avid smartphone users are aware of the fact that Apple introduced an upgraded version of iPhone once a year. Therefore, 40% respondents have claimed that they are waiting for the impending update later this year and are willing to switch once the new iPhone is available in market. Users look out for variety of features while upgrading including larger screen size, battery life and processor speed. However, out of the 1,427 respondents to the question related to price, 35% claimed the price-tag is the most important factor while buying an iPhone. Beyond the price, the users made well use of the 'others' section and listed a longer battery life, screen size and better camera in their top priorities.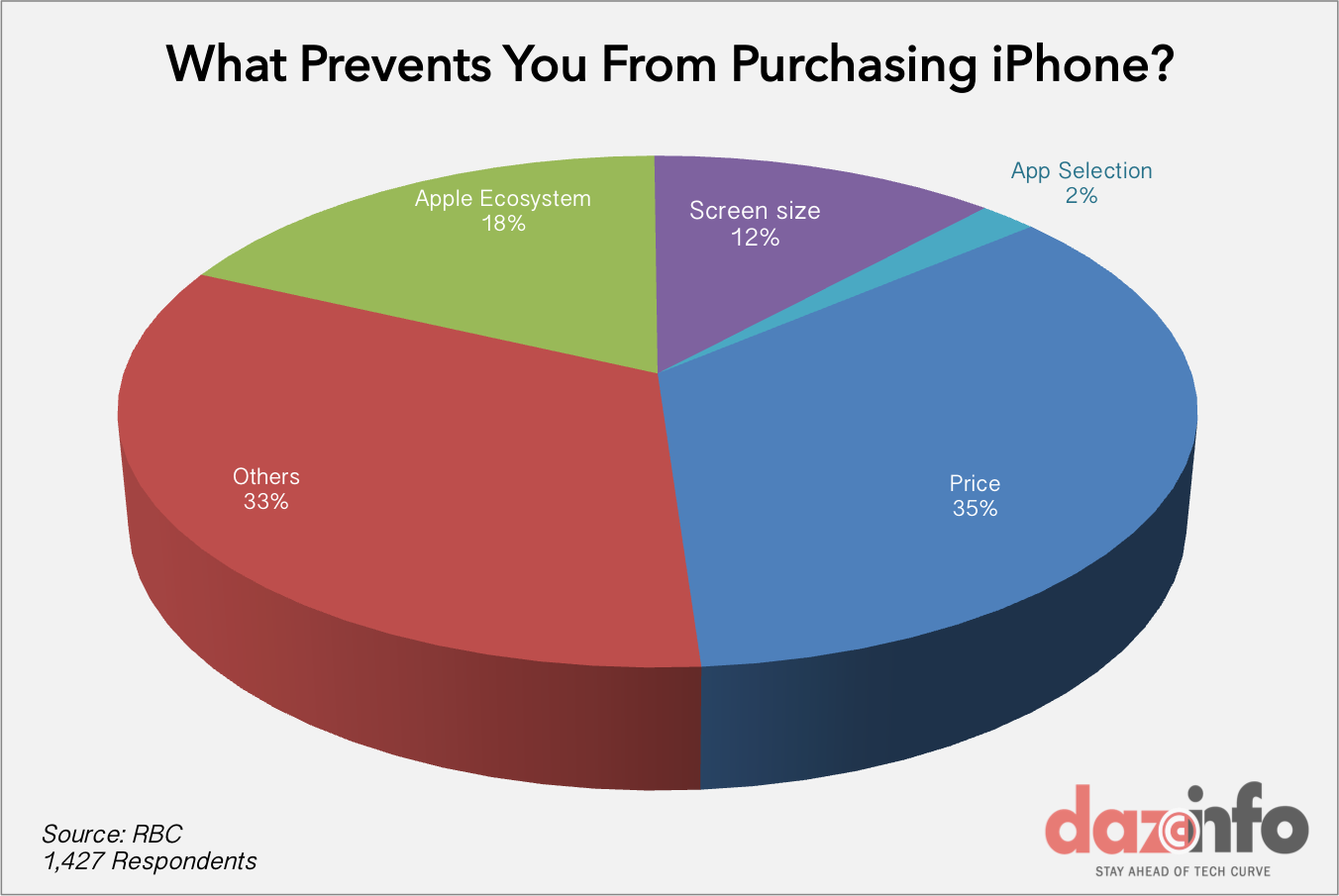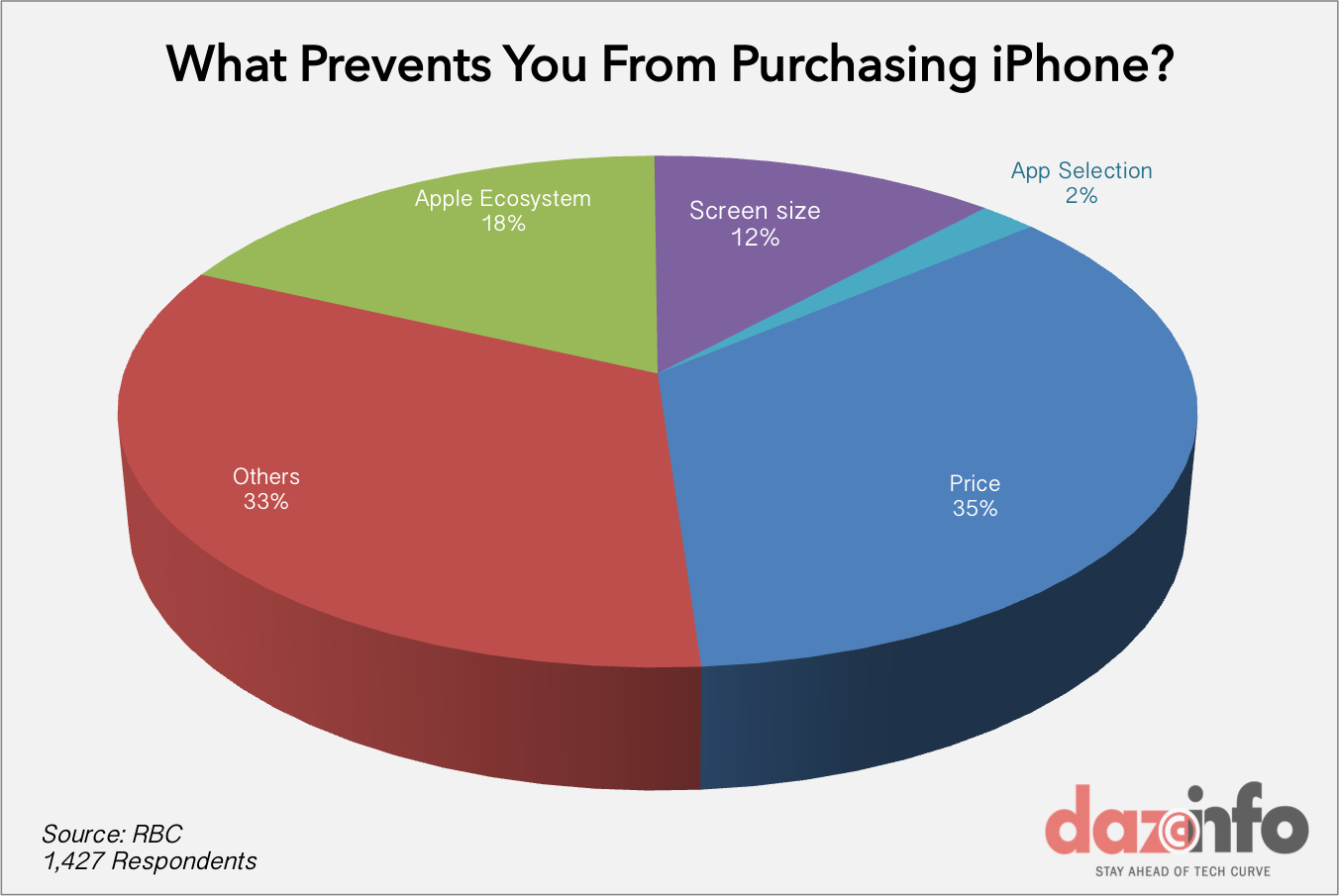 Lately, Apple is facing stiff competition from companies like Samsung and few other local vendors whose have made their smartphones available satisfying almost every price range. The only salvation for Apple is the brand-value and respect, which the company enjoys the most in the high-end device market. Considering the fact that more than one-third of smartphone users are willing to switch from Android smartphones to iPhone, Apple may be look further to make few more tweaks to its pricing strategy. Apple might lose some old users who are not willing to jump from 4 inch iPhones to 5.5 inch iPhones but it sure might gain some new users who have long been waiting for iPhone but were restricted due to small screen size.