What are the basic parameters that you have in mind when you're buying a smartphone? Are they factors like price, features, camera quality, screen size, optimal performance or overall device size? Does the size of a phone really affect its sales? Would like to own a phone or a tablet; more so, a phablet?  Or in other words, is big really beautiful when it comes to smartphones?
To address this, we'll be pitting a couple of the biggest (in terms of overall dimensions) smartphones (read phablets) available in the market today against a new entrant in this segment that also seems to be a formidable competitor to the former.
Let's get down to business then!
LG G2:
Launched barely a fortnight ago, the LG G2 is LG's new flagship smartphone/phablet as it replaces the Optimus G Pro. Being the brand's new flagship device, the G2 is loaded to the gills with both features and kit.
If you talk about out-right size, the G2 feels a class smaller than its competitors mentioned over here. Its dimensions are 138.5×70.9×8.9 mm and its screen size is 5.2 inches. It is neither as large as the Galaxy Mega nor is as sleek as the Sony Xperia Z Ultra but it does feel a lot more usable and practical thanks to its palm/hand friendly size.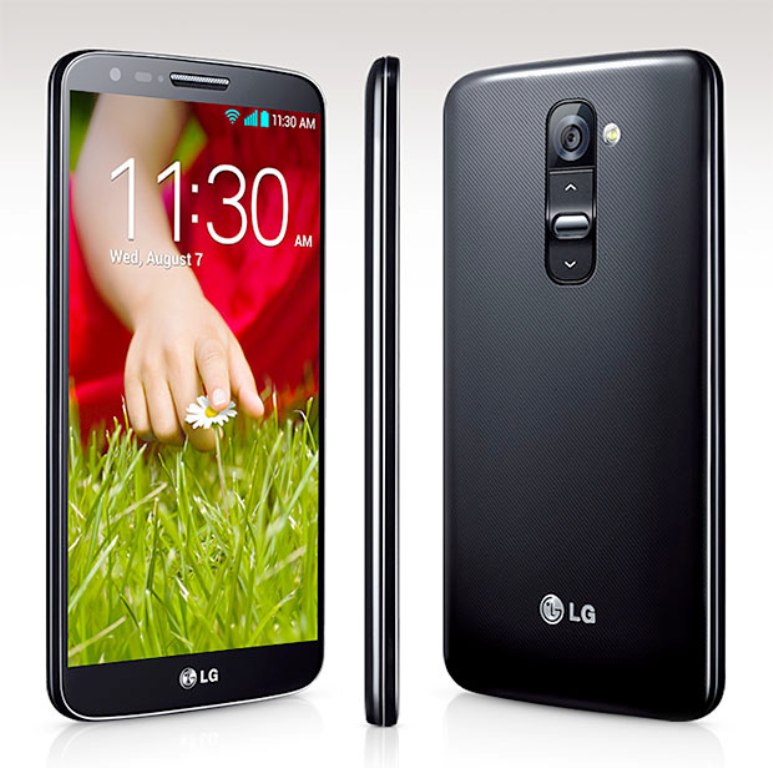 The brand new LG boasts of having the Quad Core Snapdragon 800 processor clocking in at 2.26 GHz from Qualcomm. Now this processor is the best in class and is known to be a lightning fast performer. It does all duties without any visible lag. It has 2 GB of RAM and a special allocation of memory for gaming duties aka GRAM. The G2 is available in two versions – 16 GB and 32 GB. Sadly, you can't expand the memory capacity even if you want to because there is no memory card slot. This phone is powered by a non-detachable 3000 mAh battery.
As far as display quality is concerned, the LG G2 comes with a 5.2 inch full HD IPS screen with a resolution of 1920×1080 pixels.
On the form factor front, the G2 has a glossy finish that is bound to get smudged but nevertheless feels good to hold and use. It has a remarkably thin bezel and the screen runs edge to edge. It is said that this phone can be operated with gloves on as well. Something worth mentioning about the G2's design is that the buttons for volume control and sleep/power aren't located on the sides of the phone as they usually are on other phones. Conversely the volume rocker and sleep/power buttons are located on the back of the phone; right under the camera lens. Now that is a quirky place to locate those buttons but the guys at LG feel that this enhances overall usability by allowing users to conveniently adjust in-call volume. I wonder how much of an aid to convenience will this be since we're all hard-wired in-to having the volume rocker and power/sleep buttons located on the phone's sides.
As far as the OS is concerned, this phone ships in with the latest Android 4.2.2 and apart from the usual UI system LG has also thrown in some of its very own features like KnockOn – to wake up the G2 from sleep mode and also to put it back to sleep, Slide Aside – to pull up the last three applications used, Clip Tray – that acts like the usual clip-board but is more intuitive, Quick Memo – LG's very own note taking app, Answer Me – to automatically answer calls once the phone is placed near the user's ear and to lower the ringer volume once the device gets lifted up by the user, QuickRemote – to let you use the G2 as a master remote for all your IR sensitive devices withing range and Guest Mode – a privacy protection mode that gets launched whenever a person tries to unlock the device with a different code or pattern from that of the owner's  thereby locking down certain apps and protecting sensitive data on the phone.
For shutterbugs, the G2 comes with a 13.0 Megapixel primary camera with an Optical Image Stabilizer (OIS). It has a 9-point Auto Focus system and comes with 8x digital zoom.
Sony Xperia Z Ultra:
Next up, we have the Sony Xperia Z Ultra. This, my friends is Sony's largest ever smartphone or phablet; call it what you want to. At 6.4 inches, it even outclasses the Samsung Galaxy Mega 6.3 and it takes the notion of 'larger than life mobile entertainment' to an all new level. Based on the Sony Xperia Z series of smartphones which were already generously equipped, this device packs in all the goodies of the Xperia Z and much more! Almost all of its features are best-in-class as it brings along a lot of kit to the table. The Xperia Z Ultra combines the 'largest display with the world's slimmest smartphone' as claimed by Sony itself.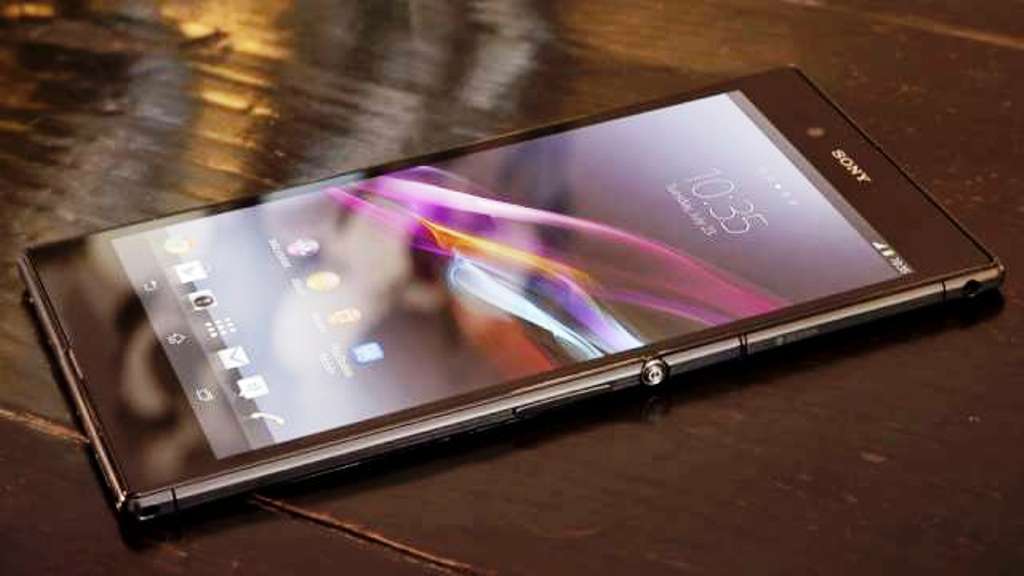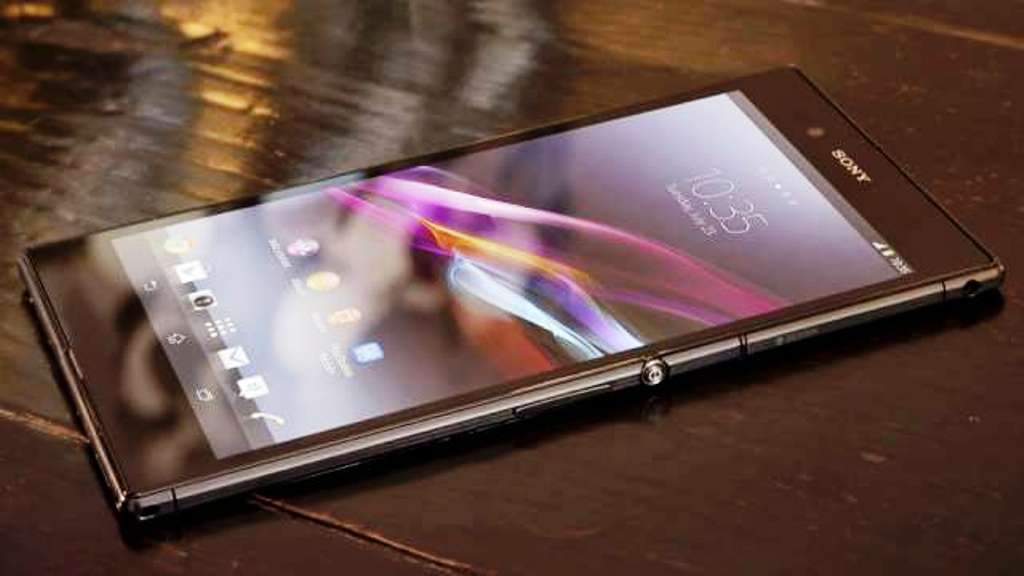 The Xperia Z Ultra comes with a 16.3 centimeter (6.4 inches) full HD display. Now this large display panel comes with Sony's BRAVIA TV technology. It sports the TRILUMINOS Display with X-Reality technology with a resolution of 1920×1080 pixels for a wonderful viewing experience. To enhance the outdoor display capabilities, the Xperia Z Ultra has an OptiContrast panel. It also has Direct Touch to improve the overall responsiveness to touch and other gestures. The screen is responsive to a host of devices and objects apart from human fingers. For example, you could use a pencil or a pen as a stylus.
This phone feels really well put together and also feels good to hold. The top notch materials used and overall craftsmanship only aid to this feel. Overall dimensions measure at 92.2×179.4×6.5 mm. With a thickness of only 6.5 mm, this phone is really slim and weighing in at 212 grams it isn't too heavy either, given its sheer size. Being dust, water and scratch resistant, this Sony has a tough as nails character; the solid metal panels, aluminium buttons and mechanical strength frame only adding to its overall durability.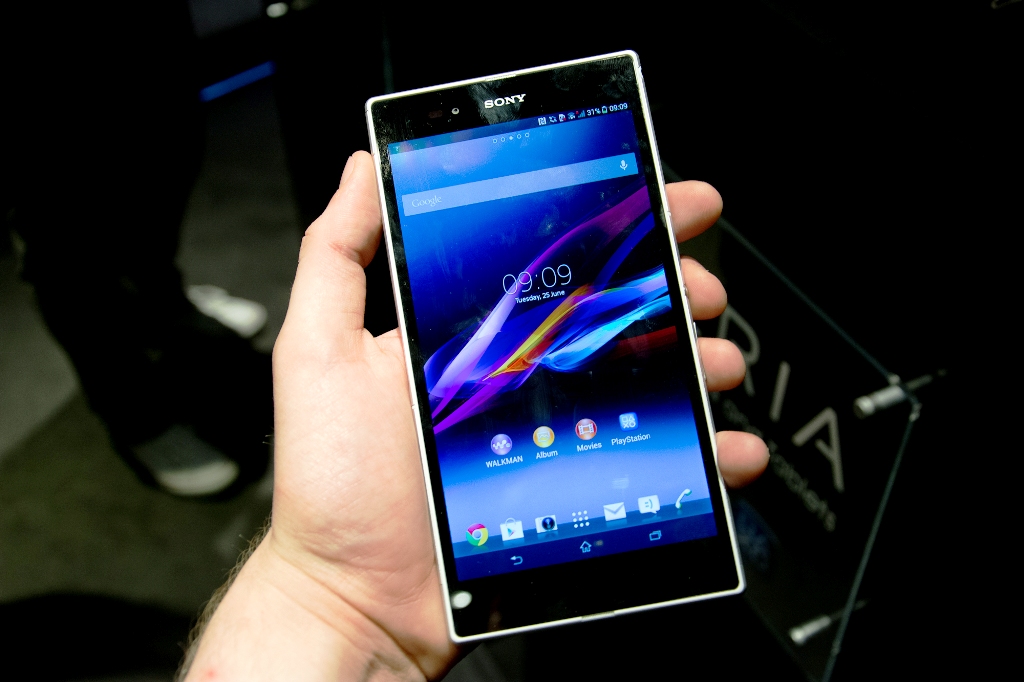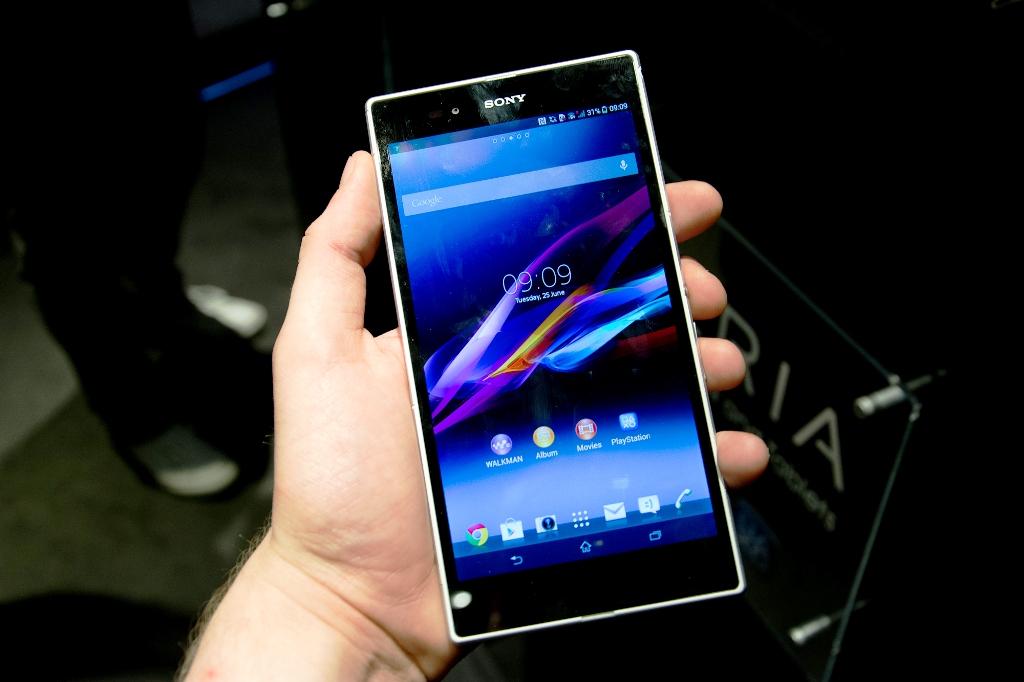 Armed with the powerful Quad Core Snapdragon 800 processor from Qualcomm that clocks in at 2.2 GHz, this Sony comes with a processor that is touted as 'The World's Fastest Smartphone Processor'. It is worth mentioning that this processor is asynchronous, meaning that each core is powered and functions independently thereby providing a better multi-tasking experience. To aid in the graphics department, the Xperia Z Ultra is equipped with Adreno 330 GPU. It has a 2 GB RAM.
Internal memory capacity is 16 GB that is expandable up to 64 GB via Micro-SD card. This device is powered by a 3000 mAh battery. It has an intuitive STAMINA mode that helps conserve the battery.
As far as the camera is concerned, its primary camera has a resolution of 8.0 Megapixels and the secondary one is a 2.0 Megapixel unit. The camera comes with Sony's EXMOR-RS sensor and also packs in some nifty features like HDR (High Dynamic Range), Superior Auto and Scene Mode (with up to 36 different scene settings). It also has a 16x Digital Zoom.
Being sold at a price point of around 45k rupees, the big Sony is undoubtedly on the more expensive side of things but it does pack in a whole lot of kit for the money.
Samsung Galaxy Mega:
The Samsung Galaxy Mega as its name suggests is definitely 'Mega" by all means. Available in two variants i.e. 5.8 inches and 6.3 inches respectively, this phablet (especially in its 6.3 inch avatar) makes every other phone around it look tiny. Let's talk about the elder sibling, the 6.3 inch version of the Galaxy Mega. For starters, it is just 0.7 inches smaller than Samsung's newly launched Galaxy Tab 3 (211). By this you can get a clear understanding of the Mega in terms of its size.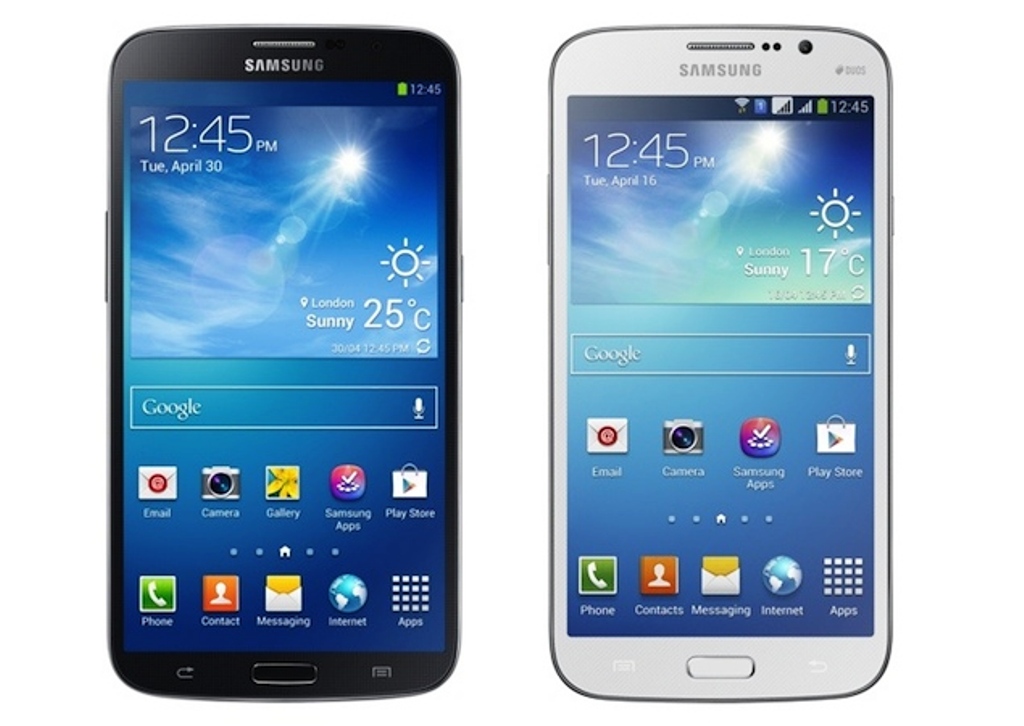 As far as the specs go, it sports a Dual Core 1.7 GHz Qualcomm Snapdragon 400 processor and an Adreno 305 processor to handle the graphics department. The RAM is an average 1.5 GB.  It ships in with the latest version of Android Jelly Bean 4.2 and measures 167.6 x 88.0 x 8.0mm and weighs 199 grams. The primary camera is an 8.0 Megapixel unit that is backed by an LED flash while the secondary camera bears a resolution of 1.9 Megapixels. Both primary and secondary cameras are also equipped with CMOS sensors. The Mega 6.3 has an on-board memory capacity of 16 GB that is expandable up to 64 GB via Micro-SD card. The screen measures in at a respectable 16 centimeters (6.3 inches) but is let down by a rather lackluster display quality. Sporting a resolution of 1280×720 pixels, it may be an HD display but it is just a TFT LCD or Super Clear LCD as Samsung prefers to call it. At this price point and in this segment, an AMOLED screen would have been preferred and appreciated. The Megs is powered by a 3200 mAh Li-ion battery that has enough juice to sustain it for all general activities. This phablet comes with Samsung's Touch Wiz user interface system and if you've used any of Samsung's Android devices in the past, getting used to it won't be a problem whatsoever.
For the looks department, the Mega looks very much similar to its other cousins from Samsung's stable. It's as if all of Samsung's smartphones and tablets bear a similar look and design with their size being the only differentiating factor. That said, the Galaxy Mega 6.3 looks pretty good and also feels nice to hold. It feels well built. You might face a problem in handling it if you're not blessed with large hands though. Priced at about 30k rupees, the Galaxy Mega 6.3 is also the cheapest of the big smartphones mentioned over here.
As of now LG hasn't mentioned when will the G2 hit Indian shores but that is bound to happen very soon as India is one of the world's largest smartphone markets. Right now LG is launching it phase-by-phase in different regions of the world so no comments on the price in India but you can expect it to be priced along the lines of other smartphones like the Samsung Galaxy S4 and the HTC One. In the capacity of LG's new global flagship smartphone, the G2 does impress by means of its processor, camera and display quality. The only sore points being the non-expandable memory capacity and non-detachable battery.
I feel that the jury is clearly out on this one. If you think big is beautiful but you're held back by budget constraints, the Samsung Galaxy Mega 6.3 is the phone for you. If you still think that only big is beautiful and are blessed with really deep pockets, Sony's Xperia Z Ultra will be your best bet. But if you feel that big is not always beautiful and would like to have a device that fits into pockets, pouches or purses and you don't want to go with the default choices (read Galaxy Note 2, S4, HTC One, etc.), then I suppose you can wait for LG to announce its G2 smartphone for the Indian market  and go for it once that happens.