HTC Corp (TPE:2498) has finally unveiled the highly anticipated new HTC One (M8), the ultimate evolution of the award winning HTC One (M7).  While many of its features, including processing power, remain identical to its closest competitors Samsung Galaxy S5 and Sony Xperia Z2, all–new HTC Sense 6, high quality metal unibody with a Smart Sensor Hub distinguishes new HTC One (M8). The new upgrades and additional features make HTC One (M8), successor of world's best Smartphone 2013, most desirable Smartphone among all in-class Smartphones.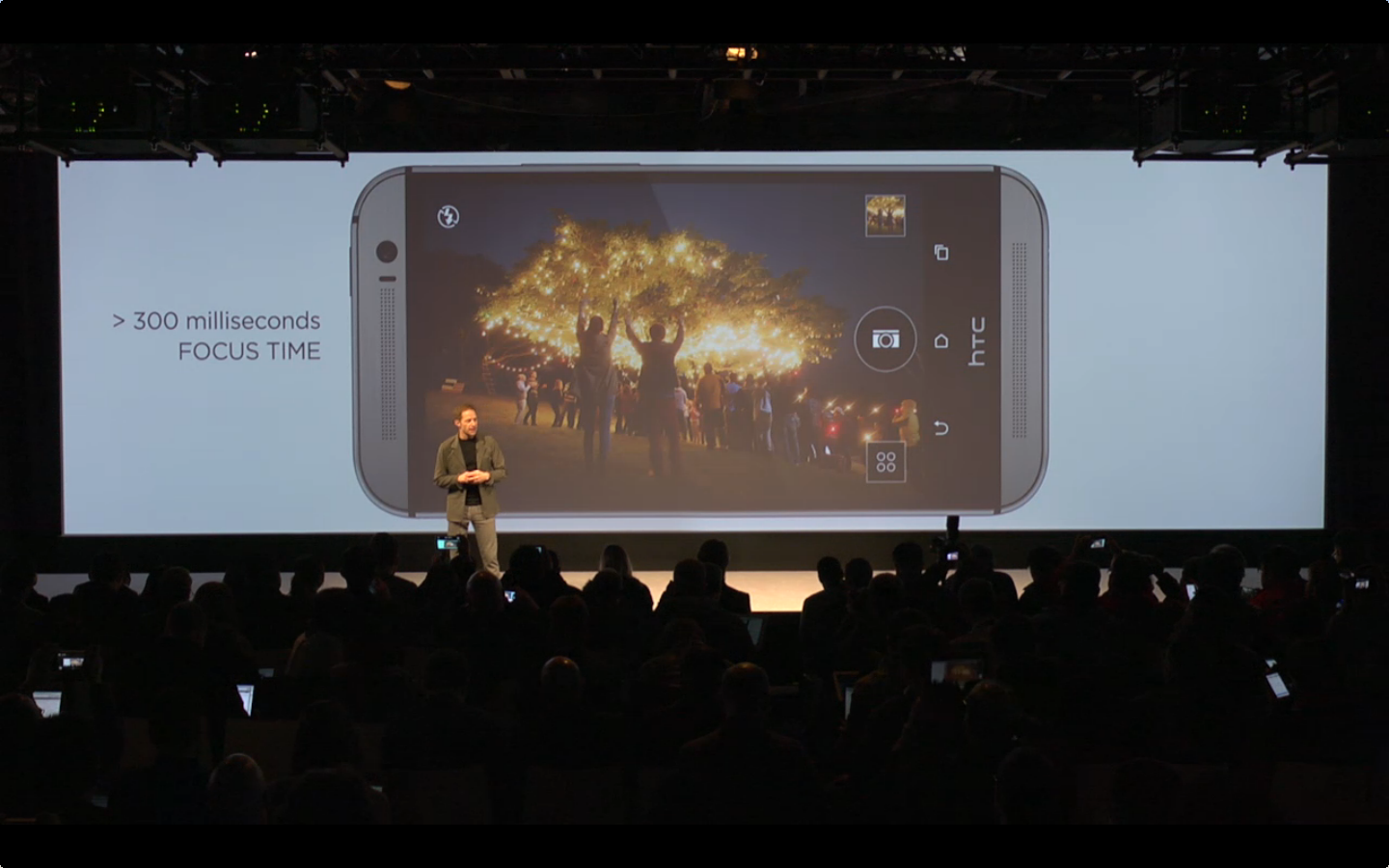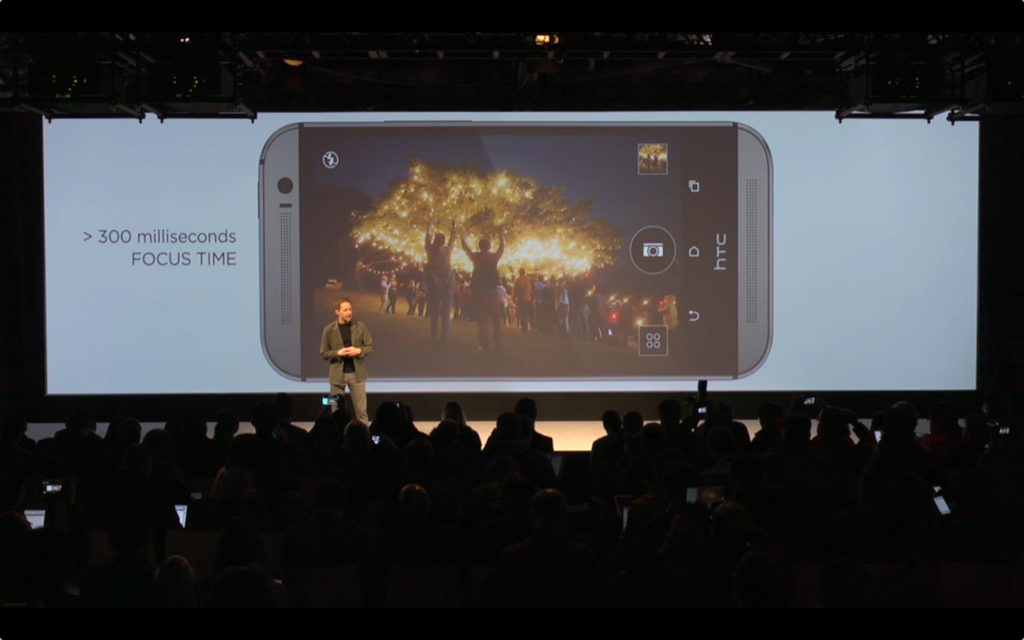 Those who are hungry for more processing power due to high consumption of app usage, may find HTC One (M8) slightly disappointing in comparison with the Sony Xperia Z2. However,  HTC One (M8) sets a new benchmark in Smartphone imaging by combing the world's first Smartphone with a Duo Camera that features HTC's innovative HTC UltraPixel module, capable of producing high quality images and videos in all conditions. The depth sensor, in addition to UltraPixel, captures detailed information from a scene and enables maximum effects, which is helpful if you want to play around with your images.
Definitely, HTC One (M8) omits the need, till a certain extent of carrying a professional camera with you always and leads with a distinction.
The two new features Motion Launch – operate the phone without actually touching it and HTC Dot View – A sort of Sixth Sense technology helpful for you to protect your phone with an 'intelligent' case that works closely with Motion launch, differentiates the HTC One (M8) from its predecessor HTC One (M7). Other features like BoomSound, BlinkFeed, Sense TV, which were introduced as Fantastic Four Features of HTC One (M7), act like cherry on the cake.
HTC has also introduced a technology that optimizes the battery performance up to 40%. This way 2600 mAh battery, included with HTC One (M8), could last longer than 2800 mAh and 3200 mAh bundled with Samsung galaxy S5 and Sony Xperia Z2 respectively.
| | | | |
| --- | --- | --- | --- |
| Smartphone | HTC One (M8) | Samsung Galaxy S5 | Sony Xperia Z2 |
| Dimensions | 146.4 x 70.6 x 9.4 mm | 142.0 x 72.5 x 8.1 mm | 146.8 x 73.3 x 8.2 mm |
| Weight | 160 grams | 145 grams | 163 grams |
| Display Size |  5.0 inches | 5.1 inches | 5.2 inches |
| Display Resolution | 1920 x 1080 pixels (441ppi) | 1920 x 1080 pixels (432ppi) | 1920 x 1080 pixels (424ppi) |
| Processor | Snapdragon 801, Quad Core 2.3 GHz & 2.5 GHz | Snapdragon 801, Quad Core 2.5 GHz | Snapdragon 801, Quad Core 2.3 GHz |
| RAM | 2 GB | 2 GB | 3 GB |
| Operating System | Android 4.4 KitKat | Android 4.4 KitKat | Android 4.4 KitKat |
| Storage | 16/32 GB | 16/32 GB | 16 GB |
| Expandable Storage | Yes – up to 128 GB | Yes – up to 128 GB | Yes – up to 64 GB |
| Primary Camera | Dual 4 MP 2688 X 1520Dual LED Flash1080p at 30 fps 720p at 60 fps | 16 MP with Flash2160p (4K) at 30 fps1080p at 60 fps | 20.7 MP with Flash2160p (4K) at 30 fps1080p at  60fps720p at 120 fps |
| Secondary Camera | 5 MP 1080px at 30 fps | 2 MP1080p at 30 fps | 2.2 MP1080p at 30 fps |
| Cellular Speeds and Wi-Fi | LTE – 100 Mbps 802.11 a/b/g/n | Category 4 LTE – 150 Mbps 802.11 a/b/g/n/ac | Category 4 LTE – 150 Mbps 802.11 a/b/g/an |
| Weather Proofing | None | IP 67Dust and Water Resistant | IP 58Dust and Water Resistant |
| Bio-Sensors | None | Fingerprint and Heart Rate | None |
| Battery | 2600 mAh | 2800 mAh | 3200 mAh |
| Colours Available | Gunmetal Grey, Glacial Silver, Amber Gold | Electric Blue, White, Black and Gold | Black, White and Purple |
Though, many of the features and components under the hood of HTC One (M8) remain quite similar in-class comparison with upcoming Sony Xperia Z2 and Samsung Galaxy S5, HTC One (M8) failed to take the lead position in benchmark comparisons. Sony Xperia Z2 lead the show with maximum 1225 points, followed by HTC One (M8) which scored 1071 points. Surprisingly, Samsung Galaxy S5 only managed to grab 8th position with 986 points in the list of the top 10 highest scoring Smartphones.
The new HTC One (M8) is scheduled for launch in the 2nd week of April in 100 countries via 230 carriers, however, the device is available in the U.S. and Canada from mid night today. Unfortunately, the released list of countries doesn't carry the name of the world's second largest mobile phone market India. Currently, India has 900 million mobile subscribers but only 80 million are using Smartphones.
HTC One (M8) Dot View Hands-On Video
HTC One (M8) Motion Launch Hands-On Video
Here is the list of countries and respective carriers HTC One (M8) would be available on:
Europe, Middle East and Africa:
1&1 Germany, A1 Telekom Austria, AB Poland, Action Poland, Allo Ukraine, Amazon Germany, Amazon UK, AMC (Cosmote) Albania, Avea Turkey, Batelco Bahrain, Belcompany Netherlands, BH Telecom Bosnia & Herzegovina, Bibob Denmark, Bite Latvia, Bite Lithuania, Bouygues Telecom France, Brightstar 20:20 mobile, BT UK, Call me Denmark, Carphone Warehouse Ireland, CarphoneWarehouse UK, CBB Denmark, Cell C RSA, Cell C South Africa, Cellcom Israel, Chess Norway, Citrus Ukraine, Cosmote Cyprus, Cosmote Greece, Cosmote Romania& Global Bulgaria, CYTA Cyprus, Digitec Switzerland, Djuice Norway, DT Mobile(TS) Latvia, Du UAE, Dustin Sweden, Eagle Mobile Albania, EE UK, Elisa Estonia, Elisa Finland, Elgiganten Denmark, Elgiganten Sweden, Elkjöb Norway, EMT (TS) Estonia, ERC Ukraine, Etisalat UAE, EuroRtvAGD Poland, Expert Denmark, Gigantii Finland, Go Malta, H3G Austria, H3G Denmark, H3G Italy, H3G Ireland, H3G Sweden, HT Eronet Bosnia & Herzegovina, Ingram Micro Germany, Ingram Micro Poland, Ingram Micro Mobility UK, Interdiscount Switzerland, Irange Poland, Komplett Norway, Komputronik Poland, Komsa Poland, KPN Belgium, KPN Netherlands, Lefdal Norway, LICK France, Life Belarus, LuxGSM Luxembourg, MediaExpert Poland, Media Markt Austria, Media Markt Poland, Media Markt Swizerland, Melita Malta, Meteor Ireland, Mobilcom Debitel Germany, Mobilezone Switzerland, Mobilochka Ukraine, Mobily KSA, MSH Belgium, MSH Germany, M-Tel Montenegro, M-Tel Bosnia & Herzegovina, MTI Ukraine, MTN Cyprus, MTN RSA, MTN South Africa, MTSBelarus, MTS Russia, Nawras Oman, Neonet Poland, Netcom Norway, Netcom shops Norway, Netshop Norway, (Telefónica) O2 Czech, (Telefónica) O2 Germany, (Telefónica) O2 Ireland, (Telefónica) O2 UK, Omantel Oman, Omnitel Lithuania, One Macedonia, One2Cel Norway, Ooredoo Qatar, Orange France, Orange Moldova, Orange Poland, Orange Romania, Orange Slovakia, Orange Spain, Orange Switzerland, Orange Parteners Israel, Otto Germany, Partner Communications Israel, Pelephone Israel, Perimeter Cyprus, PhoneHouse Germany, PhoneHouse Netherlands, PhoneHouse Sweden, Phones4U UK, Play Poland, Plus Communication Albania, Plus Poland, Polkomtel Poland, Proximus Belgium, Saturn Austria, Saturn Poland, Selfridges UK, SFR France, Siba Norway, SiMobil Slovenia, Space World Norway, STC KSA, Sunrise Switzerland, Svyaznoy Russia, Sveris Poland, Swisscom Switzerland, TDC Denmark, Telcom RSA, Tele2 Croatia, Tele 2 Estonia, Tele2 Latvia, Tele2 Lithuania, Tele2 Norway, Tele2 Sweden, Telia Denmark, Telia Sweden, Telekom Slovenija, Telenet Belgium, Telenor Denmark, Telenor Norway, Telenor Sweden, Telenor Hungary, Telenor Serbia, Telenorbutikken Norway, Telering Norway, Telkom Serbia, Tesco UK, Three UK, TIMItaly, TMD Germany, T-Mobile Austria, T-Mobile Croatia, T-Mobile Czech Republic, T-Mobile Germany, T-Mobile Hungary, T-Mobile Macedonia, T-Mobile Montenegro, T-Mobile Netherlands, T-Mobile Poland, T-Mobile Slovakia, Turkcell Turkey, Tus Mobil Slovenia, Velcom (TAG) Belarus, Ventelo Norway, VIP Operator Macedonia, VIP Mobile Serbia, Vipnet Croatia, Virgin Mobile France, Viva Bahrain, Viva Kuwait, Vivacom Bulgaria, Vodacom RSA, Vodacom South Africa, Vodafone Albania, Vodafone Czech Republic, Vodafone Egypt, Vodafone Germany, Vodafone Greece, Vodafone Hungary, Vodafone Ireland, Vodafone Italy, Vodafone Malta, Vodafone Netherlands, Vodafone Quatar, Vodafone Romania, Vodafone Spain, Vodafone Turkey, Vodafone UK, Wataniya Kuwait, Wind Cyprus, Wind Greece, Wind Italy, Yoigo Spain, Yug Contract Ukraine, Zain Bahrain, Zain KSA, Zain Kuwait.
Asia-Pacific: 2degrees New Zealand, 3 Hong Kong, Celcom Malaysia, China Mobile Hong Kong Ltd, Chunghwa Telecom Taiwan, CSL Ltd Hong Kong, CTM Macau, DiGi Malaysia, dtac Thailand, Far Eastone Taiwan, Indosat Indonesia, M1 Singapore, Maxis Malaysia, Mobifone Vietnam, Optus Australia, PCCW Ltd Hong Kong, SingTel Singapore, Smartone Mobile Communications Ltd Hong Kong, StarHub Singapore, Taiwan Mobile, Telecom New Zealand, Telkomsel Indonesia, Telstra Australia, U Mobile Malaysia, Vibo Taiwan, Vodafone Australia, Vodafone New Zealand, XL Indonesia
China: China Mobile, China Unicom, China Telecom
North America: In North America, the HTC One (M8) is available online today through major wireless carriers and retailers including Amazon, Appalachian Wireless, AT&T, Best Buy, Bluegrass Cellular, Car Toys, Cellcom, Chat Mobility, Cincinnati Bell Wireless, Costco, Military Exchange, Net10 Wireless, Pioneer Cellular, RadioShack, Sprint, Verizon Wireless and Walmart in the United States, and Best Buy, Bell, Costco, Future Shop, Koodo, Rogers, SaskTel, The Mobile Shop, The Source, T-Booth, and TELUS in Canada. In-store availability across partners is set to begin on April 10th and starting next month, it will also be available for purchase online and in retail through T-Mobile.