In respect to gaming world in current market where gaming companies prolong to generate new addictive games, applications and new generation consoles, gaming has a wide range of experiences and options for gamers to hold on to. A new report from Nielsen, shedding light on the gamers in the U.S., claims that gamers are spending more time on gaming platforms than ever before and smartphones have emerged as the mains drivers to this growth. The 360º Gaming Report states that weekly-invested time on multi-platform gaming has reached to 6.3 hours in 2013, a 12% increase from the previous year.
Gaming has its own sentiments and addiction, may it be a full-fledged console, handheld micro console device, smartphone, tablet device or a personal computer. The changing equation of the device market is pushing game/app development companies to launch more number of games. Besides, gamification of products/services is a new marketing strategy of companies to create increase awareness and user engagement. Besides offline gaming habits, users are also tend to turn towards more on internet games. As technology marches on, the scope of internet gaming – or iGaming as it's called – continue to expand and sites like this online gambling site are significantly penetrating this industry, estimated worth US$41.4 billion annually by 2015.
In last three years, U.S. gamers have found smartphones and tablet as a new gaming companion. Explosive adoption, more powerful processor and larger screen have made Smartphones and tablets best suitable to play games on-the-go. This has strengthened the gamers to take there gaming world with them almost everywhere, be it inside the home or outside. The increased time spend on gaming is attributed to adoption of smartphone and tablet as gaming devices. Nearly 50% console gamers in the U.S. used a smartphone or tablet to play game in 2013, which is 15% higher than 2011.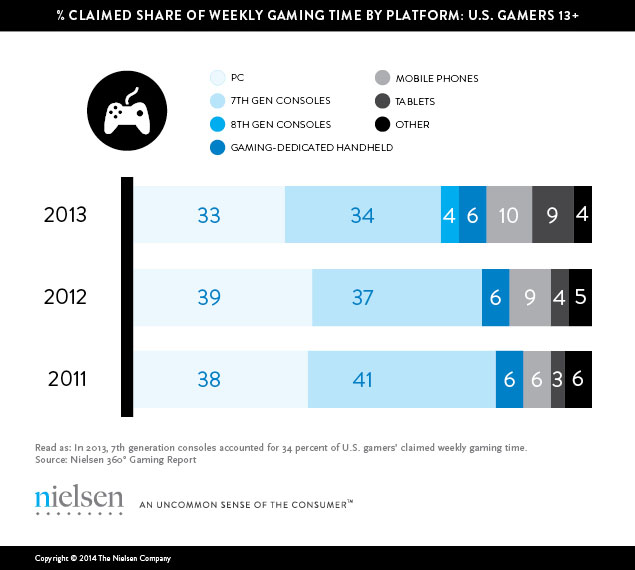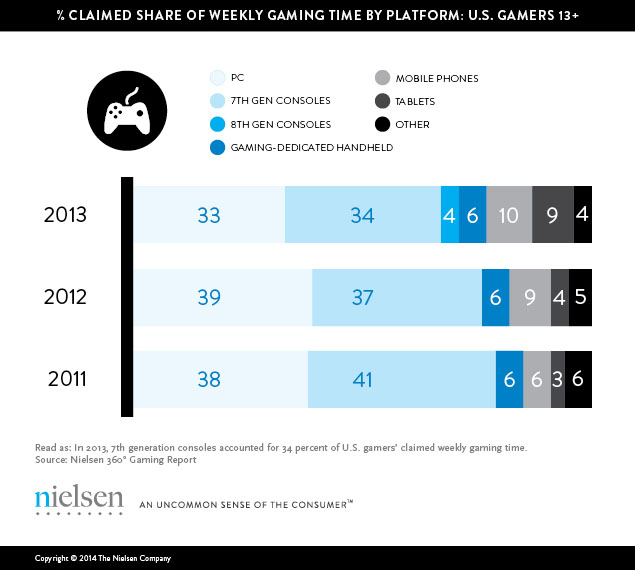 However, 7th generation consoles are still the most favourite among gamers in the U.S., PC are not far behind though. Gamers are reportedly shifting their weekly gaming time to smartphone and tablet due to the comfort of multi-tasking and on-the-go elements comes with these devices. In 2013, gamers in the U.S. are spending 19% of their gaming time on smartphone and tablet, combined, which is more than double the time they used to invest in 2011. Interestingly, gamers have also started exploring much advanced 8th generation gaming consoles in 2013 and this figure is poised to grow in next few years. PC and 7th generation devices are constantly losing their grip on gamers, they still controls two-third of gamers time.
Adventure And Puzzle Games Are The
Favourites
A recent study done by InMobi, titled Mobile Gaming Cross-Market Analysis, depicted that RPG, Adventure Games and Puzzle Games are more preferred and are favourites among US gamers. Among two, Puzzle Games are being played almost every second gamer in the U.S., while one out of every four gamers in the U.S. play Adventure games. The main reason for this trend is pegged to high adoption of smartphones and responsibilities of home and family.