We had earlier analysed social login behaviour (Q3, 2013) amongst web users across the globe. If we compare the same with the latest Q4 report by Gigya, the social media titan Facebook Inc. (NASDAQ:FB) retained its top position but with hardly any change in its share (compared to Q3) of 51%. Comparatively, the social media arm of Google Inc. (NASDAQ:GOOG) – Google Plus saw a growth of 2% and the figure rested at 28%. The social login share of Yahoo Inc. (NASDAQ:YHOO) declined to 15% (a decrease of 3%).
Google Plus Saw A Significant Increase (When Compared To The Rest) In Social Login Share In Both Overall And Mobile Arena
The social login trend continues to increase due to rising social media obsession amongst web users and availability of social login options of niche websites. The social media titan Facebook retained its share of 51% in spite of tough competition from other niche networking websites, mainly due to exuberant efforts put in by Zuckerberg's team which were also evident in the recently revealed Q4 earnings report.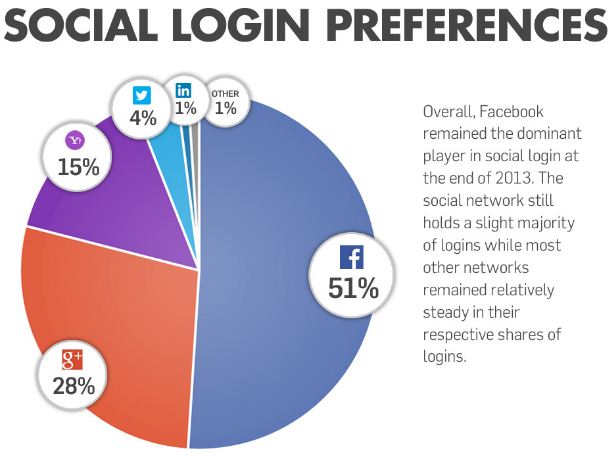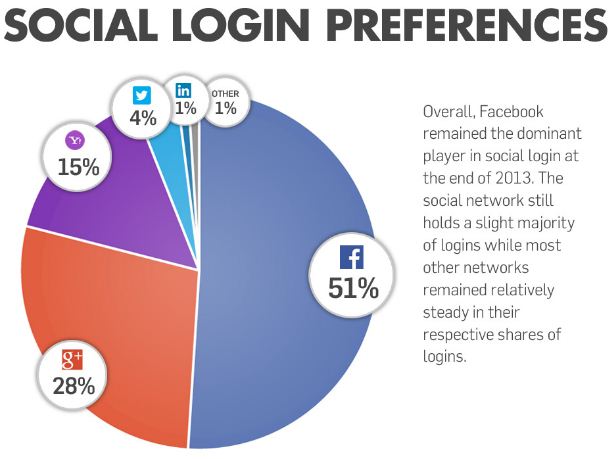 Google Plus was the only networking site to mark a somewhat significant increase in the social login market share. The overall share of Google Plus increased from 26% to 28% in Q4 2013. In mobile section too Google Plus' share rose by 5% and rested at 25% whereas Facebook's share dropped to 63% (down by 3%). Google Plus' share at mobile level is likely to rise in the near future as a majority of Android users prefer using their Google Plus identity to log in to different websites, register for various deals and shop online.
Web users are well aware of the fact that choosing a particular social login option can affect their browsing experience on that particular networking website. Hence, based on their wish, they choose to interact with ads displayed by websites on a user's networking profile. Those who wish to interact with brand ads use social login option of their most-used networking site, whereas the ones who hate brand ads interrupting their browsing experience opt for the least used networking website as the social login option.
The sudden rise in Google Plus could be attributed to two major facts – the site is still the only ad-free networking website (amongst the leading social media sites). Hence users are less bothered by brand ads of the websites which they might have visited recently. Secondly, a majority of the +1billion users registered on Google Plus site use the site to use Google products and services like commenting on YouTube, Place reviews on +post ads and take part in the Google City expert program. They hardly use the site for networking purpose as a majority of them consider Facebook, Instagram and Twitter as a better place to find informative and enriched networking with their close peers.
Facebook Dominates E-commerce And The Media Publishing Sector
The social media titan Facebook was leading by a massive margin when it came to social login share in the e-commerce arena. The networking giant recorded 76% share in e-commerce arena's social login share. A majority of online shoppers preferred interacting with their favorite e-commerce brand ads on the Facebook site and keep themselves updated with the latest attractive deals and offers.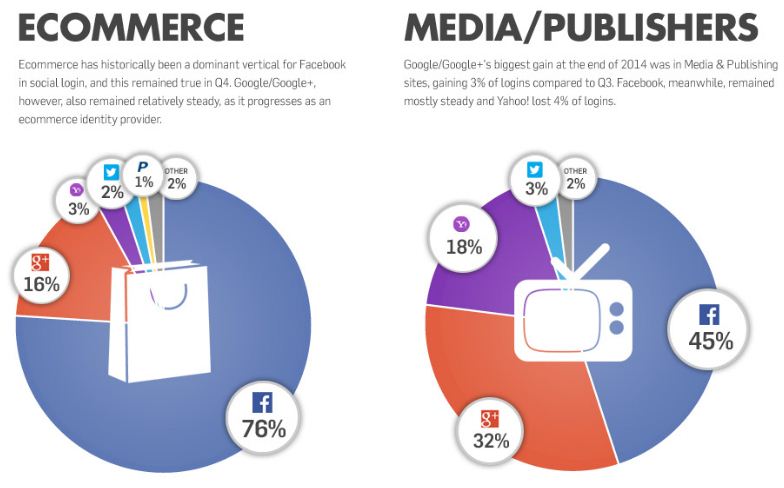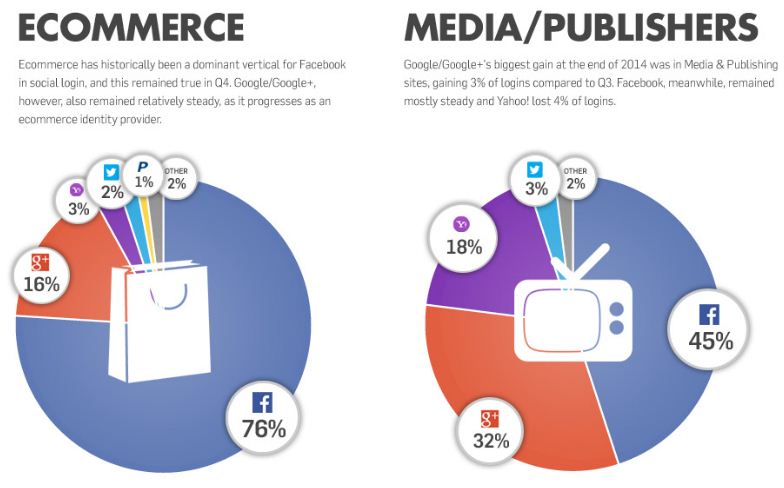 In the media publishing sector, Facebook was again dominant with 45% share, the main reason being – an increasing demand for informative content by networking users. More than 30% of the  U.S. adults consume news on Facebook. People are increasingly browsing for news articles on Facebook, Twitter and other sites. Google Plus with its soothing GIF images has managed to be the centre of informative content for most of the users, resulting in 32% share on social login for media websites.
Facebook And Google Plus Dominated The Social Login Market For Travel, Consumer Brands And The Education Sector.
Facebook gained an emphatic 81% share in social login amongst education and non-profit organization websites. Most of the students and younger generation groups who are main visitors for educational websites are on Facebook, hence, the social login share of the network is significantly higher. NGOs' basic motto is to address a large audience in order to collect huge funds to run the organization hence they usually have social login buttons from Facebook. A majority of users who login to the site use the Facebook login button instead of filling long registration forms.
In consumer brand sector, Facebook increased its social login share from 61% to 66%, while Google Plus share dropped to 18% (down by 4%). Travel and hospitality industries were ruled yet again by Facebook with 59% share and Google Plus with 26% share.