Once, the undisputed leader of consumer electronics, Sony (NYSE: SNE) is now being valued at just a fraction of its competitors. Sony has announced that it will sell its VAIO division of personal desktops and laptops to Lenovo (OTCMKTS:LNVGY) because it couldn't cope up with the declining PC market and their inability to compete in that space anymore. Sony has also announced the closure of their 'Reader' ebooks store in favour of their competitor Kobo, at least in US and Canada. Sony still expects to post a net loss of around $1.08 billion. Ever since Kazou Hirai has taken over as the CEO of Sony, he is actively trying to streamline its businesses by trimming off the fat and propagating the 'One Sony' motto. Let's have a look at how Sony plans to pull off a great turnaround we've been waiting for.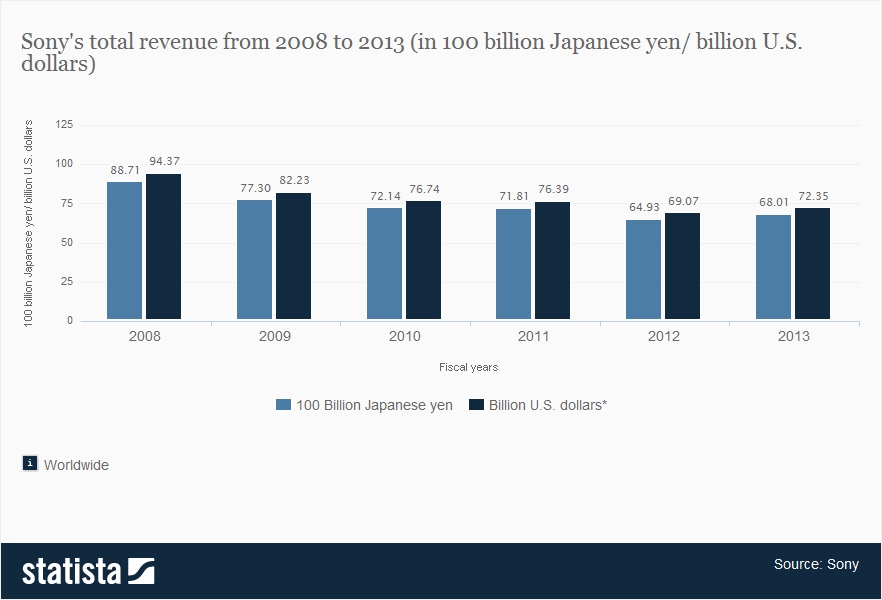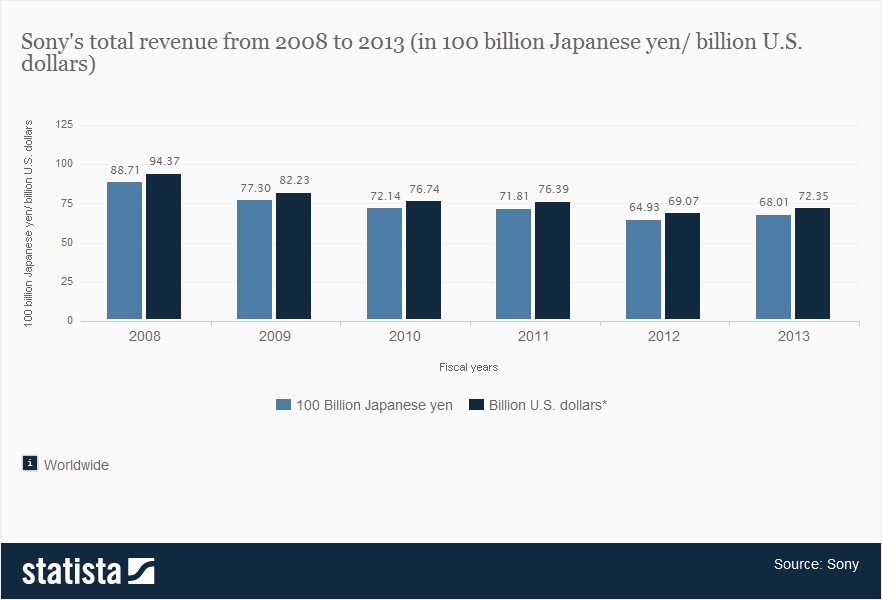 Sony Sold Over A Million PS4 Units On Launch Day
No other sector has seen growth as explosive as the gaming industry. Ever since the launch of PlayStation, Sony Computer Entertainment division has been a force to be reckoned with in the gaming industry. PlayStation is one of the most loved brands from Sony and people relate to it, especially in the US and Canada, which is home to largest number of gamers in the world. Sony managed to sell over 1 million PS4 units on launch day in US and Canada. With the Xbox One, Microsoft (NASDAQ: MSFT) is trying to attract couch potatoes who like to game as well by merging the TV and gaming experience. On the other hand, Sony is trying to make hardcore gamers happy with PS4 features like easier game sharing and a better membership plan. Sony is trying to convey that they understand "pure gamers" much better than Microsoft does.
Although the PS4 hardware is slightly more powerful than the Xbox One, it is not the factor which results into sales. It all depends on the platform which offers better and more exclusive gaming titles. Probably some upcoming features such as remote play to VITA and cloud gaming will entice consumers in investing the PS4 ecosystem. Although it is too early to call, Xbox is a step ahead of PS4. Probably, the year 2014 will shed some more light on Sony's strategy with the PS4.
Sony Wants To Focus On 4K TVs But Is The Market Big Enough?
Sony's Bravia line-up of televisions are failing to keep up with Samsung (KRX: 005930) and Vizio. Since they've sold the LCD panel producing JV to Samsung, they've pulled off similar exits from other joint venture arrangements with Sharp (TYO: 6753) and Panasonic (TYO: 6752). After these exits, Sony had very little control over the thing that actually matters in televisions – the quality of display panels. Also, buying panels from other manufacturers meant little to no profits at all. In 2011, Sony saw a 24% drop in TV sales after which they went back to the drawing board to start afresh. They tried to come up with the best possible picture and sound quality along with slimmer and neater designs. Sony announced that they will turn their TV division into a completely different wholly-owned subsidiary in order to improve profits.
According to NPD DisplayResearch, the global TV market is experiencing a slump and the only way to increase sales is to showcase newer technologies. TV vendors are trying to attract buyers with new technologies such as 4K, Curved Screens and OLED panels. Currently, Samsung and LG are busy bringing OLED and curved televisions into mainstream. 4K LCD TVs are expected to outpace OLED TV shipments. Sony plans to have laser focus on producing 4K panels and hit competitors where it hurts them. Vizio has just done what it does best, making huge screens and selling them at dirt cheap prices. But selling people 4K TVs will be hard without 4K content. Sony is planning to produce more 4K content through its movie production house and digital imaging divisions. But as the market for 4K isn't big enough, Sony will still sell entry-level models before slowly moving off to the high-end category.
NEX Series Has Brought Sony Into The Limelight
Sony is currently the 3rd largest digital camera vendor behind Canon (TYO: 7751) and Nikon (TYO: 7731). But similar to the PC business. The compact digital camera industry is losing many users to Smartphones. Although Smartphones aren't likely to ever be able to achieve the image and video quality of dedicated digital cameras but the quality has improved enough for people to use mobile phones for most of their casual purposes. But for capturing all those special occasions, consumers are moving to cameras which offer professional level quality. This is exactly what MILCs (mirror less interchangeable lens cameras) offer to general consumers. They are slim, light and easy to operate compared to DSLR counterparts.


No wonder, this new category of digital cameras are outpacing the growth rate of DSLR cameras. Sony's NEX line-up of MILCs have attracted great reviews and they are already one of the best selling MILCs in the market. According to a report from BCN, Sony already stands 2nd in mirror less camera market just behind Olympus (TYO: 7733).
Xperia Smartphones Are Gaining Interest Among Consumers
Sony acquired the remaining shares of Sony-Ericsson joint venture to make Sony Mobile Communications a complete in-house business. According to Sony's PR Release, they sold the PC business to focus on Smartphones and tablets. After struggling for 3 years to create a compelling Android Smartphone, it looks like they've finally got it. They've released their best Smartphone ever in the form of Sony Xperia Z1 Compact which has garnered a very positive feedback from the reviewers throughout the world.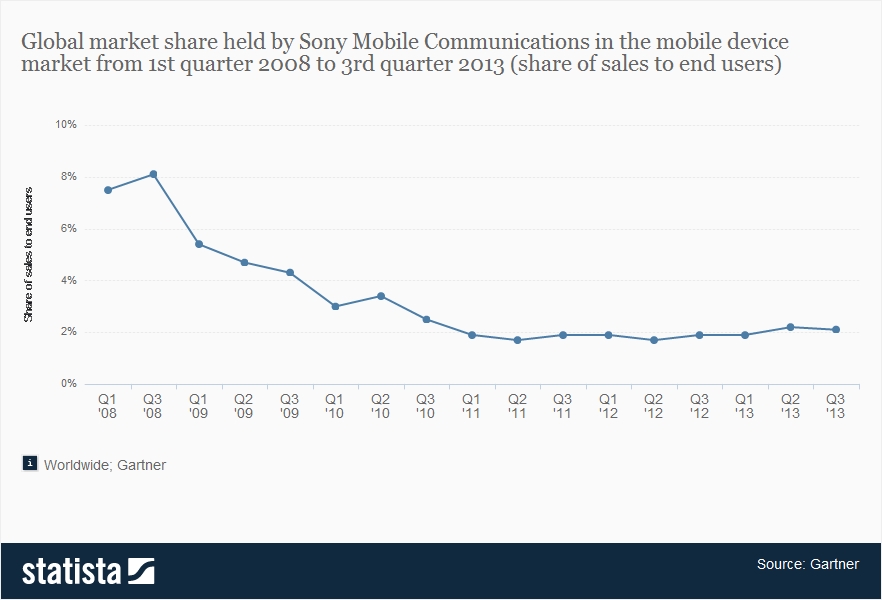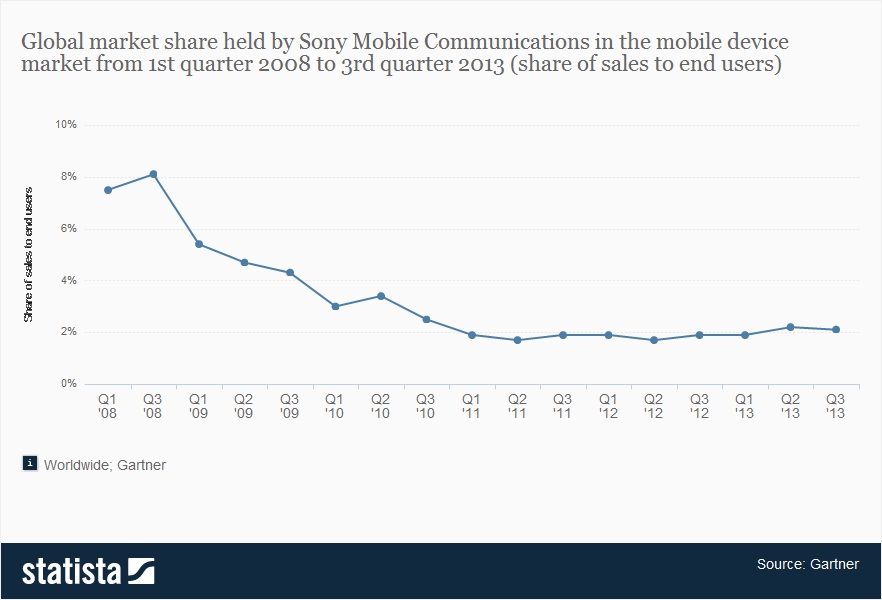 Starting with Xperia Z, all of their flagship Smartphones will be water-resistant, dust and shatter proof. With the help of their Digital Imaging division, Sony is focussing on providing the world's best camera image quality in their Smartphones. According to Canalys, Windows Phone will closely compete with iOS in terms of market share by 2017 and Sony is already in talks with Microsoft to release Windows Phone based Smartphones.
Their plan is to have laser focus on properly developing and marketing the PlayStation, 4K TVs, NEX cameras and Xperia brands going forward. If they execute their plans properly we might have a chance to see Sony back in full glory but not anytime soon.