With a growing demand for news related to latest trends and increasing usage of social media by web users, a majority of media or news publishing websites have been forced to adopt social media networks like Facebook Inc. (NASDAQ:FB) and Twitter Inc. (NYSE:TWTR). People are increasingly browsing for news related to interesting topics, latest trends, their favorite celebrities, sports star and politics on Facebook and provoke discussions or exchange views, opinions with their friends and close peers. More than 30% of the U.S adults consume news on Facebook. It's recently revamped news feed algorithm is in accordance with growing demand for relevant feed by users.
Huffington Post Tops With 20 Million Engagement Activities (Likes & Shares), Followed By BuzzFeed, Upworthy
With a lot of gossip mongering around the historic silicon valley IPO of micro-blogging specialist – Twitter, growing sales and advertising buzz for epic holiday shopping season of Black Friday, Thanksgiving Day and Christmas, the launch of the iPad Air, the iPhone 5s & 5c, media publishing websites saw an epic increase in engagement rates through different social media networks especially Facebook. Referral traffic rate via Facebook grew by about 170% in the last 1 year for various media publishing sites.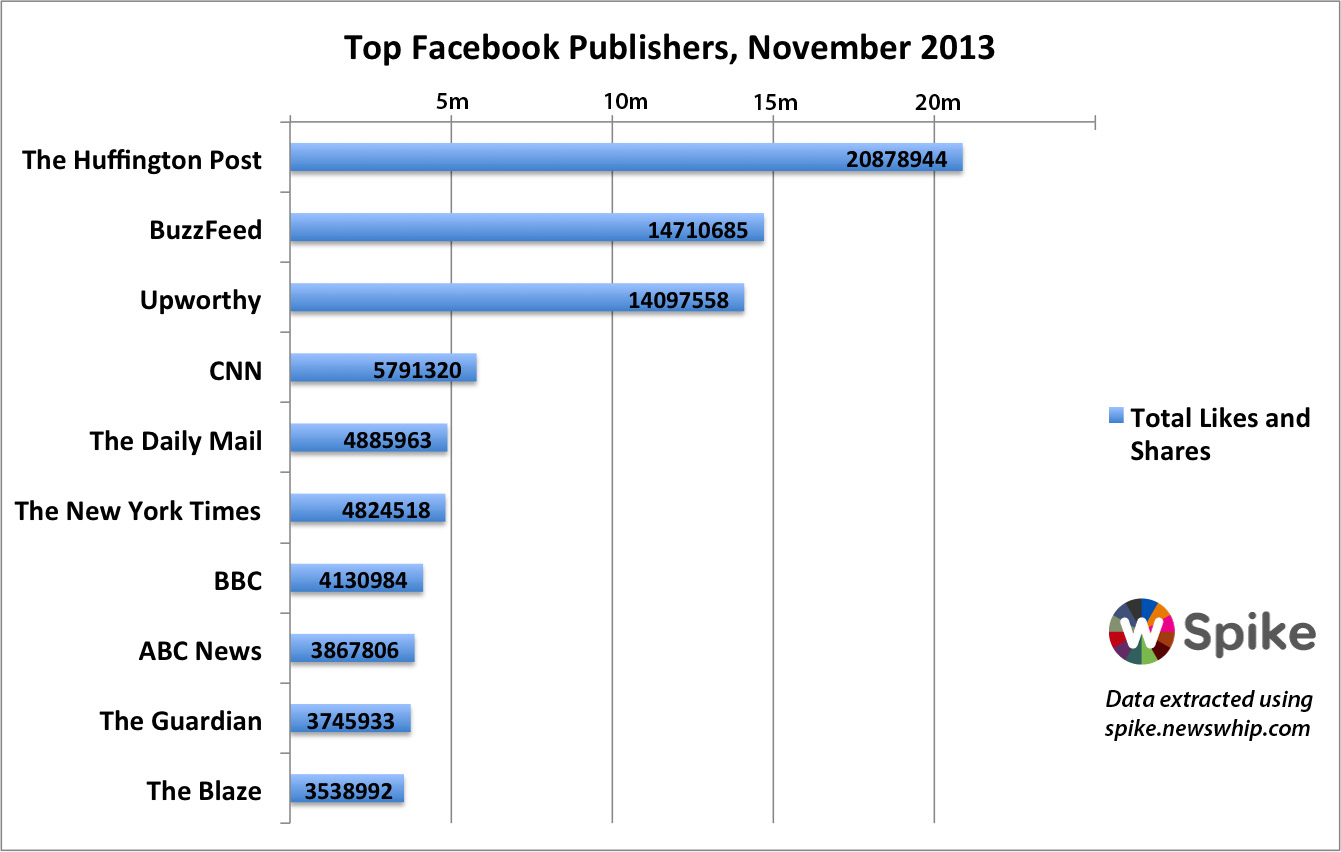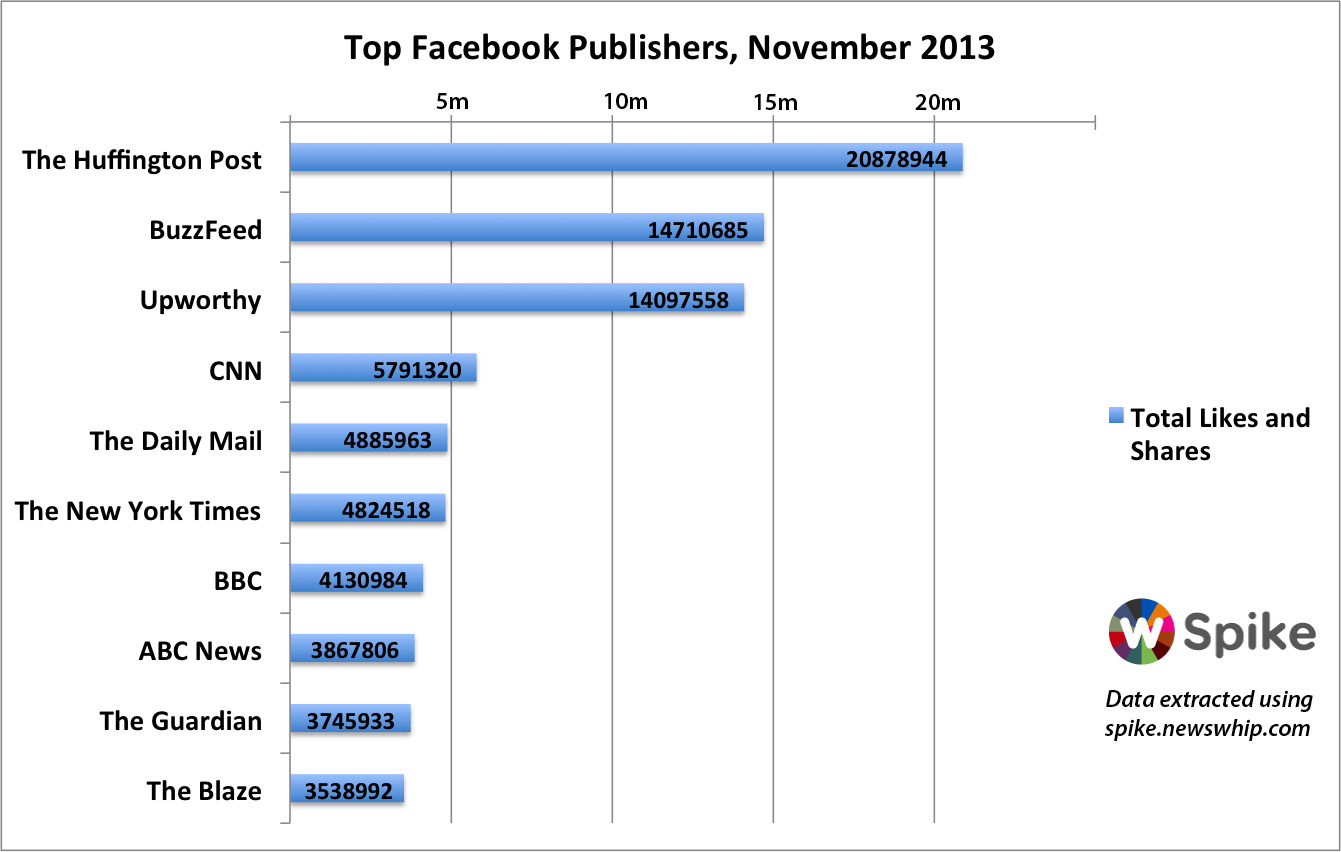 According to a report by NewsWhip which tracked engagement rate (likes and shares) of various media publishing sites in November 2013, Huffington post – an online news aggregator and blog, recorded the maximum engagement rate (in the form of likes and shares) as high as 20.8 million on the Facebook platform, followed by Buzzfeed with a 14.7 million engagement rate. Buzzfeed is a technology platform which provides most talked about or viral news in the form of images, videos or links. Upworthy with more than 80 million unique visitors every month was next in line with engagement rate equal to 14.7 million on the Facebook platform. CNN with an engagement rate spiking up to 5.7 million, The Daily Mail which recently announced the addition of a dedicated Australian site for the new year – meaning further increase in an existing engagement rate of 4.8 million, The New York Times and BBC were other prominent publishing sites to drive a significant amount of engagement through Facebook by their exciting content and enthusiasm amongst social media users to seek for an informative news feed.
Information seekers prefer Facebook for news as a majority of publishing sites have established their presence and are actively posting all the latest updates and news to its fans base on the site. The process of visiting different websites for different types of articles is time-consuming and tedious for users, hence they prefer Facebook for consuming news whereas all the media publishing sites (from diverse areas of interests) flood the news feed of users with news pertaining to latest happenings. Also, the latest news feed update of Facebook is likely to aid the users with more relevant news.
Although, emergence of messenger apps which has stalked more than 1.3 billion users worldwide has stolen the charm and active engagement from social media sites for personal chit-chat, it has not yet evolved into a utility beyond personal interaction/communication. Facebook's mobile strategy which has evolved significantly to provide a soothing browsing experience for users on the mobile platform has led to further increase in news consumption rate on Facebook through Smartphones and tablets. Facebook mobile's monthly active users tally is 874 million which is 73.5% of its total user base. Facebook mobile users engage actively on the news feed resulting in more than 253% increase in referral rate to websites.
Twitter Also Dominates In Breaking Latest News!
Although, Twitter marked an emphatic debut in its IPO , the predicted, massive growth buzz reflected very little in terms of the amount of engagement for top ten publishing sites. BBC amassed a significant engagement rate (Tweets and Re-tweets) of 2.2 million through its Twitter followers. Next in line was Mashable with 1.1 million tweets and re-tweets combined, The NY Times with a 1.05 million engagement rate and Huffington post with a 0.9 million engagement rate.
Twitter, which was born as an information network, serves as a platform for outbreak of latest news or updates. It is one of the most viral social media networks, as features like re-tweet help in spreading news like wild-fire. A majority of politicians, sports star, celebrities and other eminent personalities use the micro-blogging platform to voice their opinions to their followers and other twitter users.
People love engaging with any interesting articles on Twitter due to its features which can also be viewed on the mobile platform. More than 75% or 173 million users browse Twitter through the Smartphone and tablets for keeping themselves updated on latest news and updates. Twitter recently introduced visual tweets which has attracted more users to interact and engage with news articles and has further increased engagement [re-tweet] by over 150%.
People these days run out of time to read lengthy Facebook posts, hence they prefer the Twitter platform as the entire news is enclosed within 140 characters, which hardly needs time to go through. Media publishing sites must smartly address the news to drive more engagement. Users who find the tweets engaging, generally go through the link (included within the tweet) for more information, this way they can save time by going through only the news which sounds interesting to them.