In 2013, majority of top social media sites like Facebook Inc. (NASDAQ:FB), Twitter, LinkedIn Corp. (NYSE:LNKD) have grown more advertiser friendly and introduced vast features to increase their brand visibility and ROI. Advertisers too are getting more accustomed to various social media sites and pouring in heavy investment for digital advertising. Over last few quarters, majority of social media sites have provided multiplying increment in ROI and CTR rate for online brands. Social Media Intelligence report by Adobe, which tracked nearly 131 Billion Facebook Ad impressions in Q3 2013, 1 Billion Facebook posts and 400 Million unique visitors to social networks including Twitter, Pinter­est and Tum­blr, revealed couple of interesting facts and figures.
CTR And ROI Helped CPC And CPM To Spike Up
Social media sites are increasing their profit margins YOY by impressive returns to brands and marketers. Facebook and Twitter are shinning brightest amongst the troop. Marketers are investing a lot on social advertising through CPC and CPM mode and trying to gain higher ROI for their clients.
Majority of marketers are shifting their advertising budget from CPC to more economical CPM as CTR rate has almost doubled in last one year. Taking advantage of this, Social media sites, like Facebook, are increasing its ad cost every single quarter; CPM rates rose up by 120% YOY basis and is gaining more importance than CPC. CPC rates have stumbled down by 40% in last one year (except during holiday season, where 'Retail CPC rate' soared up by 42% due to significant amount of subscriptions through advertiser running "direct response" Ad-campaigns ).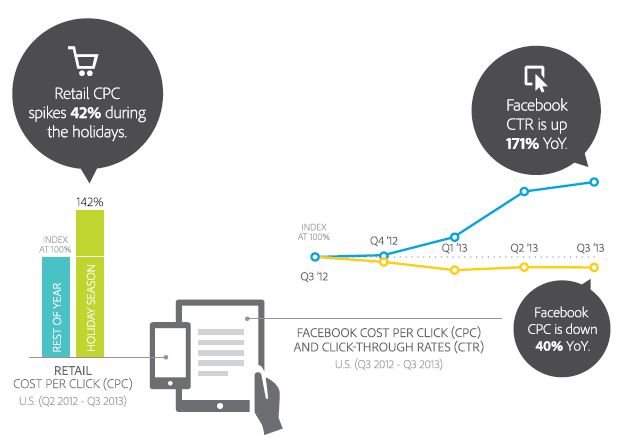 The above increment in costing could be attributed to the fact that ROI from Facebook branding increased by 58% (Y-O-Y basis) and is bound to increase further in next few years. Click-through-rate for Facebook advertisements increased by whooping 171%. Facebook had developed itself as most reliable advertising platform by adjusting well to sophisticated demands of advertisers. Introduction of graph search, improved analytics insight,  FBX and tie up with DoubleClick has helped advertisers across the globe to run successful Ad-campaigns on Facebook.
Facebook Records Highest RPV Of $0.93
With increasing advertiser friendly features and user base of Facebook; Revenue Per Visitor (RPV) has increased by 138% in last one year and currently valued at $0.93, more than double of its closest competitor Twitter ($0.44).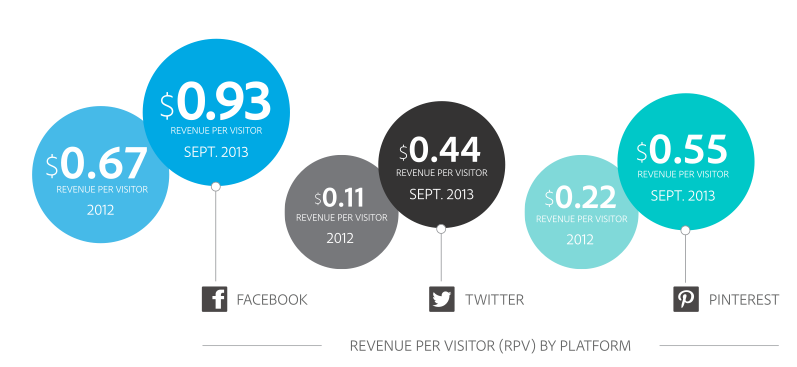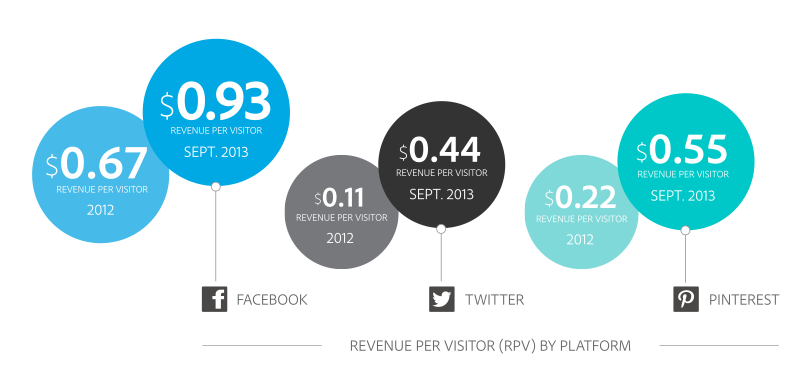 Facebook continues to be leading in RPV factor which indicates spiking advertising revenue on Y-O-Y basis. Although other social media sites like Twitter, Pinterest also saw increase in its RPV factor, Facebook continues to outplay the rest. With above statistics and figures, its evident that brand value on Facebook platform is likely to remain strong for next few years. It is necessary for marketers to keep their eyes wide open and try to be active on all social media platforms, as most of them are showing significant growth. However main focus needs to be on Facebook, as it is the 'Demand of the Day'. Marketers can effectively divide their advertising budget by averaging stats and figures obtained through various websites.