For the second quarter of 2013, some familiar names were found at the top of the Asia-Pacific region's connection speed list – South Korea, Japan, and Hong Kong were the top three. All three were able to break the 10 Mbps barrier or "high broadband" threshold, with South Korea garnering the top spot at 13.3 Mbps, Japan with 12.0 Mbps, and Hong Kong managing 10.8 Mbps.
The countries in the Asia-Pacific region that were surveyed displayed continuous growth in connection speeds, although it is notably for just a short-term. The highest growth rate during the second quarter of 2013 was seen in Taiwan, which posted a growth rate of a very high 36 percent. China and Vietnam both experienced growth rates that exceeded 20 percent, and there were five more countries that had quarterly rate increases of over 10 percent. However, Australia presented a strong 13% Q-O-Q growth, due to strong penetration of local ISPs such as iiNet, which offers quite a competetive plans for Internet.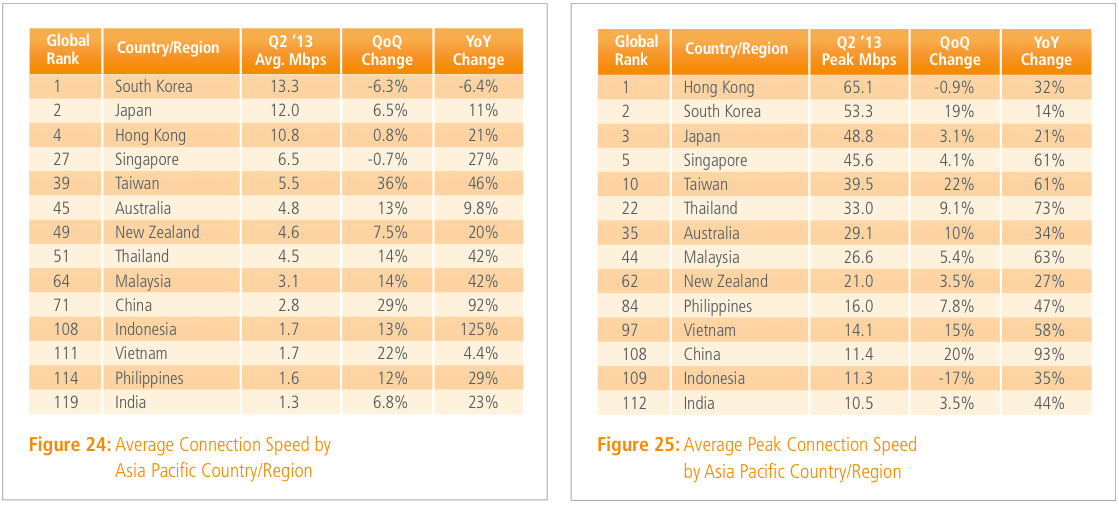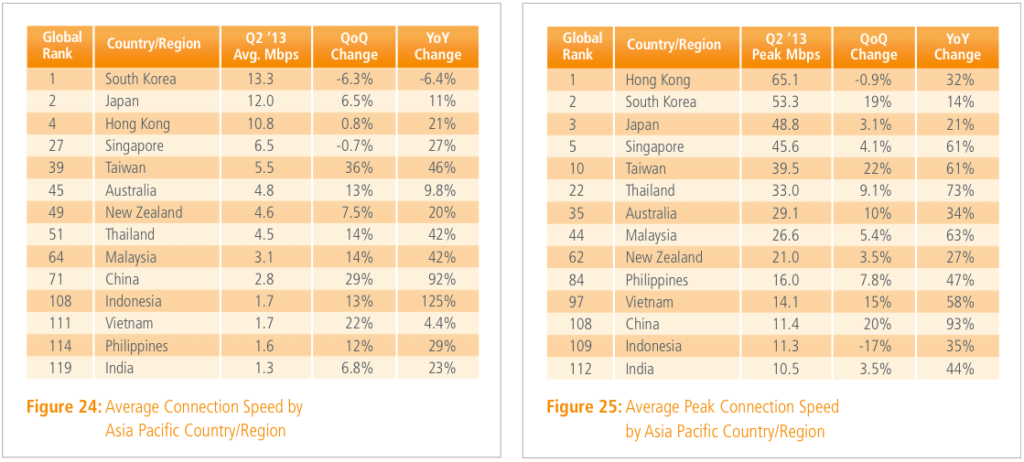 In terms of weak growths, Hong Kong only managed to post a meager quarterly growth rate of about 0.8 percent, while Singapore and South Korea actually experienced some minor declines. Finishing at the bottom once more was India, with its average connection speed of just 1.3 Mbps. This is despite the fact that India had an improvement of about 6.8 percent over the first quarter of the year.
The second quarter has proven to be a very good period for Asia-Pacific countries in the year over year changes as it has been seen to be generally positive. There were only a couple of countries that experienced yearly changes that fell below 10 percent – Australia and Vietnam. Australia narrowly missed achieving 10 percent growth at 9.8 while Vietnam was only at 4.4 percent.
High Broadband Connectivity for Asia-Pacific Countries
During the second quarter of 2013, the Asia-Pacific region displayed high broadband adoption rates. The top countries in terms of high broadband adoption rates were South Korea and Japan, respectively. South Korea grabbed the top spot with a 45 percent adoption rate – even as it experienced an 8.6 percent quarterly decrease as mentioned earlier. Japan managed an adoption rate of 43 percent after growing by 5.8 percent.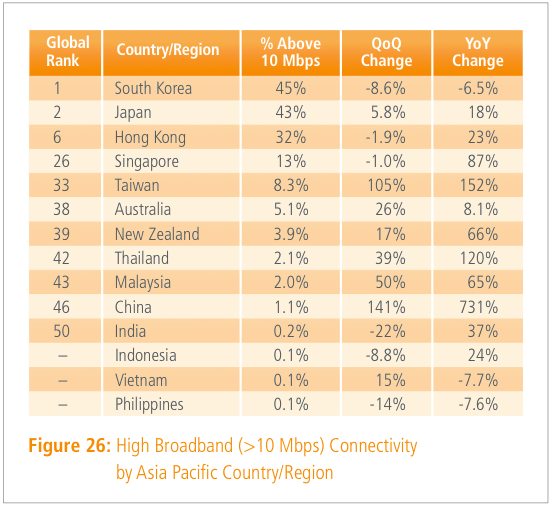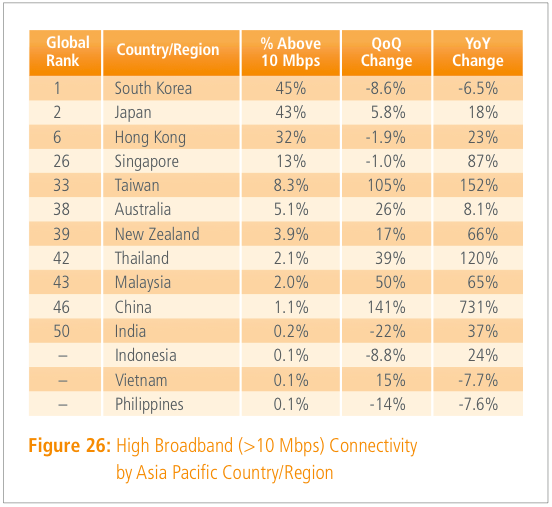 The top two countries were followed by Hong Kong and Singapore – who were also the only other countries that managed to post a high broadband adoption rates that went beyond 10 percent. Hong Kong was at 32 percent while Singapore managed 13 percent.
China, on the other hand, was able to crawl out of the bottom of the pile by posting an impressive 141 percent quarter over quarter increase, lifting its high broadband adoption rate to 1.1 percent. The distinction of being at last place now fell to India, which had a 0.2 percent high broadband adoption rate, falling by 22 percent.
When it came to quarterly changes, results were something of a mixed bag. Hong Kong, India, South Korea, and Singapore all had their high broadband adoption rates decline and there were four other countries that had growth rates that exceeded 10 percent. Other than China, Taiwan was the other country to have its adoption rate increase more than twice over the first quarter.