Email is the most accepted tactic that is often dismissed as being too rudimentary for today's focus on real-time information. Email marketing remains as the most neccesary element in the marketing strategies of businesses and organizations of all sizes.
In a study conducted in the UK, 89% of the respondents surveyed said that email was "important" or "very important" for their businesses. The report, "National client email report 2013" by Direct Marketing Association (DMA) UK sponsored by Alchemy worx says that Email marketing had become the cornerstone for many marketing programmes in 2012 compared to 2011.
The associated value of email marketing to the economy is clear, given the UK's National Office of Statistics estimated website sales at £129.1 billion in 2011 and total ecommerce sales at £482.9 billion.
Interesting facts from the report
Marketers are using email for an increasing range of objectives beyond straight forward revenue generation, including retention, engagement, acquisition and brand awareness. Click and conversion rates are the factors that marketers rate most often as important to achieving business goals.
B2C marketers put at least as much or more emphasis on engagement and retention than their B2B counterparts. However, B2C organizations place less-than-average emphasis on building brand awareness.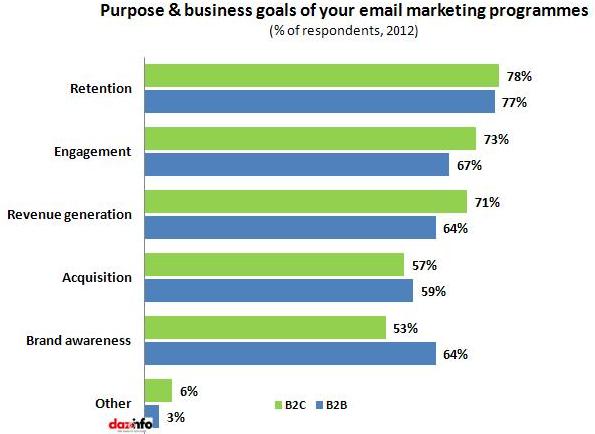 Email marketing, Budget allocations
56% expect their expenditure to increase in 2013. Nevertheless, expectations regarding future budget allocation are not as optimistic as in 2011. While only one in 5% marketers expects their budget to decline, 39% do expect it to remain unchanged, 26% more than said so in 2011.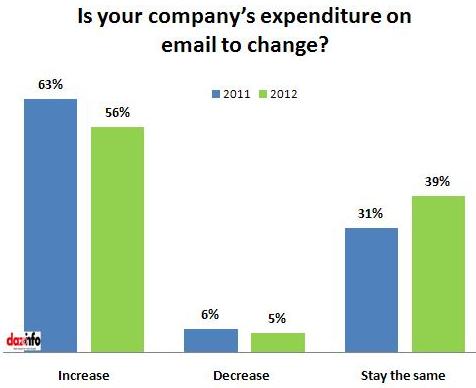 Digital revenue contribution
Another indicator of the value of email is its share of business revenue. Email marketing accounts for 50% or more of all digital business revenue.
11% of the respondents polled that they generate 20% of this overall revenue through email marketing. Email claims at least 30% of the budget share for 38% of respondents and produces at least 30% of total revenue for 40% of respondents.
The majority of organisations (62%) produce 30% or more of their digital business revenue through email. Email marketing even accounts for at least as much digital business revenue as all other channels combined.
Integration of Emails with other channels
Marketers report that the best channels to integrate with email are online marketing, social networks, direct mail and mobile marketing – both for ROI and profitable relationship building.
This correlates with another report which says Email marketing is very well integrated with Social media. That's why integration of social media with email marketing technology sees hike this year.
It's interesting to see which other channels respondents feel email best integrates with. In terms of ROI, general online marketing is cited by 65% of marketers. This is followed by social networks (38%), direct mail (32%) and mobile marketing (25%). All other channels were cited by no more than 15% of respondents.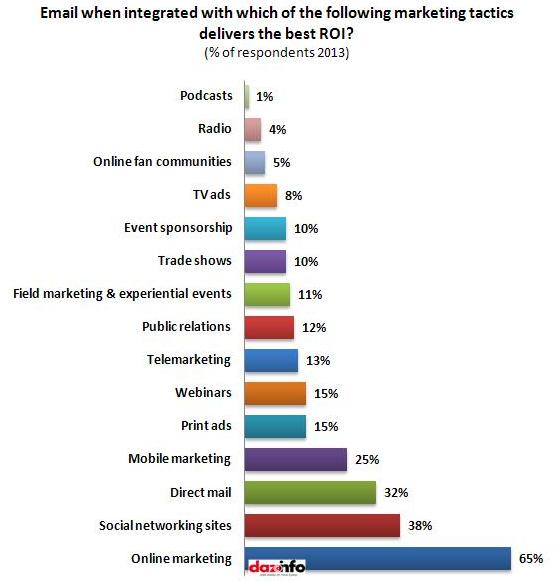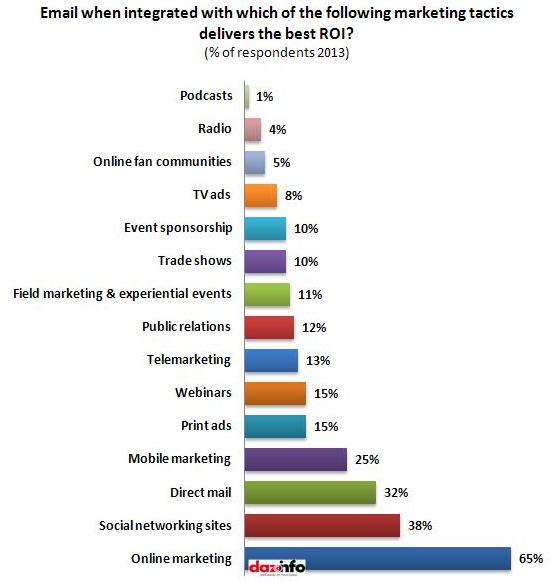 Take a look at this [link] to know about the best tactics of email marketing to bring on maximum ROI.