After Apple Inc and Samsung Electronics Co. Ltd, another major is gearing up to join the race of Small Screen Tablets, which would cover atleast 50% of global Tablet market by 2017. According to WSJ report, Microsoft Inc (MSFT) is working on a new Windows 8 powered 7 inch Surface Tablet. The small screen tablet will enable Microsoft to compete with Apple's iPad Mini, Android powered Google Nexus 7, Samsung Galaxy Tab 2, as well as Amazon Kindle Fire.
The Company CFO Peter Klein revealed Microsoft is closely working with OEM's to build "a new suite of small tablets powered by windows 8, with competitive price". Microsoft assured small screen size tablets will be available in 'couple' of months.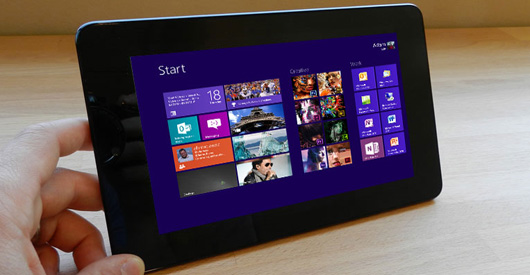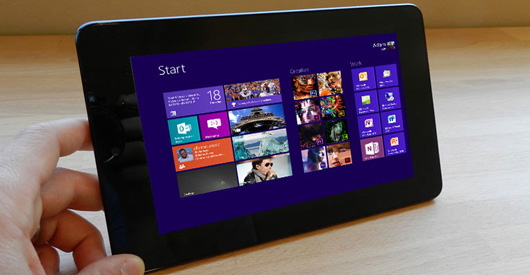 An official person familiar with the situation said company is also working on prototypes of smartwatch with screen size of 1.5-inches; it seems Microsoft has strongly decided to compete with small screen Tablet giants as Samsung, LG and Sony, who have also announced their work on smartwatch. In 2013, Tablets are accounted for $8.8 billion as revenue. Interestingly, 65% is projected to come from iOS alone.
Could 7-Inch Windows Tablet Create Magic In Market?
Microsoft should learn from the failure of Surface tablets (RT & Pro) released last year. These two tablets created much buzz before the release, but insoluble issues made surface the biggest failure in the tablet market.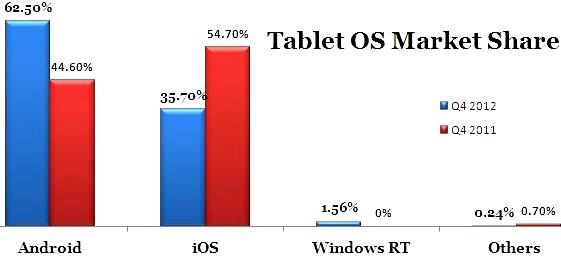 Users of Microsoft surface RT powered by Windows RT reported huge problems in company's support forum stating Wi-Fi connectivity issues, Touch Covers were splitting at the seam where it connects to the tablet; exposing its wiring, audio randomly stuttering or muting while in use and Windows key, that does not always work. Microsoft Surface Pro powered by Windows 8 Pro OS has also few issues with Wi-Fi connectivity, Stylus pen not working properly and waking up from standby mode.
Microsoft 7-inch tablet will most likely run on Windows RT. Sadly Windows RT hasn't created a magic as Microsoft expected. The insoluble issues of RT are consuming more battery power and about half of the total storage space consumed by Operating system, applications and recovery data. It doesn't make any sense to continue spending resources on Windows RT.
Windows RT/Pro needs more RAM & huge storage space as the OS need big chunk of space. Besides, Windows is always known as heavy on hardware and Microsoft always has a challenge to outpace performance issues with low specs. To debut in 7-inch space, Microsoft will definetly need to compromise with chips, RAM and processor. Besides, Price will be the another biggest challenge for Microsoft if they want to beat Nexus7 and Amazon Kindle Fire HD. Microsoft need OEM partner to prepare this device as the company carries very bad experience in hardware manufacturing. However, the most important concern for Microsoft still is to have 'lovable' feel among mobile device owners towards Windows 8 OS. This time, Microsoft will have to take few 'stressed calls' and out-of-box decisions to avoid small-screen Windows 8 Tablets a disaster.
Research Firms Gartner Inc. and IDC on Wednesday said sales of PCs are consistently decreasing from the start of 2013 compared with last year. IDC blamed consumer confusion about Windows 8 for drop in PC sales. This drop at company's traditional area of strength made to target at fast-growing tablet market.


However we need to wait and see how Microsoft will create tactics to turn the table from software builder to Devices and Services Company. And it has to come up from its cons to compete with the big giants in developing tablet market.