Adopting social media marketing strategy in your business is one of the best tactics to improve your business. 56% of marketers worldwide say that they want to integrate their Email marketing with social marketing this year. Also, marketing professionals world-wide focus on social marketing this year. In addition, 80% of them said they planned to use social media data in their broader marketing efforts and they also think social marketing can drive business campaigns effectively.
Social media spending as a percentage of marketing budgets will be increased to more than two folds over the next five years, that's according to a Duke University Fuqua School of Business survey of US marketers commissioned by the American Marketing Association (AMA) which was conducted in February 2013 which included 468 U.S. chief marketing officers.
"Companies are searching for novel ways to interact with their customers that will drive the growth of their companies," said Christine Moorman, director of The CMO Survey and T. Austin Finch, Sr. professor of business administration at Duke University's Fuqua School of Business."Unfortunately, marketers are behind the curve with their current levels of social media expenditure, given the amount of time customers spend engaged with one another and with companies online. The good news is that marketers are seeing the imperative to rectify this through increased investment in social media marketing in the upcoming years."
The CMOs survey noted that marketers are currently spending 8.4% of their budgets on social marketing. Over the next year, that number is expected to increase to 11.5 percent, and in the next five years it will reach 21.6%.
Social marketing spending in all four categories is now less than 10% and is expected to be more than 20% in the next five years.
The dramatic increases in social marketing spending were universal across different business sectors may it be B2B (product & service), B2C (services & product). The B2C (product category), including companies such as Procter & Gamble (P&G) and The Coca-Cola Company, expects the most increase, from 9.6% to 24.6%.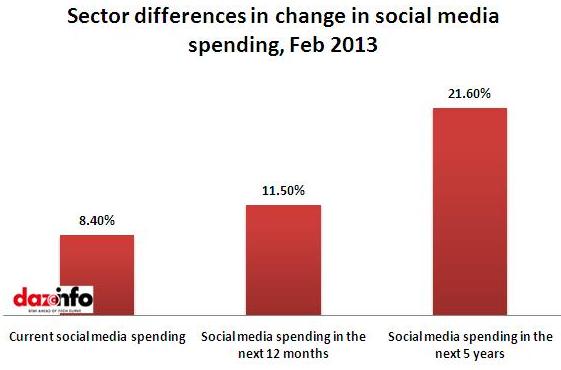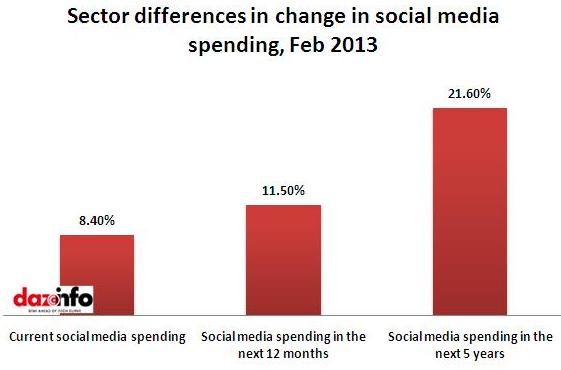 On a scale of 1-7, when CMOs were asked how effectively is social media integrated with your firms marketing strategy, only 9.9% of respondents believe that social marketing is "very integrated" to the firm's strategy, while 15.2% believe it is not integrated at all, while the average was 3.8 (the same number from Feb 2011).
The survey also finds that over the period of time the companies have shifted from direct financial measures of social marketing's impact, such as sales and profit, to intermediate referral metrics, such as willingness to refer the brand to others, buzz, friends and followers.
Inspired by the big data coming out from social media and digital marketing, CMOs expect their companies to increase their marketing analytics expenditures by 66% in the next three years. However, the number of projects using marketing analytics is expected to drop from 37% now to 30% over the next 12 months.
It is also said that the CMOs who participated in the survey expressed cautious optimism for the overall economic outlook. When they were asked to rank their optimism for the economy on a scale of 0 to 100, the survey respondents registered a 62.7 score.
In an other question where CMOs were asked to state whether they were more optimistic, less optimistic or no change compared to the prior quarter, CMOs who were more optimistic increased from 29% of the sample in August 2012 to 56% in the current survey.
Interestingly, with the rise of social marketing and other forms of digital marketing, spending on traditional advertising continues to plunge.
Click on the link to know about the best social media marketing tools.