At present, there are about 700,000 apps available for downloading to Android powered devices. Now, Google is aggressively luring software developers to build apps for Android ecosystem, and the search giant has somehow succeeded in its intention. Apple is the biggest contender of Google in smartphone segment and both are trying to create strong mobile ecosystem around their platforms.
Of course, both Google Play Store and Apple App Store are currently sitting on a hoard of 700,000 apps, but it's very tough for both to further sustain their supremacy. Apple has already paid $6.5 billion to iOS developers since the inducement of its App Store in 2008.
Apple App Store Generates More Than Double Google Play Store's Revenue
According to an analysis by "App Annie" (conducted over iOS and Android apps), Apple App Store leads with a revenue share of 71% compared to 29% for Android–means Apple App Store is generating more than double as revenue generated by Google Play Store. However, revenue generation growth rate on both platforms is same–14% so far this year.
Both Google and Apple launched their app stores in 2008– Apple in July and Google in October. However, Apple App Store set off an early leads on Google Play in terms of apps availability. Apple App Store hit 100,000 apps figure in November 2009, while Google Pay Store reported the same figure in October 2010–even Microsoft reached the figure earlier than Google Play Store.


Developers Are Reluctant To Work On Android Platform
Currently, Android is ruling over more than 50% of smartphone markets in terms of shipments. Despite app developers are reluctant to work on Android platform compare to iOS. More than half (53.2%) app developers prefer to work on iOS platform, whereas just 37.3% want to develop apps for Android devices. The reason is quite obvious; Apple device owners are closely locked into Apple ecosystem that benefits to developers. It has also been identified that Apple device owner are more affluent than Android device owner and they are also willing to pay more for apps.
For entry into Apple iTune App Store,  Apple charges $99 from App developers—that scares bogus developers to enter into the app store–on other side, Google demands just $25. Besides, Apple offers 'Xcode' to their developers—for Mac, iPad and iPhone—that are restricted to C, C++ or JavaScript. Moreover, Google offer SDK free online—available for Windows, Mac and even Linux—and really, it's not as simple as Apple's Xcode.
More importantly, fragmentation has become one of the major challenges on Android platform especially for developers. Just a month before, we reported that iOS users more conscious about the new updates and that's why, 60% of iPhones users updated their device with iOS 6 within 13 days of its availability compare to 1.8% Android users those updated their device to Android 4.1 version till October 1 since its availability. 45% of iPhone and iPod Touch users purchase at least one paid app in every month compare to 19% of Android users those use to buy at least a paid app in every month.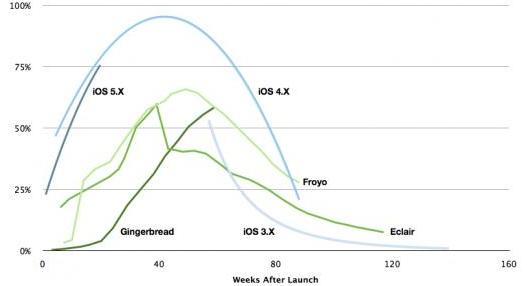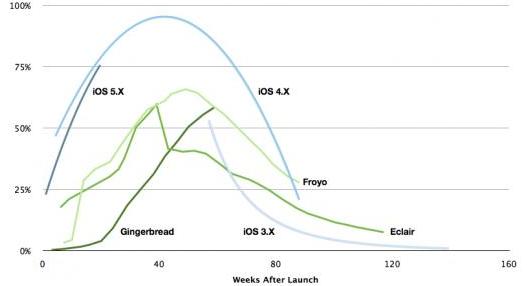 Interestingly, 72% of apps in Google Play apps are being offered free, while just 46% of apps in Apple App Store are free. It's estimated that 45.6 billion apps will be downloaded this year and 89% of those will be free apps. Of course, free apps available on app stores have no meaning for app developers. They could generate revenue only from paid apps.
Challenges Ahead:
At present, Apple and Google have sorted their apps stores into number of categories from Games to Widgets—however, Google has further categorized its app store into top paid, top free, top grossing, top new paid, top new free and even trending lists.
It's true that 1 billion apps are being downloaded for Google Play Store in every month and there are more than 700,000 apps in Google's store, but Google still needs to work hard in order to compete with Apple. Increasing number of malware apps and fragmentation of Android platform are two major issues and Google needs to work on that areas.