We have already discussed how significant number of apps are determining the success of any platform. Billions of apps have been downloaded from Apple and Google's apps store and undoubtedly, both the platforms (Android as well as iOS) are currently ruling around the world. Previously, I have already discussed that Microsoft is a nascent player compare to Apple and Google in apps era. I think, Microsoft has understood without apps it can't compete with Apple and Google in the battle field.
At present, Microsoft is quite aggressive about apps development. The software giant has reportedly published more than 100,000 apps on its Windows Phone marketplace at the rate of 313 apps per day. 26, 493 apps were added in just last three months, provided by 23,825 different publishers around the world.
Windows phone Marketplace has received a milestone of 100,145 apps in just 20 months–among all published apps, 88,371 apps live are available for download across 60 countries. Microsoft has boastingly reported to reach 100,000 milestone faster than Android, which took 24 months to reach such figure.  Surprisingly, WP took 14 months to score 50,000 apps but double the figure in just 5 months. A detail description of 'number of contents items' added to WP Marketplace has been provided below:
Google has currently more than 500,000 apps on its Google Play Market, while, Apple App Store encompasses over 600,000 apps. Undoubtedly, apps store of Google and Apple are holding more than five times apps compare to WP Marketplace.  Microsoft took 20 months to reach 100,000 marks, while Google and Apple took 24 months and 16 months respectively to reach such threshold point.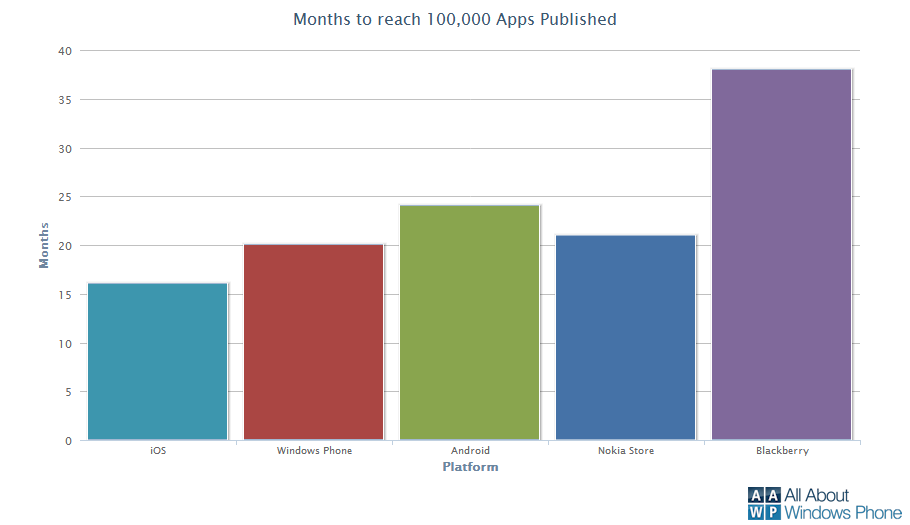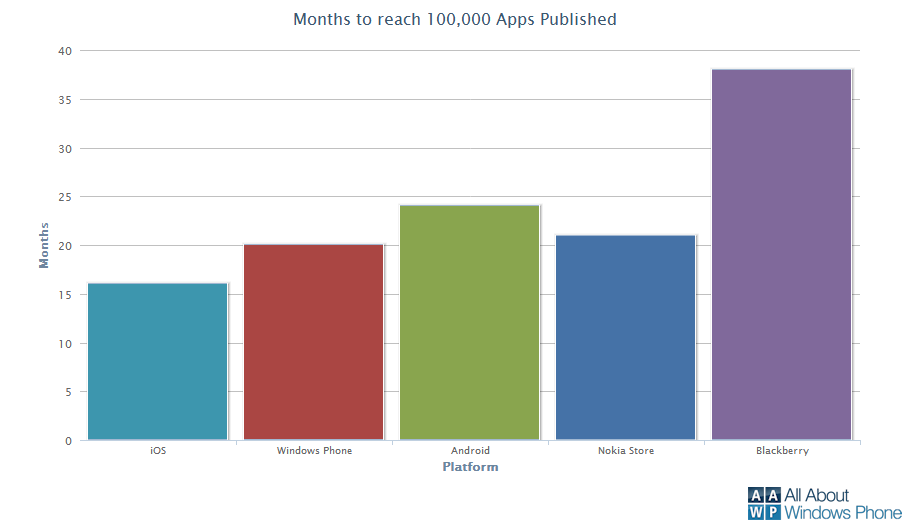 It's not important that how much apps Microsoft has published on its app store, but it's important how much of apps are being downloaded from the apps store. Google has reportedly stated that 1 billion apps are being downloaded every month through its app store. Indeed, apps download from WP Marketplace is meager compare to Google and Apple app stores.
Indiscriminately, users are more interested to download entertainment contents from app stores than others. Entertainment is the single biggest categories of WP Marketplace, contains 18,867 items, followed by 'Tools + Productivity', 'Books and Reference' and 'Games' with 14,591, 12,816, and 12,212 items respectively.
As matter is concern with books and reference, I think, the digital devices—which offer eBook for  readers like Kindle Fire—are playing vital role in apps consumption. eBook enthusiasts are more likely to purchase Kindle Fire and Nook Tablet for online books and references, however, reading books on iPad is a flawless experience. At present, no such WP devices are available which could tempt to a significant number of users. However, teaming up with Barns & Noble, Microsoft could entice a significant numbers of users towards its own platform.
The numbers of published items on the WP marketplace is not same as the numbers of items available to consumers. Currently, 88,371 apps are available for downloads in the WP marketplace among all 100,145 published items. 10,357 items have been either withdrawn by Microsoft or unpublished by developers, while 1,492 items are staging.
Apparently, I already discussed how Android apps are more expansive than iOS apps. However, a significant number of apps are being provided by Google for free of cost. Undoubtedly, users are more interested to get their hand on these free apps.
It's pretty clear form the above pie chart that how expansive the apps of WP Marketplace are. The minimum price of the apps are $0.79 and 61.75% apps are holding a price tags of $0.99. Surprisingly, 3.24% of apps are costing between $10-$15, while 7.17%, 4.10%, 2.55% and 1.37% apps are available for $1.99, $2.99, $9.99 and $15-$20 respectively. I think, the price is also a barrier for proliferation of Microsoft's WP marketplace apps. It's another matter that developers are generating more revenue on WP platform compare to other platforms such as Android and iOS. I have already described the reason behind this. It's true that there's frivolous competition on the Windows Phone platform among developers compare to Android and iOS.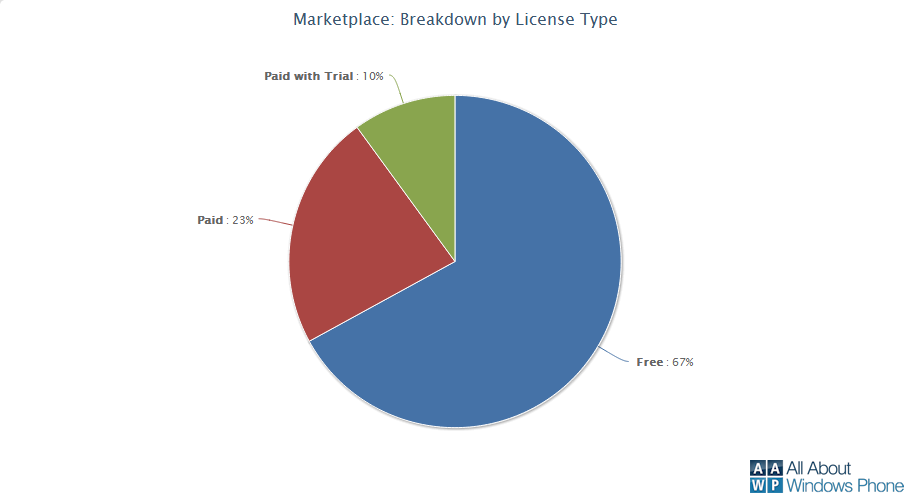 It's clear from above pie chart, 67% of items on Windows Phone Marketplace are available for free of cost, while 10% and 23% are 'paid with free trail' and 'paid' respectively. However, a slow increment in the proportion of paid apps was seen on WP Marketplace in the last month. It's well known that app developers are generating revenue from their 'paid apps'. Apps, which are being offered by manufacturers for free of cost, have no importance. Previously, I have already illustrated why a significant numbers of developers are unable to standalone their business in the market.  (Must see the article)
Before moving further, it's important to describe the distribution of apps (country wise) in nutshell. See the graph below:
The chart (above) is clearly depicting that the distribution of apps in the US is prominent compare to other countries. Emerging countries like China and India have also significantly contributed its participation in apps download from WP Marketplace. However, the chart shows 'single market distribution of app' for each country, but other apps are distributed in multiple countries (but not in all the countries which are available on the WP Marketplace). Obviously, developers with such apps (focusing to single market or limited multiple markets) are being deprived from potential download.
Majority of apps are being published in English (68,529 of total live), followed by German, French, Spanish and Italian with 6,231, 5,627, 4,401 and 3,225 respectively. Clearly, the company has given an importance to the local contents, both Microsoft and developers are looking for localization of apps in order to extend their business.
In a previous report, Microsoft stated, "In app terms, there is no doubt that Windows Phone is, currently, in a weaker position than iOS and Android. In quantitative terms, it faces a seemingly Sisyphean task to gain parity with a moving target. Nonetheless, in qualitative terms, there is a point at which, as far as consumers are concerned, there is little or no difference."
From above statement, it's clear that Microsoft has accepted that WP is weaker than Android and iOS in terms of app quantity. Indeed, it's very tough for the company to surpass or contend these giants (Google and Apple) in terms of quantity. However, Microsoft is concentrating on the qualitative approach, which seems trustworthy. But again, it's hard to judge that WP could dominate Android and iOS in terms of app quality.
There are 100,000 apps in WP Marketplace, indeed, it sounds good. It's true that such significant number of apps in the Microsoft's app store will create psychological impression into the mind of users around the world. I agree with the fact that quantity of apps matter, that's why, a prominent number of users are more likely to adopt Android or iOS platform due to huge availability of apps.
Microsoft's strategy to localize the apps or launch the apps into the single market is somewhat effective, but not always. 'Localize distribution of apps' could entice paid users or generate more revenue, but, it might consequence developers and the app store to deprive from significant numbers of downloads.
Besides, apps on WP Marketplace are expansive compare to Android and iOS. Users are quite price sensitive, if other platforms are offering the same apps either at the nominal price or free of cost , then why users will spend unnecessary amount of money on these apps.
Apple and Google are matured in app development segment. I agree with the quantity of apps on app Stores play vital role, but, number of downloads of apps from the app stores is more important. Despite of these, I appreciate Microsoft for publishing more than 100,000 apps on its WP Marketplace.
Image credit: AAWP