Undoubtedly, over a million applications are available in the market across different platforms. Apple surpassed 25 billion apps downloads prior to March of this year and Android has also reportedly surpassed 15 billion apps download from its Google Play Marketplace this week. Apps download play a vital role in revenue generation for developers, but majority of apps remain undiscovered from users across the world. An analysis firm "App Promo" has revealed a reality of mobile developers in rushed app space. The firm has reported that 59% of apps are unable to generate break even revenue (invested in their development), while 68% of apps developers earned $5,000 or less with their most successful app.
It is true that only 12% of app developers are currently generating $50,000 or more revenue, on the contrary, 80% are unable to generate even minimal amount of revenue to keep their business stand. The report has depicted that 11% of app developers have 500,000 or more downloads, while 63% have 50,000 or less downloads for their most successful app.
One side, where Google and Apple are announcing that more than 1 billion apps are being downloaded from their apps store every month, while on the other side, majority of app developers are unable to generate enough revenue to standalone their business in the market.
Have you ever think that why these apps developers are unable to standalone their business?
The main reason behind this is app marketing, yes, it's true. Big giants like Apple, Google, Amazon and more have lots media to expose their apps before users worldwide. But, other players don't have such privileges to expose their apps prior to launch in the market. The report also unveils that 52% of developers had $0 set aside for app marketing during the study period, despite 91% were knowing that marketing is pre-requisite for generating revenue from the apps. The firm has also reported that 52% app developers spend 5% or less of their time for promoting their apps in the market.
Indeed, it's not possible to discovered specific app from over one million of apps, which are being provided on different platform by developers across the world. Hence, an extensive apps marketing is required in order to attract a vast numbers of users across the world. However, majority of apps are similar to other in logical algorithms and most of them are available on Android and other platform either free of cost or at the nominal price. Indiscriminately, there is an intense competition in the market among app developers.
Must see the infographic (below) for getting more information: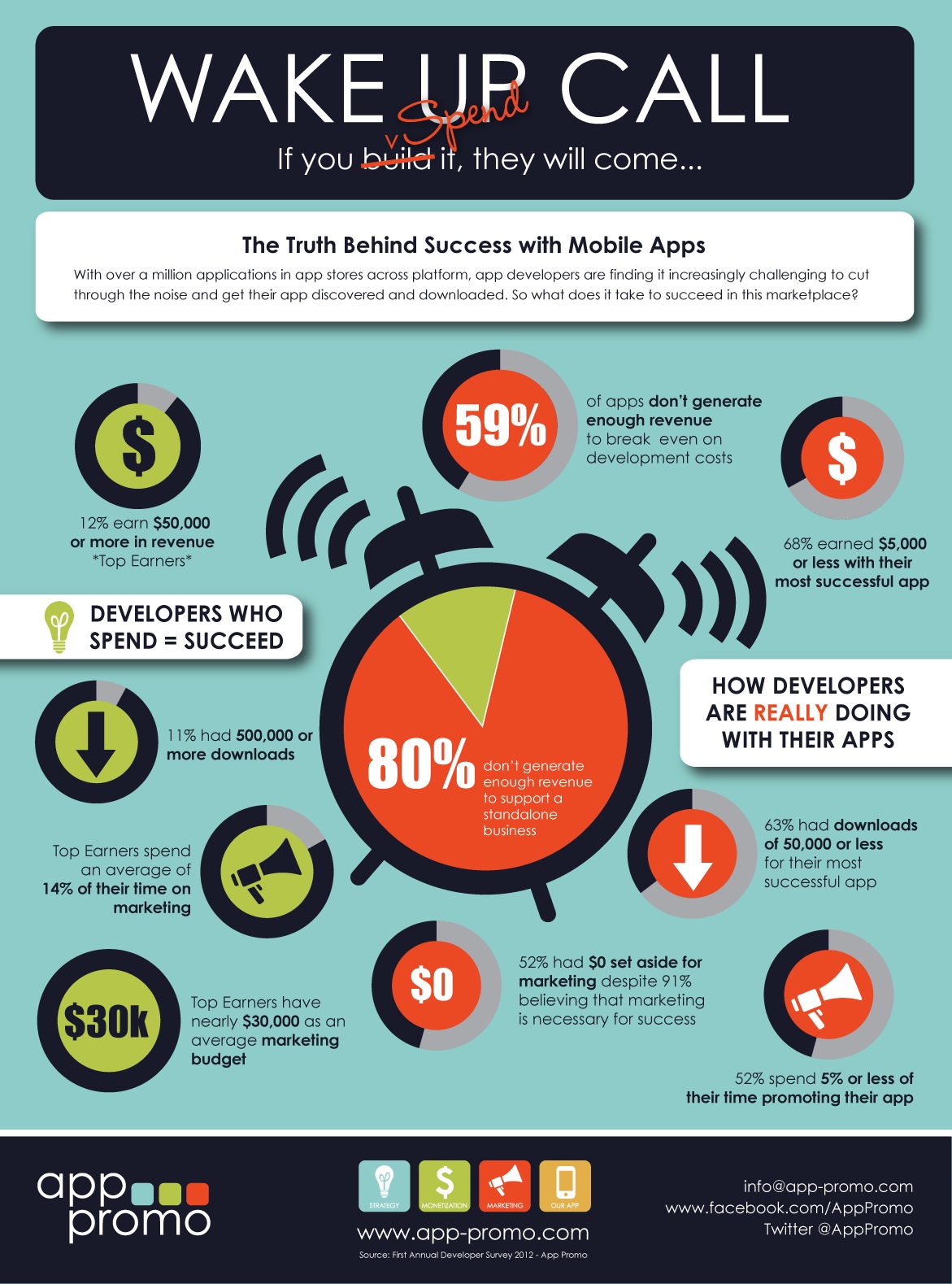 Image courtesy: App Promo