Apple's latest mobile OS (iOS 6) and Google's Android Jelly Bean are available in the market, but the adoption rate of both the platforms are quite dissimilar. Apple's latest iOS 6 has reported an unprecedented adoption by its enthusiasts around the world, while Android Jelly Bean is still out of the reach for majority of Android users.
Distribution Of iOS Versions:
According to market research firm—Chitika Insights–, took millions of mobile ad impressions from Sep 18th to Oct 1st 2012, the adoption rate of iOS 6 is quite impressive; 60% of iPhones users have updated their devices to iOS 6. On the contrary, just 1.8% Android users have updated their OS to Jelly Bean till October 1, 2012.
It's pretty clear from above graph that iPhone users have showed off highest adoption to iOS 6, while iPod users reported least interest in the Apple's latest mobile OS.
As of October 1, 2012, 45% of iPads were updated to iOS 6 OS, while 39% of Apple's Tablets had iOS 5.1 version till date. On the other hand, other versions (predecessor of iOS 5.0) had just 12% of total iOS market share in the Tablet segment till Oct 1 of this year.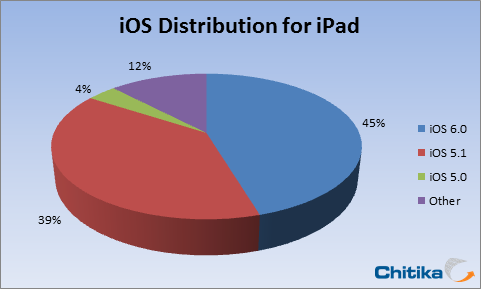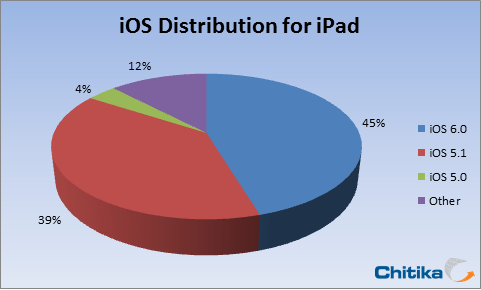 Apparently, 29% of iPhones had iOS 5.1 version as of October 1 this year, followed by iOS 5.0. and other older versions with 5% and 6% respectively.
Just 39% of iPod users updated their device to iOS 6 version till Oct 1, 2012, while 31% and 29% of users had iOS 5.1 and iOS 5.0 versions respectively.
Distribution Of Android's Versions:
Unlike Apple, the adoption rate of Android OS is not very impressive, however, till the end of September 2012, 23.7% of Android devices had Ice Cream Sandwich updates. Again, Gingerbread was leading over other Android's versions with 55.8% market share. Moreover, Honeycomb was still struggling with 1.9% market share until the end of September this year, while Froyo was quite ahead of the Android Tablet version (Honeycomb) with 12.9% market share.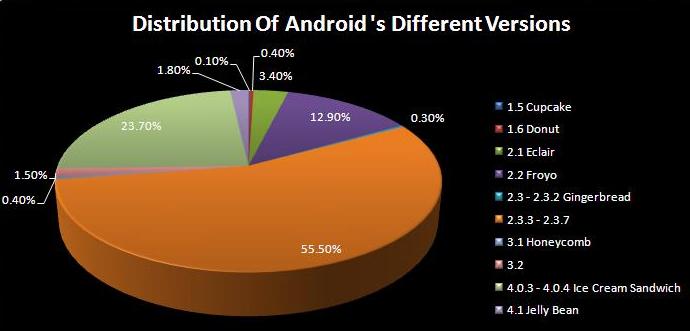 Of course, in context of latest operating system adoption, Apple's fanatics are quite ahead of Android fans. However, adoption of Android latest Jelly Bean is expected to rise later this year due to availability of the OS updates for lineups of Android devices such as Samsung Galaxy SIII and more.  But, we can't ignore Apple's dominance in the last holidays seasons and the company got 2 million pre-orders for iPhone 5 in just 24 hrs of its availability.