Of course, smartphone has become one of the hottest trends now. Last month, Apple launched iPhone 5 and the company shipped 4 million units of the device in first weekend of its availability. According to a latest research report from Strategy Analytics, the number of smartphones in use surpassed the 1 billion-units mark in Q3 of 2012.
The first smartphone was introduced in 1996—the Nokia Communicator. Nokia led the smartphone segment for over a decade, but an advent of Apple's iPhone in 2007 swiped the market share of the Finnish Handset manufacturer around the world. At present, Nokia is struggling to standalone in the smartphone segment.
The number of 'smartphone in use' surpassed 708 million units figure in Q3 of 2011. Undoubtedly, an arrival of iPhone 4S in the last year revolutionized the concept of smartphone. At present, the world's population is 7 billion and there are more than 1 billion of users around those have smartphones.
Demands of smartphones are continuously mounting up around the world. Users in the emerging markets are also willing to own smartphones; India and China are expected to ship 20 million and 150 million units of smartphone this year respectively.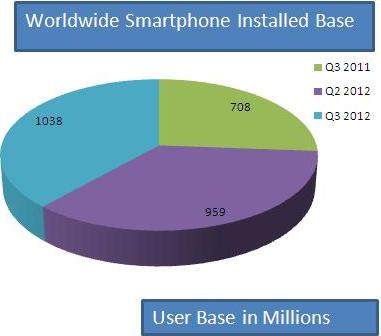 More importantly, Android and iOS combined are expected to account for 98% of the global smartphone market share in terms of shipments by the end of this year. On the other hand, market shares of Symbian and BlackBerry have consistently been declining since the last year. However, Microsoft is expected to gain a significant market share (19.2%) by 2017.
Just a few months before, a study predicted that the worldwide number of smartphone would surpass 1 billion figures by 2014, but thanks to availability of cheap smartphones especially in emerging markets that boosted the shipments of the devices. Demand of high-end smartphone is quite higher in matured markets compare to immature markets. On the other hand, low-end smartphones at the affordable prices are being preferred by users in emerging markets. We could see outburst in demand of smartphones in forthcoming years; It's expected that smartphone will account for 67% of total mobile handset shipments by 2016.