Of course, there is only the buzz around about Apple's new iPhone. With its own new mapping app creation, the company replaced Google Map from its latest iOS 6 version. Now, the product is finally on the users' hand, but they aren't pleased with Apple's mapping app in the device.  Users think that the new mapping app (build by Apple) is not as impressive as its predecessor (Google Map). The new mapping app provides less details than its predecessor and has also occupied with numbers of issues related to misidentified cities, duplicated islands, turn-by-turn navigation, location data and public transport information.
Earlier this year, Apple claimed that users could discover the new 3D maps, flyover feature and turn-by-turn voice navigation on its mapping app. But, the new mapping app is trailing far behind of Google Map in all these aspects. The new iPhone owners (early adopter) have discovered problems related to directions, public transit information and awkward satellite photography–really, Google's Street View is quite impressive compare to Apple Map.
Still, iPhone users are more likely to use Google Map, but the problem is here that they can only access the mapping app via Safari or mobile browser of their choice. It has also been heard that Google Map works little bit slower on Safari browser; But the map still works properly.
There are numbers of rumors in the market; Some are saying that Google could ship the app for iOS users by Christmas and others are revealing that the engine giant has already submitted one of the updated app to the Apple App Store. Would Google provide its mapping app to Apple for iOS 6? If Google has its own mobile ecosystem and Apple is its biggest contender in the mobile industry, then why it's so eager to build the maps app for iOS 6?
However, Google has already clarified its intention to make 'Google Map' available for everyone those who wants to use it, regardless of browser, OS or the devices. Apparently, Google has opportunity to leverage over Apple in mapping app space, despite it has kept silence. At present, Google Map is available for Android users that features turn-by-turn directions, 3D city maps and offline viewing.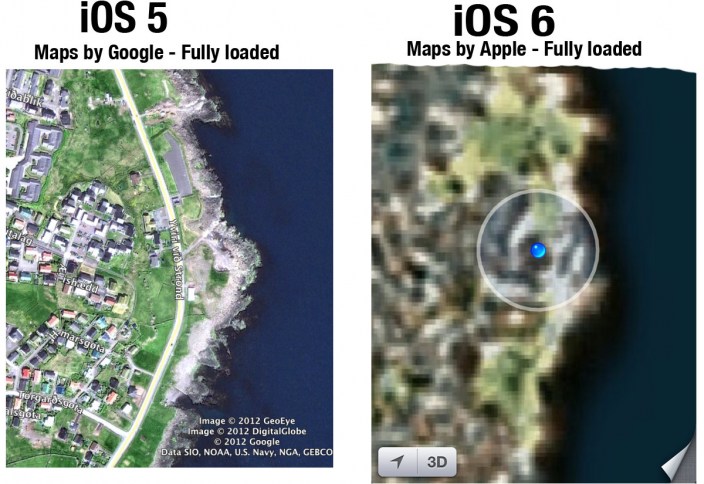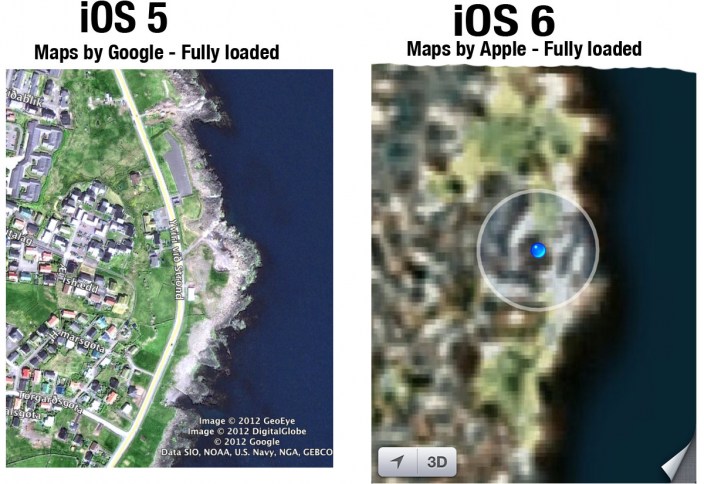 Apple sells iPhones at the higher price tags (available on fewer carriers) compare to many Android smartphone in the market.It's also well-known that Apple is generating 77% of all profits in mobile industry. I think, there are two reasons why Google is trying to offer its maps app to Apple's iOS.
First; iOS platform creates a huge traffic for Google what it really needs. And secondly; At present, millions of iOS users are accessing Google Map for their purposes, helping Google to improvise its mapping app. These users send valuable feedback and suggestions and Google uses them to identify the trouble spots in order to improve overall experiences.
According to a recent report, about 45% of all mobile traffic of Google Maps (for mobile version) comes from iOS platform—31 million iOS users are spending an average of 75 minutes on the app in a month. It's also clear from the report that iOS users are more willing to access Google Map everyday compare to Android and they are also spending more time on the app compare to Android users. In April of this year, 90% iOS users accessed Google Maps at least once in a month against 71% of Android users.
For Google, iOS device owners are very lucrative and they are considered as power users. Indeed, these users are playing vital role to create huge traffic for Google and really, it's tough for the search engine giant to create such traffic with its algorithms. However, it's also true that Google hasn't yet framed any business models to generate dollars from its maps product, but it has focused on local commerce. Undoubtedly, Google could directly target to users based on their location using its maps app. Google has potential to generate millions of dollars with 'Google Map' once if it finds out an elegant way to tag ads on its mapping app.
However, Apple is quite aggressive this time to fix all the issues related to its maps app. Last week, the company posted numbers of ads for recruiting software engineers particularly for maps development. The company is now trying to carry out its map to a distinct level. On the other side, a day before yesterday, Nokia posted a blog on its website, where it described the features of its mapping app.
Nokia wrote on its blog, "Unlike our competitors, which are financing their location assets with advertising or licensing mapping content from third parties, we completely own, build and distribute mapping content, platform and apps. In other words, we truly understand that maps and location-based apps must be accurate, provide the best quality and be accessible basically anywhere. That's been standard practice at Nokia for the past six years, and we also understand that 'pretty' isn't enough."
Of course, Nokia's maps app is better than Apple Map in some aspects, but the company is still struggling to gain the attention of user in the mobile industry. Although, Nokia has been one of the pioneer players in mapping business–offering its services in-car units and other mapping devices–, but Apple is leading the mobile industry in terms of profit margin.
Now, I would like to talk about Google, the company has also an option to build maps app for iOS, but continues to provide updated features first to Android. However, Google has already adopted the same strategy with its YouTube.