Indiscriminately, Q2 of this year was quite lucrative for mobile vendors. Almost 154 million Smartphones were shipped in Q2 of this year and Samsung alone shipped over 50 million smartphones during this period. In Q2 of this year, Apple could ship just  26 million iPhones, lower than last two previous quarters. However, Samsung shipped almost double the Smartphones sold Apple in the same quarter, despite Apple generated quite more profit compare to the South Korean electronics giant.
Indeed, number of Smartphone shipped by Samsung during Q2 of this year was all time highest for any vendor in single quarter. Due to higher gross margins on iPhone and iPad, Apple led smartphone sector in Q2 of this year in terms of both revenue and operating profits. See the graph (below) for further details.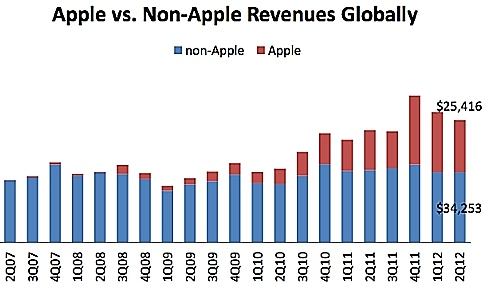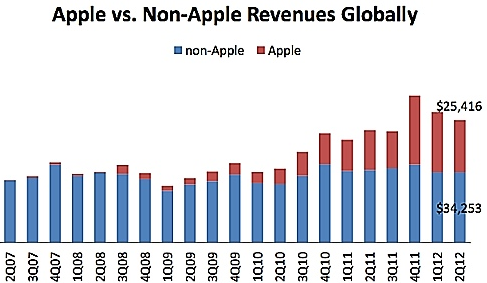 Apple shipped 26 million Smartphone out of 154 million shipped during last quarter, while it shipped 17 million iPads out of 25 million Tablets. However, the company has incredibly shipped both Smartphone and Tablets during Q2 of this year. On the other hand, citing to Raymond James analyst Tavis McCourt, AllThingsD has reported that Apple captured 43% of mobile industry's total revenue during Q2 of this year. Apparently, the iPhone manufacturer generated an astonishing 77% of the industry's operating profits during Q2 of this year.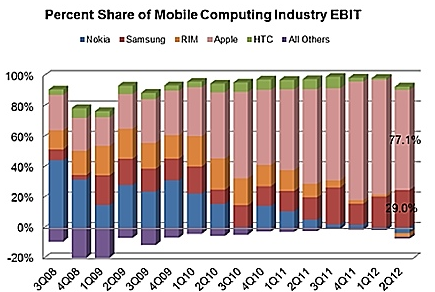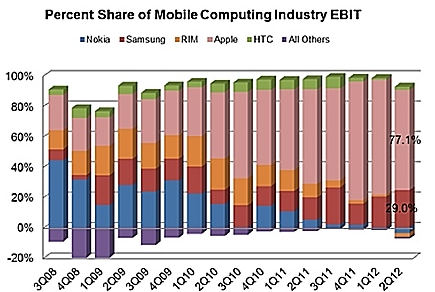 In the above graph, market shares of different mobile vendors have been demonstrated quarter-wise since 3Q of 2008. Apple is unilaterally dominating  in the market with 77.1% share, followed by Samsung with just 29.0%. In terms of Tablet market share, Apple dominated the market with 68.2% share in Q2 of this year, followed by Samsung and Amazon with 9.6% and 5.0% share respectively.
However, the shipments of Apple's iPhone declined in Q2 of this year due to speculation of iPhone 5 (expected to come this year) and the global economic crisis. If we consider in shipments perspectives, undoubtedly Samsung is quite dominating over Apple, but in terms of profit metrics  , Apple is really ruling over Samsung. If we consider everything (shipments, gross profit, operating profit and more), Apple really won Smartphone war in Q2 of this year.