Now, Apple doesn't remain a just PC manufacturer; it has become a key company which is providing all sorts of devices related to communication, entertainment and business. With its iOS ecosystem, it has focused on virtual services including digital music, movies and apps. The company is now trying to extend its boundaries into the real-world location with Passbook and new maps platform. It's endeavoring to make its presence into real-world transaction for travel, daily news, retails and entertainment events. And this the main reason why it's the world leading company in terms of market valuation.
According to IHS iSuppli's press release, Apple is going to record 70% year-over-year growth in app store revenue in 2012. The firm has projected such growth on the basis of addition of Passbook and new maps platform. However, the global Apple App store revenue is going to surge $4.9 billion by the end of this year, up from $2.9 billion in 2011. This year, the company is going to outburst the market by generating half of the total revenue that it made in the last five years. Apple will rule about 65% of the global application store market share this year.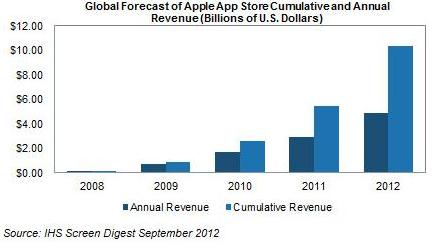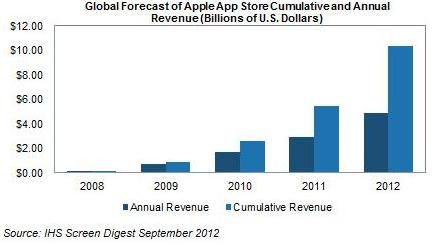 Apple's one of the most awaited smartphones (iPhone 5)  is now in the market and the new iPhone is occupied with mapping app issues. As I mentioned earlier the new Map has faced several navigation issues; Apparently, the new map app is quite lucrative for the U.S. citizens compare to other parts of the world.
It has been noticed that iOS users remain more sincere compare to Android and Windows Phone's users in OS updates; 80% of iOS users had upgraded to the iOS 5 till the end of Apple Worldwide Developers Conference this year. What should we expect from them in the case of iOS 6 version? Definitely, they will adopt the new iOS 6 with the same swift, nevertheless, the new OS has more advanced features compare to the Apple's previous versions.
Apple knows the importance of viable mobile ecosystem and of course, it has integrated new Map location, Passbook and Facebook on its latest mobile OS.  If you are still considering that Apple is just a hardware company, then I think, you are in big gaffe? At present, Apple possesses more than 435 million iTunes accounts with credit cards attached, up from 225 million in June 2011.
Undoubtedly, the company has recorded such impressive growth due to ground-breaking sales of iPhones and iPads. At present, Apple has more than 125 million iCloud users, 130 million Game center users and over 140 million iMessage users. Now, Apple is trying to look beyond its digital content and virtual digital services such as iCloud.