Mobile apps today represents one of the single largest software ecosystems in the world. The smartphone revolution, which began over a decade ago, owed much of its success to a burgeoning and expanding app ecosystem. These mobile apps unlocked the true potential of smartphones and offered functionality that was unthinkable on a mobile device prior to then. The app boom glittered with a great many success stories and rapid growth. However, after over a decade, the app ecosystem is now much more mature. Download growth, usage and consumer behaviour are all evolving.
The recently released App Annie's "Spotlight On Consumer App Usage Part 2" by App Annie leads us to some useful insights on a changing ecosystem that is approaching maturity.
User's Interest In Apps Remains High
Even after so many years, app usage and downloads continue to register healthy growth across the board. Over 65% of users installed at least one app per month in all the countries surveyed. Over 50% of users in nearly half the surveyed countries downloaded over 2 apps per month. Similarly, app usage remains very high; on average, users used over 30 apps per month in all the surveyed countries. Average daily app usage numbered in at 9.
Demand for apps has not diminished one bit, despite the ever-growing app ecosystems and saturation. This is due to the increasingly mobile first lifestyle that is being adopted across the world. Users are now utilizing mobile to conduct more and more tasks. Meanwhile, more and more industries and services are also integrating or transitioning entirely to a mobile-friendly business and service model. One prominent example is the growing popularity of mobile wallets and payment solutions. We can expect growth and usage to continue to exhibit healthy growth as additional functionality is enabled.
Power Users Are Driving App Usage Growth
Despite continued growth, users' app usage patterns have changed significantly in the recent years. User time spent in apps is ever increasing, primarily driven by so called "power users". In 9 of the countries surveyed, 20% of Android smartphone users spent over 3 hours per day in apps. This number went up to as high as 5 hours per day in South Korea and Mexico. Android power users in India spent over 4 hours per day in apps.
The in-app time spend in South Korea and Japan is high largely due to gaming apps. Mobile gaming has always been popular in these regions, but now more and more hardcore gamers as driving usage even higher. One in ten mobile gamers in South Korea and Japan now spend over 3 hours per day gaming on mobile! This is reflected in the popularity more hardcore gaming genres like online RPGs (Role Playing Games) which include the incredibly popular Lineage II: Revolution and Lineage III.
Other countries also showed similar growth in the popularity of hardcore gaming. The top 10% of mobile gamers in all surveyed countries spent at least 1 hour per day on mobile games. Also, every single country also registered appreciable YoY growth in time spent in games over the same time last year (Jan 2016 – May 2016). This trend demonstrates the industry shift towards a more specialized, hardcore audience as opposed to the casual gamers of years past.
Casual Users Are Spending More Time In-App As Well
Despite the increasing prominence of power users, time spend in apps grew across the spectrum of users. The median time spent for users was over 2 hours in 6 out of 9 countries surveyed. The highest median time spent was in Mexico and Brazil, followed by India. These numbers indicate solid growth in-app usage among the casual crowd as well. This can be attributed to a number of factors, such as the popularity of social media and messaging apps. For example, WhatsApp is incredibly popular in India even among casual users, with over 200 million monthly users across the country.
Another factor is the rising popularity of Travel apps. Over 75% of Android users used at least one Travel app in all surveyed countries except South Korea. Users in these countries also spent a minimum of 60 minutes per month on Travel and local apps. This app category was the most popular in the US, with over 80% using at least one travel app for around 130 minutes per month.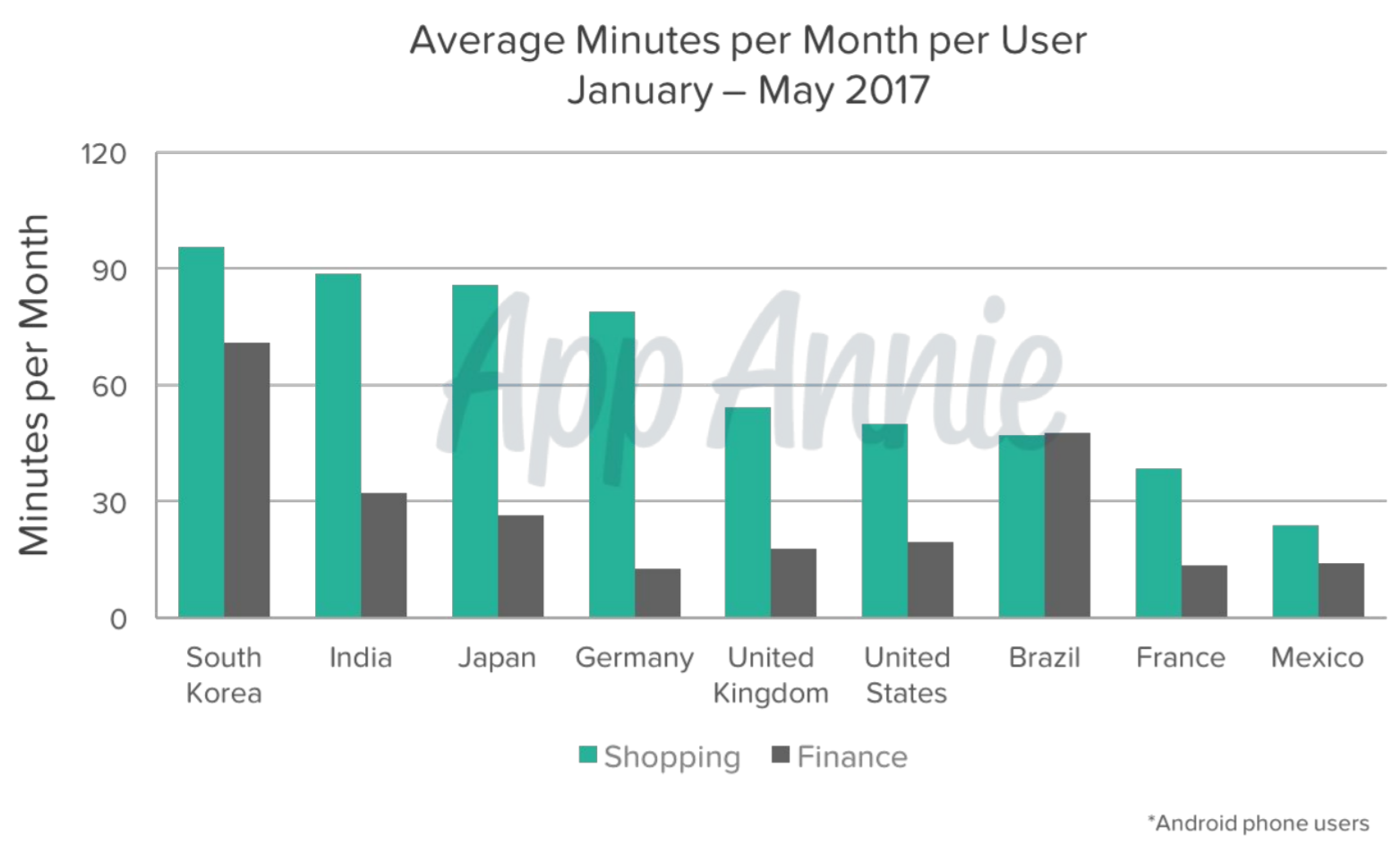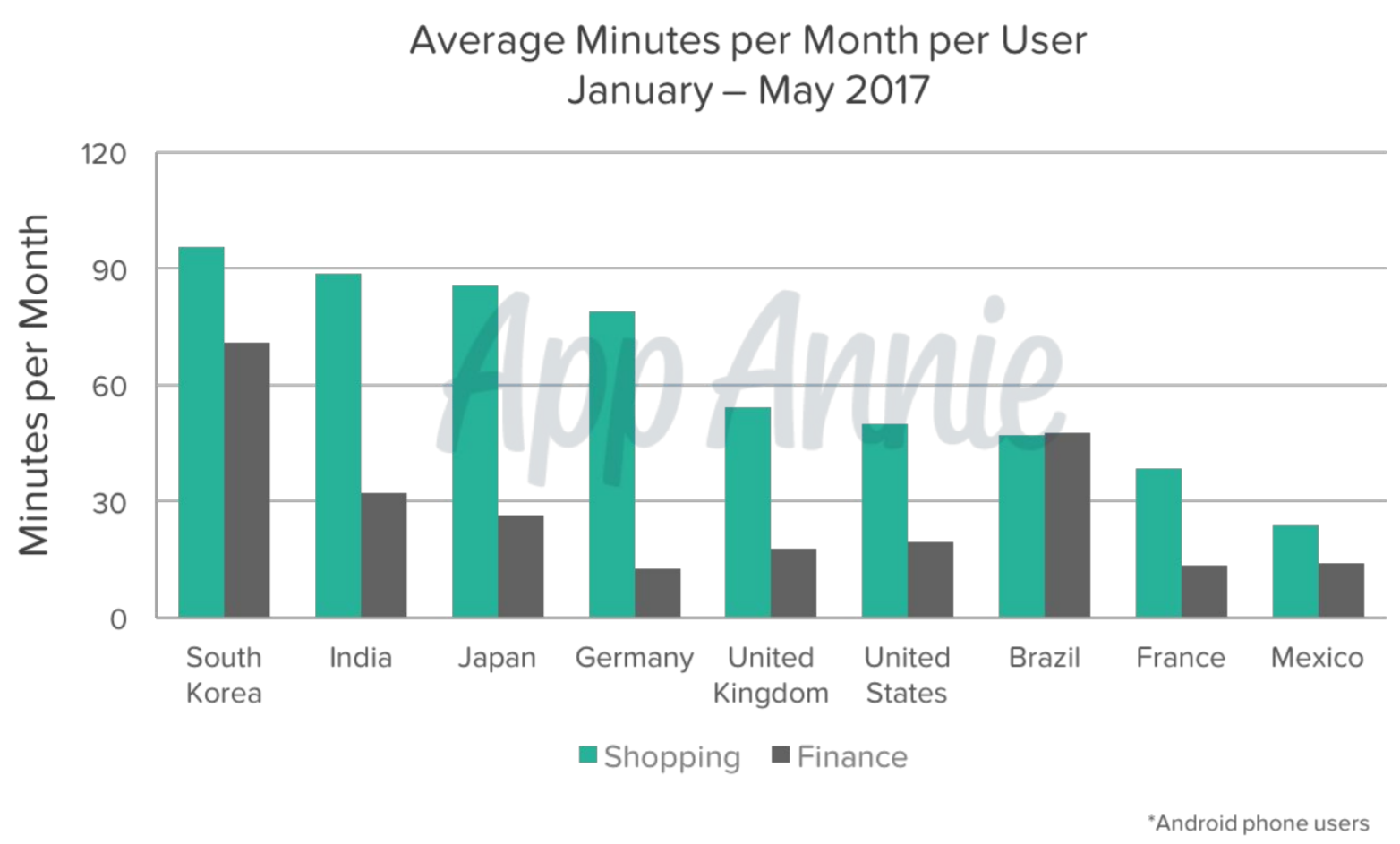 Shopping and Finance apps are also quite popular in several countries. Both of these categories are highly popular in South Korea, with an average Android user was spending over 90 minutes per month in shopping apps and around 70 minutes per month in Finance apps. This is reflective of the high-tech, the mobile first lifestyle of South Korean users. Mobile shopping is also quite popular in India, Japan and Germany. Interestingly, Brazil was the only country where users were spending more time in finance apps than shopping.
Actionable Insights
The rise of the new power user demographic is a highly lucrative proposition for app developers. Developers can choose specifically target this demographic to potentially yield much higher ARPU.
Mobile gaming is increasingly appealing to the hardcore gamer demographic. Online based and role playing games are now much more likely to succeed than more casual ones, especially in eastern countries.
Travel and Local apps are one of the more universally popular app categories. A majority of users use these apps on a frequent basis regardless of geographical location.
Mobile eCommerce is a very lucrative proposition in India due to the large population and high app usage.