Facebook Inc. (NASDAQ:FB) recently revealed their financial results for Q2 2017 which was extremely positive across Facebook's substantial network of apps and services. However, the star of the show was undoubtedly WhatsApp, which has gone from strength to strength to consolidate its position as the largest messaging app in the world. Facebook acquired the relatively small platform (at the time) way back in February of 2014. Since then, WhatsApp has evolved into a social media behemoth in its own right on track to rival Facebook itself. In fact, WhatsApp's success over the past few years has been so overwhelming that it makes the $19 billion fee, Facebook paid for it, seems like a pittance now. In fact, a few days ago, WhatsApp announced that they had achieved yet another milestone, now boasting 1 billion daily active users across the world. This comes only a little over a year after it achieved the 1 billion monthly active users milestone.
So, what is the secret sauce of WhatsApp's unparalleled success? Why has WhatsApp succeeded so emphatically where its rivals have failed? And what does the future hold for the messaging behemoth? Let's have a closer look.
WhatsApp Scales Yet Another Mountain
WhatsApp has now 1 billion daily active users. This means that nearly 1 out 7 people in this world use WhatsApp daily! And this is only scratching the surface, as other numbers surrounding the messaging platform are also truly staggering. There are nearly 55 billion messages sent on WhatsApp every single day. Additionally, 4.5 billion photos and 1 billion videos are also shared on the platform on a daily basis. Their monthly active user count has also risen to 1.3 billion, up from 1 billion in February of 2016. This represents a 30% growth in around 1.5 years.
To truly appreciate the scale of WhatsApp as a platform, let us have a look at its competitors. WhatsApp leads the pack with 1.3 billion monthly active users. Their closest competitor is the Messenger app, a fellow Facebook service as well, boasting 1.2 billion monthly active users. Chinese messaging service WeChat came in at third, with 938 million MAU (monthly active users) as of Q1 2017. In fourth place is another Tencent's own QQ, with 861 million MAU as of Q1 2017. In at fifth place is Snapchat, which lags the top 4 by a significant margin. Although Snapchat does not provide official statistics about MAU, its is estimated to be around 300 million, with 166 million daily active users in Q1 2017.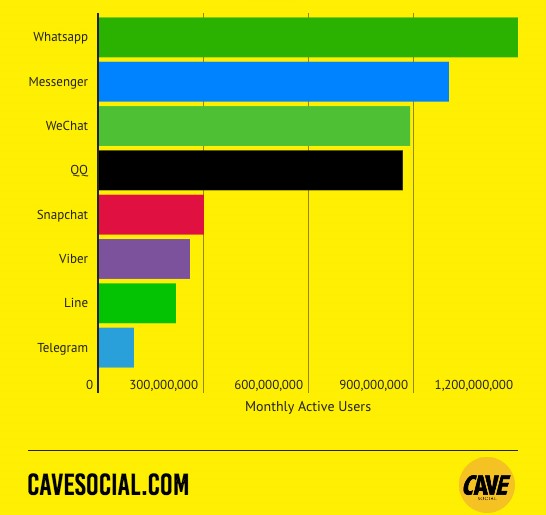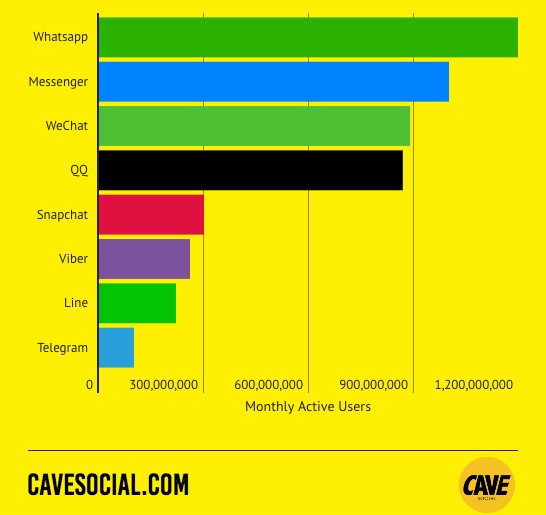 These numbers clearly demonstrate WhatsApp's immense scale. The only other service that can hope to compete is Facebook's own Messenger, which fulfils a somewhat different niche.
How WhatsApp Has Succeeded Where Their Rivals Have Failed
There is no singular reason defining WhatsApp's success. Instead, it is a combination of factors coming together to make it the communication giant it is today:-
Free Of Cost – One of the biggest proponents of WhatsApp's early success was its pricing model, or rather, the lack thereof. Initially, the app was completely free with no hidden costs. This was a major advantage in a time when consumers were used to text messaging, which were often expensive and highly limited in their functionality. On the other hand, WhatsApp offered freedom from character limits and text plans and only needed a data plan to function. They did try to implement a yearly fee once, but that plan was rarely implemented and quickly scraped.
Exemplary UI Design – Instead of succumbing to feature creep, WhatsApp's UI was, and has remained clean cut and clear. The UI never got in the way of the user, allowing for quick and hassle-free messaging.
Simplicity – This ties in some part to the great UI design too. WhatsApp is designed in such a way to cater to the lowest common denominator. It is extremely easy to use, with no complications. This has allowed them to capture different demographics, including older people who are often technologically challenged.
Language Support – WhatsApp supports as many as 60 languages globally. The importance of multilingual support cannot be understated. This has allowed WhatsApp to penetrate various emerging markets like India, which accounts for more than 200 million of its monthly active users.
Lack Of In-App Advertising – This is one of those fatal mistakes that caused the demise of so many other messaging apps. WhatsApp has remained free of any obtrusive advertising since its launch, something which has contributed to its immense popularity.
Phone Number And Contact Integration – One of WhatsApp's most unique features at the time of launch was its deep integration. There was no need for account creation/email signups; your phone number was your identity. Finding friends and importing contacts was also very simple, as WhatsApp just uses your regular contact list.
Early Mover Advantage – WhatsApp was one of the first apps of its kind when it launched. Early mover advantage is critical, especially for a messaging app, which lives or dies by the size of its user base.
Ubiquitous Availability – One of the more crucial factors behind WhatsApp's success was its near ubiquitous availability. It was available on practically every popular mobile platform, including Symbian and Blackberry during their heydays. It also allowed for cross-platform compatibility further spurring adoption.
Technical Competence – WhatsApp's apps have always been simple, easy to use and lag free. Crashes are rare, and the service rarely experiences downtime. They have also consistently added new features to the app. These include voice calling, video calling, gifs, status and much more.
The Way Forward
WhatsApp has much to celebrate for what they have achieved so far. However, it is quickly running out of avenues for further growth. WeChat dominates China, one of the world's biggest markets. WhatsApp only has a minimal presence there, and it would be extremely difficult for them to compete with them. The situation is similar in North America, where users prefer to use Messenger and Snapchat for communication. Users in these countries are too invested in their respective platforms to contemplate change now. In this situation, WhatsApp's largest growth potential lies in India. The country is currently experiencing a smartphone and internet boom and already has a sizable presence on WhatsApp with 200 million MAU.
Due to this WhatsApp is looking to diversify its interest beyond conventional messaging, with mixed results. Their forays into ephemeral content have been wildly successful thus far. The Status feature is providing tough competition to Snapchat Stories and Instagram Stories. In fact, WhatsApp Status has already 175 million daily users, more than Snapchat's entire daily user base.
WhatsApp has also outlined plans to enter the digital payments space in key markets like India. However, they have fallen behind here to local rival Hike Messenger. They also face tough competition from other players including PayTM, MobiKwik, and PhonePe to name a few.